Phil Mickelson Could Beat Out Rory McIlroy and Jordan Spieth at the 2021 U.S. Open for a History-Making Grand Slam
The golf world is still reeling from Phil Mickelson's amazing 2021 PGA Championship win. The victory puts the 50-year-old closer to an elusive prize he's worked toward for most of his career. Beating out opponents much younger than him, Mickelson turned back the hands of time to hoist the Wannamaker Trophy and wrap up his sixth major career victory. Now all eyes are on him as he prepares for the U.S. Open.
What the PGA Championship win means for Mickelson
An icon in the golf world, according to PGA Tour, Mickelson's already won 45 events on the PGA Tour, including three Masters and an Open Cup. His risky playing style is often described as aggressive, sometimes causes inaccuracy in his drives, but his short game usually makes up for it. His surprising win at the PGA Championship means something else for the legend: a shot at the U.S. Open.
Why is that so important for Mickelson? It gives him a shot at achieving what only five other golfers have: the grand slam. A U.S. Open victory would cement Mickelson as one of the greats. Jack Nicklaus, Tiger Woods, Gary Player, Ben Hogan, and Gene Sarazen are the only other players to win all four majors at one point in their career. The elusive U.S. Open victory is the only thing standing between Mickelson joining that list. 
A thorn in Mickelson's side
For all his success, winning the U.S. Open has never been easy. He's come close a few times, finishing in second but could never scrape his way to the top. His uninspired play the past few years had him in jeopardy of not even qualifying for the event. His ranking dropped low enough that he didn't earn automatic entry. Instead, according to Insider, he was willing to accept a special exemption from the USGA.
But that exemption is a thing of the past. Mickelson earned an automatic invite to the majors for the next five years because of his PGA Championship win. The courses hosting the tournament the next few years are suited for Mickelson's style of play, but that doesn't mean winning is guaranteed, something the veteran golfer knows.
In an interview with CBS Sports, he said, "It's very possible that this is the last tournament I ever win, Like, if I'm being realistic. But it's also very possible that I may have had a little bit of a breakthrough in some of my focus and maybe I go on a little bit of a run, I don't know. The point is that there's no reason why I or anybody else can't do it at a later age. It just takes a little bit more work."
Are the odds in Phil Mickelson's favor at the 2021 U.S. Open?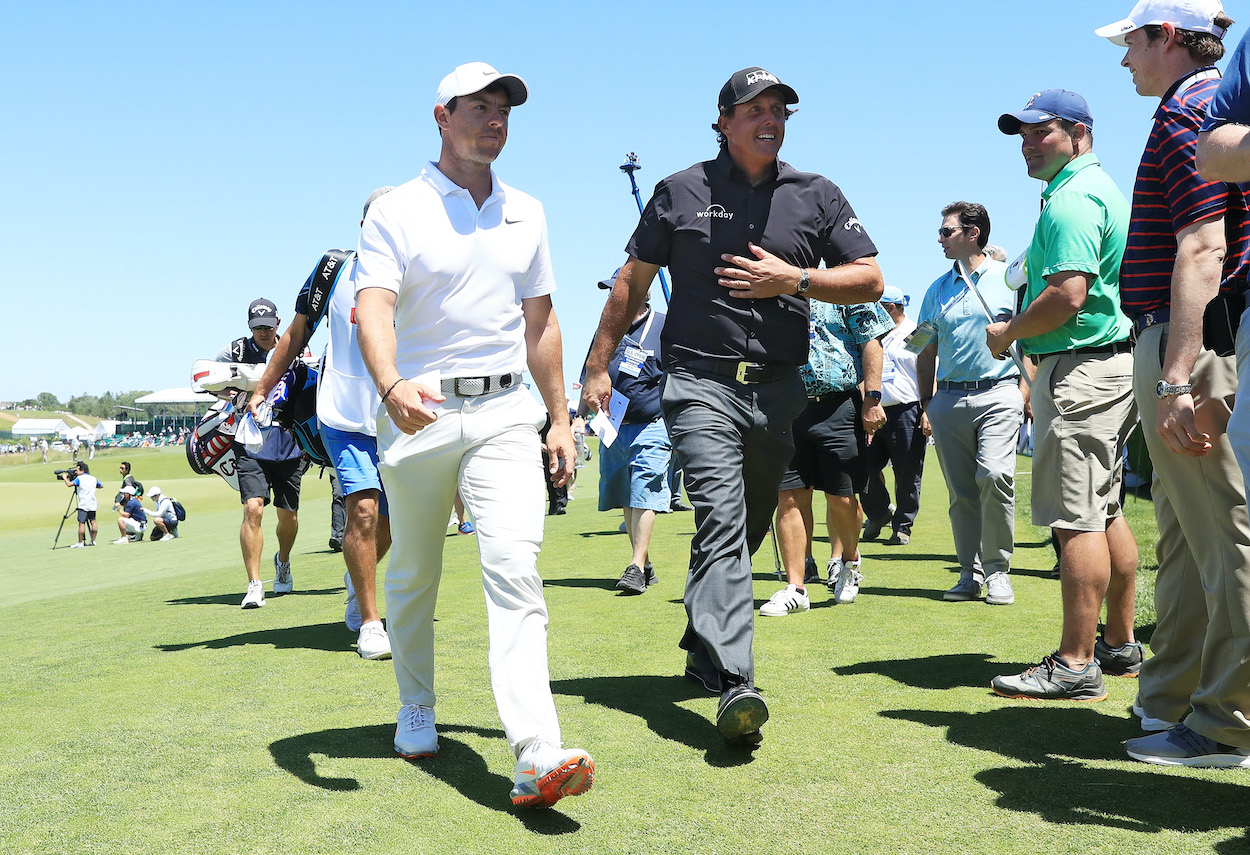 Oddsmakers were caught off guard by Mickelson's PGA Championship win, so they've adjusted their look on his potential U.S. Open performance. According to SI, Mickelson started with +12500 odds to win the tournament but after his victory at Kiawah, moved to +5000. In the event Mickelson pulls off the unthinkable, the prize money is significant. Last year, the purse was set at $12.5 million, with $2.25 million going to the overall champion.
The road to victory is tough. CBS Sports reports that fellow opponent Jordan Spieth is hot again, and there's a slew of other players looking to steal the win from Mickelson. As for Spieth, he can relate to Mickelson's quest for the grand slam; he's just one major shy from joining the group. He needs a PGA Championship win, and fellow golfer Rory McIlroy is looking for a victory at the Masters. 
RELATED: Phil Mickelson's Diet Is Nearly Impossible for 'Regular People'