Phil Mickelson Competed on His High School Golf Team With a Famous Convicted Murderer
In the early years of an athlete's career, it's not always easy to tell who has what it takes to go all the way. Talent and determination are usually deciding factors, although luck and sometimes tragedy play a part. Nobody knows that better than golfer Phil Mickelson.
As a high schooler, Mickelson competed on the same team as Scott Peterson, a talented golfer whose career ultimately fizzled — and who later became a convicted murderer. Let's look at how these two promising golfers crossed paths and then took very different turns.
A San Diego high school stocked with golfing talent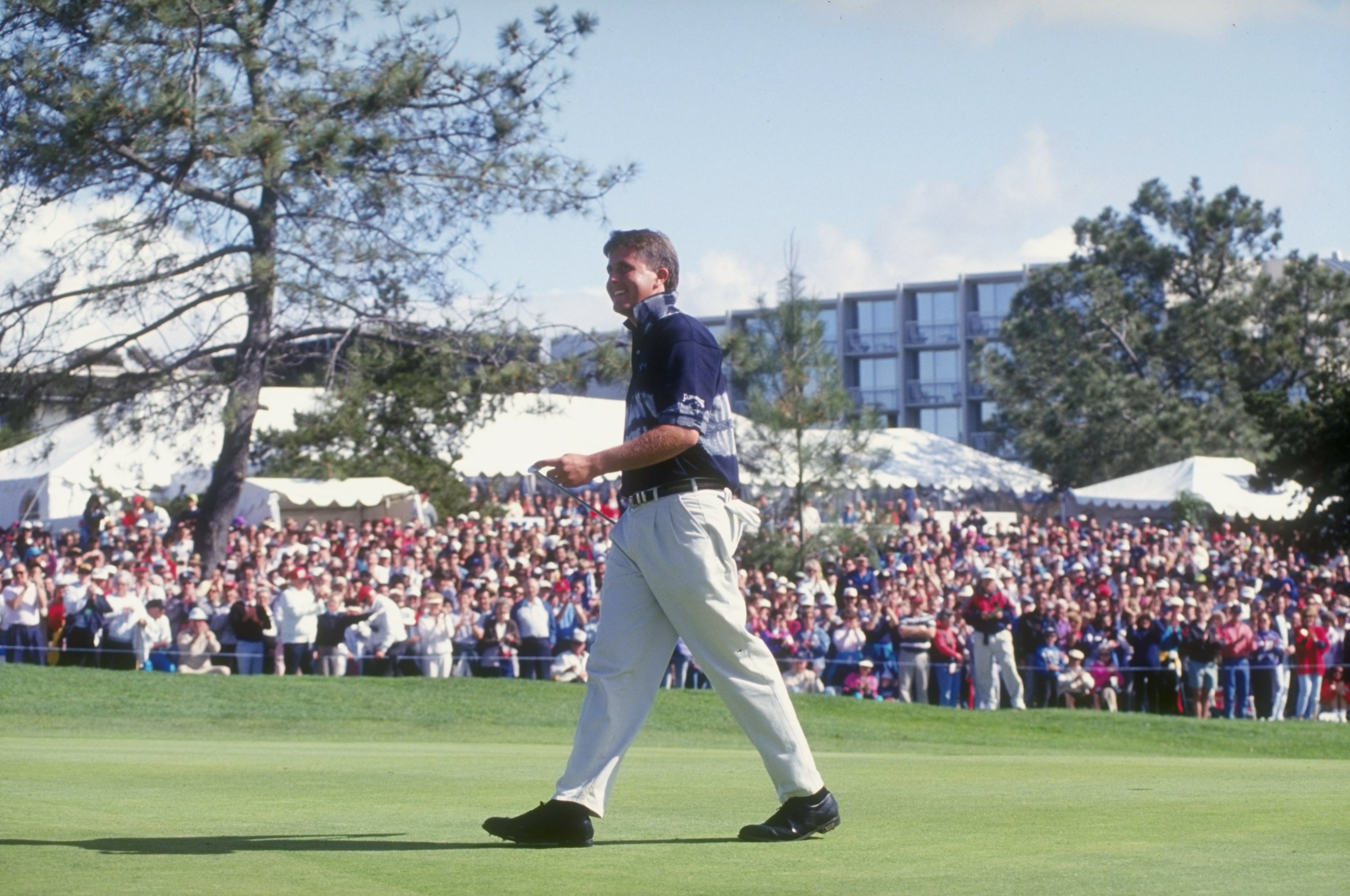 Mickelson and Peterson both attended the University of San Diego High School, in San Diego, California, in the late '80s. Mickelson was two years ahead of Peterson and already a talented golfer. As a freshman in 1987, Peterson showed promise too, despite playing on a high school team stocked with golfing talent.
That year, the team made it all the way to the California Interscholastic Federation-San Diego Section team championship. Mickelson, however, opted to skip the championship to participate in a U.S. Open local qualifier instead. So, Peterson took Mickelson's place on the high school team, reports the Napa Valley Register.
After Mickelson's graduation, Peterson, now a junior, established himself as the University team's main star. According to Golf Digest, Peterson tied for seventh place in the CIF Individual Championship, falling just six strokes shy of the winner, Chris Riley. Though not all of Peterson's teammates liked him personally, they and his coaches respected his game.
Phil Mickelson's path to greatness
After high school, Mickelson attended Arizona State University on a golf scholarship. During his time there, he became one of the most recognizable figures in amateur golf, winning three NCAA individual championships, per Collegiate Golf. He was also a four-time First Team Ping All-America selection and a three-time Jack Nicklaus Collegiate Player of the Year.
Mickelson turned pro basically right after graduating from Arizona State in 1992. Within a year or two, he'd won numerous PGA Tour tournaments over the next decade. However, it wasn't until 2004 that Mickelson finally won his first major championship, during his 13th year on the PGA Tour.
Scott Peterson, ex-golfer and convicted murderer
Peterson's post-high school golf career started off almost identically to Mickelson's. He too enrolled at Arizona State University. But whereas Mickelson received a full golf scholarship, Peterson received only a partial. Yet Peterson was still considered a talented golfer with plenty of potential.
In the end, however, Peterson's golf career fizzled out in the wake of an incident during his freshman year. He was assigned to escort golfing prospect Chris Couch — then the No. 1-ranked junior golfer in the country — around the ASU campus. Instead, Peterson got Couch drunk, earning the ire of Couch's father, who insisted Peterson be kicked off the team, reports the South Florida Sun Sentinel.
Peterson ended up transferring, but his golf career was as good as over. He lived a fairly quiet life, getting married and opening a sports bar in San Luis Obispo. Then, in 2003, Peterson was arrested on charges of having murdered his pregnant wife Laci.
This was all taking place at almost the exact moment Mickelson was competing against Tiger Woods in the 2003 Buick Invitational. (Woods won the tournament in the end.) Peterson was ultimately convicted of murder and sentenced to death. Mickelson, meanwhile, was on the cusp of one of the greatest runs in golf history.