Phil Mickelson Has His Pilot's License But He Doesn't Fly His $40 Million Private Jet
Phil Mickelson has carved himself a lucrative career filled with many memorable performances. When he isn't golfing, the 49-year-old pro has a side-hobby that sends him into the air instead of his golf ball. To feed this hobby, Mickelson bought a $40 million jet, although he leaves the piloting of that plane up to others.
Phil Mickelson's career at a glance
Mickelson went pro in 1992, as Golf.com reports. While it took him several years to rise to the top of the competition, he did so loudly when that time came. He never was the most athletically gifted golfer on tour. Instead, Mickelson relied on power and accuracy to propel himself to the top of the list. He had some struggles along the way, however.
Mickelson was racking up wins at the time Tiger Woods began his career. While Woods dominated the majors, Mickelson struggled to make it over the top. He had a head start on Woods. But the young phenom quickly surpassed Mickelson, checking off several major wins before Mickelson got his first. Finally, in 2003, Mickelson got his first Major win. 
With that off his back, Mickelson entered the prime of his career as one of the hottest golfers. His reputation for failing to show up during Major championships preceded him. But Mickelson's consistent winning and down-home personality made him a fan favorite. To this day, as Mickelson enters his fifties, he is still one of the best golfers on the planet. 
While he has not won a major since 2013, Mickelson goes toe-to-toe with golfers half his age. He has made himself wildly rich in the process, too. While some may buy a car or television with their spare money, Mickelson thought bigger. 
Head in the clouds 
While Woods lived and breathed golf from birth, Mickelson had a different sort of upbringing, reports USA Today. His father was a Navy pilot, the strict background meant Mickelson was on his best behavior as a kid. And Phil Sr. Worked with his son to help him build his golf dreams.
Mickelson had a great relationship with his father. Flying inspired him to follow in his father's footsteps and pursue his own pilot's license. The license meant a lot to Mickelson. His father flew in Vietnam, and while Mickelson never served in the Navy, he could fly brings him closer to the man who raised him. 
Mickelson received his pilot's license in the late '90s and flies all over the country. He was known, for a time, to fly to events on the West Coast on a smaller plane than he has today. When the time was a crunch, he even flew to his daughter's graduation. When it comes to his multimillion-dollar Gulfstream jet, however, Mickelson leaves it to the pros. 
Air Mickelson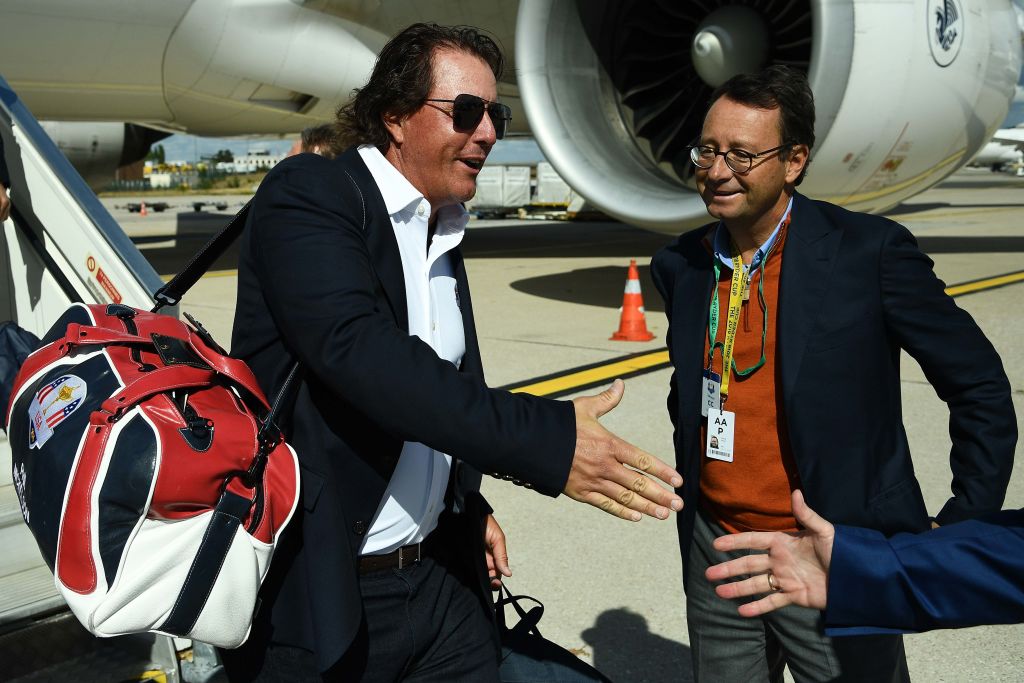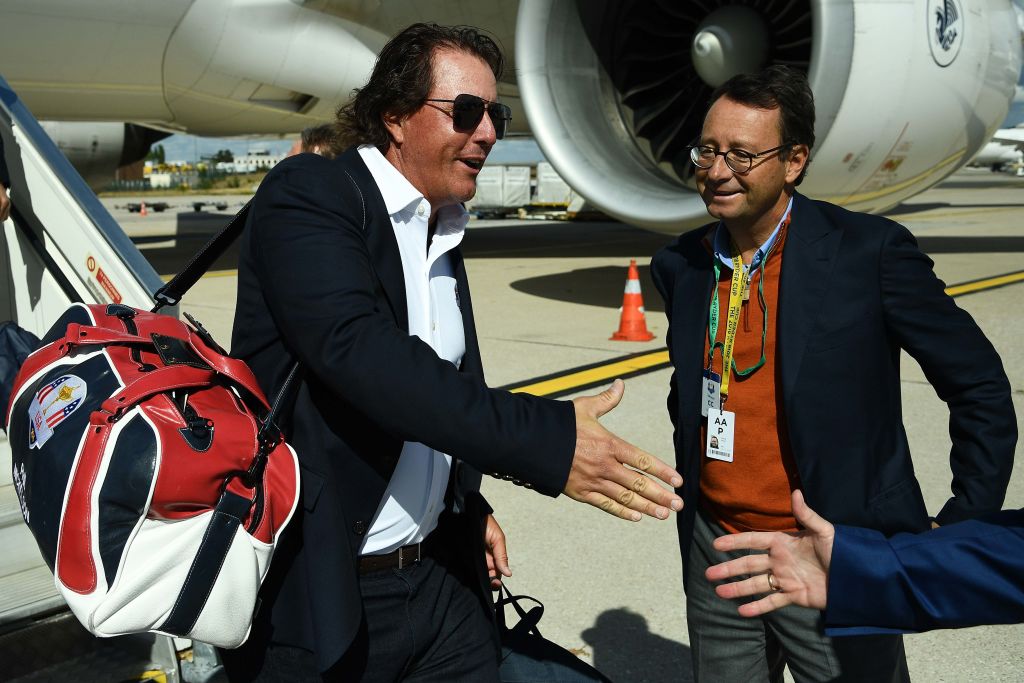 Mickelson's luxury jet has more than the average house, as Business Insider details. Couches, dining areas, televisions, and ornate decorations fill the $40 million plane. Mickelson has a working space in his aircraft for when he's on the run as well as the entertainment sections. At 6-foot-3 tall, Mickelson is too tall to stand upright in the plane's interior, but with several couches, this is not an issue;
For overnight travels, Mickelson's jet has beds, while the two bathrooms decked out with wooden walls and toilet sheets and gold-plated faucets on the sink. There's a galley for cooking and an entire storage unit for beverages, too. It's safe to say that Mickelson is enjoying his riches. 
Mickelson may not fly like his dad did in a war, but his plane honors the man who raised him. Now on the downslope of his career, perhaps the golfer can take his jet for a spin more often after he calls it quits and hangs up his clubs for good.