Phil Mickelson Invokes Kevin Durant While Blasting Detroit Reporter for Coverage of a 23-Year-Old Story
Phil Mickelson had never played in a golf tournament inside the city of Detroit. He hadn't been to the Detroit metropolitan area in nearly 13 years. And after receiving a less-than-stellar greeting from one of the local papers, Mickelson's initial reaction was harsh.
Nothing says, "Welcome to Detroit," after all, then a story about 23-year-old allegations related to a bookie. Allegations, by the way, did not extend to accusations that Mickelson had done anything wrong. The 51-year-old changed his schedule to attend the event, and felt he had been ambushed in return.
Mickelson, second on golf's all-time money list, did back off his initial threat, but the optics for the newspaper are unquestionably poor. What started the whole brouhaha?
The Detroit News publishes a story about Phil Mickelson's ties to a mobbed-up local bookie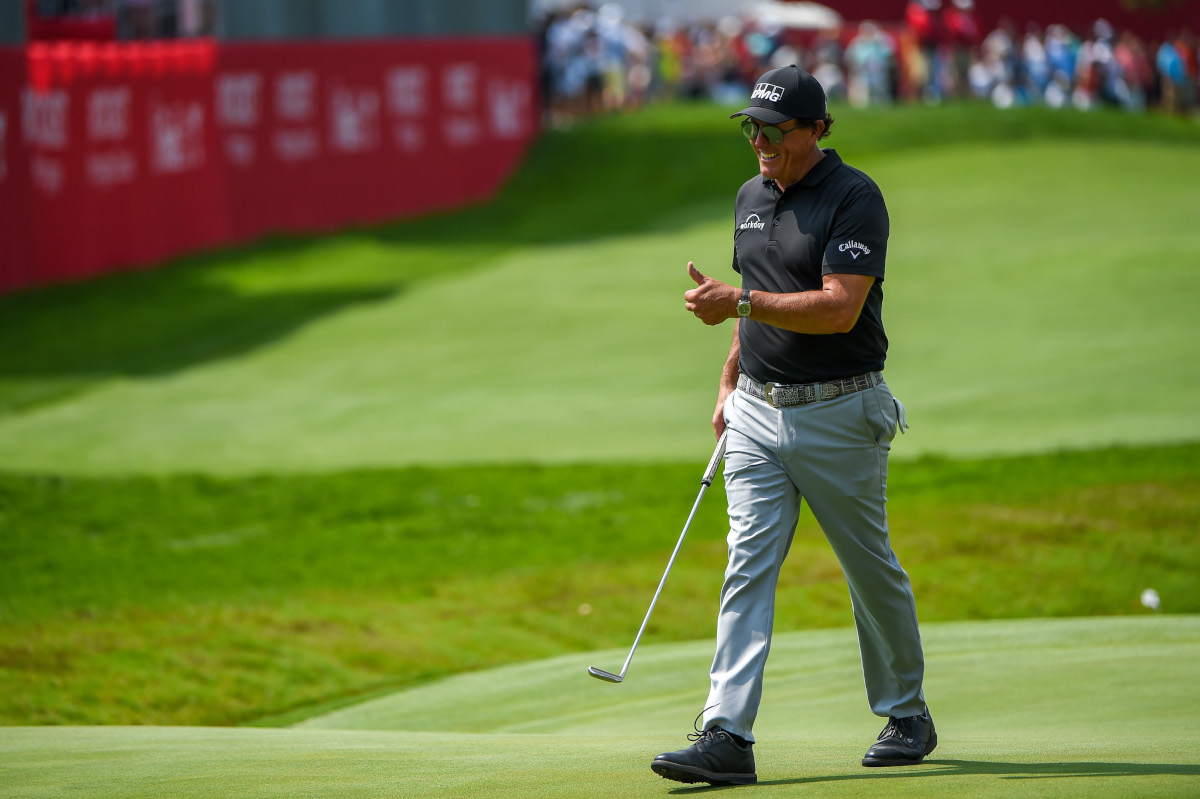 A couple of days before the first round of the Rocket Mortgage Classic at the Detroit Golf Club, The Detroit News published a piece linking Mickelson to a bookie from Grosse Pointe Park (a Detroit suburb).
According to the report, "Dandy" Don DeSeranno allegedly cheated Mickelson out of $500,000. DeSeranno reportedly handled bets from high rollers at a Las Vegas casino in the mid-to-late 1990s through the early 21st century.
How did the story come to light? Transcripts of DeSeranno's testimony during a 2007 racketeering trial against a man accused of leading an organized crime ring in the Detroit area were not available in court records until 2018. DeSeranno received immunity in exchange for testimony and took questions about Mickelson during the trial.
Mickelson never denied he likes to place a bet. But how should he react when testimony available for three years suddenly turns up in the local papers two days before a multiple-major winner plays in the city for the first time? It doesn't seem to pass the test for pure coincidence.
Mickelson responds harshly during a rain delay
On the first day of the Rocket Mortgage Classic, Phil Mickelson took to Twitter during a rain delay. He a since-deleted tweet indicated he would not come back to the tournament. He later explained to the Detroit Free Press why he was so angry.
"I usually take a couple weeks off after the U.S. Open. But I really liked what Rocket Mortgage has really tried to do with this community and get involved. And I wanted to. I felt like as the PGA champion, I would be able to bring some value and maybe help the tournament out. And I thought that, I feel like, Rob Snell (the reporter) made an article this week that was very opportunistic and selfish and irresponsible."

Phil Mickelson
Glenn Cohen, an attorney for Mickelson, told The Detroit News it was a non-story.
"It's old news, and my client didn't do anything wrong."

Glenn Cohen, attorney for Phil Mickelson
Two days after initially blasting the article, Mickelson endorsed a tweet posted originally by Brooklyn Nets star Kevin Durant about his Twitter habits. Durant often fields criticism for responding to those who take shots at him on social media.
However, Mickelson softened his stance and is now hoping to make something positive out of the affair.
Phil Mickelson now hopes 'maybe some good will come from it'
Phil Mickelson was not a factor on the final day of the Rocket Mortgage Classic. He finished with a 3-under-par 285 near the bottom of the leaderboard. He opened the tournament with a 3-under 69 and followed it with three consecutive rounds at even-par 72.
But tournament organizers credited Mickelson's commitment to the tournament in May as a driver for ticket sales. Mickelson also retracted his threat to boycott the Rocket Mortgage event in the future.
But if golf fans in Detroit want the oldest player ever to win a major championship to return in 2022, there are a couple of conditions. A petition started at change.org to try and convince Mickelson to come back to the city. He said he would. But only if the petition reaches its 50,000-signature goal. Additionally, each signer must agree to do a "random act of kindness for another member of the community," according to The Detroit News.
With Tiger Woods still indefinitely away from golf while recovering from injuries sustained in a car crash earlier in 2021, Mickelson is the biggest draw in the game. His improbable win at the PGA Championship only adds to Lefty's popularity.
If Phil Mickelson is back in Detroit next year, we'll know something good did come of the incident.
RELATED: Is Phil Mickelson Back in the Ryder Cup Conversation? And Is That Good or Bad?