Philadelphia 76ers Will Avoid a Ben Simmons Disaster if the Damian Lillard Rumors Are True
The buzzing of the rumor mill hasn't stopped all summer. The Philadelphia 76ers want to move problematic-if-talented point forward Ben Simmons to get a player that better fits a modern NBA offense. President of basketball operations Daryl Morey couldn't reunite with James Harden last season. But there are reports Morey is eyeing another superstar guard: Portland Trail Blazers star and Olympic gold medalist Damian Lillard.
But if the reports are accurate, there's a twist to the strategy that might not sit well with the sometimes-difficult-to-please Philly fan base.
How did things get to this point in Philadelphia? It started with a disappointing playoff flameout and mushroomed from there.
'The Pass' put Ben Simmons in the crosshairs
If we've seen it once, we've seen it a hundred times. Trailing by two with less than four minutes remaining in Game 7 against the Atlanta Hawks, Ben Simmons blew by Atlanta defender Danilo Gallinari and had a clear path to the rim. With the ball raised in his right hand, the game-tying dunk was imminent.
Until it wasn't; Simmons passed up the point-blank shot to pass the ball, a la Steve Nash, to Matisse Thybulle, who got crunched by Gallinari and John Collins on his way to the rim. Thybulle missed one and made one from the line, the 76ers could never tie the game, and the Hawks ended top-seeded Philadelphia's season in the second round.
It was the end of a four-game run during which Simmons did not attempt a shot in the fourth quarter. In a Game 7 at home, Simmons — a three-time All-Star — was 2-of-4 from the floor, finishing with five points, eight rebounds, and 13 assists. It doesn't scream franchise cornerstone, to be sure.
Can the 76ers pull off a boss move for Damian Lillard?
The 76ers have been on the periphery of the NBA offseason bazaar. They brought back free agents Furkan Korkmaz and Danny Green on budget contracts. Georges Niang and Andre Drummond will be role players, taking the roster spots formerly occupied by Mike Scott and Dwight Howard.
Nothing was a blockbuster. Honestly, nothing was even a lightly packed clod-of-dirt buster.
But there could be a big move on the horizon, according to Derek Bodnar of The Athletic.
"Now that the draft is in the rearview mirror and the first week of free agency is coming to a close, there are two very key questions which will determine the Sixers' success in the high-stakes chase of their next great star. The first question is whether the odds or better or worse that Lillard eventually asks out of Portland. The second question is whether the Sixers are in a better position to win the Lillard sweepstakes if that does wind up happening.

"And, despite the Sixers acting as a mostly casual observer to the offseason up to this point, I think the answer is quite clearly yes to both of those critical questions."

Derek Bodner for The Athletic
What would the details of a Damian Lillard deal look like, though?
Ben Simmons remains at the heart of the Damian Lillard discussions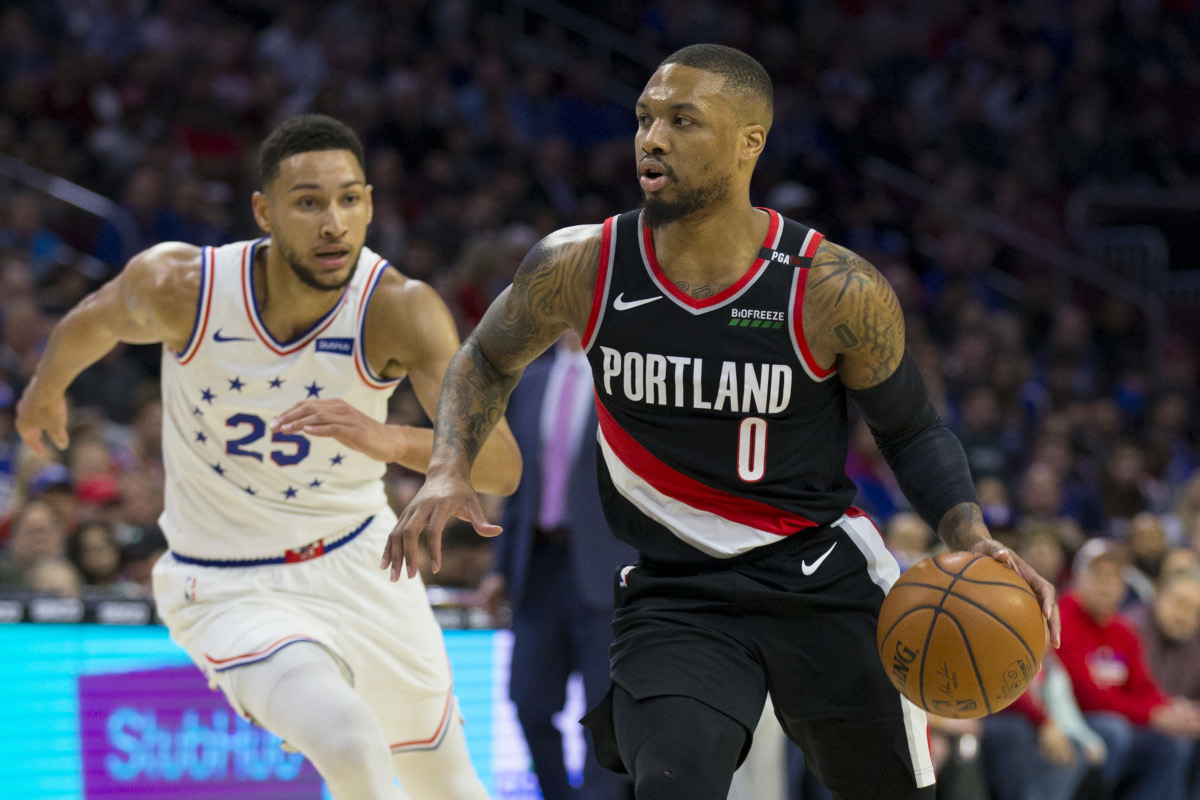 Like 25 of the NBA's 30 teams, neither the 76ers nor Trail Blazers have cap space with which to work. For practical purposes, Philadelphia is $46.6 million over the cap and is looking at a $12.9 million luxury tax bill. Meanwhile, Portland isn't in tax territory, but the Blazers are $41.2 million over the next season's $112.4 million salary cap.
For one thing, the 76ers would face competition for Lillard. Most notably, the Golden State Warriors could factor in due to Dame's Oakland roots.
But essentially, any Lillard-to-Philly move hinges on interest. Is Portland interested in Ben Simmons? Does Simmons have any interest in going to the Blazers? There is a market for Simmons, which gives Philadelphia leverage. And, as we saw with the Russell Westbrook move, where there is a will, there is a five-team trade.
But Kendrick Perkins of ESPN reports that Simmons is prepared to sit out training camp. Jason Dumas of Bleacher Report recently said on Bay Area sports radio station 95.7 The Game that Simmons isn't returning phone calls from Joel Embiid. Dumas added Simmons is open to a move to California,
Damian Lillard will make $39.2 million next season. Ben Simmons' check is a cool $33 million. That is a seriously high-stakes game of chicken the 76ers are playing.
Salary information courtesy of Spotrac.