Philadelphia 76ers' Coach Doc Rivers Once Showed His Love for Philly Fans With a Postgame Political Joke: 'I Think We're Counting Like the Republicans'
Philadelphia 76ers head coach Doc Rivers has had a rough few months. First, his team lost a heartbreaking seven-game series in the Eastern Conference semifinals to the Atlanta Hawks. Immediately following his team's Game 7 defeat, Rivers was asked about franchise point guard Ben Simmons' decision to pass up a wide-open dunk in the final few minutes.
The former Orlando Magic, Boston Celtics, and Los Angeles Clippers coach has spent the ensuing months addressing (and readdressing) Simmons' future with the Sixers. It's been one of the low points in his career to be sure, but Rivers can usually be counted on for a good quote regardless, and one of his best came during last year's opening-round series against the Washington Wizards.
Rivers and the Sixers welcomed fans back into the stands during the 2021 playoffs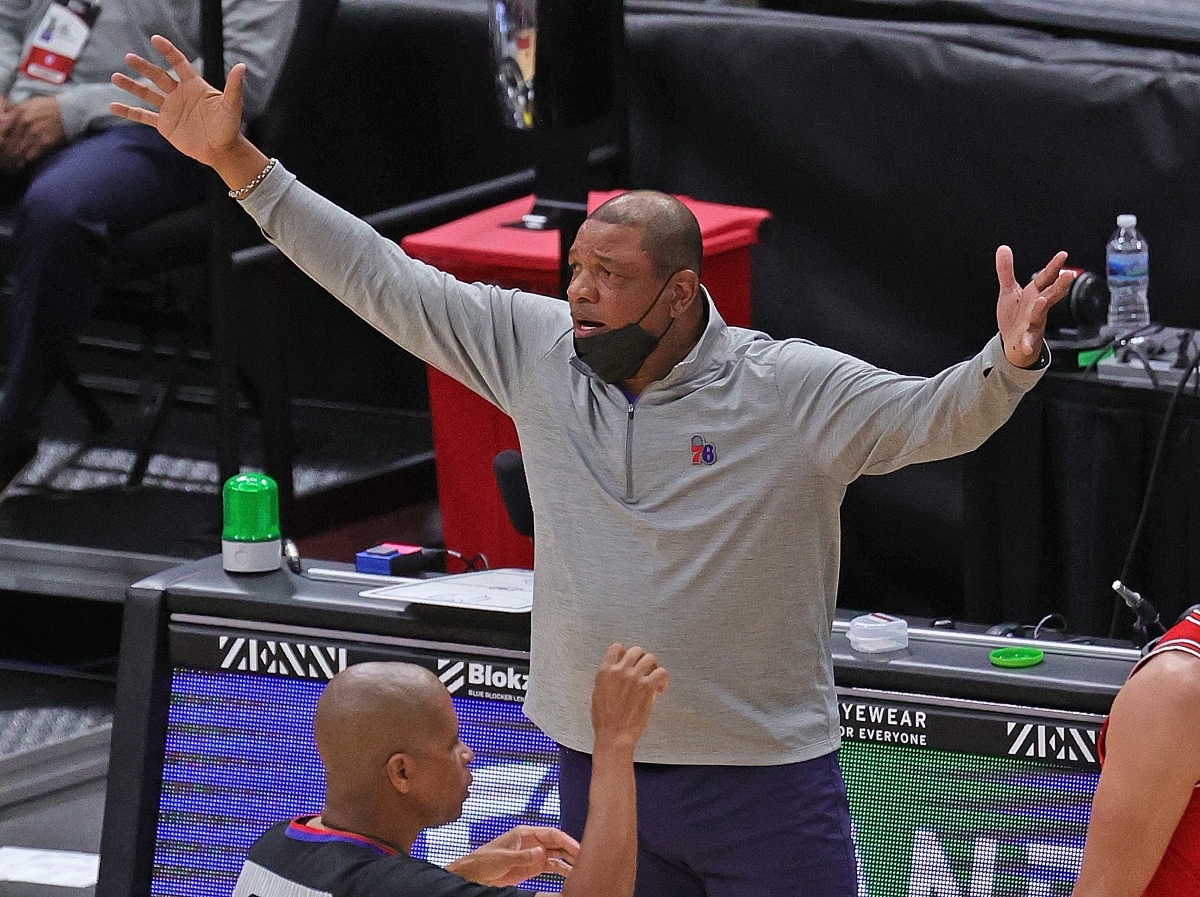 As more of the public became vaccinated for the coronavirus (COVID-19), the NBA slowly allowed fans into arenas for the postseason in cities where it was possible. The number varied, but most teams were able to see about 10,000 fans return for playoff games, according to ActionNetwork.com.
The Philadelphia 76ers were allowed 10,000 fans inside the Wells Fargo Center for their opening-round series against Washington. Fans were a welcome addition anywhere, but Philly fans are notoriously loud and passionate.
Rivers certainly took notice and admitted as much after a home victory.
Rivers showed 76ers' fans his appreciation with a hilarious post-game comment
Philly won Game 1 of the series 125-118 behind 37 points from forward Tobias Harris. The Sixers were off to a 1-0 start in the playoffs, and fans were back in the stands. It was all good.
Rivers was asked about the home crowd after the win, and he responded in typical Doc Rivers fashion, according to ESPN's Tim Bontemps:
"I can't believe that was 10,000, 11,000 [people]. There's no way. I think we're counting like the Republicans, because it felt like 30,000 people in the stands. They were amazing."

Rivers on the Sixers fans after Game 1 of last year's first-round series against Washington
Philly won Game 2 at home and closed out the series with a win in front of its home fans in Game 5. The 76ers only won one more home contest during last year's postseason and eventually lost the series clincher at home against Atlanta.
Rivers at least had some fun before his offseason took a turn for the worse
Simmons passed up a wide-open dunk that would have given Philadelphia a lead late in Game 7. Both Rivers and Joel Embiid were asked about their point guard's decision during their respective postgame press conferences, and both gave candid answers. They were understandably frustrated.
The last few months have been worse, if anything, as the team's head coach and 14-year NBA veteran has been bombarded with more inquiries about Simmons' future. At the moment, it doesn't look there's any end in sight for the saga.
But at least for one night before the storm hit, Rivers and the Sixers won a playoff game in front of their home crowd, and Philly's headman was able to have a bit of fun with it.
All statistics courtesy of NBA.com.
RELATED: Ben Simmons' Trade Demand Could Help the Philadelphia 76ers Score the Missing Piece of Their Championship Puzzle