The Philadelphia 76ers Could Pay a Franchise-Altering Price for the Ben Simmons Standoff
The Philadelphia 76ers are one of several teams thought to be among the NBA's elite struggling out of the gate. Minus Ben Simmons, Philadelphia is just 2–2, and their loss on Oct. 26 to the New York Knicks was significant. It was the first time since April 12, 2017, the Knicks beat the Sixers, snapping a 15-game losing streak to Philadelphia. Superstar center Joel Embiid struggled in the loss, scoring 14 points with six rebounds in 30 minutes.
Embiid is shooting only 44.4% this season, even though he's hit 6-of-15 from 3-point range. His averages of 19.3 points and 7.3 rebounds are on pace to be career lows. More worrying is a statement Embiid made that indicates he might be pushing himself to do more than he should. The absence of Simmons continues to have ripple effects throughout the organization.
Joel Embiid and his lengthy injury history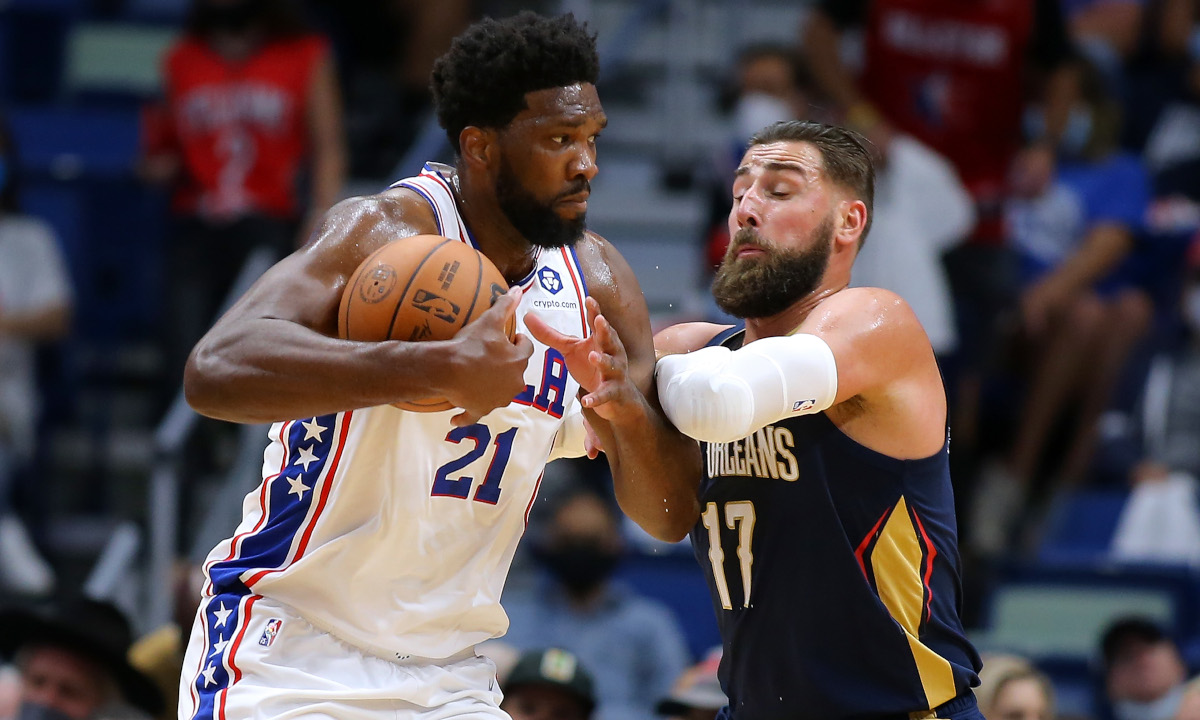 Joel Embiid is in his sixth NBA season, at least officially. He missed his first two seasons recovering from a broken foot. Since making his delayed debut in 2016, he has missed nearly one in every three games the Philadelphia 76ers have played in the regular season. Embiid has appeared in 264 games and missed 131 since 2016–17.
Throw in his two lost years, and you have a player who has missed more games (295) than he's played. Embiid's knees have been the most persistent issue of late. He missed a game in last year's first-round playoff win over the Washington Wizards, sat out a game against the Brooklyn Nets in the 2019 NBA Playoffs, and was sidelined the first two games in 2018 as Philadelphia took down the Miami Heat in the first round.
Embiid has never missed fewer than 18 games in a season. He's Bill Walton with slightly better feet at this point. And yet, he's a brilliant player. Despite his injury woes, he's made three All-NBA teams and three All-Defensive squads. Despite sitting out 21 games last season, Embiid was runner-up to Denver Nuggets big man Nikola Jokić in the NBA MVP voting.
He's on the injury report for the Sixers Oct. 28 matchup at Wells Fargo Center against the Detroit Pistons because of his sore knee. Embiid feels more significant pressure to remain available because Ben Simmons isn't around. That could have long-term consequences for a franchise that believes its championship window is open right now.
Joel Embiid feels the pressure to take up the slack for Ben Simmons
According to Ramona Shelburne on ESPN's NBA Today, Joel Embiid is playing through his sore knee for one reason. That's because Ben Simmons is not playing.
Embiid knocked knees with New Orleans Pelicans center Jones Valančiūnas on opening night. Shelburne said it was worse than it might have appeared at the time:
"He told me after this game in New Orleans; he couldn't walk for two days."

Ramona Shelburne
Yet he logged 30 minutes in a loss to the Nets on that second day but scored 19 points on 6-of-15 shooting. In a road win over the Oklahoma City Thunder, Embiid was better with 22 points, nine rebounds, six assists, and three blocks in 33 minutes. Then came his struggles in New York.
Embiid is the franchise in Philadelphia. The 76ers are paying Simmons a max contract, but that doesn't mean he's the guy that makes things go for the Sixers. No, that player is Embiid. His ability to shoot, rebound, and defend is rare.
If Embiid were to go down, Andre Drummond can't replace everything that the 76ers would lose. Drummond is a four-time rebounding champion and was All-NBA five years ago. But he can't shoot with any consistency away from the rim. If Simmons hurts Philadelphia's floor spacing, Drummond chokes it to death. For his career, 94.5% of Drummond's attempts come from within 10 feet. If it were 1985 again, he'd be a superstar.
Tyrese Maxey is filling in for Ben Simmons but can't do the same things
Without Ben Simmons, the Philadelphia 76ers are essentially playing four wings and Joel Embiid to start games. Tobias Harris is their designated power forward, but he's more of a 3. Seth Curry and Danny Green are outstanding shooters. Young Tyrese Maxey is starting in Simmons' spot.
While he's averaging 14.0 points, Maxey is only dishing 3.0 assists a night. He's also shooting just 41.5% overall and is only 3-of-15 from deep. He does make free throws, which puts him light years ahead of Big Ben. But where they miss Simmons is at the other end.
Philadelphia's 114.0 offensive rating is third-best in the NBA, despite their clunker against the Knicks. Playing Oklahoma City within a four-game sample size is helpful for the numbers.
But defensively, the 76ers are surrendering 110.1 points per 100 possessions, a bottom 10 rating in the NBA. Last season, Philadelphia had the second-best defensive rating in the league. Simmons was second in the Defensive Player of the Year voting. That's not a coincidence.
The longer Ben Simmons is out, the more pressure Joel Embiid will feel. That added pressure could push him into taking more risks than he should, especially early in the season. Given Embiid's track record for fragility, the Philadelphia 76ers run the risk of doing long-term damage to their franchise player. It could also prematurely slam shut their title window.
Statistics courtesy of Basketball Reference and Stathead.
RELATED: Charles Barkley Issues an Unapologetic Ultimatum to Ben Simmons and the Philadelphia 76ers: 'It's Always Going to Be the Elephant in the Room'