Philadelphia 76ers' Reported Interest in Carmelo Anthony Proves That Daryl Morey is Growing More Delusional
The Ben Simmons trade saga and his refusal to heed the Philadelphia 76ers' demands to report to training camp has highlighted the flawed approach that Sixers president of basketball operations Daryl Morey has exhibited throughout this offseason. But the latest reports about Philly's offseason proceedings further emphasize Morey's delusional mindset in these past several months.
Morey and the Sixers reportedly had an interest in signing Carmelo Anthony. That's confusing, seeing as a Morey-led Houston Rockets front office essentially ostracized Anthony and preempted his long hiatus in the NBA.
The Sixers showed a desire to sign Carmelo Anthony in free agency
Although Ben Simmons trade chatter has consumed the 76ers' organization over the past several months, Philly was also trying to find other ways to upgrade the roster and build a championship contender.
The Sixers re-signed Danny Green and Furkan Korkmaz. They brought in former Utah Jazz forward Georges Niang to add a stretch-4 presence and another capable shooter. Philly clearly prioritized wing players. It also had an eye on a particular veteran with a strong scoring pedigree.
The Athletic reported that the Sixers "expressed interest" in signing Carmelo Anthony. From a basketball perspective, that signing could have made some sense.
Philly has lacked scoring depth off the bench in recent seasons. Anthony averaged 19.7 points per 36 minutes this past season and made continued gains as a perimeter threat, shooting 40.9% from beyond the arc on 4.7 attempts per game. His ability to space the floor and get off clean looks in the midrange likely would have benefited the Sixers in need of a scoring punch in the second unit.
Still, it's a bit strange that the 76ers pursued Anthony, primarily because of Melo's contentious relationship with Morey following his release from the Houston Rockets.
Daryl Morey and the Rockets released Melo early in the 2018-19 season, resulting in Anthony's extended absence from the NBA
The Rockets signed Carmelo Anthony to team with Chris Paul and James Harden ahead of the 2018-19 season. But Anthony hardly even got his feet wet in H-Town.
Morey and the Rockets waived Anthony just 10 games into his Rockets tenure. The move was a stunner to most in league circles and especially to Melo.
Anthony elaborated on his strange exit from Houston during an August 2019 interview with Stephen A. Smith on ESPN's First Take. Melo said the Rockets recruited him for over three years and was taken aback when the team gave up on him so early.
The former scoring champion also stated he had reached out to Morey individually to see what he could do to smooth things over. Anthony said he "didn't like" how the situation unfolded and felt blindsided by Morey's assertion that he couldn't make Houston's rotation.
According to Melo, both Paul and Harden said they did not know that Morey planned to release him. Things would get even more frustrating for Anthony.
The Rockets' choice to release Anthony had a bit of a domino effect because of the public-facing idea that Anthony's style of play wasn't a fit for Houston's roster. This notion brought questions about whether Melo was a fit for any championship contender and resulted in him being without a job until fall 2019, when the Portland Trail Blazers signed him.
Why would Carmelo Anthony want to play for the 76ers given his past history with Daryl Morey?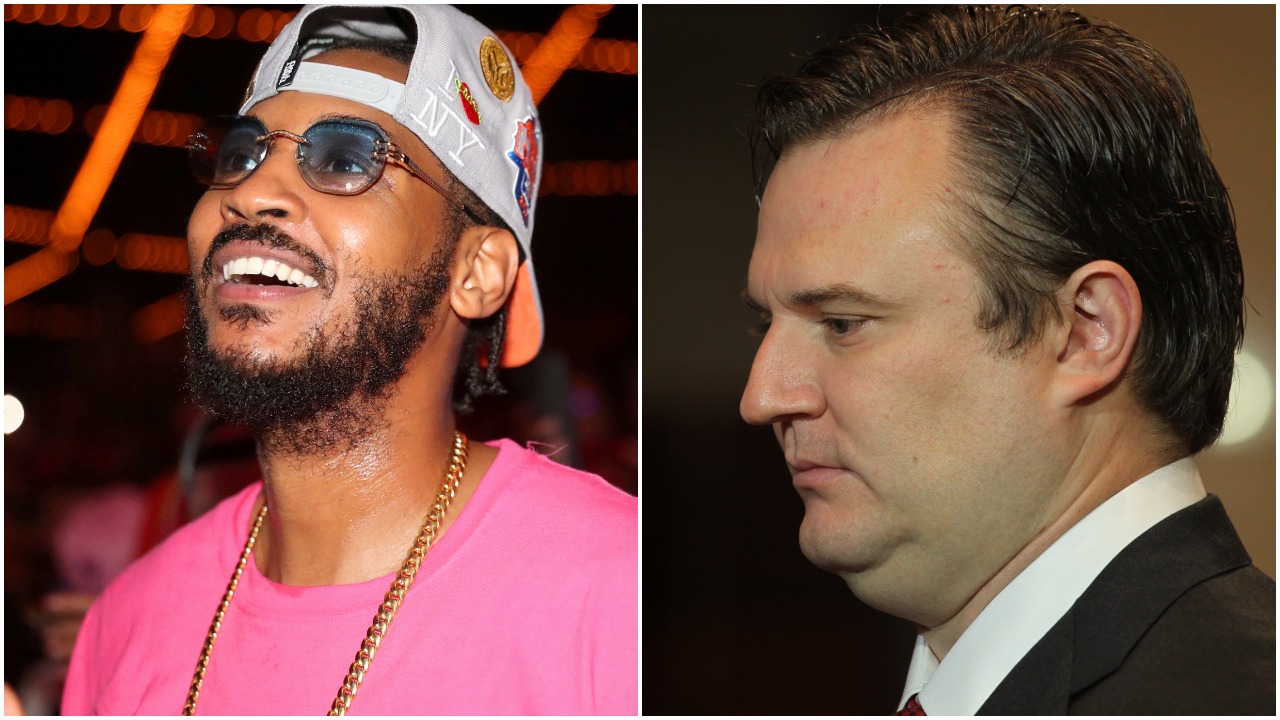 Given Anthony's past comments about his release from the Rockets, it's pretty safe to say he felt betrayed by Morey. Why, then, would Melo have any interest in joining a Sixers organization run by Morey?
Sure, Anthony is still pursuing his first NBA championship, and Philly remains a strong contender in the Eastern Conference. But the Sixers are a franchise rife with drama, and Melo's history with Morey might as well have made a potential signing a non-starter.
Anthony will take his talents to Los Angeles to team with old pal LeBron James and the Lakers. Meanwhile, Sixers fans might have to come to grips — given the nature of this offseason — with the idea that Morey is losing touch with reality and might not be a viable decision-maker in trying to bring Philly a championship.
Stats courtesy of Basketball Reference.
RELATED: Carmelo Anthony Loves LeBron James, but Not Enough to Bench Himself