76ers Stumbled Across Something Special With Bully-Ball Lineup Featuring "Bigs" Joel Embiid and Andre Drummond
ORLANDO — Some of America's greatest inventions — from Coca-Cola to penicillin and velcro to Viagra — were accidental discoveries. Now, basketball fans can add to that list of unexpected discoveries with a bully-ball lineup the Philadelphia 76ers accidentally found during a recent light-hearted scrimmage session.
Looking to get his team a free-flowing and fun workout the day after Christmas, 76ers coach Doc Rivers had his "bigs" scrimmage against his "smalls." The Sixers have needed some light-hearted moments this season to take their minds off the drama and distractions that disgruntled point guard Ben Simmons has created with his contentious holdout.
Rivers knew there would be plenty of laughs and moments of confusion, but he also figured the scrimmage would get the competitive juices flowing for professional athletes who don't like losing at anything.
Out of that session — one in which Seth Curry, Danny Green, and Furkan Korkmaz got some reps in the post and Joel Embiid, Tobias Harris, and Georges Niang brought the ball up as the point guard — came a surprising revelation to Rivers.
In using an Embiid/Drummond duo, the Sixers can change the flow and dominate foes inside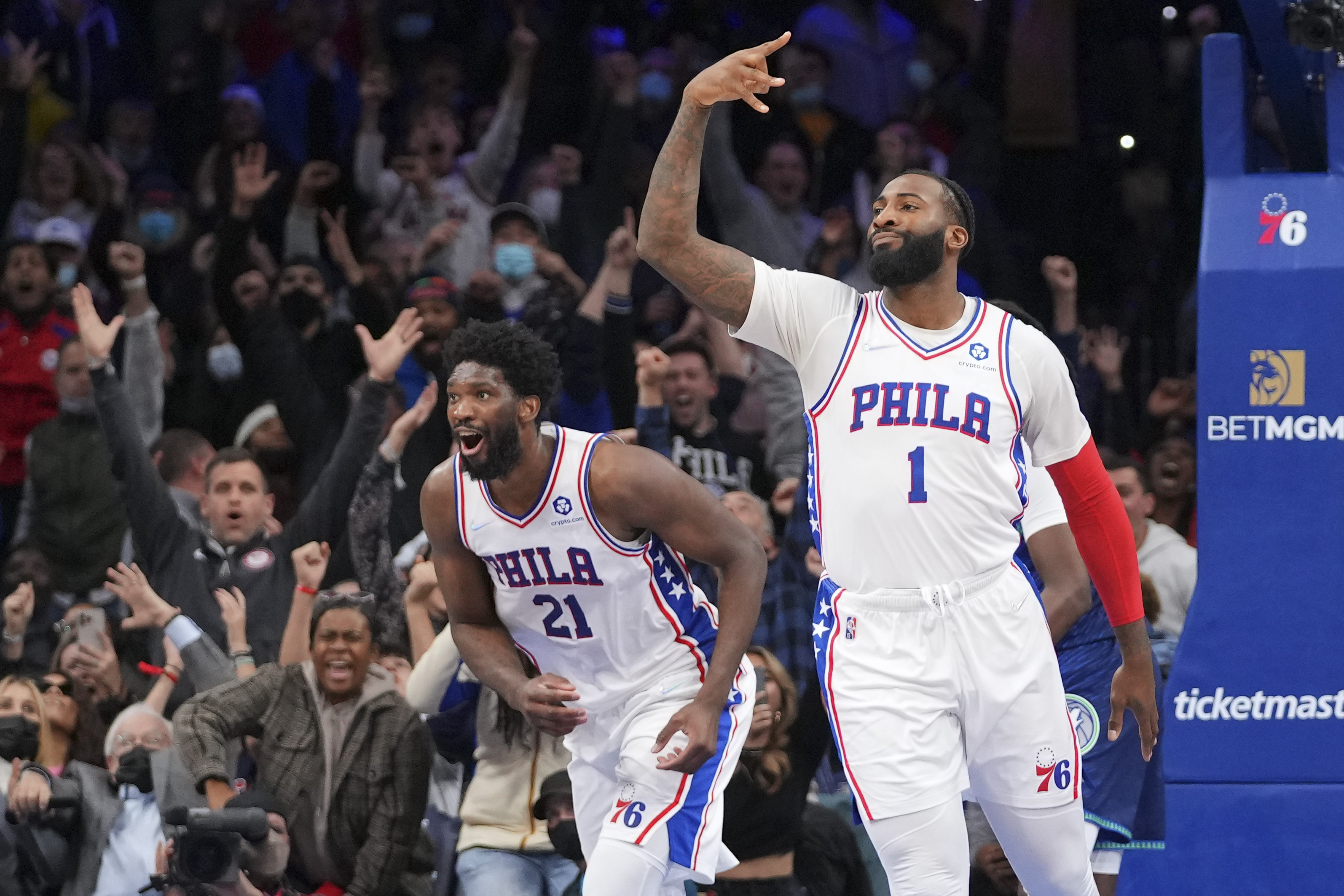 For years, Doc Rivers has been known as a coach who players love because of his ability to relate to them and keep things fresh throughout the grind of an 82-game NBA season.
In his nearly 23 years as an NBA head coach, Rivers has come up with very different practice plans to keep things light occasionally. Some days, he'll hold shooting competitions between the coaches and players. From time to time, Rivers has thrown a wad of cash — likely leftover per diem money — in the middle of the floor as a reward for the player who hits the first half-court shot.
Rivers recent practice idea — a "Bigs" vs. "Smalls" scrimmage — produced a revelation for the 76ers. The veteran coach and his staff loved seeing how well superstar center Joel Embiid and fellow big man Andre Drummond worked together to get the ball in advantageous spots. He also noticed how the massive pair shut down the paint defensively and dominated the glass on both ends of the floor.
Rivers said he kept having one recurring thought throughout that scrimmage: Why not occasionally spring the unconventional lineup on foes and see how they react to Philadelphia's bully-ball style of play?
"We had been talking about using it a lot," Rivers said in a recent postgame news conference following Philadelphia's defeat of Orlando. "We had a practice the day after Christmas that was a "fun practice," and I had the five bigs play the five guards in a scrimmage. It was hilarious watching the bigs handle the ball, but they won, and we liked that lineup. Joel, of course, was Joel. When teams try to trap him, now we can duck (Drummond at the rim), and he's a big target for us."
Rivers prides himself on thinking outside the box with player combinations
Rivers recently unveiled the Embiid/Drummond combination in a game against the Orlando Magic. That night, the Sixers trailed by double digits early in the game, and they were struggling with their perimeter play while being without Tyrese Maxey and Matisse Thybulle.
Rivers' reaction along the sidelines: Go opposite.
"With all the guys we had out, we had no guard play," Rivers recalled. "I told (the assistant coaching staff), `Hey, let's go big! If we can't go small, let's go huge.' I thought it had a big impact on the game."
Rivers' read that night was the right one. The Embiid/Dummond duo wasn't on the floor long, but it effectively dominated the paint and shifted the game's momentum. The Sixers went on to win 116-106 that night thanks, in large part, to the play of Embiid (31 points) and Drummond (12 points, eight rebounds, and four assists).
In four minutes together, the Embiid/Drummond pairing produced 11 points, four rebounds, and two assists, and they had a plus-5 ratio on the scoreboard.
"Joel was so excited because he's been wanting it," Rivers said of Philadelphia's ultra-big lineup. "When we went to it, you could see he was so excited. So, it's a lineup that we can use. We don't have a lot of stuff put in, and that's where it can be raggedy for us offensively. But (the Magic) couldn't score on us and, we got every rebound. We're scoring sometimes with that lineup just by being big."
Bully ball gives the Philadelphia 76ers another dominant weapon to add to their arsenal
Let's face it: Any Philadelphia 76ers lineup with Joel Embiid in it has been a good one of late. The MVP candidate has scored at least 30 points in eight straight games to tie a franchise record set by Wilt Chamberlain and Allen Iverson. Embiid, who has scored 31 points in five consecutive outings, helped the 76ers recently rip off seven straight wins before a loss to Charlotte on Wednesday. Embiid can set some franchise history tonight if he can hang another 30 points on the rival Boston Celtics.
As for Drummond, he has been something a revelation this season for the 76ers. After bouncing between the Cleveland Cavaliers and Los Angeles Lakers last season, Drummond looked as if he could be on his way out of the league in this small-ball era. In Philadelphia, he's made the most of his 11 starts and 19.2 minutes a game by averaging 6.4 points and 9.1 rebounds.
If the Sixers ever want to use the 6-foot-10, 279-pound Drummond in an ultra-big lineup again, Embiid said he would welcome it.
"It's something we can always use to our advantage," said Embiid, who has appeared on the floor with Drummond in four games this season. "These days, I don't really play like a center anymore so you can put me anywhere on the floor, and I'm going to figure it out. It's a great adjustment to put two bigs out there who are long and can get those 50/50 balls. I was excited about being with (Drummond), and I think, in the future, that's something we really should look into because it puts a lot of pressure on the other team."
All quotes in the story were obtained firsthand.
All statistics come courtesy of ESPN.com.
RELATED: On the Best Run of his Career, Philadelphia 76ers Center Joel Embiid is Playing Like an NBA MVP