Philadelphia 76ers Trade: A Joel Embiid-James Harden Partnership Is Destined to End in Disaster
After weeks of seemingly endless speculation, James Harden is a member of the Philadelphia 76ers. For now, it's ecstasy for Joel Embiid and the City of Brotherly Love. In time, however, the Harden acquisition could become a nightmare.
Adrian Wojnarowski of ESPN and others reported the 76ers and Brooklyn Nets reached an agreement to send Harden and Paul Millsap to Philly. The Nets will reportedly receive Ben Simmons, Seth Curry, Andre Drummond, and draft compensation.
Harden is one of the better pure scorers of this generation. He remains one of the most gifted offensive players and creators in the sport. But his arrival makes for a wonky on-court fit with Embiid, who suddenly finds himself needing to give up the liberties he enjoyed without a ball-dominant Simmons on the floor. Not to mention, durability is a significant concern for both players, and it should become a talking point in the playoffs.
Sixers president Daryl Morey got his guy. Still, there's reason to believe the Harden-Embiid partnership could go terribly wrong.
Joel Embiid loved having more freedom with the ball and on the perimeter
One of the reasons Joel Embiid is having such a prolific season is that he has the ball in his hands more often.
Embiid has a career-high 37% usage rate. He's leading the NBA at 29.4 points per game while averaging a career-high 4.3 assists. JoJo has total autonomy in hunting his own scoring opportunities or making plays for his teammates, whether in transition or out of the post.
The 27-year-old thoroughly enjoyed having so much responsibility. Embiid acknowledged last month that he felt the ability to handle the ball in transition and play on the perimeter unlocked a new level of his game. His progression has pleased Big Man University alumnus Shaquille O'Neal, who has sung the 76ers star's praises all season.
However, Embiid likely needs to adapt with James Harden in the 76ers backcourt.
James Harden gives the 76ers necessary scoring and playmaking, but he also takes the ball out of Embiid's hands
Harden is a three-time scoring champion. He's among the NBA leaders in assists at 10.2 per game. The Beard and Embiid are likely to devastate opponents by getting to the free-throw line at will.
However, Harden will take the ball out of Embiid's hands quite a bit.
Harden has a career 30.5% usage rate. He had a 28.4% usage rate in Brooklyn this season. The 2017-18 NBA MVP needs the ball in his hands to be effective. Is sacrificing Embiid's touches for Harden's total playmaking a successful recipe for the 76ers?
On the one hand, Harden-Embiid pick-and-rolls could prove deadly. Harden has the vision and craftiness to carve out passing angles for Embiid on slips, and JoJo can also pop and knock down open jumpers. Similarly, the danger of Embiid rolling to the rim will likely provide The Beard with added separation. He can stay behind the screen and pull up or attack the basket.
Still, there are downsides. Harden absolutely pounds the rock and doesn't move well without the ball. That could serve as a detriment to the 76ers' desire to get Embiid post touches.
Additionally, Harden's defensive effort has been a nightmare. He fails to attack closeouts and is incredibly susceptible to blow-bys, which could force Embiid to play a lot more help defense and exert extra energy on that end of the floor.
Perhaps Harden's energy level and commitment will increase now that he's once again forced his way to the desired landing spot. But even if the on-court fit works, 76ers fans should be wary.
Injury concerns are real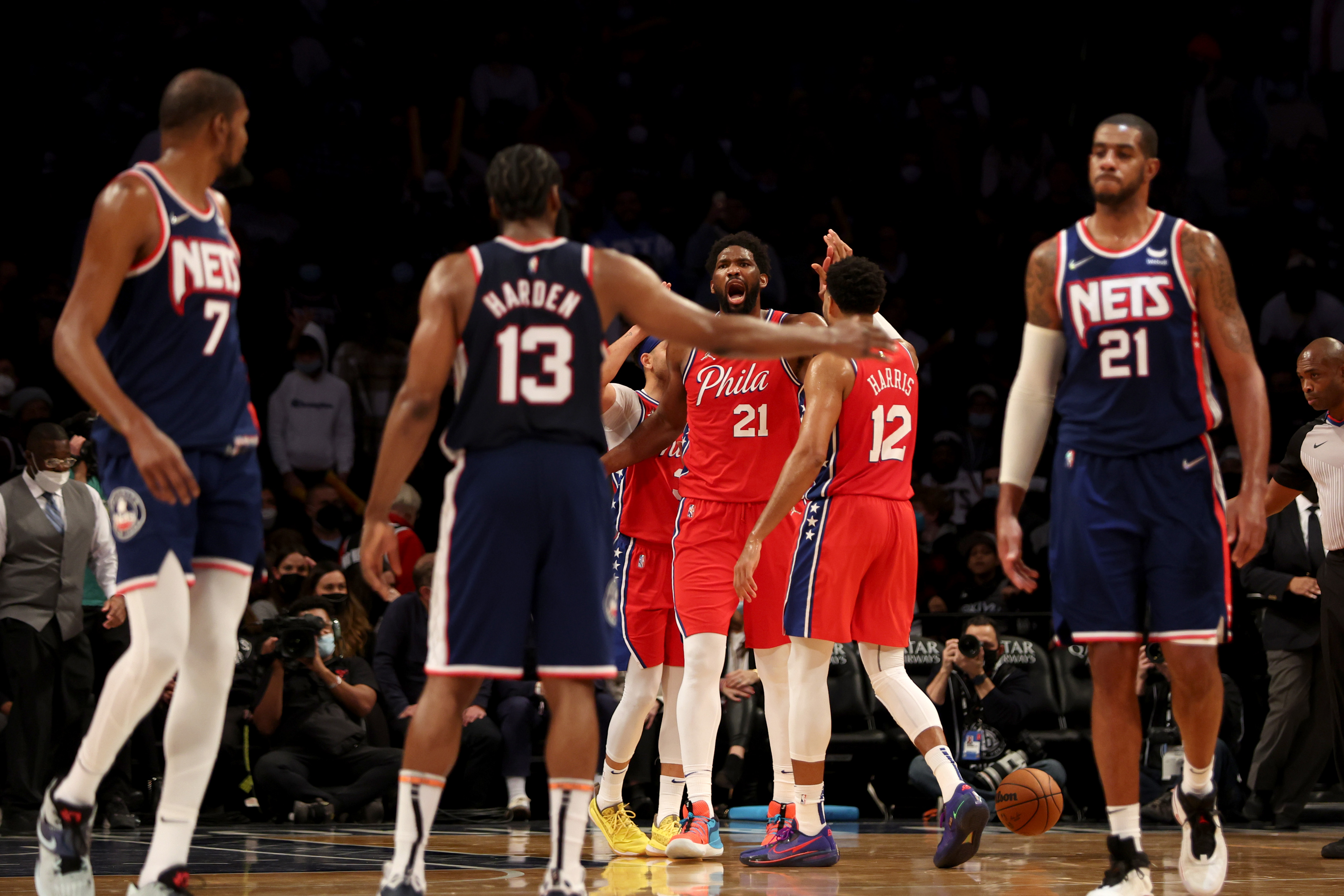 Here's something to consider: James Harden currently has the second-worst true shooting percentage of his career (57.6%) and his lowest player efficiency rating (20.9) since his sophomore season.
Is it coincidental that this regression comes immediately after a hamstring injury that continues to give The Beard problems?
Harden's season got off to a plodding start, in part because the hamstring did not fully heal according to plan. Some might argue his numbers are down because of Kyrie Irving's extended early-season absence and Kevin Durant's time out of the lineup. However, The Beard's best stretch came without KD on the floor.
Maybe Harden already reached his apex and is now starting to trend down. He's 32 years old, and the hamstring issue could become continually disruptive with time.
That's not good for the 76ers, because Joel Embiid also has an injury history.
Health concerns have loomed large for Embiid throughout his career. He has a lengthy track record of knee issues and battled through a torn meniscus in last season's conference semifinals against the Atlanta Hawks. Embiid actually played quite well in that series. However, there's no denying that durability issues have impacted his career.
What happens if both Harden and Embiid feel banged up at the end of the season? And if Harden is on the decline, how will Philly navigate a slew of financial challenges after Shams Charania of The Athletic reported that The Beard accepted his player option for the 2022-23 campaign?
The possible upside of a Harden-Embiid partnership made Daryl Morey go for broke. But the potential pitfalls are evident, and the 76ers could find themselves lamenting this decision if they cannot win a championship.
Stats courtesy of Basketball Reference.
RELATED: Ben Simmons and Kyrie Irving's Combined Immaturity Is Going to Drive Kevin Durant to a Breaking Point