The Philadelphia Eagles Credit 'Good Karma' as the Biggest Reason RB Miles Sanders Shockingly Fell to Them in the Draft
Before the addition of MIles Sanders in 2019, the Philadelphia Eagles had established a reputation for themselves as not being overly keen on the running back position.
Their leading rusher in 2018 was Josh Adams with a measly 511 yards (who's currently not on an NFL roster). Even during the Super Bowl-winning season of 2017, their running game was highly reliant on the "running back by committee" approach.
Veteran LeGarrette Blount finished the year as the team's leading rusher with 766 yards. However, he was frequently subbed out for Corey Clement and Jay Ajayi. The Eagles had a concrete plan of not committing to one formal lead back. That all changed during the 2019 NFL Draft.
The Philadelphia Eagles were shocked when Miles Sanders fell to the second round
After a frustrating 2018 season that saw them limp into the postseason as a Wild Card team, the Eagles finally decided to reinvest in the ground game. They first traded for Jordan Howard, a bigger-bodied RB, during the offseason.
Eagles GM Howie Roseman wasn't overly confident a younger back would be available to them during the draft, so picking up some insurance in Howard was a crucial first step to rebuilding the RB room.
However, much to the Eagles' and Roseman's surprise, their favorite rookie running back became available in the second round. They performed extensive scouting work on Sanders due to his Pennsylvania roots and jumped at the opportunity to snag him on draft day.
"Miles was a staff favorite. A coaching staff favorite. A personnel staff favorite. A front-office favorite. He reminded us of some other players we've had around here," said Roseman following the pick (Philadelphia Inquirer).
Roseman joked about the possibility of Miles Sanders being available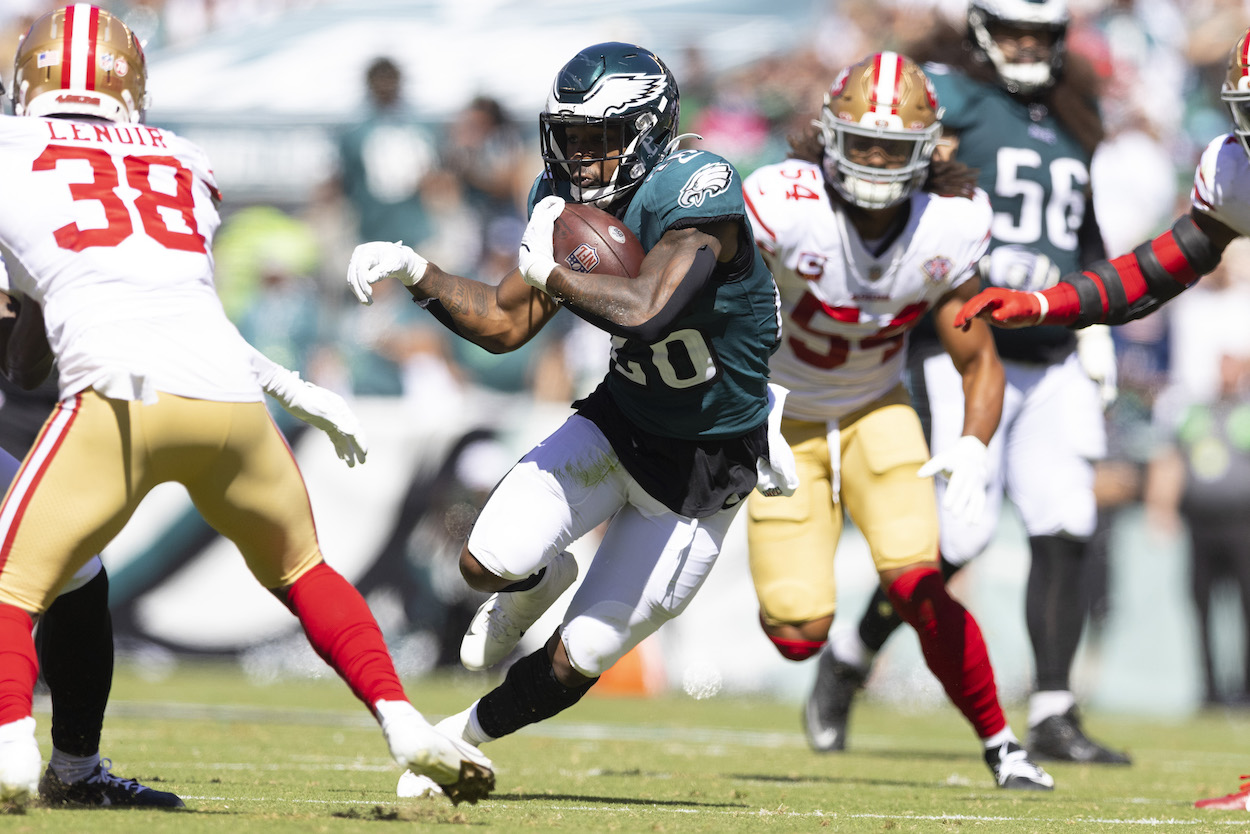 Roseman is a sucker for offensive and defensive linemen. Taking Sanders in the first round of the draft was out of the question. However, leading up to the event, the Eagles' longtime executive joked about the possibility of landing their next franchise back in the second round.
"This is a guy. We got together two weeks ago as a staff and put together some hypotheticals," said Roseman. "We joked about Miles falling to us like he did today. I went to coach Staley's (RBs coach Duce Staley) office, and I said, 'Let's get some good karma. Maybe Miles will fall.'"
Was it "good karma" that helped Sanders slip to the Eagles back in 2019? Or did Roseman and the Eagles perfectly read the draft board that evening? Either way, Philadelphia was thrilled with the outcome.
The Philadelphia Eagles are still fleshing out their RB1's role
While Roseman hyped up Sanders like the second coming of LeSean McCoy upon initially drafting him, his role in Philly has been murky.
He had a sensational rookie season upon being handed starting duties during the second half of the year. He finished with 1,327 scrimmage yards and formed a noticeably strong connection with former QB Carson Wentz.
However, the following season was a major challenge for Sanders. He struggled with drops and fumbles, and previous head coach Doug Pederson rarely leaned on him during losses.
Fast forward to 2021, and most Eagles fans hope the team's new coaching staff puts a greater emphasis on getting Sanders the football. He has 172 scrimmage yards through two games. However, he's averaging just 14 rushing attempts per game.
Sanders will need far more touches moving forward if Roseman's dream of him being the Eagles' next great franchise RB will ever be achieved.
All stats courtesy of Pro Football Reference.
RELATED: The Cowboys Came Dangerously Close to Drafting Eagles QB Jalen Hurts: 'We Certainly Had Interest in Him'