The Philadelphia Eagles Have a Massive First-Round Bust Issue That They Desperately Need to Fix, and Other NFL Teams Are Trying to Help Them Out
Heading into this year's offseason, a proper battle was supposed to take place between the Philadelphia Eagles' two young left tackles: Andre Dillard and Jordan Mailata.
Dillard is a former first-round pick they traded up a few spots to acquire. In contrast, Mailata is an Australian rugby star turned NFL offensive lineman drafted in the seventh round.
Thus far, Mailata has completely and entirely run away with the Eagles' starting left tackle gig. He took first-team reps during the team's preseason game against the Pittsburgh Steelers and has yet to miss a practice. On the other hand, Dillard has struggled taking reps with the second-team and has missed time due to a knee injury.
If not already there, Dillard is closing in on "bust" territory, and the Eagles desperately need to maximize his value.
The Philadelphia Eagles have been receiving trade offers for Dillard
According to Jeff McLane of The Philadelphia Inquirer, the Eagles have received trade offers for their failed first-round offensive tackle. A surprising development considering Dillard was bad his rookie season and missed all of 2020 with a biceps tear, but offensive line depth is at a premium in the NFL.
If a team out there is truly hurting for tackle depth, taking a flier on a former first-round pick makes sense.
The Houston Texans, for example, were rumored to be interested in Dillard during the 2019 NFL Draft. The Texans' perceived attraction to Dillard prompted Howie Roseman — the Eagles' general manager — to trade up a few spots. Houston ultimately drafted OT Tytus Howard, who hasn't been all that impressive himself.
Keeping Dillard on the roster makes minimal sense
While Mailata has looked impressive during the limited NFL reps he's seen, he's no guaranteed starter himself. Keeping Dillard on the roster as an emergency backup should Mailata completely bottom out in 2021 could be perceived as logical. As previously stated, offensive line depth is at a premium in today's NFL, and the Eagles aren't an exception. Philly's o-line was decimated by injuries last season; they could use some extra depth themselves.
However, the frustrating part with Dillard is that he offers no flexibility. He's strictly a left tackle, something he publicly voiced during his rookie season. The Eagles attempted to play him at right tackle during one of Lane Johnson's injury-related absences in 2019, a strategy that completely blew up in everyone's faces.
Very rarely do NFL teams keep a backup lineman on the roster who can only play one position. Typically speaking, positional flexibility is prioritized when filling out an o-line depth chart.
Dillard needs to play left tackle for the Eagles or another team.
The Philadelphia Eagles should take what they can get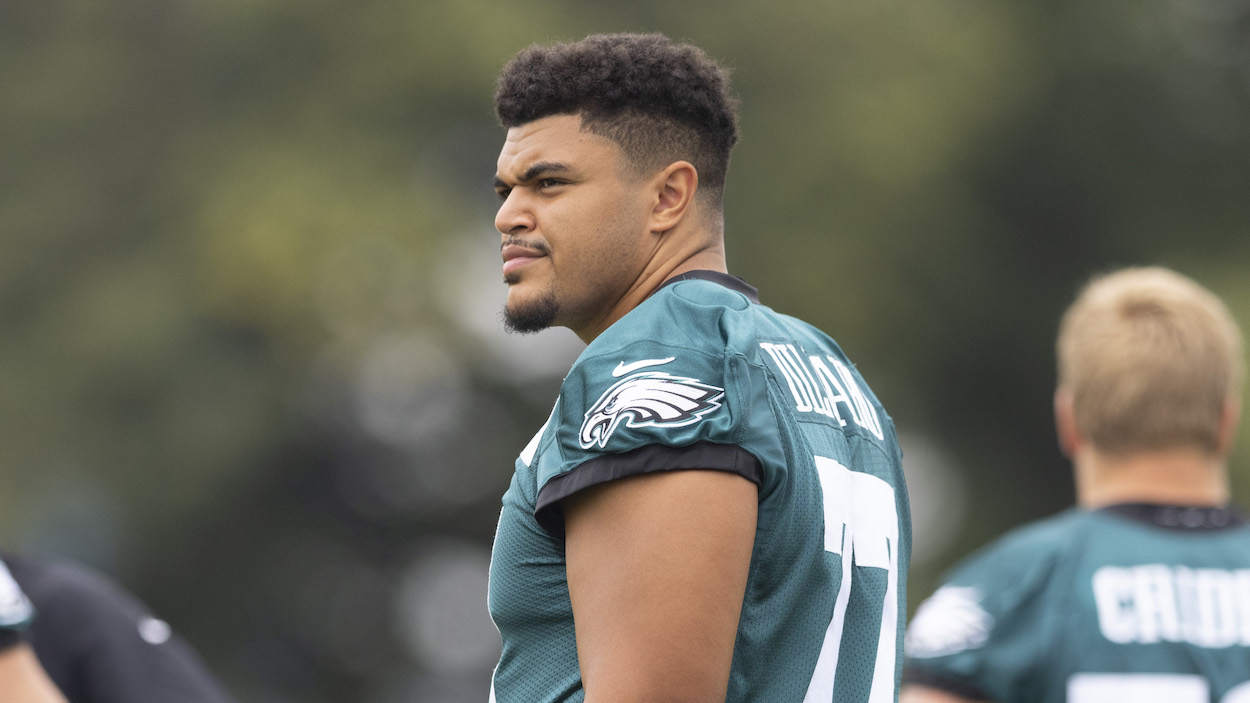 Teams calling about Dillard aren't offering much. The Carolina Panthers recently traded away former second-round OT Greg Little to the Miami Dolphins. That's the going rate for young offensive linemen who have yet to flash any signs of potential.
As disheartening as this reality may be for Roseman and the Eagles, they should be jumping at the opportunity to deal Dillard away for a sixth or seventh-round draft pick. It frees up a roster spot and rids the Eagles of a player that they don't have a plan for.
Like Sportscasting on Facebook. Follow us on Twitter @sportscasting19.