The Philadelphia Eagles' Offense Has Just Suffered Its Second Major Loss of the Week
With Carson Wentz now out of Philadelphia, it seems most likely that Jalen Hurts will be the Eagles' quarterback for the 2021 season. Another transaction this week means that Hurts will have one fewer offensive weapon to work with, as the Eagles have released their veteran wide receiver DeSean Jackson.
DeSean Jackson was once an Eagles hero
RELATED: Carson Wentz Gets Emotional Farewell From Diehard Eagles Fan
The Philadelphia Eagles selected DeSean Jackson in the second round of the 2008 NFL Draft. He nearly passed the 1,000-yard mark in his rookie year, and would do exactly that three times in his six-year stint with the team. He was also selected to the Pro Bowl three times over that period.
Jackson's most famous moment with the Eagles came during the 2010 season. Against the New York Giants in week 15, quarterback Michael Vick had already led the Eagles from 21 points down to tie the game at 31. The Giants lined up to punt on what seemed to be the last play of regulation. Instead, Jackson took the punt 65 yards for a touchdown as time expired to give the Eagles the win.
Aside from that, Jackson had another famous moment in an Eagles uniform. Unfortunately, it was famous for all the wrong reasons. In a 2008 Monday night game against the Dallas Cowboys, Jackson caught a long pass from Donovan McNabb and strode in for what looked like his first NFL touchdown. But before he crossed the goal line, he threw the ball down in celebration. After review, the call was reversed to a fumble.
Jackson's second stint in green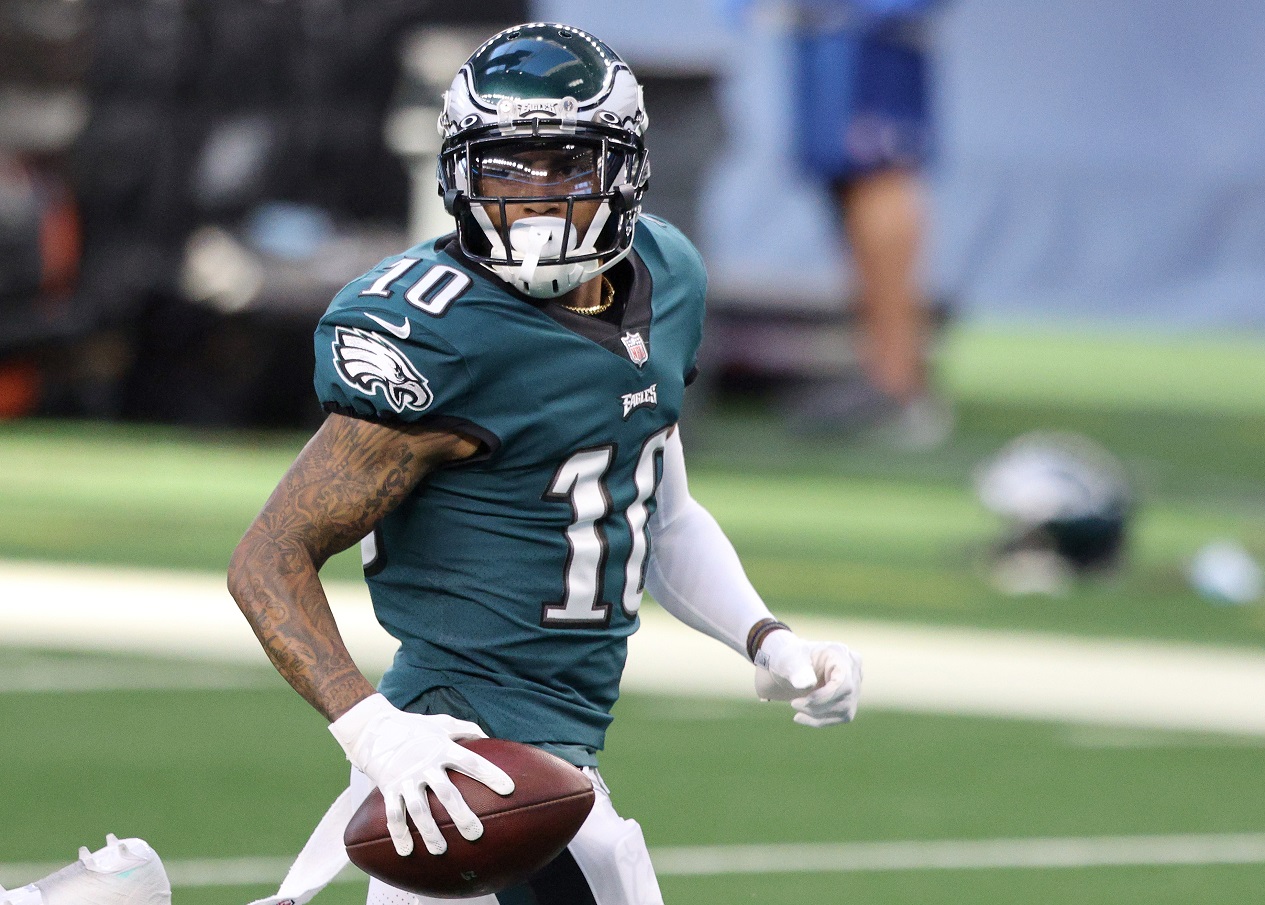 RELATED: The Philadelphia Eagles Have Already Made a Major Decision About Jalen Hurts' Future
After the 2013 season, Jackson left the Eagles and signed with their division rivals from Washington, where he would spend the next three seasons. In two of those seasons — 2014 and 2016 — he exceeded 1,000 yards receiving. After 2016, he moved on to Tampa Bay and played two seasons as a Buccaneer.
Before the 2019 season, the Buccaneers traded Jackson to his original team, the Philadelphia Eagles. Unfortunately, his second stint in Philadelphia was nowhere near as productive as his first. In both 2019 and 2020, he spent a large chunk of the season on injured reserve.
Across both seasons, Jackson played in only eight out of 32 games and caught only 25 passes. This is fewer than he had in any single season prior to 2019.
The other Eagles wide receivers
DeSean Jackson is probably not going to be the only wide receiver to leave Philadelphia. The Eagles have one of the worst salary cap situations of any team in the NFL. Although no one knows what this year's cap will even be, it will be reduced to a figure no less than $180 million thanks to revenue losses from the pandemic. Nevertheless, the Eagles have a payroll of over $255 million — well over last year's cap, let alone this one's.
Aside from that, last year's Eagles had a downright dismal receiving corps. Only one receiver, Greg Ward, had over fifty receptions. Only one wide receiver, Travis Fulgham, recorded over 500 receiving yards.
After DeSean Jackson's release, it's widely expected that Alshon Jeffery will be the next Eagles wide receiver to go. Although Jeffery is signed until 2023, the team will save nearly $4 million by letting him go before the start of June. Last season, he struggled with injury and did not record his first catch until week 12.
Statistics courtesy of Pro-Football-Reference. Financial data courtesy of Spotrac.