The Philadelphia Eagles Are Pointing the Finger at a Surprising Figure to Justify the Heartbreaking Zach Ertz Trade
It's been a hotly talked about trade rumor for the past year-plus, and the Philadelphia Eagles finally pulled the trigger this past Tuesday.
They traded tight end Zach Ertz to the Arizona Cardinals, finalizing an outcome that's felt inevitable since the moment the Eagles drafted Dallas Goedert back in 2018.
Common sense suggests the Eagles made this trade to make room for the emerging Dallas Goedert. However, there was more than one factor at play leading to such a heartbreaking decision.
The Philadelphia Eagles are finally embracing their rebuild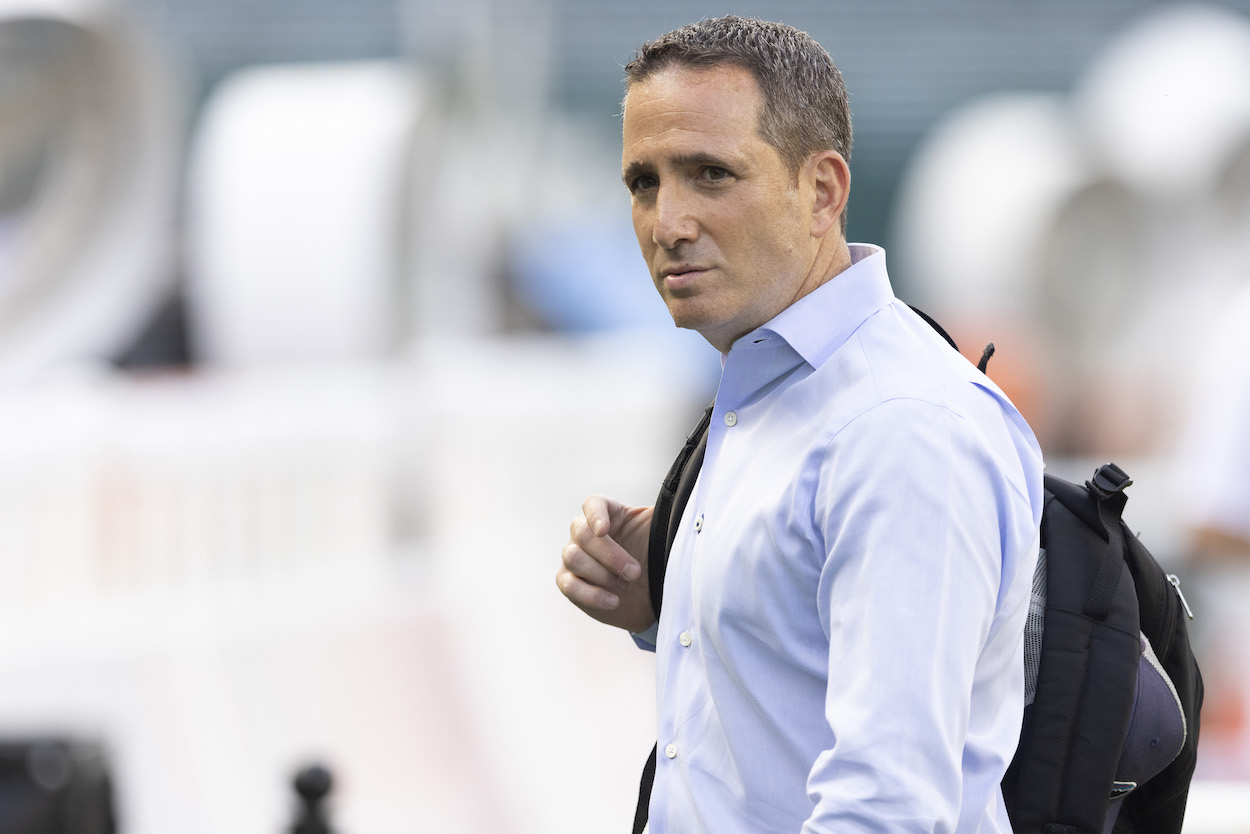 Before diving into what Eagles general manager Howie Roseman said during his post-trade press conference, the first point of emphasis that needs highlighting when discussing the Ertz deal is that Philadelphia is seemingly embracing their rebuild.
Everyone pretty much knew the Eagles wouldn't be a competitive team this past offseason. However, that didn't stop Roseman from treating things like his team had a chance to win the NFC East. He signed several aging veterans to one-year deals and forced Ertz to hang around for the first couple games of the season.
Following the team's 2-4 start (a start that included a blowout loss at the hands of the Dallas Cowboys), it appears even Roseman is willing to concede the 2021 Eagles won't be a good football team. Committing to a tear-it-down style rebuild where veterans get traded away for young pieces or draft picks makes sense here.
Making way for the youth
While getting rid of older talent is step one in rebuilding, finding good, younger talent to replace them is the far more challenging step two.
Ertz is the best tight end in Eagles' franchise history. Replacing him is not as simple as some would like to believe.
For starters, the before-mentioned Goedert will assume most (if not all) of the team's TE1 duties. The organization has been grooming him into that role since the moment he was drafted, and he's genuinely flashed starting-caliber potential in the past. Most of Goedert's NFL success came while catching passes from former Eagles quarterback Carson Wentz for what it's worth.
Getting Goedert and Jalen Hurts on the same page may end up being a bit of a process.
With all of that said, it was actually an entirely different young TE that Roseman spent most of his press conference hyping up. A TE that has yet to even take an NFL snap for the Eagles.
The Philadelphia Eagles believe in QB-turned-TE Tyree Jackson
A former college quarterback from the University of Buffalo, Tyree Jackson has turned into quite the story.
He joined the Eagles' practice squad in 2020, attempting to make the transition to tight end, and has reportedly been impressing at every step of the way. His strong training camp made several Eagles' executives (including Roseman) turn into believers.
Jackson is currently on IR with a bone fracture in his back. However, all signs point to him returning at some point this season and immediately grabbing TE2 duties behind Goedert. Standing in at 6-foot-7 and 245 pounds, Jackson definitely has the build of a slim, pass-catching tight end.
So, can Jackson realistically come in and fill the void left by the departing Ertz? No, probably not. However, it's still worth acknowledging the role Jackson's presence played in such a franchise-altering trade. Roseman wouldn't be hyping up Jackson if he didn't plan to use him once he's healthy.
Assuming he stays on track to come off the IR in a few weeks, keep an eye out for Jackson's role with the Eagles moving forward.
Like Sportscasting on Facebook. Follow us on Twitter @sportscasting19.
RELATED: The Eagles Need to Admit an Embarrassing Offseason Mistake and Cut Ties With a Grossly Overpaid Veteran