The Philadelphia Eagles Quietly Considered Trading 1 of Their Top Young Stars to the Vikings Following Zach Ertz' Surprising Announcement
The Philadelphia Eagles have two extremely talented tight ends on their roster, Dallas Goedert and Zach Ertz.
Many expected the Eagles to trade Ertz and build around the younger Goedert for the longest time. Ertz has reportedly been frustrated with the team's front office dating back to 2020. His name has consistently been linked to trade talks, with many speculating that a trade would occur before Week 1 this offseason.
However, it appears the Eagles are surprisingly considering a different approach together.
The Philadelphia Eagles offered Dallas Goedert to the Vikings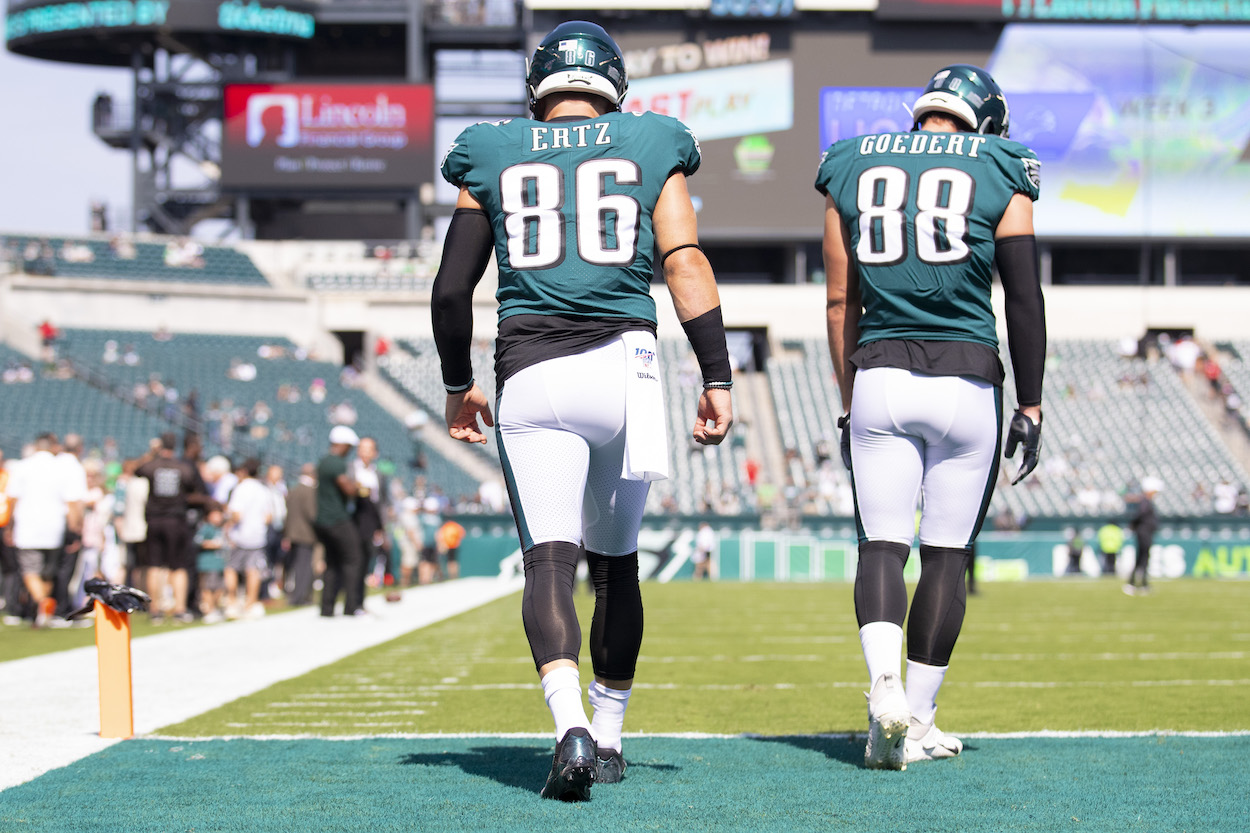 During a recent column for FanSided.com, NFL insider Matt Lombardo revealed that the Eagles and Vikings discussed a potential trade that would have sent Goedert — not Ertz — to Minnesota:
Eagles' tight end Zach Ertz has been the subject of persistent trade rumors throughout the offseason, but as roster cuts have been made and another offseason milepost is in the rearview, it seems increasingly likely Ertz will return to the City of Brotherly Love for his ninth NFL season.

But, don't be surprised if Eagles general manager Howie Roseman winds up moving one of Philadelphia's other tight ends … Dallas Goedert.

Trading Goedert, the No. 49 overall pick in the 2018 NFL Draft, and a favorite of former Eagles head coach Doug Pederson would signify a complete exorcism of the franchise's only Super Bowl-winning coach's influence.

According to multiple league sources, Roseman discussed moving Goedert in a trade with the Vikings before Minnesota over on to acquire Chris Herndon in a deal with the Jets.

Matt Lombardo, FanSided
Goedert being involved in trade talks is likely due to Zach Ertz' recent announcment
Prior to this report by Lombardo, many expected Goedert to receive a contract extension from the Eagles. He was their second-round pick in 2018 and has flashed immense signs of potential over the past three years.
So, why is he all of the sudden being involved in trade talks with an NFC rival? One can only assume it has to do with Ertz re-establishing himself as a long-term piece in Philadelphia.
After months of uncertainty and trade rumors, Ertz appeared in front of the Philadelphia media on September 1. He announced his desire to retire with the Eagles and that he forgives general manager Howie Roseman for past wrongdoings.
Ertz is only 30 years old and one of the best tight ends in football. If he wants to remain in Philly moving forward, it somewhat makes sense to prioritize him over a less-proven Goedert.
Keep an eye on the Philadelphia Eagles at this year's trade deadline
The Vikings ultimately pivoted away from Goedert and acquired Christopher Herndon IV from the New York Jets. However, that doesn't mean a trade isn't in Goedert's future.
If the Eagles are willing to recommit to Ertz, trading Goedert during the final year of his contract makes sense.
Goedert is a talented pass-catcher and blocker. Plenty of teams will offer good draft capital if the Eagles continue shopping him.
Like Sportscasting on Facebook. Follow us on Twitter @sportscasting19.