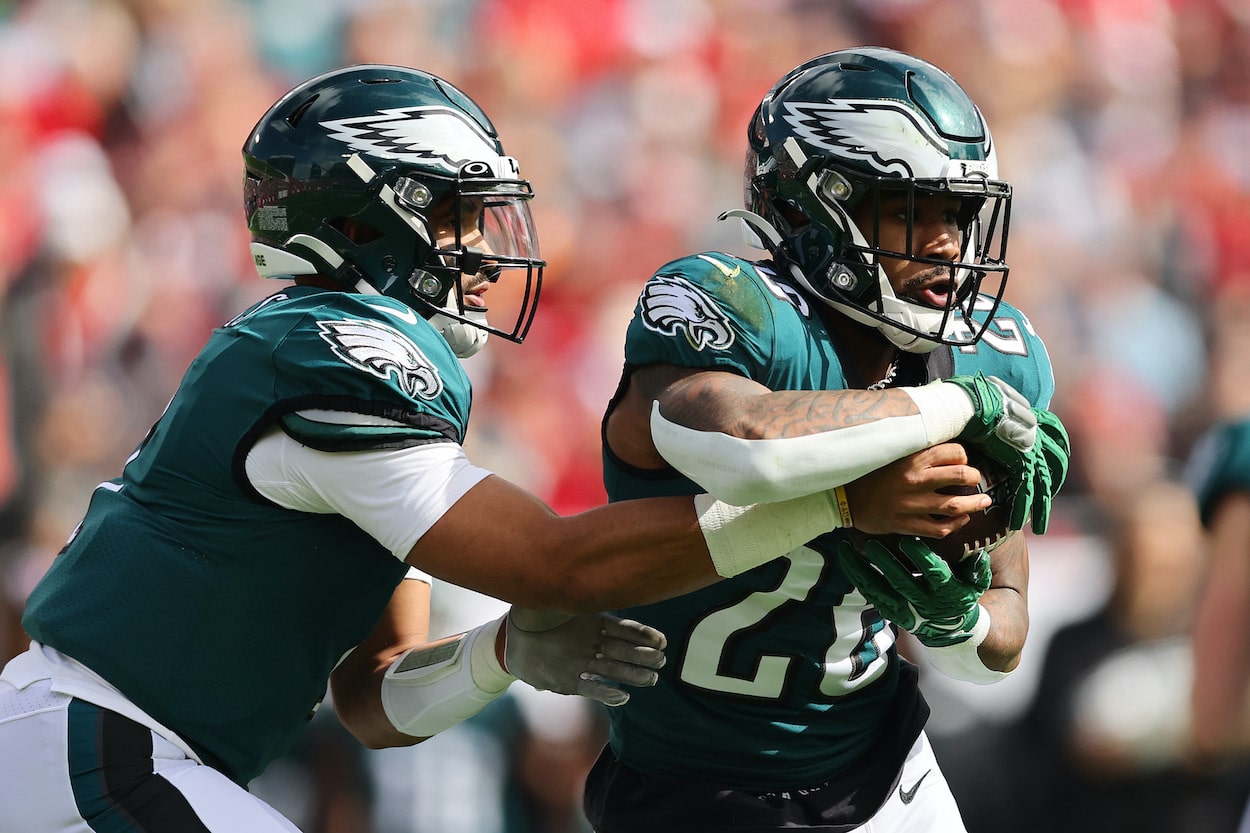 Philadelphia Eagles Schedule, Game-by-Game Predictions for 2022
Will the Eagles make the playoffs for the second straight year under Jalen Hurts?
After a surprising playoff berth last season, the Philadelphia Eagles will enter the 2022-23 campaign with a retooled roster and loftier expectations in Jalen Hurts' second full season as the starting quarterback. He has a new No. 1 wide receiver in A.J. Brown, a sturdy offensive line in front of him yet again, and an explosive running game that should be one of the best units in the NFL for the second year in a row.
With an improved roster in 2022, the Eagles will be setting their sights beyond a Wild Card spot and gunning for the NFC East title. Thanks to a friendly schedule, they'll have a chance to do just that. Let's take a look at Philly's newly released schedule and try to predict the results of each game.
Philadelphia Eagles 2022 schedule
Sept. 11 at Detroit Lions
Sept. 19 vs. Minnesota Vikings
Sept. 25 at Washington Commanders
Oct. 2 vs. Jacksonville Jaguars
Oct. 9 at Arizona Cardinals
Oct. 16 vs. Dallas Cowboys
BYE
Oct. 30 vs. Pittsburgh Steelers
Nov. 3 at Houston Texans
Nov. 14 vs. Washington Commanders
No. 20 at Indianapolis Colts
Nov. 27 vs. Green Bay Packers
Dec. 4 vs. Tennessee Titans
Dec. 11 at New York Giants
Dec. 18 at Chicago Bears
Dec. 24 at Dallas Cowboys
Jan. 1 vs. New Orleans Saints
Jan. 7/8 (TBD) vs. New York Giants
Game-by-game predictions for the 2022 Eagles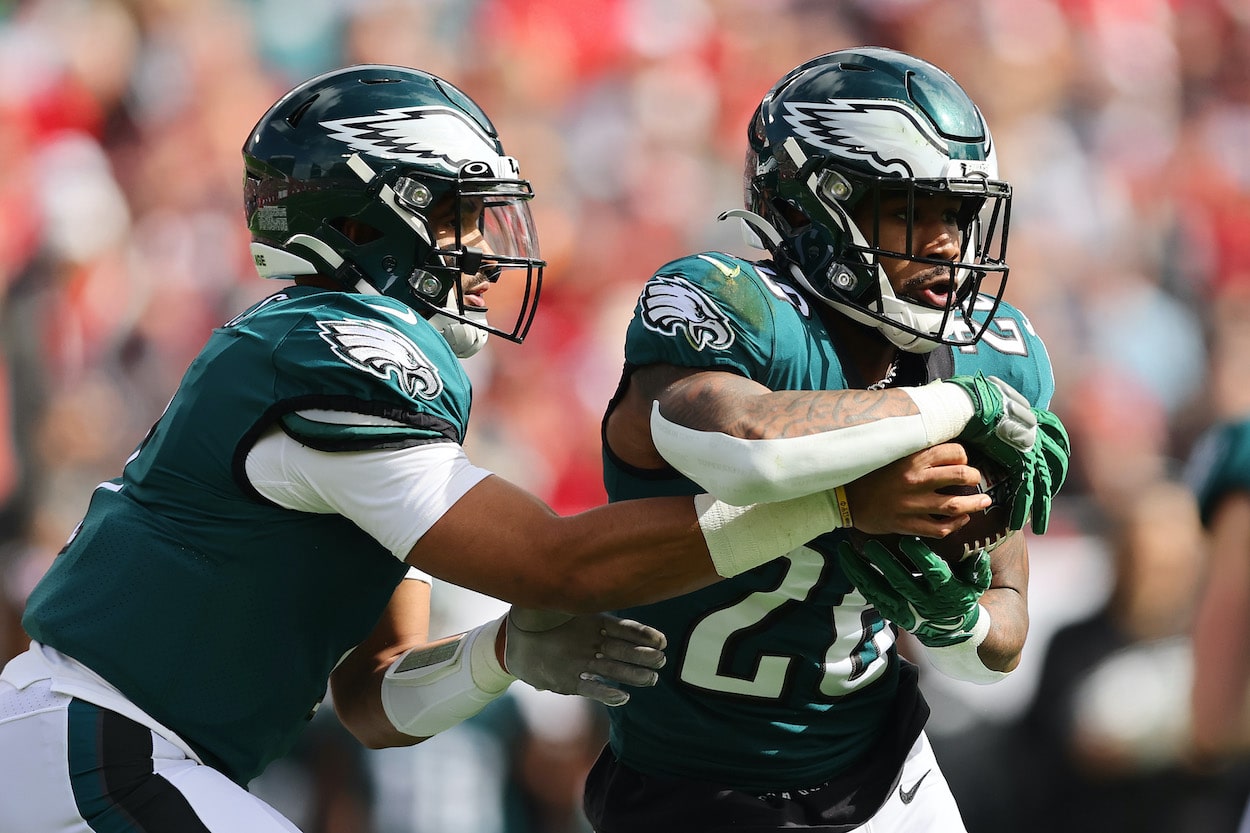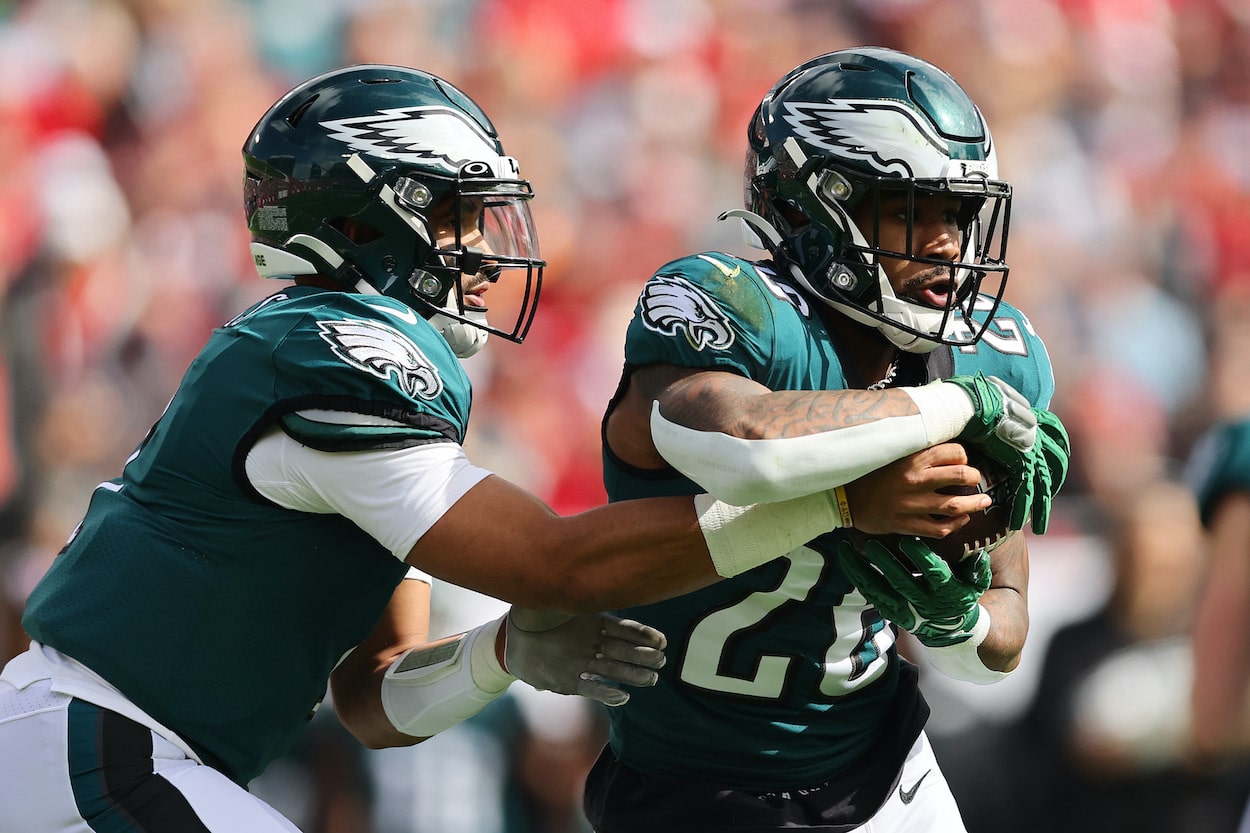 Week 1 at Lions: Win
The Eagles couldn't have asked for a better season-opener on the road, as the Lions finished last season tied with the Jaguars for fewest wins in the NFL (3). This should be a fairly stress-free start to the year.
Week 2 vs. Vikings: Win
The matchup between Justin Jefferson and Darius Slay will most likely decide the outcome of this one. If the Eagles can hold the one that got away to double digits and no touchdowns, I think they get it done at home.
Week 3 at Commanders: Loss
Everyone is convinced Carson Wentz is already washed up and won't look any better with his third team in three years. So, naturally, he'll throw for 350 and three touchdowns in his first game against the Eagles.
Week 4 vs. Jaguars: Win
Doug Pederson will return to Philadelphia to a standing ovation and a video tribute, but he won't leave with a victory.
Week 5 at Cardinals: Loss
The Cardinals always come out of the gates on fire before faltering down the stretch of the season. I think Kyler Murray's legs will give this Eagles defense fits out in the desert.
Week 6 vs. Cowboys: Win
In my opinion, the Eagles improved this offseason while the Cowboys got worse. Here's the first statement win of the year.
Week 7 BYE
Week 8 vs. Steelers: Loss
I could see this one going either way, but the Steelers are smart enough to make Hurts beat them with his arm. Najee Harris could have 200 all-purpose yards against this front seven, too.
Week 9 at Texans: Win
The Texans might win three or four games this season. This won't be one of them.
Week 10 vs. Commanders: Win
After Wentz embarrassed the Eagles earlier in the season, he falls apart just like old times in front of a raucous Lincoln Financial Field crowd.
Week 11 at Colts: Loss
Having a do-it-all linebacker like Darius Leonard is the key to stopping Philadelphia's run-first offense. I think Matt Ryan is going to surprise some people this year, too.
Week 12 vs. Packers: Loss
Aaron Rodgers doesn't own the Eagles as much as he does the Bears, but he seems to toy with Philadelphia's secondary every time he faces the Birds.
Week 13 vs. Titans: Win
If you don't think Brown is going off for 150 yards and two touchdowns against his old team in Week 13, you're crazy. Expect this one to be a high-scoring thriller, but I'll take the Eagles off two straight losses.
Week 14 at Giants: Loss
The Giants should be better than last year with Brian Daboll now in charge, and if they're going to steal one from the Eagles, it's going to be on their home turf.
Week 15 at Bears: Win
It will be fun to watch Justin Fields develop this season, but Philadelphia's roster is simply more talented than Chicago's at nearly every position. Eagles in a rout.
Week 16 at Cowboys: Loss
The Eagles took down the Cowboys in their first matchup, but I don't see them pulling off an upset in Jerry World. This could be a deciding result in what should be a tight NFC East race.
Week 17 vs. Saints: Win
The Eagles put up a 40-spot against New Orleans' defense last season, and I'm willing to bet they can replicate that success with a more talented WR corps in 2022.
Week 18 vs. Giants: Win
The Giants won't be taking down the Eagles twice in one season, especially if the division title is on the line.
Final 2022 record prediction: 10-7
Like Sportscasting on Facebook. Follow us on Twitter @sportscasting19.