The Philadelphia Eagles' Thursday Night Magic Is About To Run Into a Buzzsaw Named Tom Brady
The Philadelphia Eagles (2-3) have had success on Thursday Night Football over the past few seasons, and that's putting it lightly. The Eagles have absolutely crushed it on Thursdays, which is somewhat surprising considering just how tough that night tends to be for most NFL teams.
The issue for Philly this week is that the Eagles are about to run into one of the best teams in football. Tom Brady and the Tampa Bay Buccaneers (4-1) head into town, and they're looking to prove they should not be taken lightly.
Even as the reigning Super Bowl Champions. Even without Rob Gronkowski.
There's no doubt Thursday night has been the Eagles' good luck charm
Tampa Bay is easily one of the top teams in not just the NFC but in the NFL as a whole, but Philadelphia does have undeniable magic heading into Thursday night's matchup. Fox Sports highlighted an impressive stat on Twitter ahead of the game. The Eagles are 6-0 on Thursday Night Football over their past six games.
It's a streak that goes back all the way to the 2016 season. The streak was so notable that former Eagles head coach Doug Pederson was once asked why Thursday night was such a winner for Philadelphia. He joked that his wife would make fun of him for making things look easy on Thursdays while they became much harder on Sundays.
"Honestly, I make light of it, but my wife tells me all the time that you can put a game plan together in a day and go win a game on Thursday night," Pederson told NBC Sports in October 2020. "Why can't you do that for a Sunday game, right? So she kind of kids me a little bit that way."
"But I do think that there's some validity, so to speak, to keeping it simple," Pederson said. "To going back to some of your training camp-type plays. Utilizing all your personnel. And a lot of it, too, falls on the players. It's more of a narrow focus, a laser focus for a couple of days. Focusing in on the game plan. It's all about mental preparation over the physical."
The problem for Philadelphia: The streak is misleading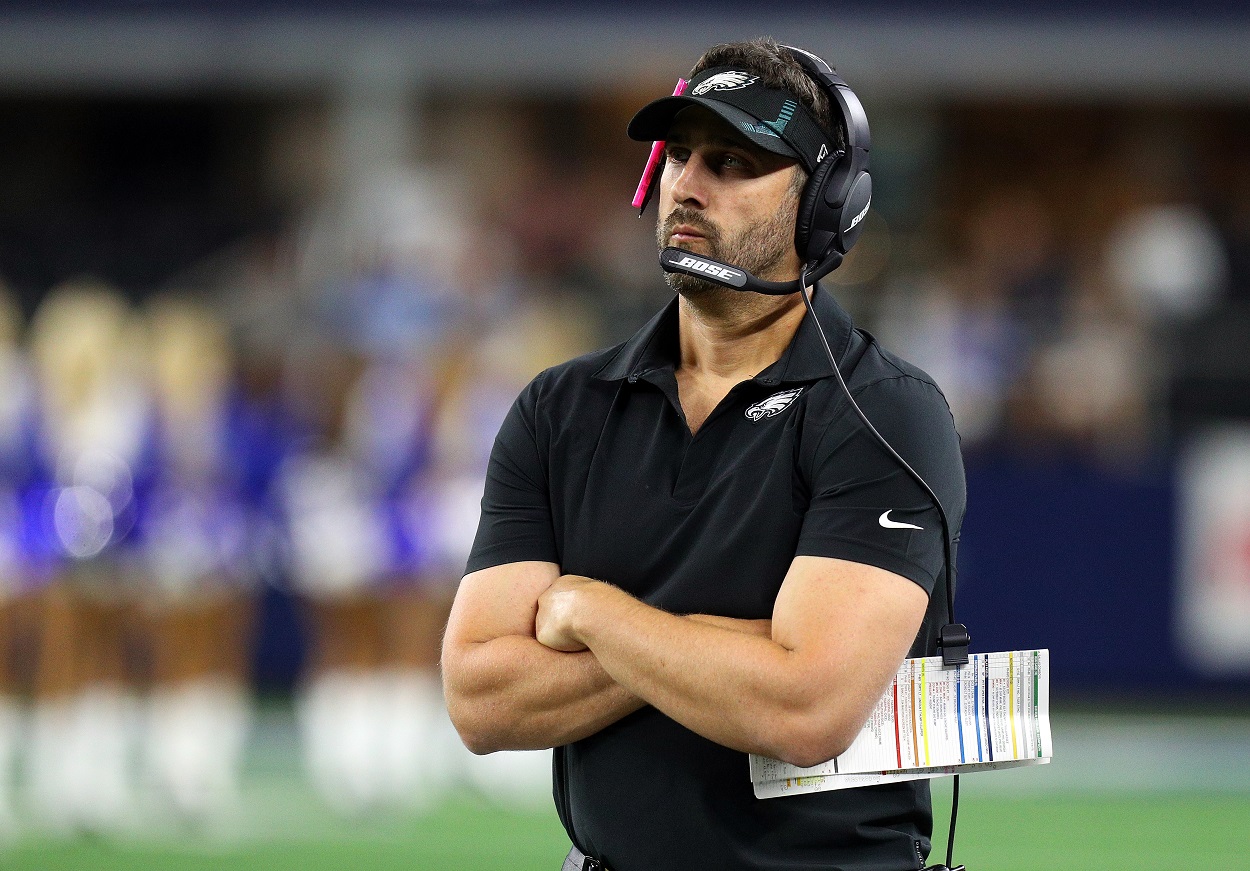 Context is always key when examining statistics. It's easy to cherry-pick stats that lean one way or the other, so it's always worth digging in a level deeper in order to find the real story.
Yes, it's true that Philly has been stellar on TNF. Eagles fans can certainly lean into that hope as Tampa Bay invades Lincoln Financial Field.
A deep dive into the streak gives it less power, though.
Three of the Eagles' wins have come against the New York Giants (1-4). On one hand, the G-men are certainly a blue-chip NFL team, and they do have Super Bowl wins in recent history. Overall, though, the Giants have been one of the worst-run teams in the league since their glory days with Eli Manning. The 2016 team was a playoff squad under Ben McAdoo, but he was largely riding the coattails of the legendary Tom Coughlin. McAdoo was fired the next season, and the Giants finished 3-13. They've gone 5-11, 4-12, and 6-12 since and have only one win so far this season.
Sure, it's a rivalry game, but the Eagles beating the Giants doesn't pack the punch it used to.
It's also important to note that Philadelphia's Thursday Night Football streak came exclusively under Pederson.
Nick Sirianni is the head man in Philly now, and that fact alone ruins the power of the streak. This will be his first time on Thursday Night Football as a head coach.
The bigger problem for Philadelphia: Tom Brady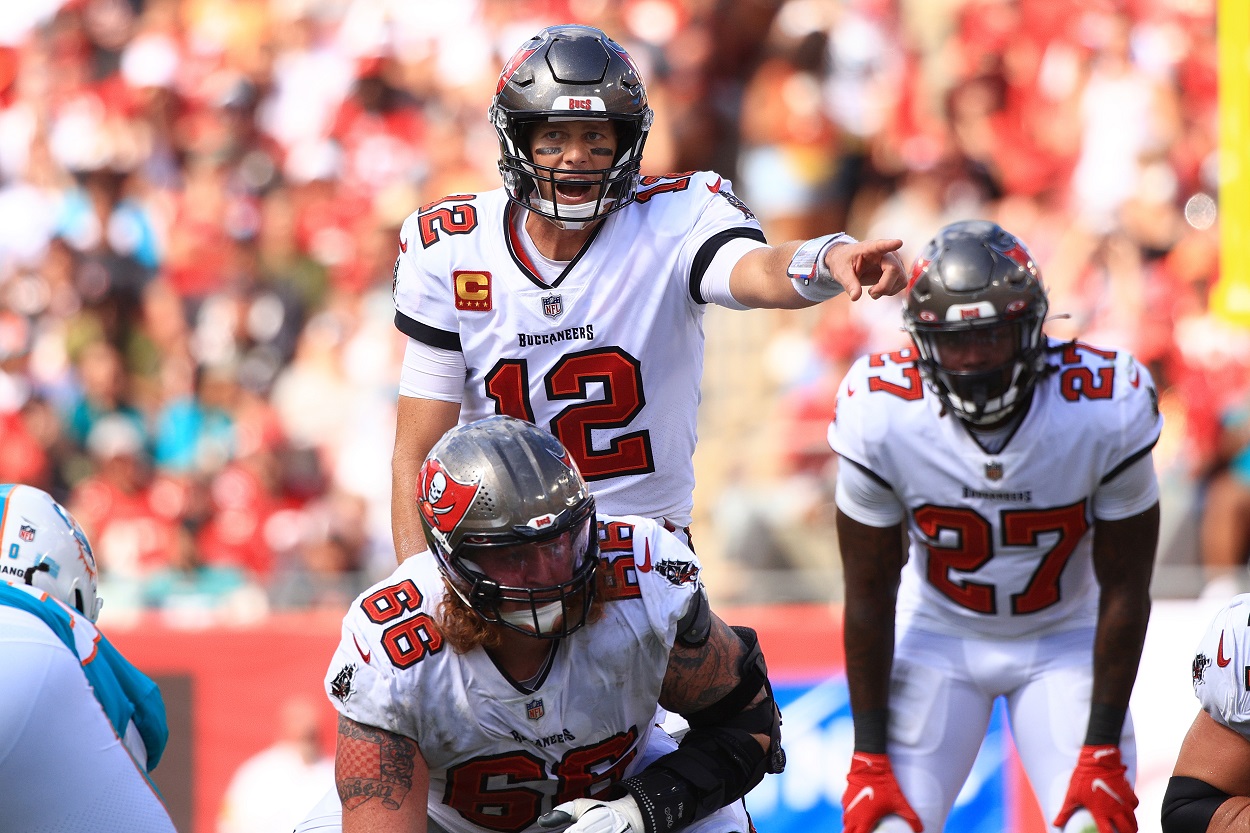 If there was ever a player in the NFL for whom an opponent's hot streak would not matter, it would be Brady. Even his detractors can't deny that he's unflappable under pressure. He's also undefeated against the person with the greatest NFL hot streak of all time: Father Time.
Age and deterioration have caught up to every NFL player who has ever played the game. Brady, somehow, has avoided that pitfall.
This is not to say that Philly can't pull off a win on Thursday Night Football once again. It's just an acknowledgment of how good Brady and the Buccaneers really are. Their one hiccup this season came against a Los Angeles Rams team that looks equally dominant. Otherwise, Tampa has been stellar.
Brady currently leads the NFL in passing yards with 1,767, and the Buccaneers have the No. 3 scoring offense in the league behind only the Buffalo Bills (4-1) and Dallas Cowboys (4-1). Tampa scores 33.4 points per game while giving up only 24.4 on defense. Philadelphia, on the other hand, has scored only 23.0 points per game this season while giving up 24.8.
Philadelphia's performance against other high-end offenses this season is another indication that the Eagles' TNF streak is in major jeopardy.
In Week 3 against the Cowboys, Philly gave up 41 points and 367 total yards. Dak Prescott accounted for 301 of those yards through the air. The Eagles also gave up 42 points and 471 yards in a Week 4 loss to the Kansas City Chiefs (2-3).
That's a recipe for a 2-3 season so far, and the Eagles appear to be on the brink of going 2-4 after Thursday night.
Stats courtesy of Pro Football Reference
RELATED: With Tom Brady Already Banged Up, the Buccaneers Get More Bad News Ahead of Their Thursday Night Showdown With the Eagles