Philadelphia Eagles Want to Add Competition for Jalen Hurts and Joe Flacco by Adding 'West Coast Offense' Quarterback
The Philadelphia Eagles changed directions this offseason, trading their starting quarterback and moving on from coach Doug Pederson. The Eagles slid dramatically after winning the Super Bowl following the 2017 season, culminating in last season's 4–11–1 disaster. But with only two quarterbacks currently on the roster, the Eagles reportedly are looking to add another with a specific skill set.
With Carson Wentz now with the Indianapolis Colts,  2020 second-round pick Jalen Hurts is the expected starter for the Eagles. Philadelphia also brought in veteran Joe Flacco on a one-year deal. In addition, the Eagles waived undrafted rookie free agent Jamie Newman after mandatory OTAs in early June.
What are the Eagles looking for in a third quarterback?
Philadelphia Eagles seek system familiarity
The Philadelphia Eagles replaced Pederson with former Colts offensive coordinator Nick Sirianni. He is one of the youngest head coaches in the NFL. Sirianni turns 40 on June 15, 2021. He's also surrounded himself with a young coaching staff. Offensive coordinator Shane Steichen is 36 and defensive coordinator Jonathan Gannon is 38. At an average age of 35, the Eagles coaching group is the youngest in the NFL. The leaguewide average is 47.6.
Sirianni spent the last three years as offensive coordinator for the Colts. The head coach in Indianapolis is Frank Reich, the former Eagles offensive coordinator. Coaching trees are like that. The Eagles are looking for a quarterback with familiarity in the West Coast offense. There are two that have reportedly caught their eye, according to NFL insider Adam Caplan.
Caplan specifically mentioned two quarterbacks fitting the criteria on a recent edition of the Inside the Birds podcast.
Nick Mullens has starting experience but is coming off a significant injury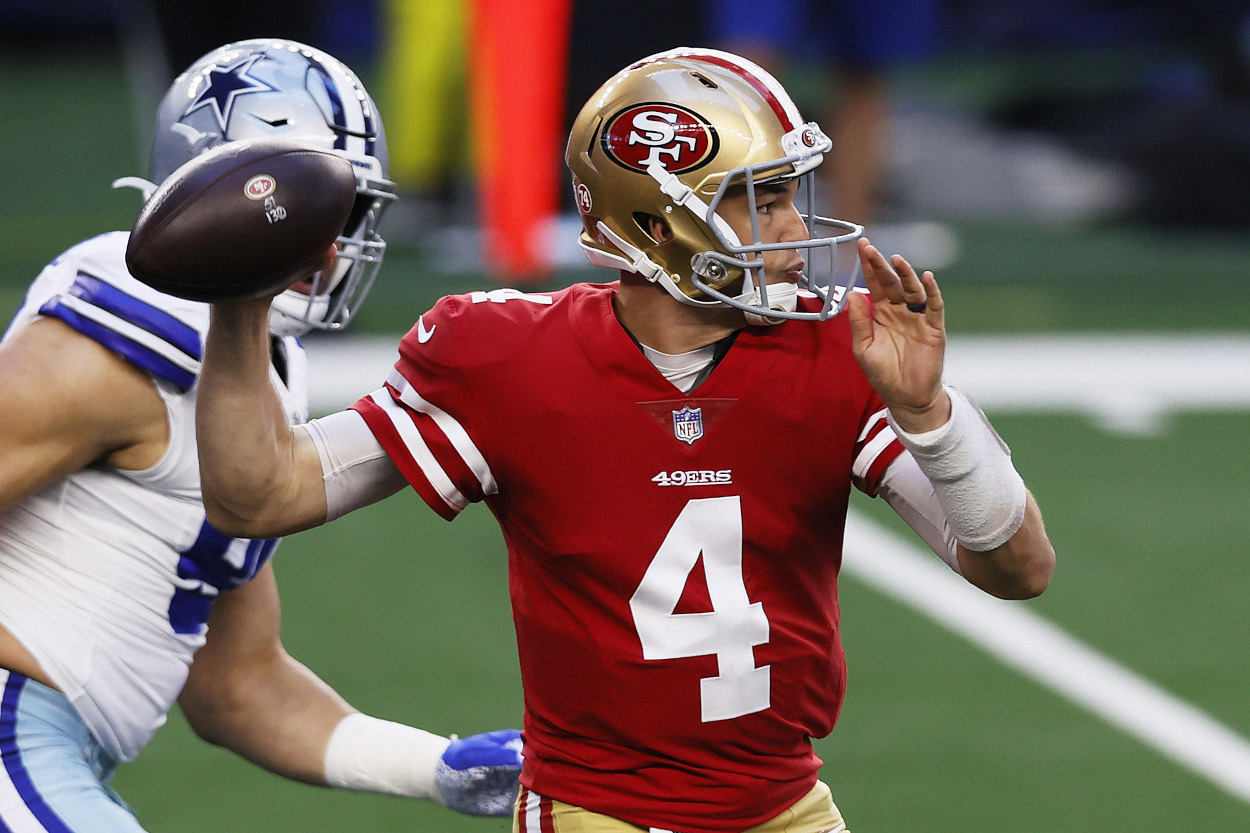 Former San Francisco 49ers quarterback Nick Mullens was non-tendered in March. Mullens made 16 starts over three seasons in San Francisco but is recovering from surgery on his throwing elbow. He was the first of the two quarterbacks Caplan referenced on his podcast concerning the interest from the Philadelphia Eagles.
In eight starts for the 49ers in 2020, Mullens completed 64.7% of his passes for 2,437 yards and 12 touchdowns. However, Mullens had the highest interception percentage in the NFL at 3.68% (12 picks in 326 attempts). His 84.1 passer rating was 27th among 35 qualifiers.
Mullens also started eight games in 2018. For his career, he's completed 64.5% of his 600 passes for 4,714 yards. He has 25 touchdown passes to go with 22 interceptions, and the 49ers were 5–11 in his starts. That includes a 2-6 mark last season. He is not a running threat, with 30 yards on 16 career attempts and no touchdowns. Mullens was an undrafted free agent from Southern Miss in 2017. He spent his first year with the 49ers on the practice squad.
Sean Mannion could also be a candidate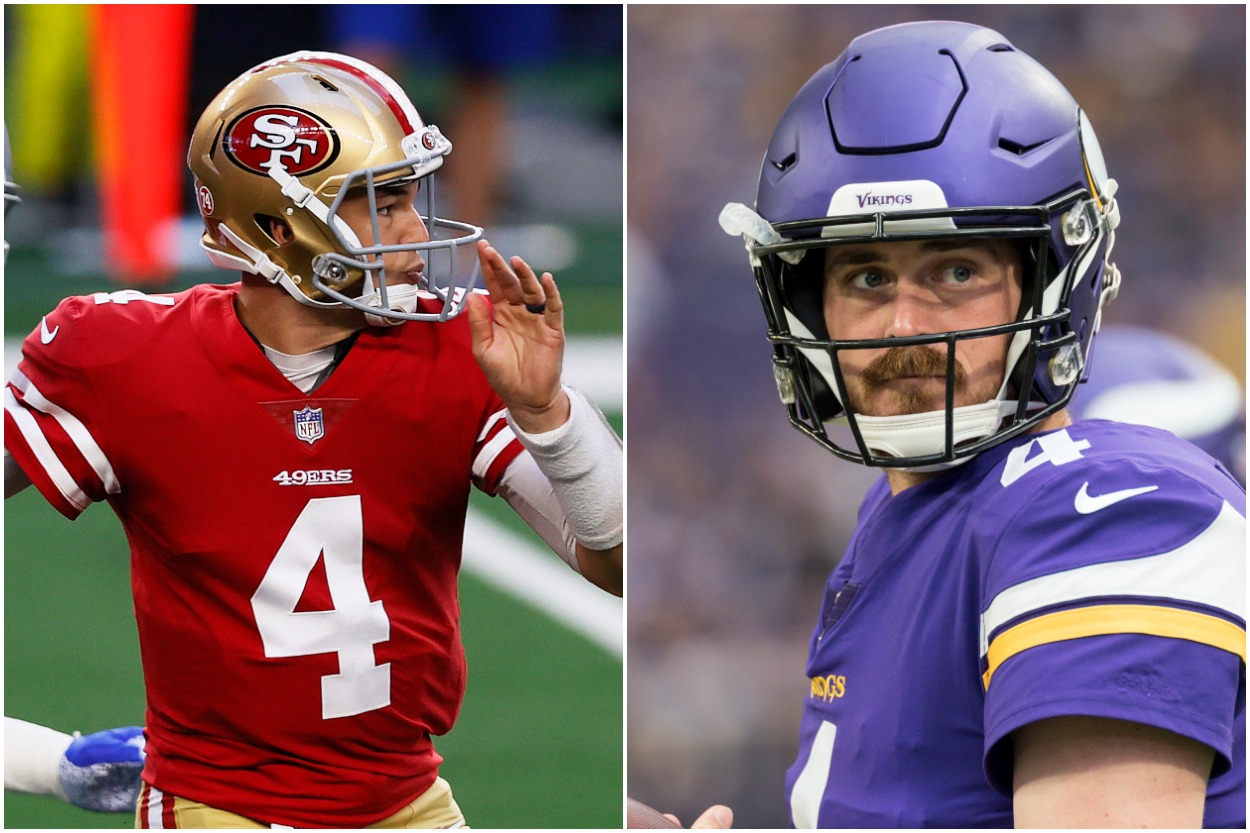 Caplan also brought up Sean Mannion. Mannion was with the Minnesota Vikings for the last two seasons. He did not appear in a game in 2020 after starting once and throwing 21 passes in 2019. Mannion played for the Los Angeles Rams under coach Sean McVay. That gives him familiarity with a West Coast system such as the one the Philadelphia Eagles run.
Mannion was a third-round pick of the Rams while the club was still in St. Louis in 2015. He started one game in 2017 and left LA as a free agent in April 2019 to join the Vikings.
He doesn't have the playing experience of Mullens, starting just twice and making 13 appearances in all. Mannion has completed 60.8% of 74 career passes for 384 yards with three interceptions and no touchdowns. His teams lost both of his starts. It's hard to judge Mannion solely on his statistics because the sample size is small. But the limited data is not encouraging.
It would be a surprise if the Philadelphia Eagles didn't bring in at least one more quarterback before training camp. At the very least, it would be foolhardy to carry only two quarterbacks into the preseason. But the Eagles can only go up after a season in which they finished last in the NFL's worst division. No one in the NFC East finished with a winning record.
Statistics courtesy of Pro Football Reference.
RELATED: Eagles Offensive Tackle Andre Dillard Made a Life-Changing Decision That Could Save Him From Becoming an NFL Draft Bust