Philip Lutzenkirchen Set Records at Auburn, Then Died Tragically Before He Got an NFL Opportunity
Arguably the most important season in Auburn's modern football history doesn't happen without Philip Lutzenkirchen.
A versatile player capable of lining up at fullback, H-back or tight end, Lutzenkirchen played a vital role alongside Cam Newton on the 2010 Tigers team that won a national championship.
Lutzenkirchen appeared bound for NFL stardom, but he died tragically before he ever got that opportunity. This is his story.
Philip Lutzenkirchen played tight end at Auburn
RELATED: Cam Newton Is the Only 2010 Heisman Trophy Finalist Still Playing in the NFL
A 6-foot-3, 258-pound tight end from Winfield, Ill., Lutzenkirchen starred at Auburn from 2009-12.
Although Lutzenkirchen's overall numbers don't look amazing — he caught 59 passes for 628 yards and 14 touchdowns in 44 games — he had a crucial impact on the Tigers' success.
Auburn didn't need Lutzenkirchen to put up numbers that could win him the John Mackey Award, an honor given to the country's best tight end.
Lutzenkirchen was at his best springing blocks and catching swing passes as an all-around tight end rather than a traditional receiver or blocker.
Although Lutzenkirchen received a mid-round grade from the NFL's advisory board after the 2011 season, he returned for his senior season.
Lutzenkirchen was on pace to set career-highs through six games before he suffered a hip injury that ended his college career prematurely.
Lutzenkirchen was a touchdown machine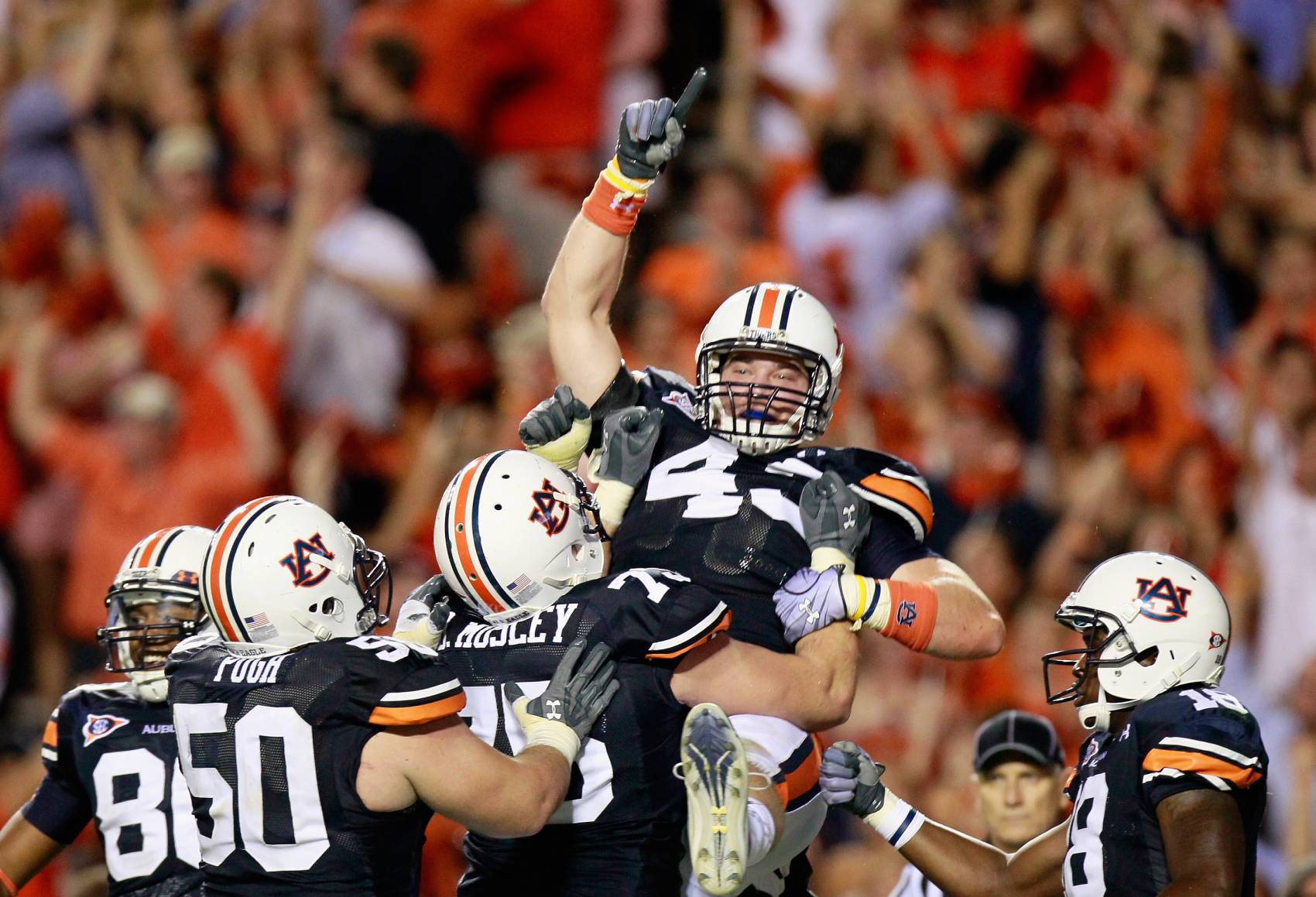 RELATED: If Bo Jackson Was a Young Athlete Today, Football Wouldn't Be in His Plans
Philip Lutzenkirchen's 14 career touchdown catches remain a record for Auburn tight ends. He is tied for eighth all-time in Tigers history.
Lutzenkirchen was a touchdown machine when the Tigers needed him most. He scored what proved to be the game-winning touchdown in the 2010 Iron Bowl against Alabama and celebrated with a memorable dance in the end zone.
Earlier that year, his first touchdown of the campaign helped Auburn complete a comeback victory over SEC rival South Carolina.
Auburn trailed 20-7 in the second quarter but tied the game at 27 on Lutzenkirchen's 7-yard touchdown early in the fourth quarter.
Wes Bryum's extra-point gave Auburn a one-point lead and the Tigers held on for a 35-27 victory.
Philip Lutzenkirchen died at 23 years old after a car accident
RELATED: Failed Businesses and Addiction Cost Vin Baker $100 Million
A litany of injuries, including the hip ailment that prematurely ended his senior season, caused Lutzenkirchen to go undrafted in 2013.
Lutzenkirchen spent part of that offseason with the St. Louis Rams. The Rams' coach at the time, Jeff Fisher, had a son who played with Lutzenkirchen at Auburn.
Before Lutzenkirchen earned another meaningful opportunity in the NFL, he tragically died in a car accident.
Lutzenkirchen was a backseat passenger in a single-vehicle accident in June 2014. The vehicle's driver had a 0.17 blood alcohol level and Lutzenkirchen, who was ejected because he didn't wear a seat belt, had a BAC of 0.377, according to USA Today.
Lutzenkirchen's family set up a foundation, the Lutzie 43 Foundation, that teaches character-building. The foundation "aims to encourage and empower young people to be positive ambassadors for safe driving," according to its official site.