Philip Rivers Already Knows What He Wants to Do When He Retires
Los Angeles Chargers quarterback Philip Rivers will be starting his 16th season as an NFL quarterback. Even though he is getting close to retirement, he hasn't decided when he will retire. When he finally retires, Rivers wants to become a high school football coach.
When will Rivers retire? And what does the future hold for Rivers when he finally hangs up his cleats?

Philip Rivers' playing career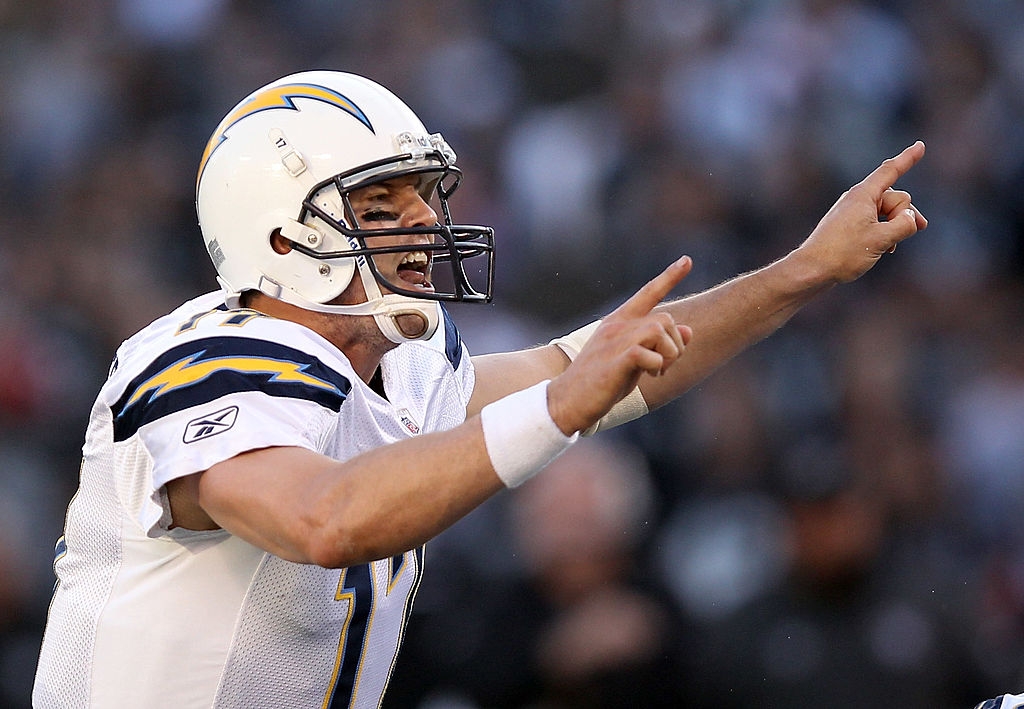 Rivers joined the Chargers in 2004. The New York Giants drafted him with the fourth overall pick, but they traded him to the Chargers when fellow draft pick Eli Manning (drafted first overall by the Chargers) forced a trade to the New York Giants.
River spent his first two years on the bench behind Drew Brees. When Brees left the Chargers in 2006 as a free agent, Rivers took over as the starting quarterback and kept the job ever since. Rivers has made the Pro Bowl eight times and is in the top ten of many NFL passing statistics.
Even though he is 37 years old, Rivers is still an effective quarterback. He threw for over 4,500 yards and 28 touchdowns last year.

The next few years
Rivers has said he wants to play out until his contract ends in two years. After that, Rivers will decide how much longer he will play. It will depend on Rivers' own desires to keep playing and if he can still play at an elite level. The Chargers will also have to decide if they want to move on from Rivers and find his replacement.

The Chargers should be contenders this year. They have some great offensive weapons in wide receiver Keenan Allen and tight end Hunter Henry. Their defense is just as good. They have two excellent pass rushers in Joey Bosa and Melvin Ingram. The Chargers also have talented cornerbacks Casey Heywood and Desmond King, along with promising young safety Derwin James.

However, the Chargers have several obstacles to deal with. Talented running back Melvin Gordon is holding out for a new contract. They have to contend with the Kansas City Chiefs in their own division, along with other AFC contenders like the New England Patriots. The Chargers can make the Super Bowl this year, but it's going to be a tough road.

What Philip Rivers has planned after his career
Whenever Rivers decides to retire, he will still be involved in football. Expect him to look for a high school coaching opportunity in the San Diego area. Rivers has a large family, including nine children. When the Chargers moved from San Diego to Los Angeles, Rivers didn't want to uproot his family. Instead, he still lives in San Diego and travels to Los Angeles in a custom SUV that allows him to study film during his daily commute.
Rivers' Hall of Fame chances are mixed. While he ranks top ten in many passing categories, he has two strikes against him. The first is his lack of playoff success. Unlike draft classmates Manning and Pittsburgh Steelers quarterback Ben Roethlisberger, who have both won two Super Bowls, Rivers has only made the playoffs six times in his 15-year career. He has missed the playoffs in seven of the last eight years. He has only made it as far as the AFC Championship once, where the Chargers lost to the New England Patriots. While the comparison between the three quarterbacks shouldn't depend solely on Super Bowls and playoff wins, it doesn't help Rivers' application for the Hall of Fame.

Second, Rivers seems to be overshadowed by other contemporary quarterbacks. Rivers is a great quarterback, but he seems to always be ignored in the debate about great passers. Rivers played in an era dominated by quarterbacks like Tom Brady, Peyton Manning, and Drew Brees. With a new generation of younger quarterbacks such as Patrick Mahomes, Carson Wentz, and Baker Mayfield starting to emerge, it feels like Philip Rivers gets left behind.

With so many worthy quarterback candidates for the Hall of Fame retiring within the next five years, it may be hard for Rivers to get in. There always seems to a lot of deserving players that haven't got in yet, and Rivers may get stuck in that backlog for a while.