Philip Rivers Can Make NFL History With the Indianapolis Colts Very Early Into the 2020 Season
For the first time in his NFL career, Philip Rivers is not playing with the Chargers this season as he signed with the Indianapolis Colts this past offseason. Over the years, Rivers has put up some great numbers, which has ultimately led to him being near the top of some all-time NFL leaderboards. 
In fact, Rivers has a chance to make NFL history with the Colts pretty early into the 2020 season.
Philip Rivers had a great career with the Chargers
RELATED: Philip Rivers' Transition From Chargers to Colts Was Easier for His Kids Than for Him
The New York Giants selected Rivers with the fourth overall pick in the 2004 NFL draft out of North Carolina State. The Giants, however, ended up trading him to the Chargers for Eli Manning.
Rivers then only played in four total games in his first two seasons, but he became a star in 2006. He threw for 3,388 yards, 22 touchdowns, and nine interceptions that year, and he led the Chargers to a 14-2 record.
Over the next three seasons, Rivers then continued to play really well, and the Chargers continued to win. They didn't have a losing season in any of Rivers' first four years as the starter, made the playoffs each season, and even made the AFC Championship Game in 2007.
During the 2010 season, though, Rivers had an excellent year, as he led the NFL in passing yards with 4,710 to go with 30 touchdown passes and 13 interceptions, but the Chargers went 9-7 as a team and missed the playoffs. 
Rivers has since put up big numbers pretty much every season, but the Chargers struggled over the years, only making the playoffs twice since 2010. 
In 2019, Rivers had a down year, as he threw for 4,615 yards, 23 touchdowns, and 20 interceptions, but he had just had a remarkable year in 2018, where he threw for 4,308 yards, 32 touchdowns, and 12 interceptions.
For his career, Rivers has earned eight Pro Bowl selections. He has also thrown for 59,271 passing yards and 397 passing touchdowns, which are both sixth in NFL history.
He is getting a new start with the Indianapolis Colts
RELATED: Colts Receiver T.Y. Hilton Just Sent a Terrifying Message To the Rest of the NFL
Indianapolis Colts fans expected their team to be Super Bowl contenders in 2019, but Andrew Luck ultimately retired right before the season started, so the team had to rely on Jacoby Brissett at quarterback.
Indianapolis started 5-2 in 2019, and Brissett threw for 1,590 yards, 14 touchdowns, and three interceptions in those games. However, they ultimately finished 7-9, and in Brissett's final eight games, he threw for 1,352 yards, four touchdowns, and three interceptions.
This led to the Colts signing Rivers this offseason, which makes things very interesting as they have a great team around him. Indy has arguably the best offensive line in football, two good running backs in Marlon Mack and Jonathan Taylor, a great receiver in T.Y. Hilton, and some really nice pieces on defense in Darius Leonard, DeForest Buckner, Justin Houston, and Malik Hooker.
With Rivers at quarterback in 2020, the Colts have an excellent chance to be very successful and to make the playoffs.
Philip Rivers has a chance to make NFL history quickly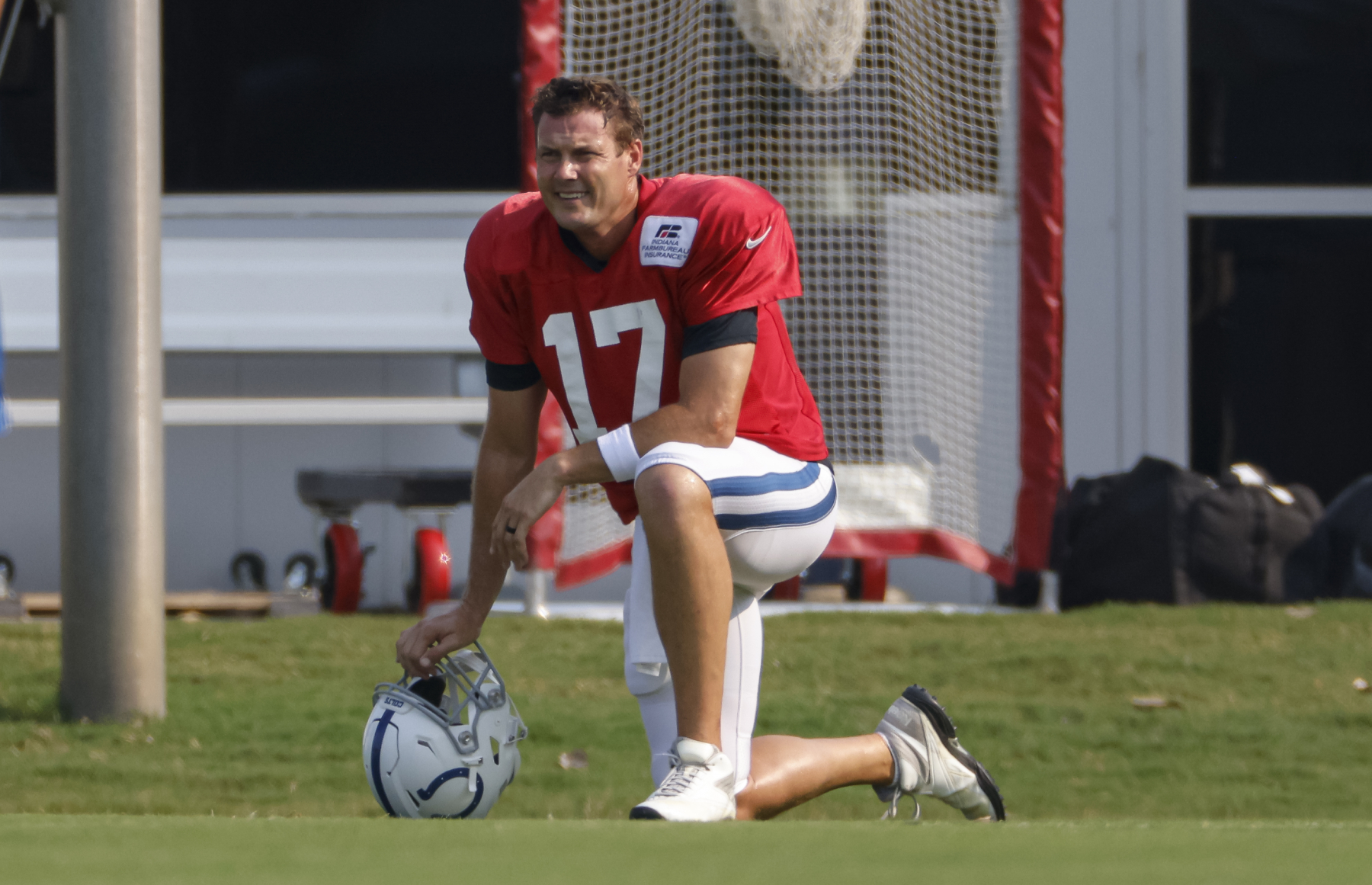 RELATED: The Indianapolis Colts' $50 Million Move Can Make Jonathan Taylor One of the Best Running Backs in the NFL
Heading into the season, Rivers has a chance to make NFL history within the first couple of games.
Rivers has tossed 397 touchdown passes in his career, so he is only three touchdown throws away from becoming the sixth player in NFL history with 400 touchdown passes.
Rivers will ultimately join some great players on that list too. Here are the other names.
Drew Brees — 547
Tom Brady — 541
Peyton Manning — 539
Brett Favre — 508
Dan Marino — 420
Those are some great quarterbacks.
No matter how well Rivers and the Colts play this year, he has certainly cemented his legacy as one of the greatest quarterbacks of all-time.
Stats courtesy of Pro Football Reference