Philip Rivers Drives a 2008 Ford F-250 Despite Making Over $215 Million in His Career
Philip Rivers has been a pretty good quarterback over the years. From leading the NFL in passing touchdowns in 2008 to leading it in passing yards in 2010, Rivers put up huge numbers for the San Diego/Los Angeles Chargers. Now, he will potentially put up some big numbers for the Indianapolis Colts in 2020. Because of all the numbers he put up over the years, Rivers has earned a lot of money and will continue to do so. He does not act like he has a lot of it, though. You won't find him driving a crazy expensive SUV.
Philip Rivers has been a great quarterback for the Chargers
For his entire career since 2004, Philip Rivers has played for the Chargers. He has been their starter since 2006, and he found success right away. The Chargers went 14-2 during his first season as the starter, and he even earned a Pro Bowl selection.
Rivers went on to have some great seasons with the Chargers. He threw for 4,009 yards and a league-leading 34 touchdowns in 2008. Then in 2010, he threw for a league-leading 4,710 yards to go with 30 touchdowns. Here is a list of all of his accomplishments.
Eight-time Pro Bowl honoree
2013 AP Comeback Player of the Year
59,271 career passing yards (sixth all-time)
397 passing touchdowns (sixth all-time)
While Rivers has been very successful over the years, the blemish on his resume is that he has not won or even been to a Super Bowl. He hopes to do so with the Indianapolis Colts now.
Signing with the Indianapolis Colts
The Indianapolis Colts, and the rest of the NFL, were shocked last year when star quarterback Andrew Luck announced his retirement. The Colts were forced to turn to Jacoby Brissett.
After Brissett started the season well, he struggled immensely toward the end of the season. In his last seven games of the season, Brissett only threw for 200 yards or more twice. He also only threw four total touchdowns in his last seven games. The Colts went from 5-2 at the start of the season to 7-9. So, they were definitely in the market for a QB this offseason. That led to Philip Rivers singing with Indy.
One of the best offensive lines in football, led by Quenton Nelson, will now protect Rivers. He will also have T.Y. Hilton to throw to along with second-year guy Parris Campbell and rookie Michael Pittman Jr. In the backfield at running back will be a dominant two-headed monster of Marlon Mack and Jonathan Taylor. Rivers has an excellent chance to make some noise with the Colts in 2020.
He will continue to make a lot of money with the Colts too.
Rivers drives an old truck despite making over $215 million in his career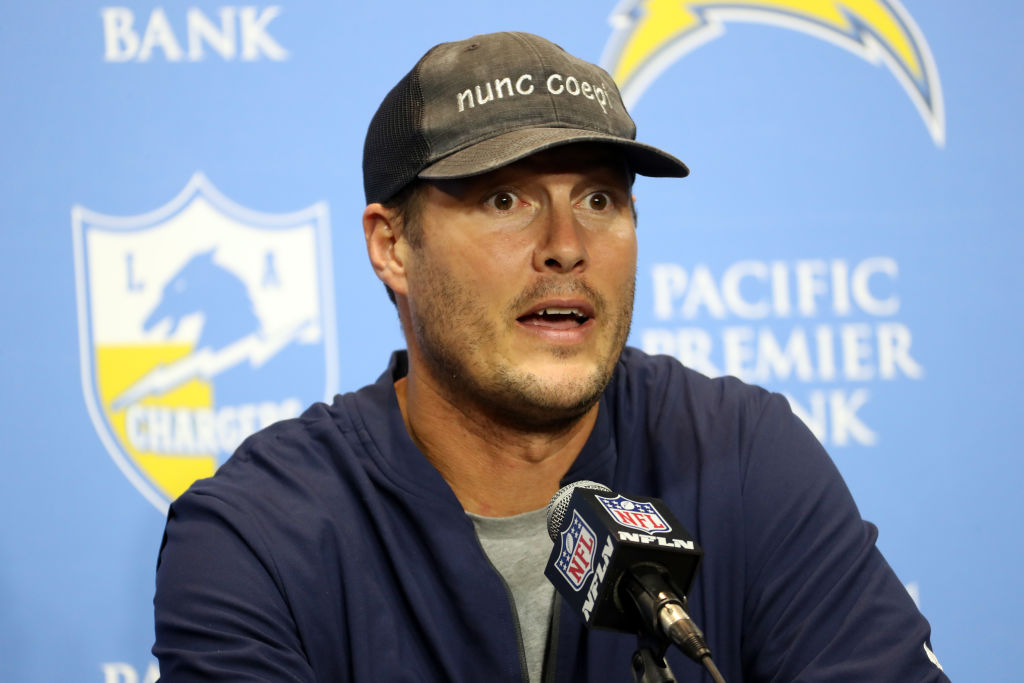 In 2020, Philip Rivers is expected to make $25 million with the Indianapolis Colts. This will make his career earnings equal more than an estimated $243.91 million, according to Spotrac. Before making money with the Colts, though, Rivers has made more than $218.91 million in his career, Spotrac estimates.
He doesn't act like he has a lot of money, though.
The San Diego Tribune published an article in 2017 about how Rivers bought an SUV that he essentially turned into a mobile quarterback room. This was so he could still live in San Diego when the team moved to LA. However, the column also discussed how Rivers typically doesn't live a lavish lifestyle and that he needed the SUV.
"This is being done out of necessity, because the large and young Rivers family has roots it did not want to tear. And it can afford not to," Kevin Acee of The San Diego Tribune wrote. "Still, we're talking about a man who likes frills the way he likes interceptions. Rivers lives as about as modestly as one can when his career earnings are bumping up against $200 million. His primary mode of transportation is a 2008 Ford F250. He wears cowboy boots – real ones, plain brown, nothing made of a swamp creature or rare bird. His dress shirts are Western cut and have shiny buttons."

Kevin Acee, The San Diego Tribune
So, despite making millions, Philip Rivers' primary mode of transportation as of 2017 was still a 2008 Ford F-250? That is insane.
While many athletes are spending money on expensive cars, Philip Rivers only spends money on things he needs. That seems to be what makes him so successful. The man loves two things in life, his family and football. Now, maybe he and his family can celebrate at the end of this season by him and the Colts winning a Super Bowl. Maybe his truck can be in the parade too.