Philip Rivers Hasn't Closed the Door on Returning to the NFL in 2021: 'I Have Not Completely Ruled That Out'
Philip Rivers retired from the NFL in January 2021; that's a stone-cold fact. After an impressive yet ultimately disappointing season with the Indianapolis Colts, the 17-year veteran hung up the cleats following his team's early postseason exit. It was by no means a bad final season for Rivers as he led the Colts to an 11-5 record and threw for over 4,000 yards. However, at 39 years of age, it was clear that the Alabama native was running out of gas.
Since he's a proper family man who is the father to nine children, it's safe to say that Rivers has more pressing needs to attend to anyway.
However, Rivers hasn't exactly ruled out the possibility of returning to the NFL. Despite currently working as a high school football coach, he blatantly stated that he has yet to shut the door on playing professional football in 2021.
Philip Rivers is reportedly eyeing a potential return to the NFL this season
As outlandish as it may sound, the NFL is undoubtedly operating in an era that's being dominated by aging quarterbacks. Tom Brady just secured his seventh Super Bowl at the age of 43 (while playing on a torn MCL), and 37-year-old Aaron Rodgers is coming off an MVP-winning season himself. While it's unreasonable to lump Rivers alongside two of the greatest quarterbacks in football history, he's no slouch by any stretch of the imagination.
Rivers hasn't thrown for fewer than 4,000 yards since 2012 and was a Pro Bowler for three straight seasons between 2016 and 2018.
He's obviously not in a condition to step on the field anytime soon, but it's pretty hard to downplay the possibility of Rivers coming in and giving a QB-needy team a boost late in the season. Plenty of NFL organizations lack faith in their current starter, and injuries are always a guarantee in professional football.
As silly as it may sound here in August, a market emerging for a soon-to-be 40-year-old Rivers halfway through the regular season isn't completely out of the realm of possibility. It's a pretty common tactic that baseball pitchers employ — waiting things out until a playoff-caliber team suffers a key injury down the stretch.
If a star QB gets injured this season, Philip Rivers could take their place
The Tampa Bay Buccaneers, Green Bay Packers, Pittsburgh Steelers, and Los Angeles Rams are built around star quarterbacks who are starting to get up there in age. In particular, Ben Roethlisberger and Matthew Stafford have suffered numerous injuries throughout their career, and Brady is coming off an offseason in which he had to undergo knee surgery.
Should any one of these players go down late in the season with their team in a position to contend for a Super Bowl, it's hard to imagine general managers not at least checking in with Rivers. Assuming he's working out and still in relatively good shape, a version of Rivers similar to what he was in 2020 would be an upgrade over a majority of backups in the NFL.
For example, even a team like the Dallas Cowboys, who are already having further injury issues with Dak Prescott, could use some added insurance at the position following the departure of Andy Dalton this past offseason.
A return to the Indianapolis Colts shouldn't be ruled out either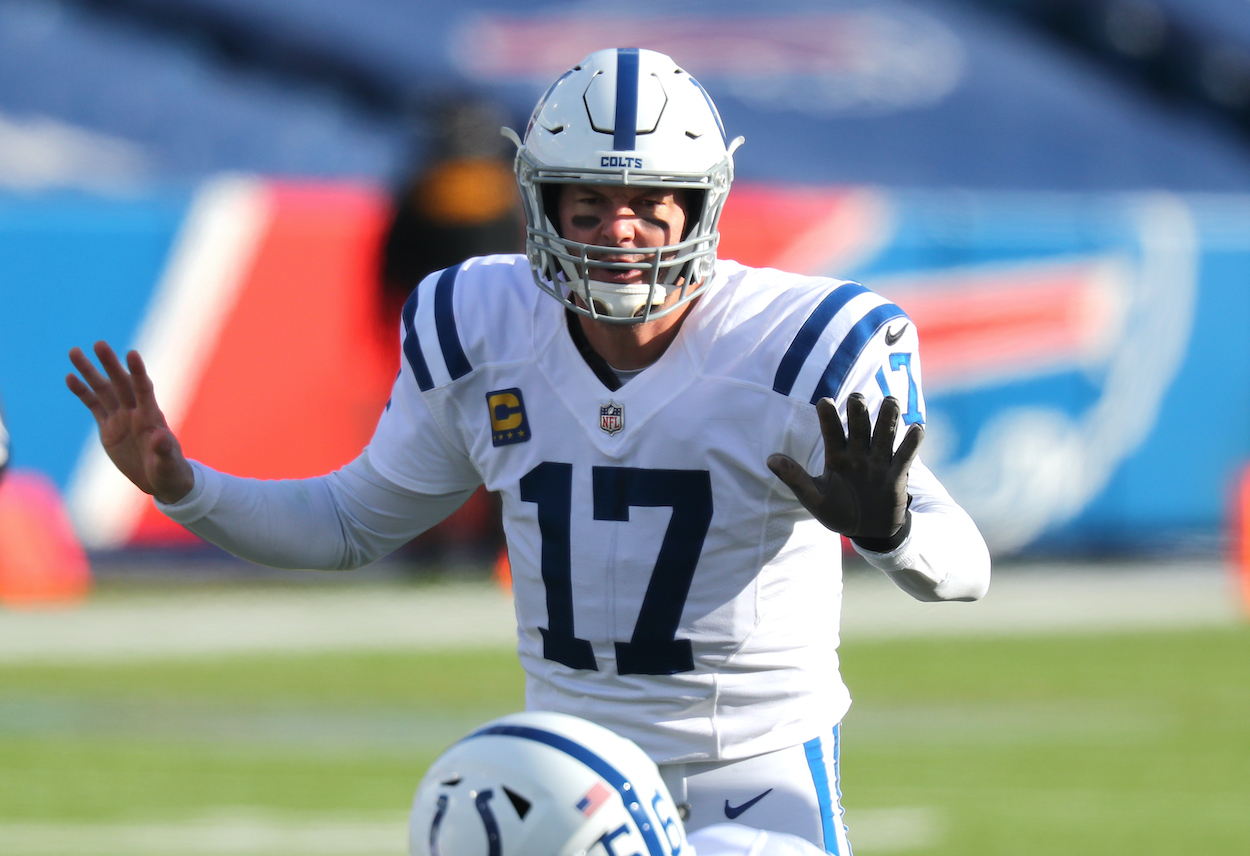 Another possibility to consider is that of the Indianapolis Colts. While they tried their best to move forward by acquiring Carson Wentz earlier this spring, they have already found themselves in a position where they, too, could use a starting QB for a brief period of time.
Wentz is out for 5-12 weeks due to foot surgery, which presumably rules him out for the season's first few games.
It's doubtful that Rivers (or the Colts, for that matter) would consider returning to the NFL on such short notice, but it's worth mentioning nevertheless.
In the meantime, Rivers will continue to coach high school football while the NFL continues to work through training camp. Should a key starting quarterback be lost to injury at some point this season, one can only assume that Rivers' phone will start to ring rather frequently.
All statistics courtesy of Pro Football Reference.