Phillies' J.T. Realmuto Could Lose $100 Million From the Coronavirus Pandemic
J.T. Realmuto was poised to break the bank when he hit free agency this fall.
The coronavirus pandemic, and its subsquent impact on baseball's financials, have left players in a rough place. That includes Realmuto, the Phillies' All-Star catcher and one of the game's top talents behind the plate.
When all is said and done, J.T. Realmuto could lose $100 million in free agency — and the coronavirus pandemic is to blame.
J.T. Realmuto is arguably baseball's best catcher
RELATED: Roy Halladay Shocked Phillies Organization After Perfect Game With Expensive Gifts for Bat Boy and Others
A third-round pick of the then-Florida Marlins in 2010, J.T. Realmuto has lived up to the hype in recent years.
Realmuo has been worth at least 2.4 Wins Above Replacement each of the last five seasons, according to Baseball-Reference. He posted a 4.5 WAR in both 2018 and 2019.
Realmuto recorded career-highs in home runs (25), RBIs (83), and doubles (36) last year, his first season with the Phillies. The veteran catcher finished 14th in NL MVP Award voting and won his first career Gold Glove.
Realmuto enters the 2020 season with a career .278 average, 84 home runs and 326 RBIs in five-plus seasons.
Realmuto will be a free agent this fall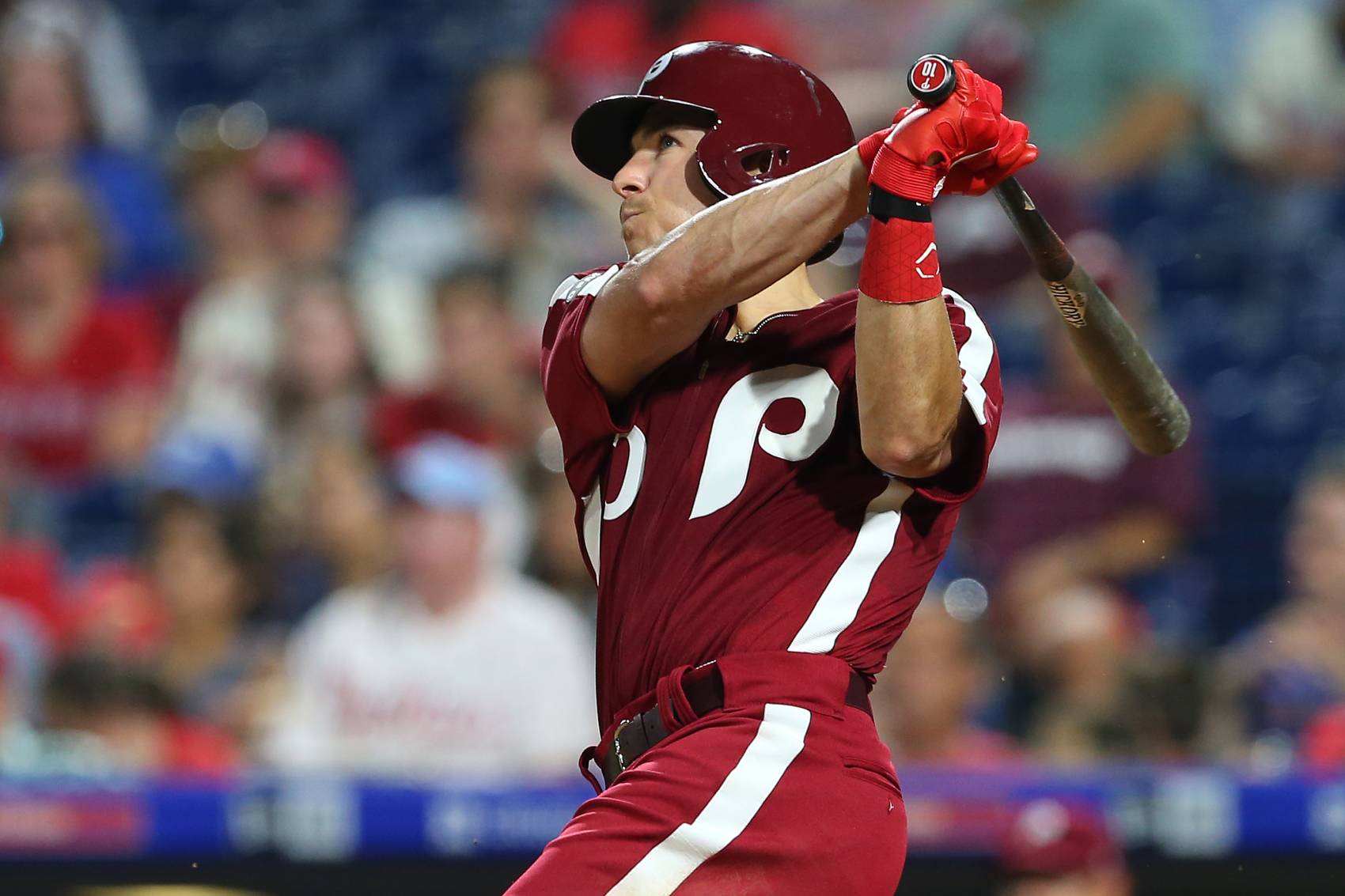 RELATED: The Weird Reason the Phillies' Richie Ashburn Slept With His Bats Every Night
Although the free agency market has been fairly slow in recent years, J.T. Realmuto had an opportunity to break the bank this fall.
Realmuto will be 30 when the 2021 season starts. He's been great at the plate for years and, unlike the Yankees' Gary Sanchez, is a consistently positive presence behind the plate, too.
Barring an injury or any issues with the coronavirus, Realmuto will draw plenty of interest as a free agent later this year. He only has one problem, and it has nothing to do with his play.
J.T. Realmuto could lose over $100 million in free agency
RELATED: COVID-19 Is Forcing a World Series Champ to Choose Between Family and Career
The coronavirus pandemic is going to have a lasting impact on Major League Baseball and how the league conducts business.
In a recent notebook column for The Athletic, Ken Rosenthal used Dodgers outfielder Mookie Betts as an example of how different the free agent market will be this fall.
"[A] team such as the Giants could sign Betts, and then pick and choose from the discount bin – a free-agent market possibly flooded with non-tenders, and a trade market in which some teams might be willing to pay down high-priced players' salaries to escape as much of the commitments as they can."
Rosenthal suggested Realmuto will be the second-best player on the market behind Betts.
Phillies general manager Matt Klentak recently said the Phillies want Realmuto in "for the long haul." However, Klentak acknowleged, "there is a lot of uncertainty right now," according to NBC Sports.
Realmuto's age and the idea teams will take fewer risks could severely impact his value.
The truncated 2020 season also won't help Realmuto's case. His overall numbers will already take an overall dip because he may only play 45 games instead of 145.
A down campaign could scare teams away from the veteran catcher. An early guess is that Realmuto's best option may be resigning with the Phillies on a short-term contract.
The Phillies likely wouldn't complain about that arrangement, though. Especially not with the team needing to prove its investment in controversial outfielder Bryce Harper was worth it.
All stats via Baseball-Reference