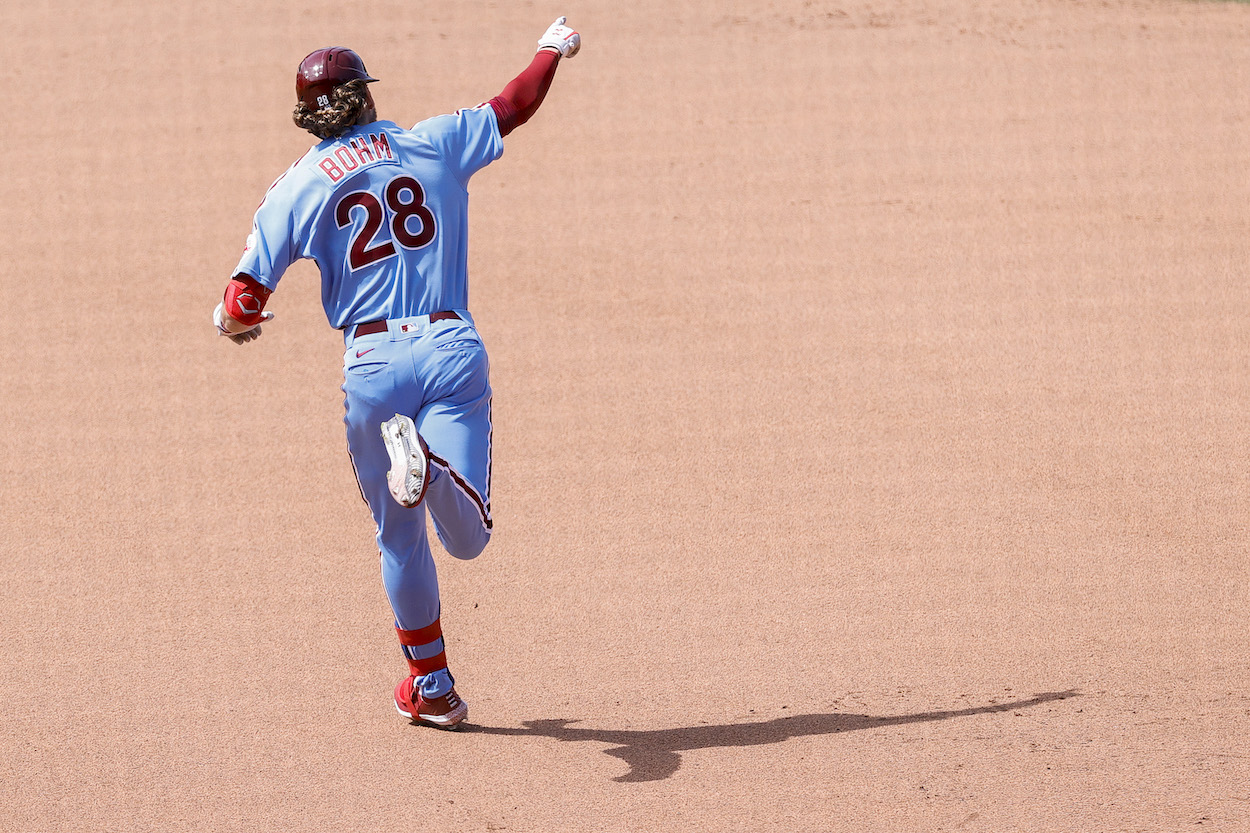 Phillies News: Dave Dombrowski Secretly Looking to Trade Former Top Prospect Alec Bohm?
If current reports are true, the Philadelphia Phillies could be quietly considering trading away 3B Alec Bohm.
Thanks to future Hall of Fame executive Dave Dombrowski, the Philadelphia Phillies are entering the 2022 MLB season with some serious momentum. This offseason, he signed two massive bats in Kyle Schwarber and Nick Castellanos, and added a new closer in Corey Knebel.
There are still some significant holes on the Phillies roster. There's no denying that. However, due to Dombrowski and his aggressive ways, they are undoubtedly in a better spot than a year ago.
With that said, Dombrowski might not be done quite yet, and his next move could include former top prospect Alec Bohm.
Alec Bohm has yet to win the Phillies' 3B job
The Phillies' top-hitting prospect from 2018 to 2020, Bohm was meant to be a critical piece to the team's prolonged rebuilding phase. After a stellar rookie season that saw him bat .338 in 44 games, everything was going according to plan.
Bohm was raking — making him the perfect player to slide into an offensive core that already contained Bryce Harper, J.T. Realmuto, and Rhys Hoskins.
However, Bohm's first full season in the major leagues ended up being a disaster. His batting average dropped all the way down to .247 in 2021 and his defense at third base was some of the worst in the MLB. This resulted in him being sent back to AAA for a brief spell, while career journeymen Freddy Galvis and Ronald Torreyes took over third base duties.
It was a frustrating year for Bohm, one that is still affecting the Phillies' plans here in 2022. The team has yet to formally commit to Bohm as the Opening Day third baseman. In fact, it's possible Bohm won't be on the major league roster at all by the end of Spring Training.
Alec Bohm is being mentioned in trade rumors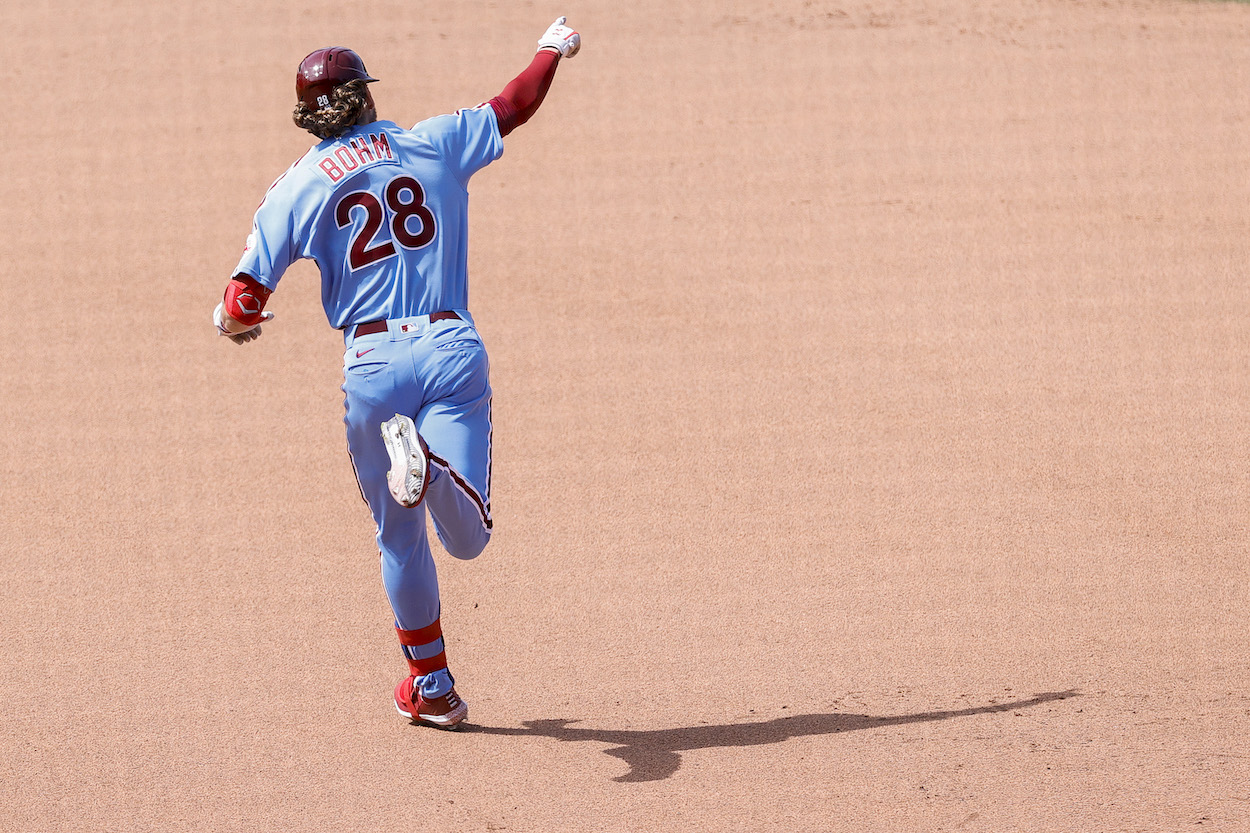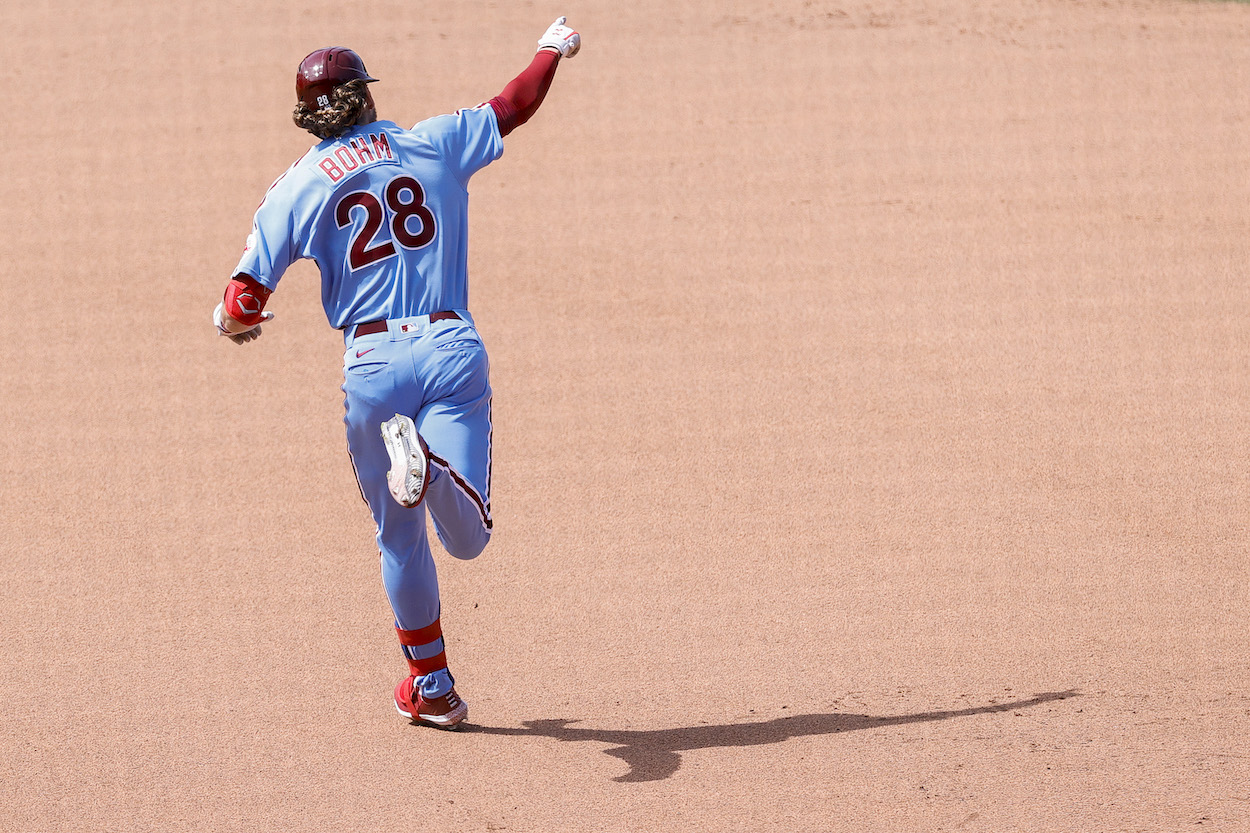 It's impossible to know if the Phillies' perceived lack of faith in Bohm is them attempting to motivate him, or genuine disinterest. However, a recent tidbit from Phillies insider Jim Salisbury suggests the latter.
Salisbury claims there's a credible buzz to Bohm being included as a trade chip at some point this season.
Girardi said there are "no plans" to play Castellanos at third. He is expected to get some time in left field, some time in right field (when Bryce Harper is the DH) and some time at DH.

Nonetheless, Castellanos' work at third base is interesting because that position still seems unsettled 16 days before opening day. Alec Bohm does not appear to have the job locked down. In fact, there is credible buzz that he could be used in a trade. Newcomer Johan Camargo has plenty of big-league experience at the position and has swung the bat well so far in camp.

Maybe Castellanos is indeed just taking balls at third for the exercise of it all.

But maybe he's being evaluated as a depth piece at an unsettled position.

Jim Salisbury, NBC Sports Philadelphia
Don't be surprised if the Phillies pull the trigger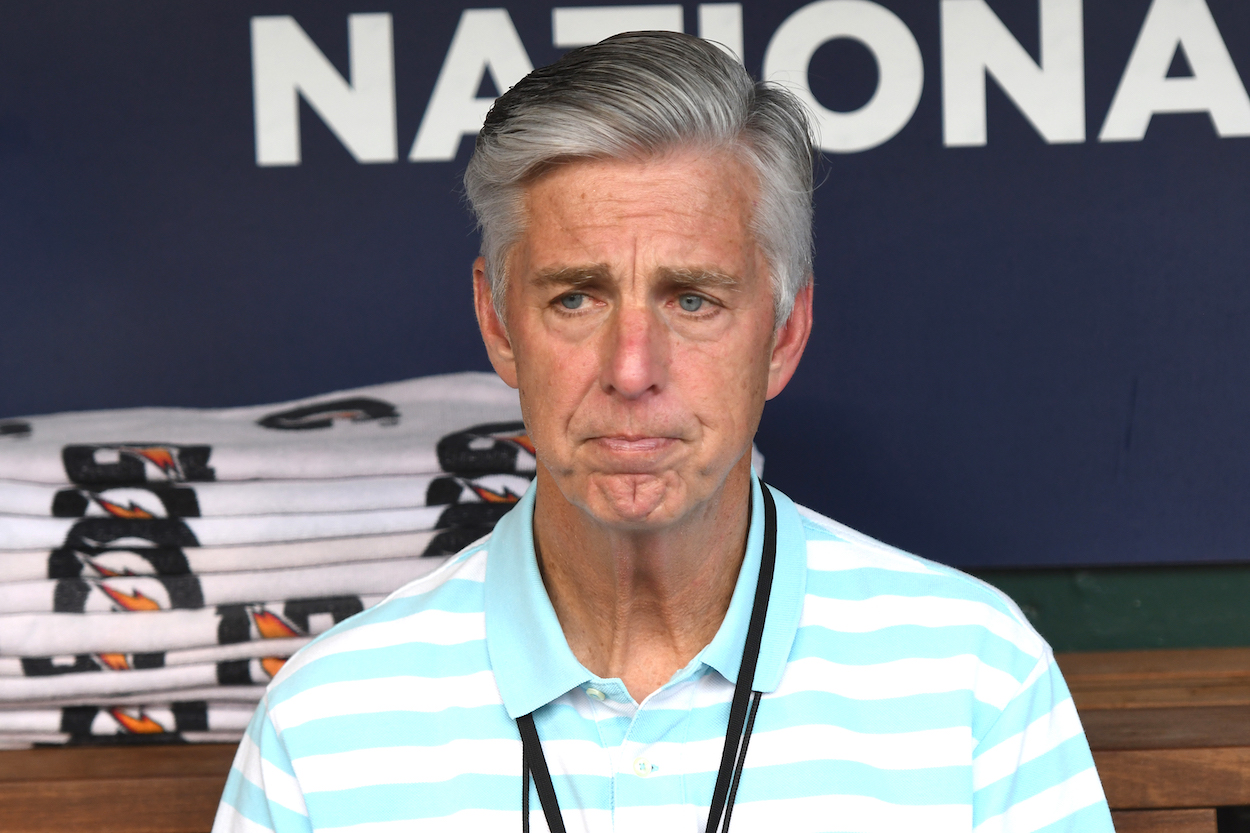 No less than a year ago, the Phillies trading Bohm felt like an impossible outcome. But this is Dave Dombrowski we're talking about. His whole shtick is trading prospects for established players.
If Dombrowski (and Joe Girardi) aren't confident Bohm can develop into a plus player, it would make sense for him to be on the trade block. The Phillies' window to win is now, and Dombrowski is only under contract through 2023. If there were ever a time to go all-in and push for the postseason, it would be now.
It's unclear who or what positions the Phillies would target with a Bohm-centered trade package. Third base, center field, and the bullpen are all notable areas of need. It probably makes more sense to hang onto Bohm until the trade deadline, when more talent becomes available.
Either way, Bohm hitting the trade block is becoming a reality, whether Phillies fans like it or not.
All stats courtesy of Baseball Reference.