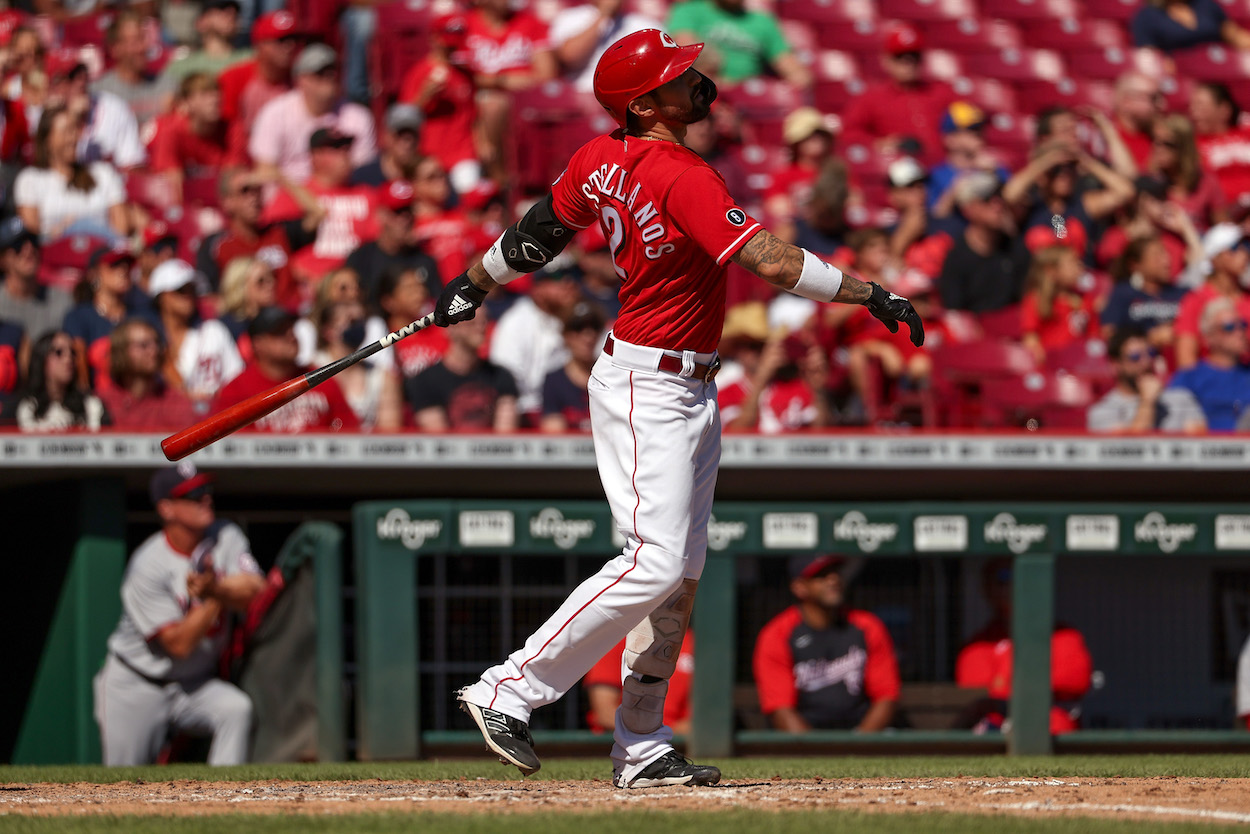 Phillies Rumors: Nick Castellanos Is 100% Worth Going Over the Luxury Tax For
Despite their desire to stay under the luxury tax this season, the Philadelphia Phillies should 100% smash through the tax for OF Nick Castellanos.
The Philadelphia Phillies just made one of the more significant signings this MLB offseason. They snagged outfielder/designated hitter Kyle Schwarber on a four-year deal worth $79 million. It's a massive acquisition for Dave Dombrowski and company, as it gives them an elite leadoff hitter to place at the top of the lineup.
The leadoff spot was a massive issue for Philadelphia last year. A lack of on-base ability in the lineup frequently saw Bryce Harper stepping into the batter's box with no one on base. Schwarber should fix that.
Common sense suggests the Phillies are done spending this offseason, as they've historically shown an unwillingness to exceed the luxury tax. However, according to a recent report, they may still be in the mix for another giant bat — Nick Castellanos.
The Phillies are still interested in Nick Castellanos
Entering the offseason, the Phillies were likely going to land one of Schwarber, Castellanos, or Kris Bryant. They had a hole to fill in left field and enough cap space to accommodate one big-time free agent.
However, according to MLB insider Jon Morosi, the Phillies are still showing interest in Castellanos, despite already inking Schwarber to a contract worth roughly $20 million per season.
Castellanos slashed .309/.362/.576 with 34 home runs in 2021. Needless to say, he would be a massive acquisition.
Maybe Dombrowski is simply checking in to see if Castellanos would take a pay cut to play in Philadelphia for a year. Or perhaps, Phillies ownership is finally preparing to smash through the luxury tax in an attempt to end a decade-long playoff drought.
Nick Castellanos is worth smashing through the luxury tax for
Owners don't like drifting over the luxury tax, which is understandable. No one likes paying extra taxes. However, the nature of the MLB's luxury tax penalty is extremely forgiving toward first-time offenders. The Phillies could ink Castellanos to a massive multi-year deal now, and easily get back under the luxury threshold in 2023.
Philadelphia has several big contracts coming off the books next offseason. Getting back under the tax should be of little concern.
Instead, it comes down to owner John Middleton and his willingness to win in 2022. Adding Castellanos to an already potent lineup instantly makes the Phillies contenders. It would simply cost Middleton a few extra million in tax money.
The Phillies need to surround Bryce Harper with elite talent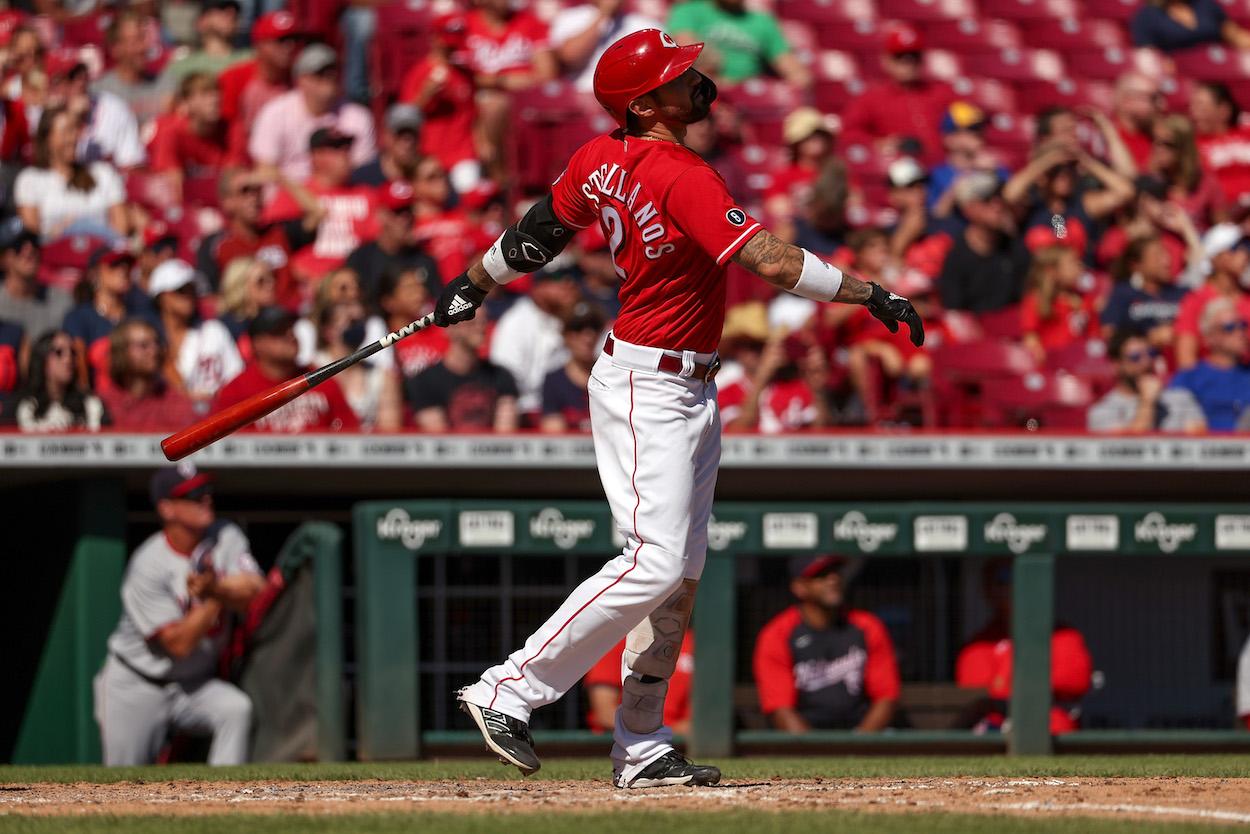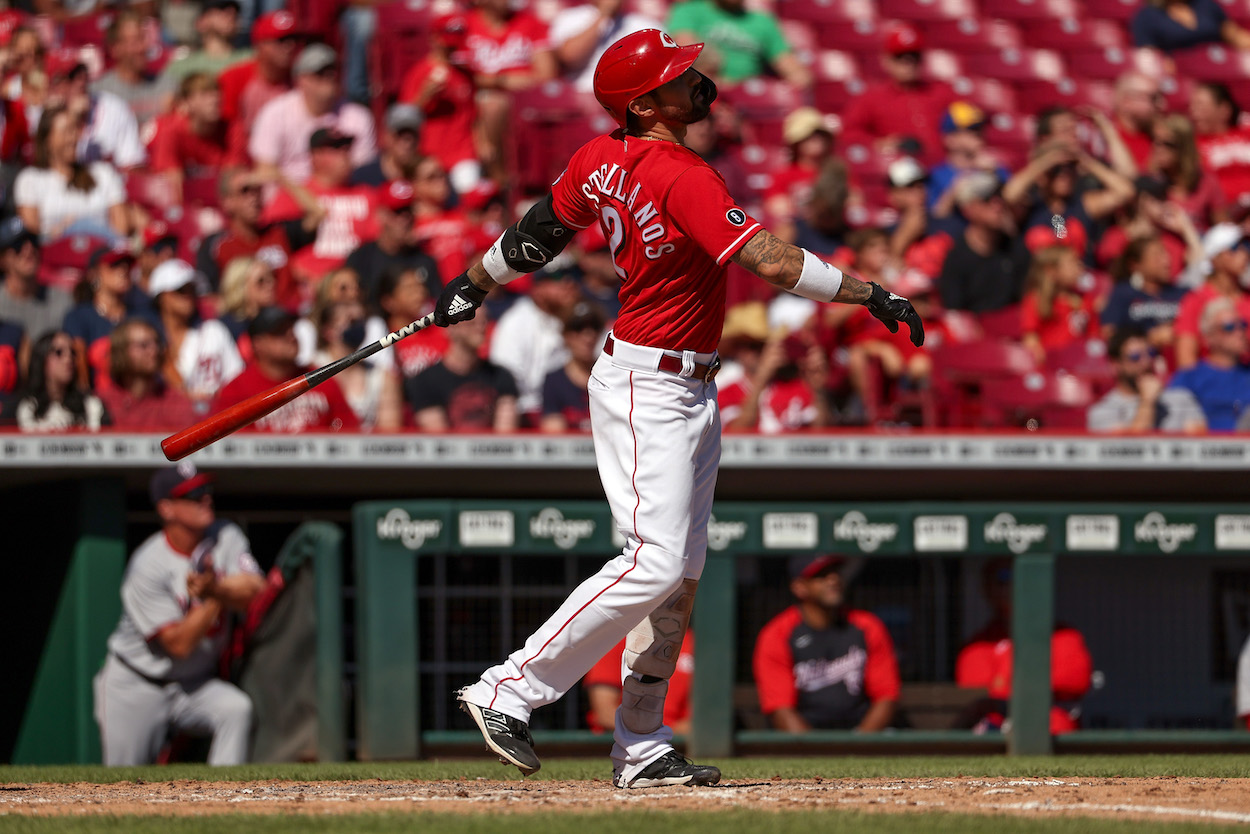 This goes without saying, but the Phillies have done a poor job building a winner around reigning NL MVP Bryce Harper since signing him in 2019. They've added some key stars like J.T. Realmuto and Zack Wheeler. However, the past front office regimes did a terrible job fleshing out the roster.
With Dave Dombrowski — a two-time World Series champion — entering year two as Phillies president, the urgency to win is at an all-time high. Dombrowski was explicitly hired to bring a championship to Philadelphia. Now, the Phillies are staring down a prime opportunity to add two elite bats to their lineup in one offseason.
No matter how you slice it, a lineup consisting of Harper, Schwarber, Castellanos, Realmuto, Rhys Hoskins, Jean Segura is good enough to make some noise in the NFL.
Go over the tax. Sign Castellanos. End the playoff drought. It's a pretty simple equation.
All stats courtesy of Baseball Reference.