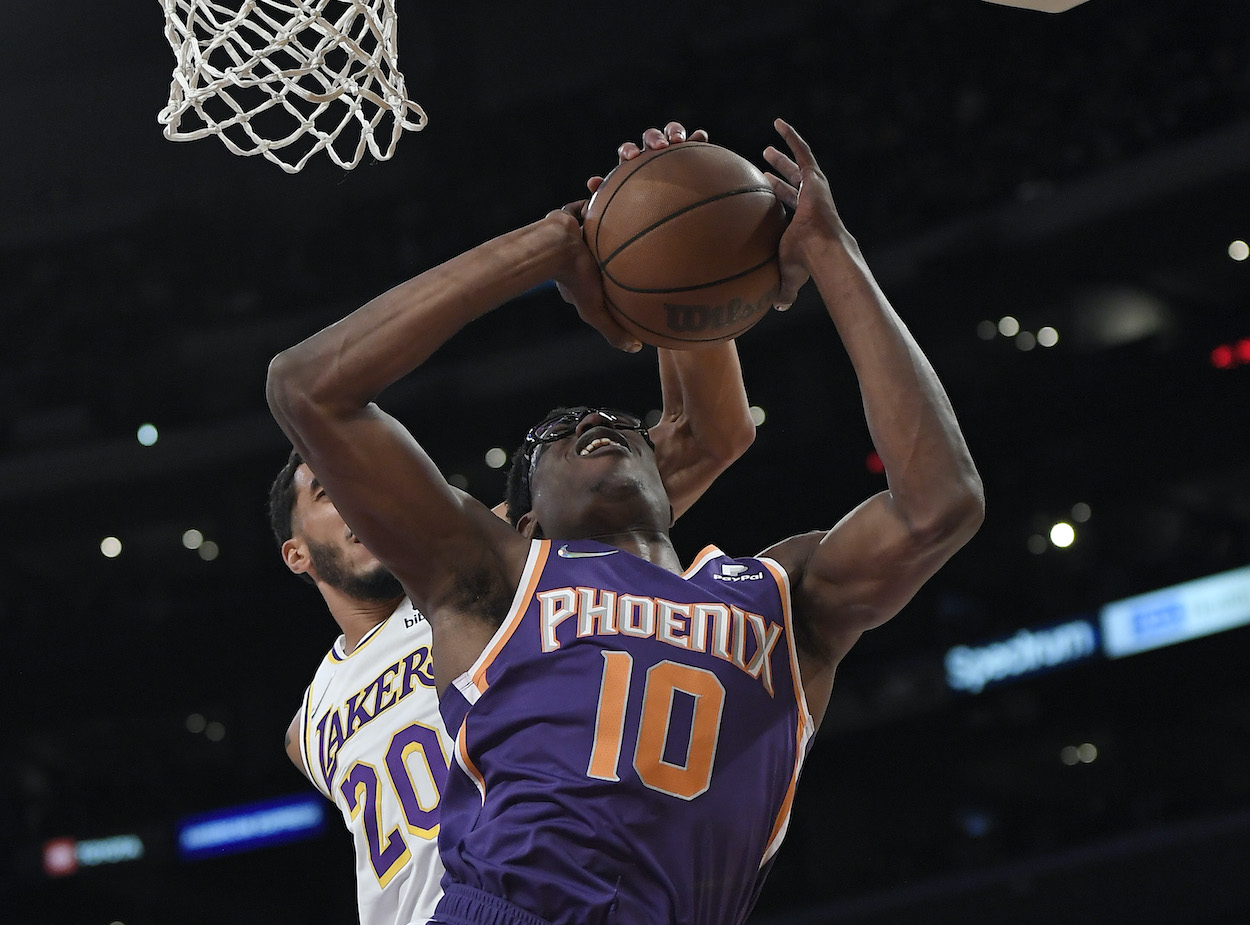 The Phoenix Suns Quietly Admitted to a Franchise-Altering Mistake With Their Latest $4.7 Million Move
The Phoenix Suns have declined Jalen Smith's $4.7 million third-year option and admitted to a brutal mistake in the process.
The Phoenix Suns have done a lot of things right over the past few years. They added Devin Booker, Deandre Ayton, and Mikal Bridges through the draft and completed a monumental trade for Chris Paul last offseason that helped them reach the NBA Finals for the first time since 1993.
But with a golden opportunity to add an immediate contributor in last year's draft, the Suns made the wrong choice by selecting Jalen Smith with the 10th overall pick. And by declining Smith's $4.7 million third-year option on Monday, Phoenix admitted to its foolish mistake that may have cost the franchise a championship.
Jalen Smith has been a major disappointment for the Suns
Before the Suns completed the blockbuster trade to land Chris Paul in 2020, they had a decision to make at 10th overall in the NBA draft. Most of the elite prospects in the class were already gone by the time Phoenix was on the clock.
So, the Suns took a chance on Jalen Smith, a lanky, athletic big man out of Maryland who could get after it on the boards and protect the paint as well as anyone in the class.
There was plenty to like about Smith coming out of college, but the pick didn't make much sense for a Suns team that had just drafted Deandre Ayton No. 1 overall two years prior. Phoenix hoped it could play Ayton and Smith together and intimidate teams with their size and shot-blocking ability. However, it hasn't panned out that way.
Smith appeared in just 27 games as a rookie and averaged only 2.0 points, 1.4 rebounds, and 0.2 blocks per game. The dominance he showed in the paint at Maryland simply didn't transfer to the NBA, and that hasn't changed in Year 2. Smith has played in only two of the Suns' five games this season and hasn't shown much improvement in limited action.
Suns decline Jalen Smith's $4.7 million third-year option
When the Suns drafted Smith in 2020, they signed the power forward to a four-year, $19.3 million contract. But as is the case with many rookie deals, Smith's contract included a club option for the third and fourth years.
On Monday, Shams Charania of The Athletic reported in a tweet that the Suns declined Smith's $4.7 million third-year option, which will make him an unrestricted free agent next offseason.
And just like that, the Suns have given up on a top-10 draft pick not even two years into his NBA career.
A foolish mistake that may have cost the Suns an NBA title
Even after whiffing on the 10th overall pick in last year's draft, the Suns made a miraculous run to the NBA Finals to face off against the Milwaukee Bucks. They even won the first two games of the series, but they went on to lose four straight and watch their championship hopes go up in flames.
Smith didn't log a single minute in the entire series. That's painful enough for Suns fans, but it's even worse when you consider the players Phoenix could've drafted instead.
Tyrese Haliburton, who went two picks after Smith to the Sacramento Kings, was incredible all season and finished third in the Rookie of the Year voting. The fearless shooting guard could've given the Suns some valuable minutes off the bench when Booker needed a rest.
Cole Anthony, Isaiah Stewart, and Saddiq Bey all went a few picks after Smith and firmly outplayed him last year, as did late-rounders such as Tyrese Maxey, Immanuel Quickley, Payton Pritchard, and Desmond Bane. In fact, there aren't many players from the 2020 class who have performed worse than Smith in the NBA.
Of the 29 other first-round picks in the draft, 27 of them outscored Smith on a points-per-game basis last season.
It's hard to screw up a top-10 pick as badly as the Suns did last year, and by declining Smith's $4.7 million option this week, Phoenix has officially admitted to its disastrous mistake.
Like Sportscasting on Facebook. Follow us on Twitter @sportscasting19.