Phoenix Suns Star Deandre Ayton Used a Drug Suspension to 'Humble' Himself
Anyone who posted or wrote about Phoenix Suns center Deandre Ayton potentially being a bust has likely spent recent months scrubbing their Twitter account.
Going first overall in a draft featuring Luka Doncic and Trae Young, two instant stars, certainly didn't help any negative opinions about the young center. But it was a lengthy suspension, of all things, which helped Ayton blossom into the rising star he is now.
Ayton felt 'humbled' after a drug suspension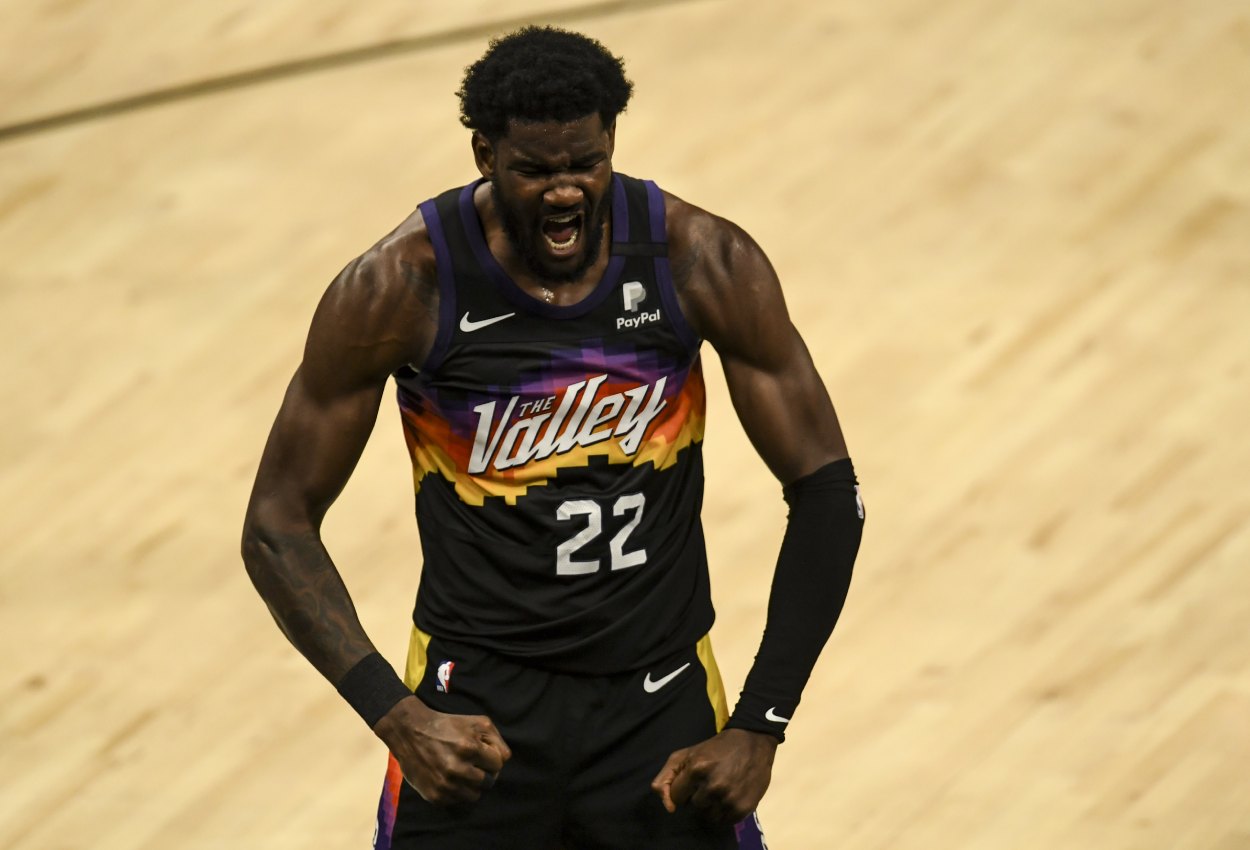 Because Doncic and Young impressed from day one, it is easy to forget Ayton averaged 16.3 points and 10.3 rebounds in 71 games as a rookie during the 2018-19 season. Not at all bad for the top pick in a loaded 2018 draft class.
However, that's where their paths started diverging. While Doncic and Young embraced being two of the game's best young players, Ayton spent a large chunk of the 2019-20 season away from the team. The NBA issued him a 25-game suspension in October 2019 after he tested positive for a banned diuretic.
After totaling 18 points, 11 rebounds, and four blocks in a season-opening victory over the Sacramento Kings, Ayton spent the next two months watching his teammates in the pre-pandemic days. The suspension and an ankle injury forced the second-year center to play only one game between that season-opener and December 30. 
In hindsight, that suspension was among the best things that could have happened to Ayton. But, according to SB Nation, he explained in July 2020 how the punishment "humbled him" and made him re-evaluate his career. 
"I could have been stopped a lot, and I didn't stop. I stayed on the positive path, and I have the Suns community and the Suns organization that kept me taking the right steps to where I am today."

Deandre Ayton
Months after finishing his suspension, Ayton ended the 2019-20 season averaging 18.2 points, 11.5 rebounds, and 1.5 blocks across 38 games and 32 starts. The Suns played in the bubble but narrowly missed the postseason.
Ayton has become one of the NBA's top young players
With punishment and a humbling behind him, Ayton continued proving why the Suns selected him first overall.
The third-year center averaged 14.4 points, 10.5 rebounds, and 1.2 blocks in 69 games during the 2020-21 season. Although all three of those numbers were down from the previous season, he shot a career-high 62.6% from the field.
It wasn't until the playoffs began and the No. 2 seed Suns faced LeBron James and the Lakers that the national audience finally understood how far Ayton had come as a player. He averaged 15.8 points and 10.7 rebounds per night in that series, and he even had a 17-rebound performance in a pivotal Game 4 victory.
In a Western Conference semifinals sweep of the Denver Nuggets, the third-year big man averaged 14.3 points and 10.5 rebounds. He even grabbed a career-high 22 rebounds against Paul George and the Los Angeles Clippers in Game 4 of the Western Conference finals.
The future looks extremely bright for Ayton and the Suns
At this point in his career, Ayton might be the Chris Bosh to Doncic's LeBron and Young's Carmelo Anthony. Even if he has a Hall of Fame-caliber career, he'll never earn the recognition or accolades that the two other superstars from his draft class have or will.
That doesn't have to be a bad thing. Ayton is clearly a rising star on a Western Conference team which, with Devin Booker still playing at a high level, should become a consistent playoff threat for the years to come.
If the Suns keep Chris Paul at point guard, the team has their Big 3 to build around for the coming years. Of course, it certainly helps that Ayton only turns 23 on July 23, and he's only improving, especially when it comes to grabbing offensive rebounds.
Based on his own words, Ayton sounds like someone who embraced one of the worst moments of his life and found a way to learn from it. The Suns should be grateful they're building their future around a young man capable of taking such an approach.
Like Sportscasting on Facebook. Follow us on Twitter @sportscasting19.