The Phoenix Suns Will Regret Failing to Hand Deandre Ayton His $172.5 Million Max Extension
The Phoenix Suns have two established superstars in Chris Paul and Devin Booker. They also have several key role players like Mikal Bridges, Cam Payne, and Jae Crowder. But center Deandre Ayton is Phoenix's most crucial piece to unlocking a championship.
The Suns finished with the second-best record in the Western Conference last year and made a run to the NBA Finals. They had a 2-0 lead over the Milwaukee Bucks before losing four straight and coming home empty-handed.
Paul was hurt, Booker underperformed, and those aforementioned role players came back to Earth. But Phoenix lost because they had no one to spell Ayton.
The Arizona product was the most underappreciated weapon the Suns had during last year's postseason, and now he's the most underappreciated weapon they have in their quest for another trip to the Finals.
Deandre Ayton has been a crucial piece to the Suns' hot start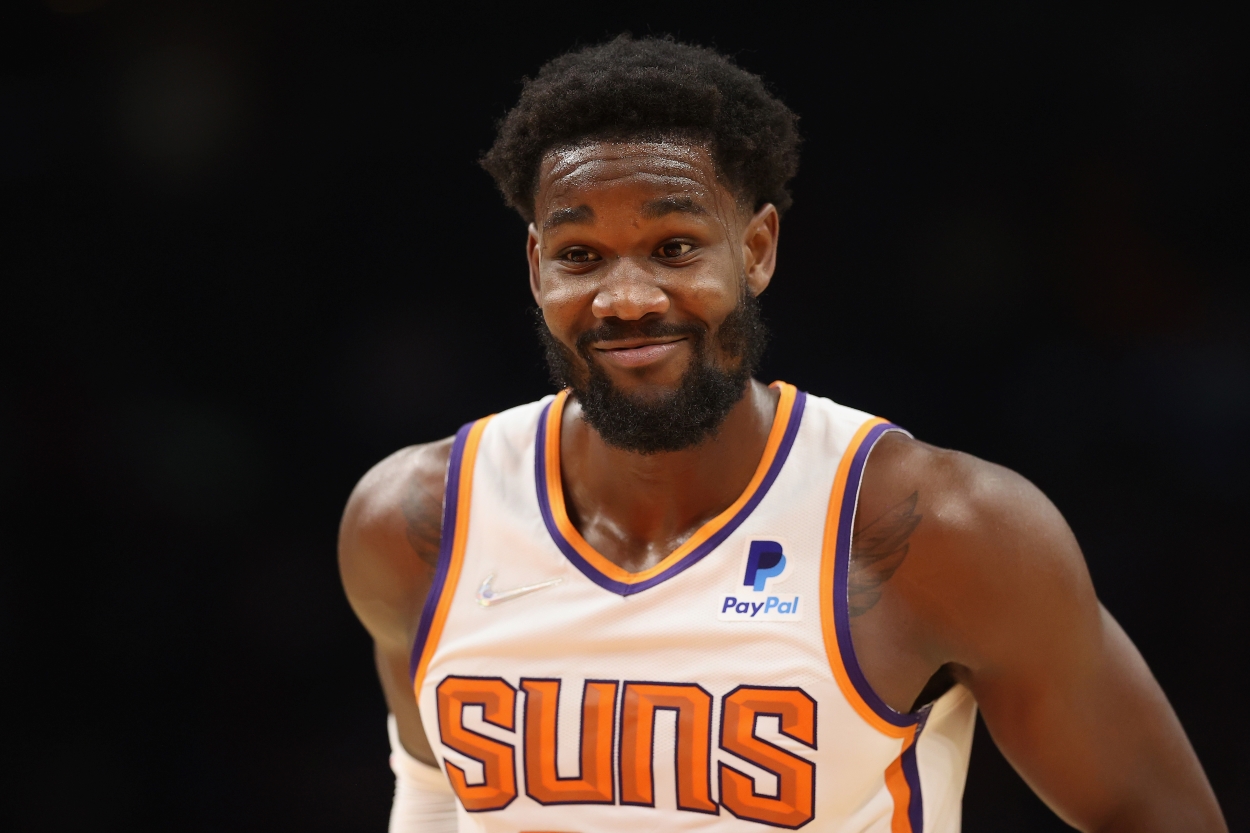 Phoenix is riding an 18-game winning streak into a rematch with the Golden State Warriors, whom the Suns beat on Nov. 30.
The team didn't lose a single game in November. And Ayton has been a big reason why.
The Bahamian big man won't wow anyone with his stats — he's scoring 16.1 points per game to go along with 11.5 rebounds. He is, however, shooting a career-high 63.4% from the field and 64.6% on shots inside the arc.
Additionally, he's shooting 79.8% inside the restricted area and is hitting half of his jumpers between 10-15 feet, according to SI.com.
Those are also career bests. Ayton is showing continuous improvement. Which, one would assume, would play a part in receiving a contract extension.
The Suns, obviously, felt otherwise.
Phoenix is going to regret not giving Ayton his max extension
According to The Athletic, Ayton and legendary Cleveland Cavaliers draft bust Anthony Bennett are the only No. 1 overall picks not to receive a rookie contract extension. One of those things is not like the other.
Phoenix did, however, shell out significant money for Mikal Bridges and Landry Shamet. Just not for their franchise center.
The former Arizona Wildcat showed why he's so valuable in the Suns' most important game of the season, the previously-mentioned matchup with Golden State. Even the team's leader and veteran point guard Paul is aware of how much Ayton means to his team as he said during the Suns' postgame press conference after the win over the Warriors (h/t JER-Sports Journalist).
"Those midrange shots or whatever that I hit, I don't make those without him givin' himself up and settin' those screens," Paul said.
"We just wanted to put him in ball screen, try to find mismatches. Sometimes I don't think he realizes how dominant he is. Even though he can shoot it and that stuff, he's a huge presence in the middle of the lane. His activity on the boards and just bein' out there is big for us."
Ayton is a rare center in today's NBA. He's athletic and moves well enough to stay with guards on the perimeter on switches, but he's also a solid rim protector (he has a career average of 1.1 blocks per game), as CP3 pointed out.
He unlocks what makes Phoenix so great. When teams go small, the 6-foot-11, 250-pound center can remain on the floor defensively. Most other centers — even three-time Defensive Player of the Year Rudy Gobert — have to sit against certain lineups.
In turn, that allows Ayton to bully smaller players on the block, which he's highly proficient at.
He can also be on the floor against other centers when teams go big — he was tasked with defending Giannis Antetokounmpo during the Finals last year. The Suns had no backup center to spell him, though, and eventually, he ran out of gas trying to slow down the Greek Freak.
Ayton is an ideal big man for today's NBA, and he's going to be paid like one. Whether or not that's in Phoenix has yet to be determined.
If their center leaves, the Suns will have a massive hole to fill
The fourth-year center will be a restricted free agent after the season. That gives Phoenix the option to match any contract offer he receives.
However, there are often "poison pill" provisions other teams toss into their offers that would make the Suns think long and hard about whether or not to shell out for their big man.
Regardless, Ayton feels disrespected by the franchise, and one way or another, that's going to come back to bite Phoenix.
Even The Point God knows how crucial his center is to what the Suns want to accomplish. But somehow, the Suns' front office and ownership don't. And they're going to regret it come this offseason.
All statistics courtesy of NBA.com.