A Photo Journey Through Michael Jordan's Amazing Life
No matter when you started following the NBA, you know Michael Jordan is one of the top players of the 1990s, the best of his generation, and one of the greatest at his position (shooting guard) to ever wear a uniform. He enjoyed one of the most decorated careers in basketball history, and that success on the court made him one of the richest American athletes. But Michael Jordan's amazing life had humble beginnings. Let's take a look at his life, from scrawny high school basketball player to international NBA star and beyond. We'll cover some of his biggest accomplishments on and off the court (including No. 12, where we reveal why every current NBA player should be thankful for what Jordan did in his heyday.).
1. He wasn't born in North Carolina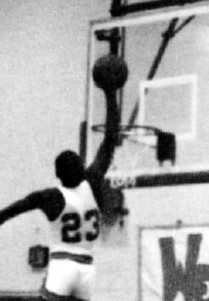 Even though he played high school and college basketball in North Carolina, Michael Jordan wasn't born there. He was born Feb. 17, 1963 in Brooklyn to James and Deloris Jordan before the family moved to the Wilmington area. Jordan played at Emsley A. Laney High School.
Next: He's not necessarily the best player from his college.
2. Michael Jordan isn't the most decorated UNC player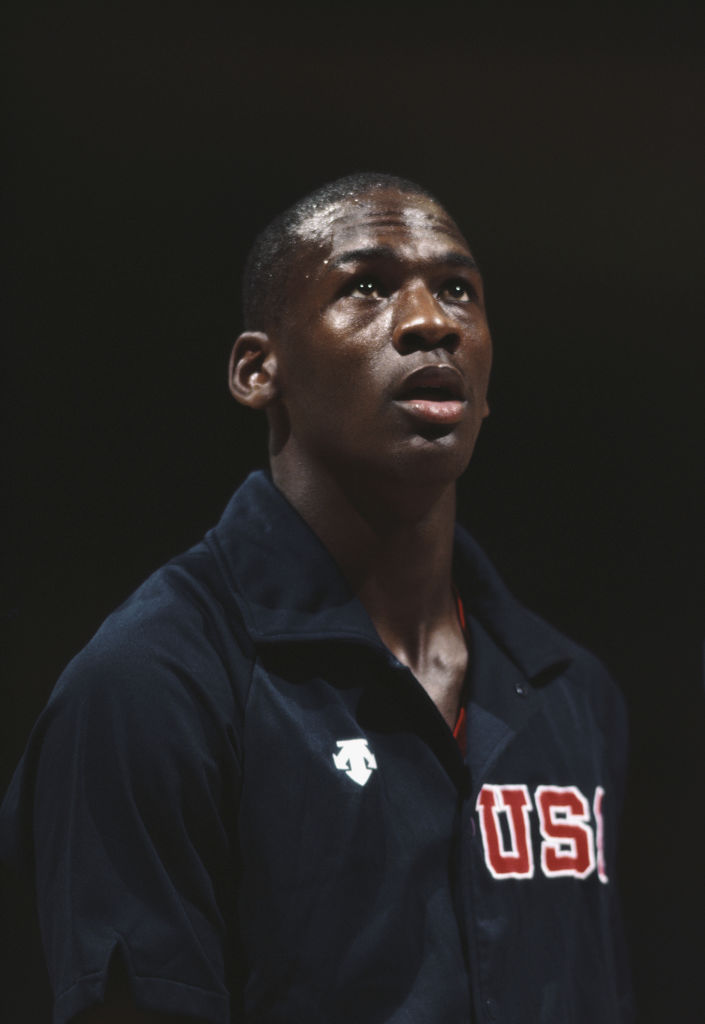 Michael Jordan might be the best NBA player of all time, and he's probably the most well-known UNC basketball player ever, but he hardly shows up in the record book. He's in the top-five all-time in just one category (tied for fourth in steals with 78), though he's top-20 in scoring and is one of a handful of players to score 600 or more points in a season on multiple occasions. Jordan is also one of 13 UNC players who also made the USA Olympic basketball team.
Next: We set the record straight regarding this legendary story.
3. Setting the record straight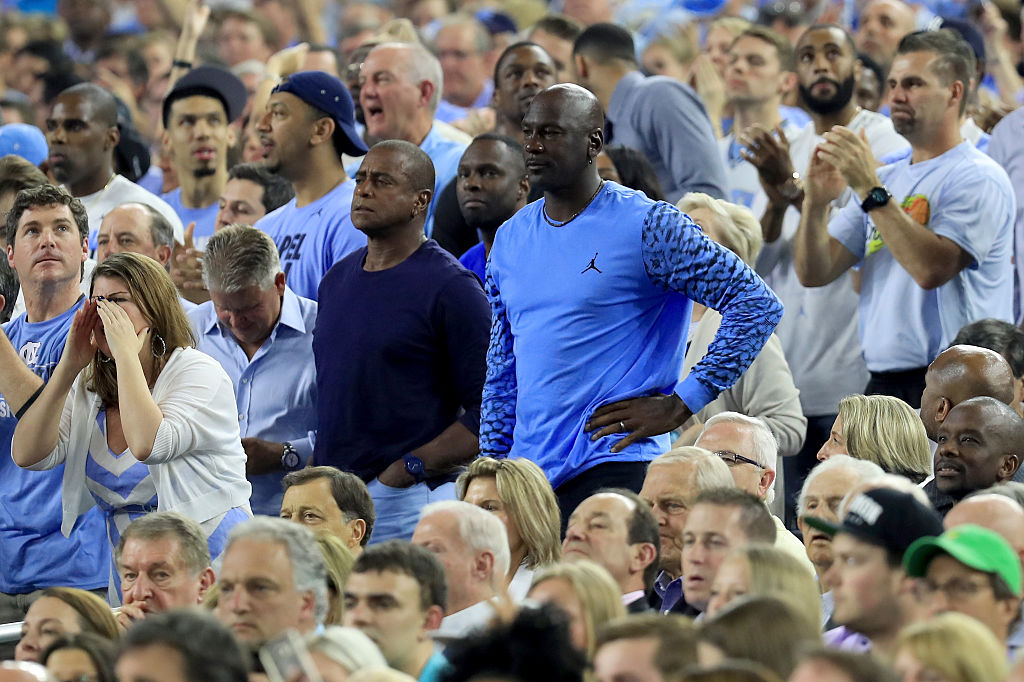 Let's press rewind for a second and revisit Jordan's high school days. Despite the well-known story that the coach cut him from his high school team, that's not true. He tried out for varsity as a sophomore, but the coach need tall players, so the 5-foot-11 Jordan played on the JV team as a sophomore and moved up to varsity the next season. Do you want another fun fact? Jordan isn't the all-time leading scorer for his Laney High School.
Next: That didn't take long.
4. Jordan was an NBA star almost immediately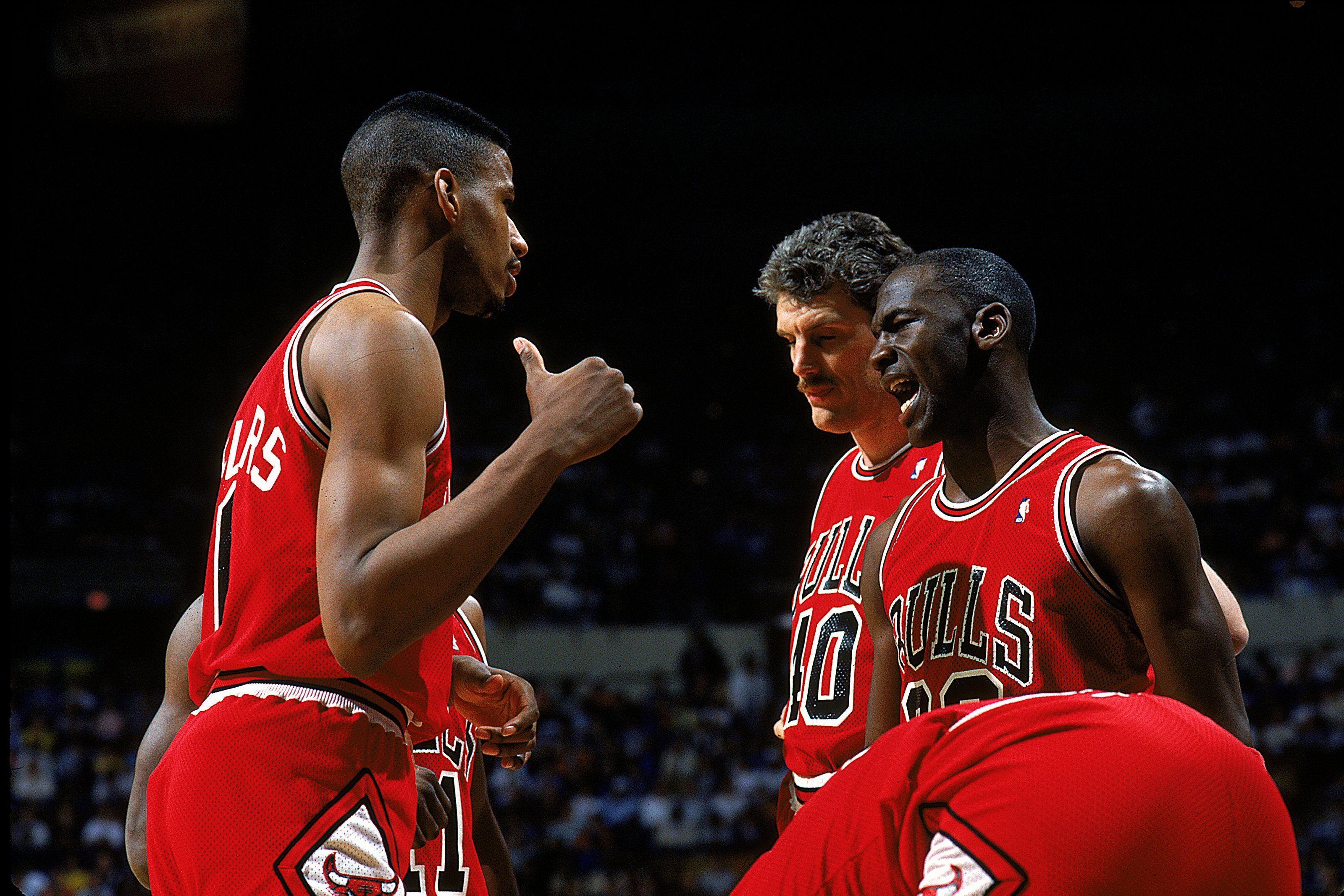 In his first season in the NBA in 1984-85 (after being drafted No. 3 overall), Michael Jordan averaged 28.2 points and 6.5 rebounds per game on 51.5% shooting. Things got better from there. In 1986-87 he started an 11-season streak in which he started every game in which he played. He averaged 37.1 points per game in 1985-86, and he won the first of five NBA MVP awards in 1987-88 after putting up 35 points, 5.9 assists, 5.5 rebounds, and 3.9 steals per game.
Next: He learned that famous move.
5. The tongue wag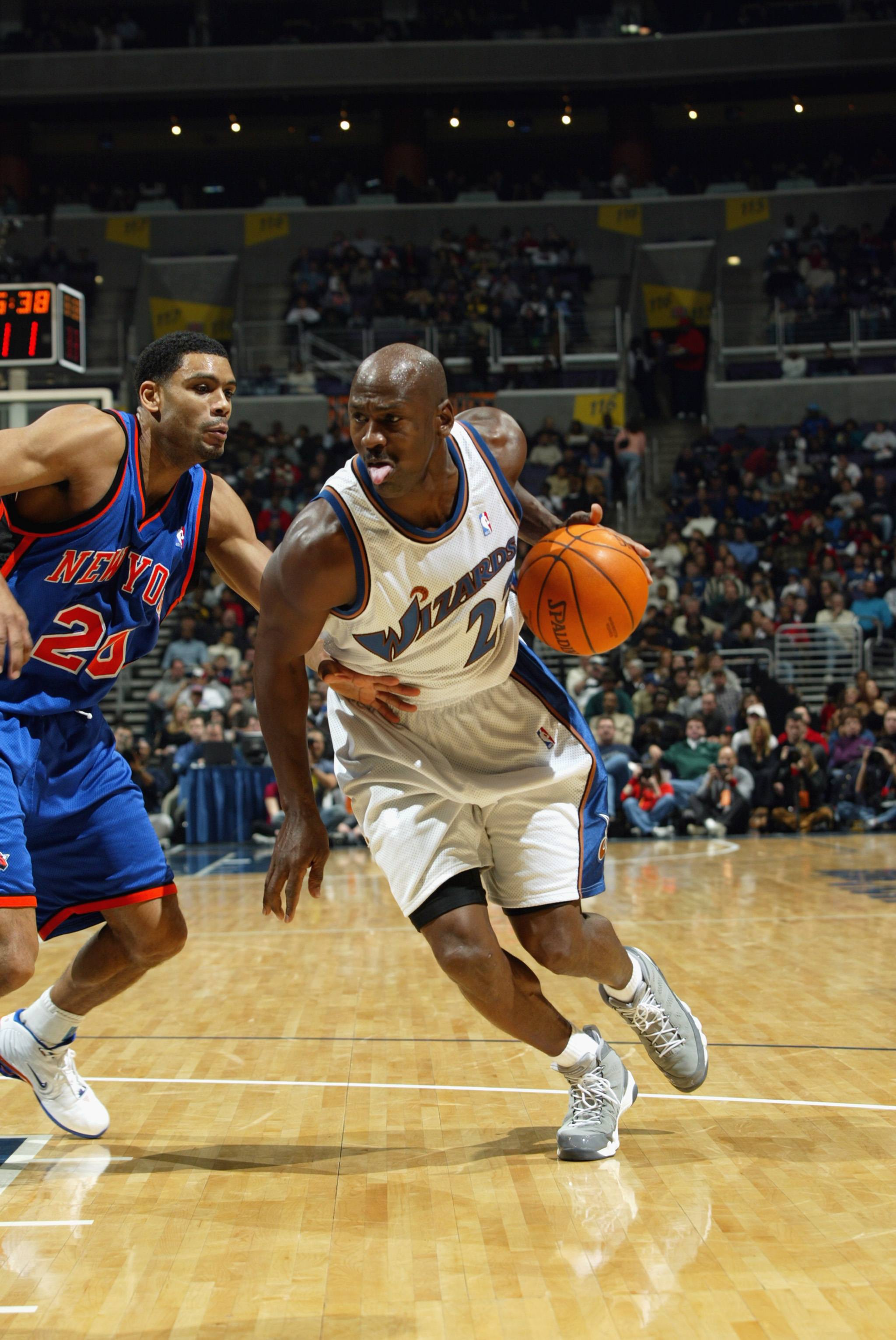 His dad told him to become a mechanic because it's always an in-demand job. Then Jordan averaged a triple-double as a senior in high school (29.2 points 11.6 rebounds, and 10.1 assists per game), earned a full scholarship to North Carolina, and the rest is history. He reportedly learned his famous tongue wag from his dad, who did the same thing when he was exerting himself while working.
Next: He was bound to succeed athletically.
6. Basketball was just one of Michael Jordan's passions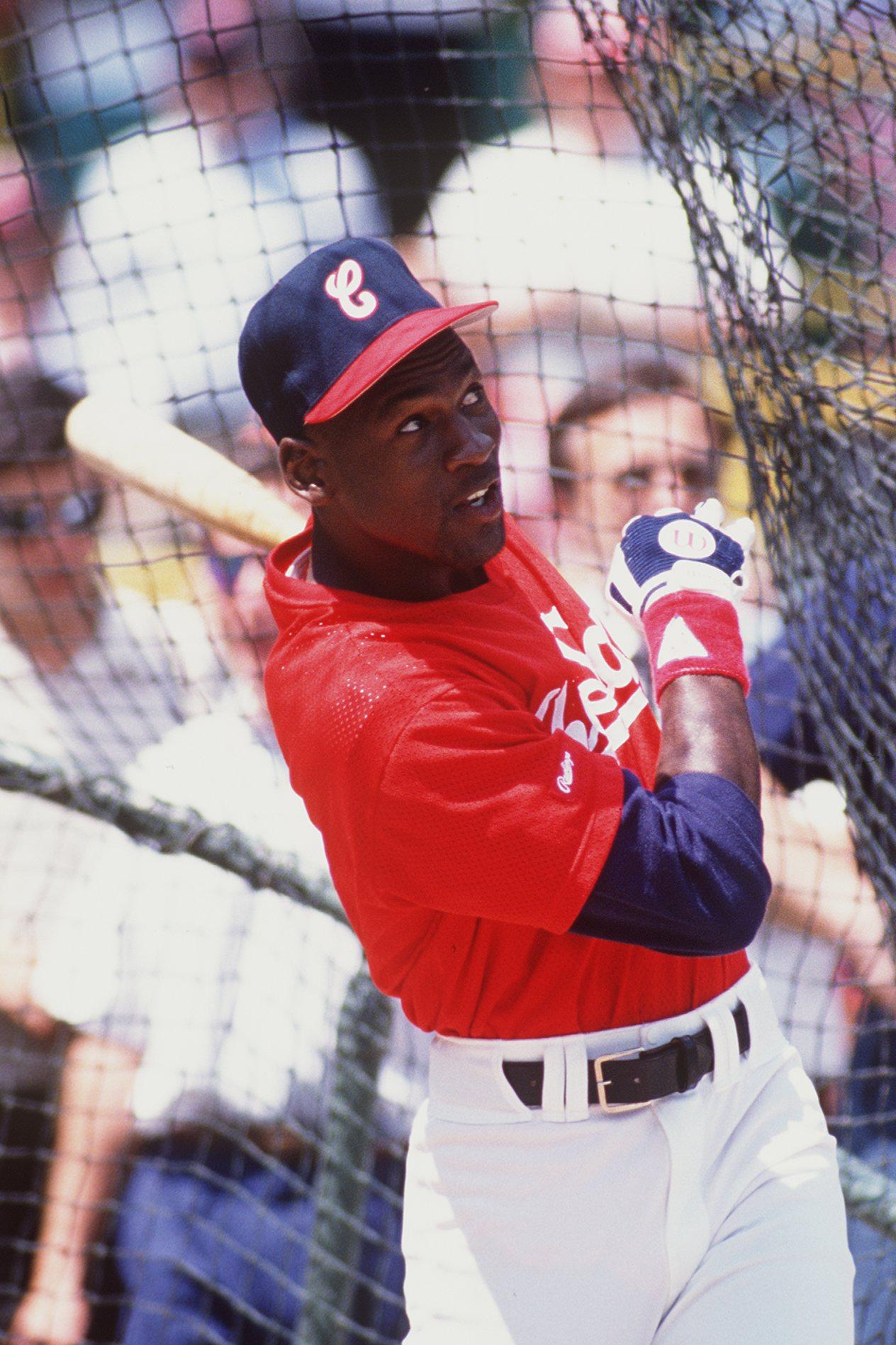 Michael Jordan started to come into his own as an athlete when he was a teenager. He obviously made the right choice with basketball since he's one of the richest athletes of all time from any country and any sport, but he had options. He also played football and baseball in high school, and might have found success on the diamond if he focused on that instead of basketball.
Next: Top of the world.
7. Michael Jordan finally reaches the apex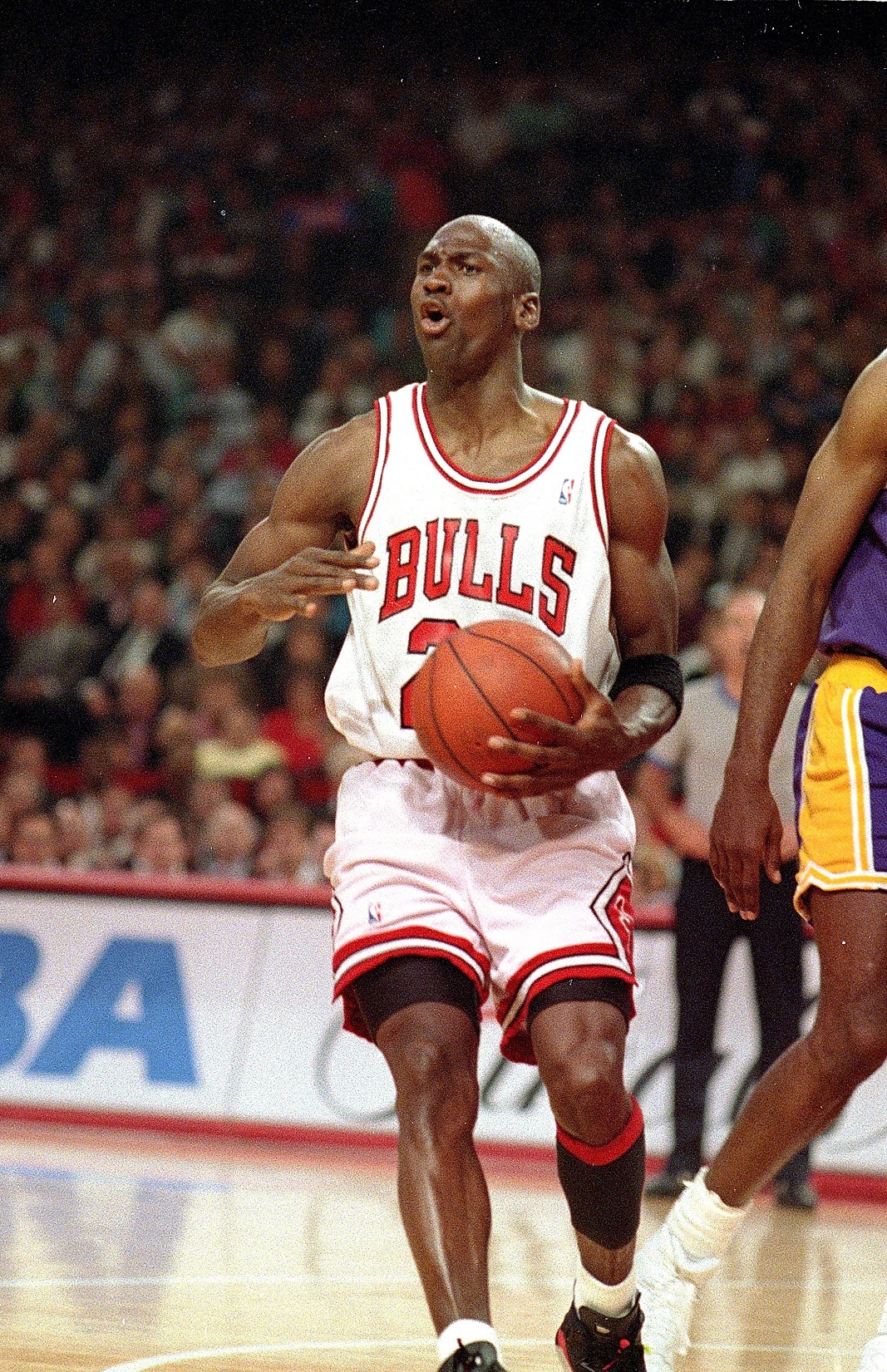 He already had an NCAA title, a college basketball Player of the Year award, an Olympic gold medal, and two MVP awards by the time the 1991 NBA Finals tipped off, but that's when Michael Jordan finally reached the top of the mountain. He averaged 31.2 points and 11.4 assists per game as the Chicago Bulls beat the Los Angeles Lakers 4-1 to win the 1991 title. It was Jordan's and the franchise's first championship but it was far from the last.
Next: Tumultuous times
8. Life under the microscope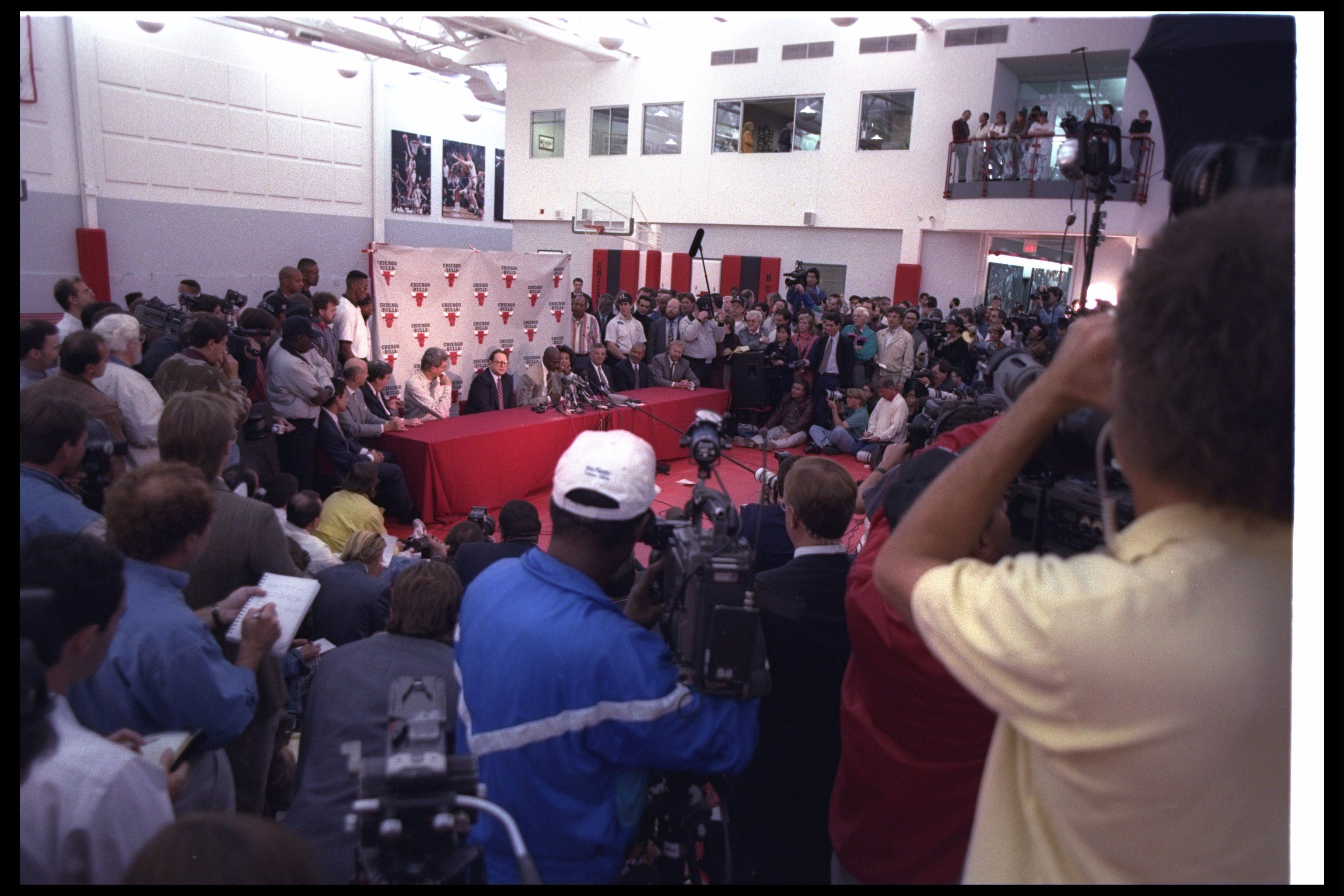 Jordan and the Bulls followed their 1991 title with championships in 1992 and 1993, which drew even more attention to the team and the player. Pick your analogy, but Michael Jordan was living under the microscope/in front of the camera nearly all the time, which is why his abrupt retirement after the third title generated so many wild conspiracy theories. Was it a secret suspension? A chance to deal with a gambling problem? A much-needed mental break after the murder of his father (which also generated its own conspiracy theories)? Only one man knows for sure.
Next: The schedule fills up.
9. Busy in retirement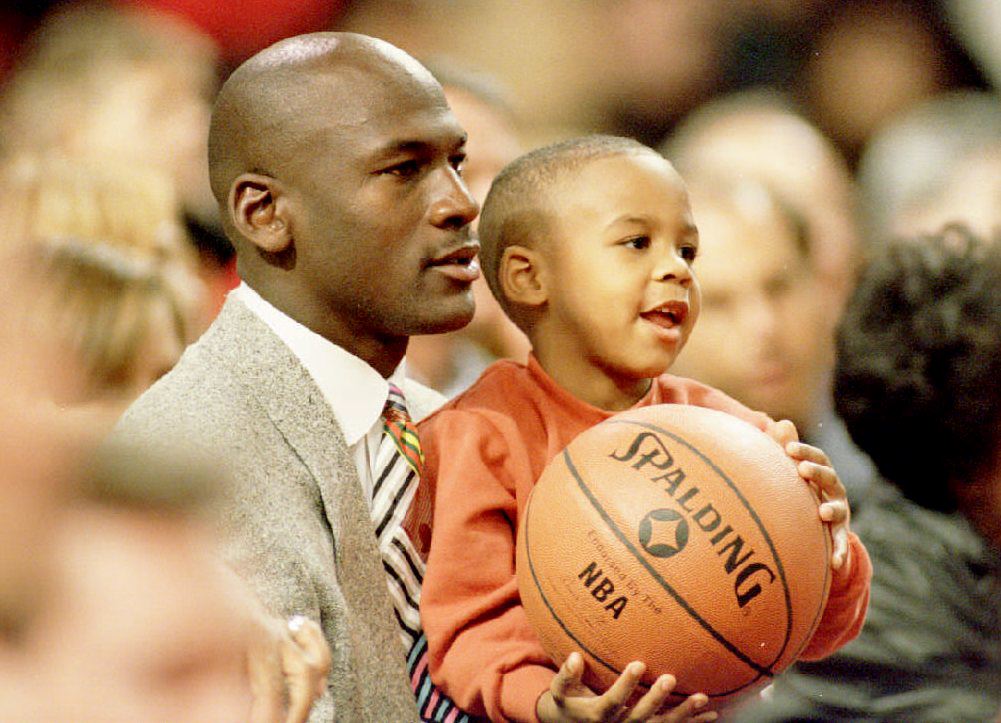 We've heard that people are as busy as retirees as they are when they're working full time, and Michael Jordan was no exception. Even though he retired in October 1993, his schedule remained full.
He sat courtside on Nov. 6, 1993, when he joined his former teammates as they received their championship rings for their third title. There was also a jersey retirement ceremony on Nov. 1, 1994, as he raised his No. 23 to the rafters at Chicago's United Center. One of the lesser-known facts about his jersey retirement is that the Miami Heat also retired No. 23 out of respect to Jordan.
Next: Back to his roots.
10. Back to balling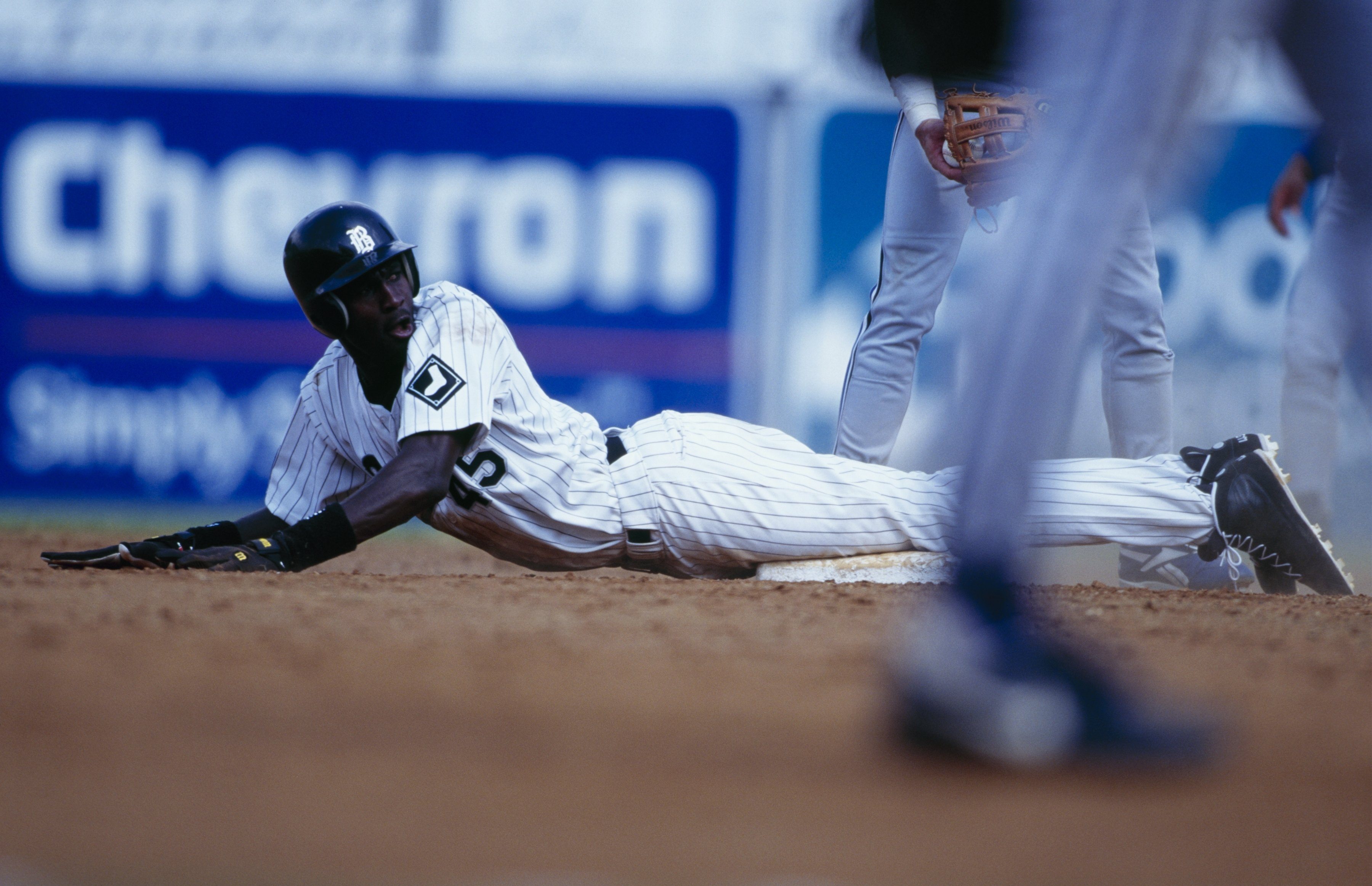 Jordan's NBA retirement meant he had a lot more free time on his hands, and he went back to his roots and played baseball as a way to fill the days. He signed a free agent contract with baseball's Chicago White Sox in February 1994 and was assigned to the Birmingham Barons in Class AA.
His minor league baseball stats don't look impressive, but when you consider he hadn't played competitive baseball in nearly 20 years, it's a miracle he hit over .200.
Next: He's ba-ack, but with one major change.
11. We hardly recognize you, MJ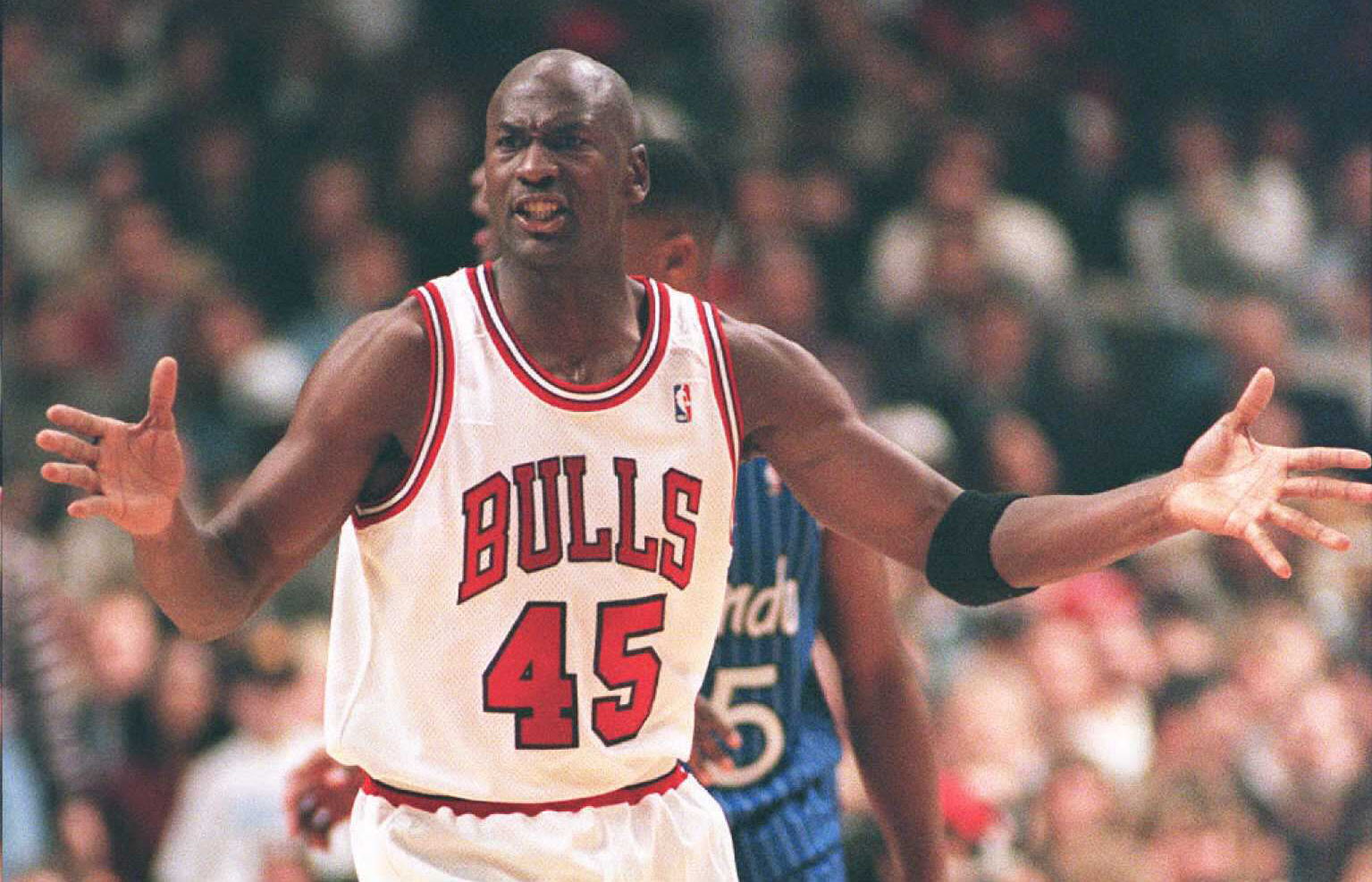 Michael Jordan's whole basketball-retirement-and-transition-to-baseball thing didn't pan out, and by March 1994, he was back in a Bulls basketball uniform. There was one major change, though. Instead of wearing No. 23, he donned a No. 45 jersey instead.
That was the number he wore in high school until he joined the varsity team, where his brother already had the No. 45 jersey. He also didn't want to wear No. 23 since that was the last number his father saw him in, but he switched back after the Bulls lost a game against Orlando early in the 1995-96 campaign.
Next: The shoes make the man?
12. Air Jordan almost wasn't Air Jordan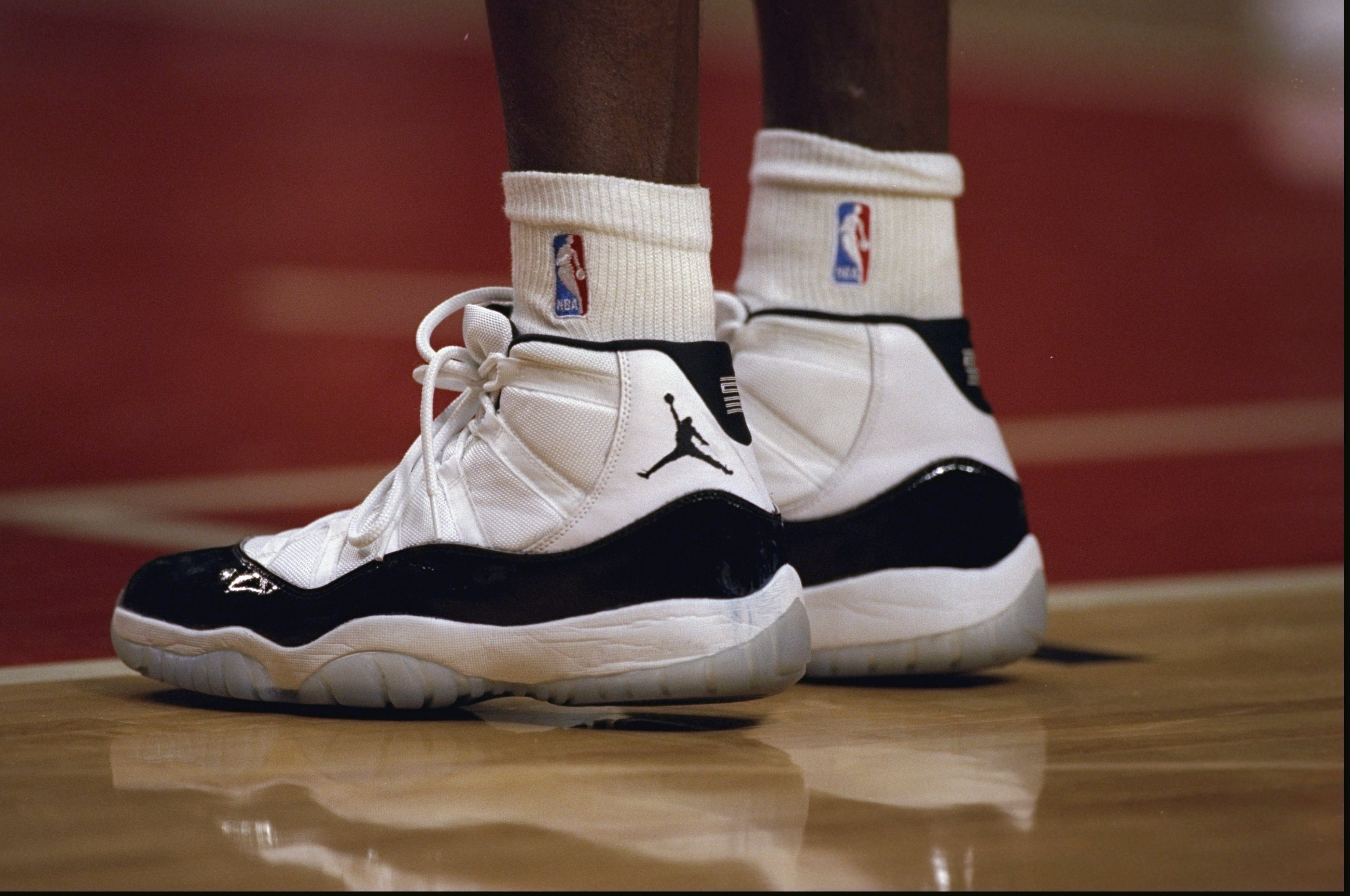 They're one of the few athletic shoe names most people can rattle off without thinking and the best Air Jordan shoes are classics now, but Air Jordans almost had their run cut short.
Michael Jordan wanted to sign an endorsement deal with Adidas out of college, but he took Nike's $500,000 contract instead. When that deal expired he thought about bolting for Adidas, but a novice shoe designer wowed him with the Jordan III design, and he's been with Nike ever since. Every highly-paid athlete of the current NBA era can thank Michael Jordan for setting the table for being the first to sign one of the most valuable endorsement deals in history.
Next: It never gets old.
13. Jordan returns to hogging the MVP award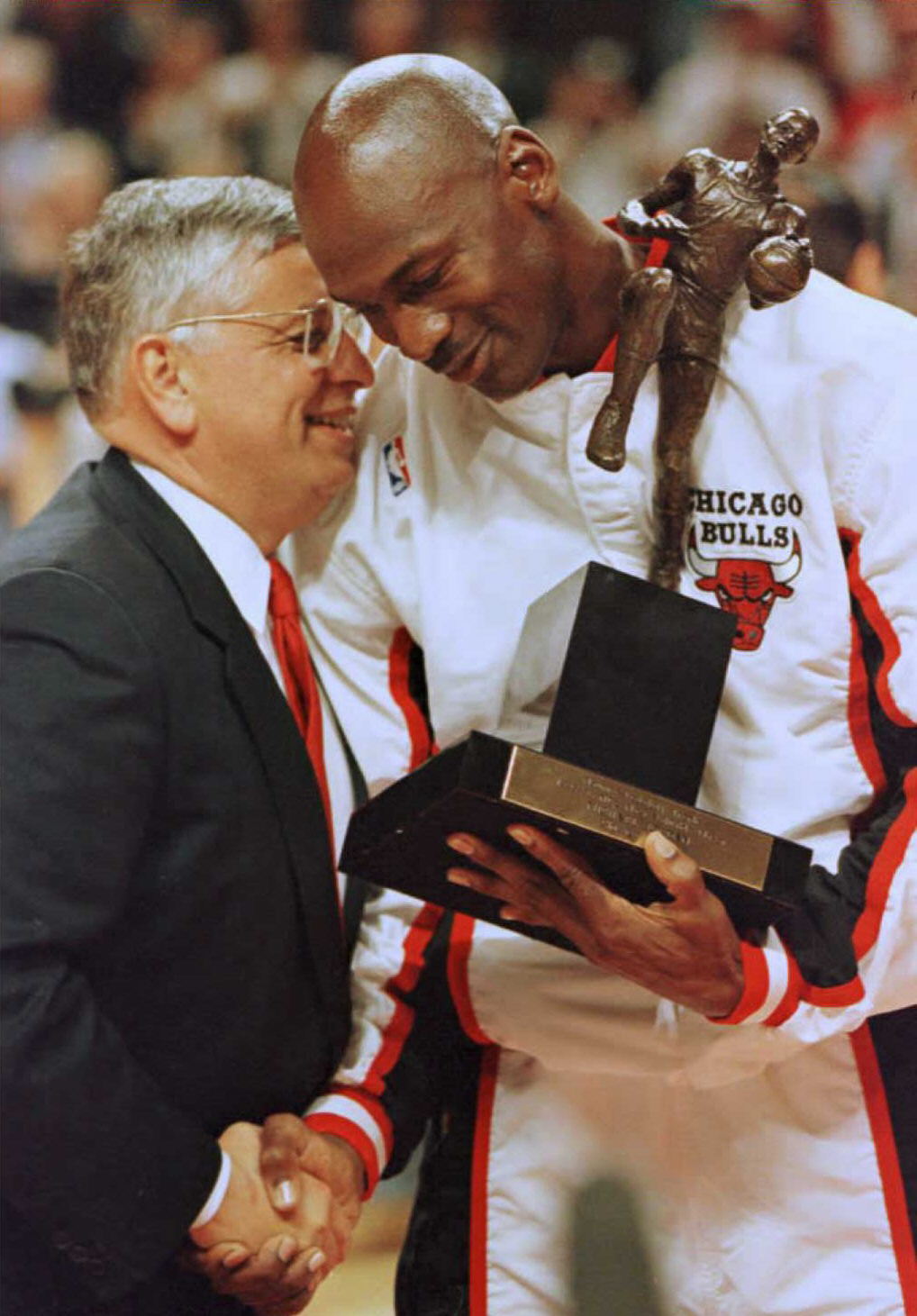 Many fans and NBA higher-ups were disappointed when Jordan retired, fans because they didn't get to watch the best player and executives because they lost the face of the league. His Airness promptly won his fourth MVP award in his first full season back in 1995-96, which probably disappointed Hakeem Olajuwon and David Robinson, the two players named MVP during his retirement.
Next: Four on the floor.
14. Dominance once again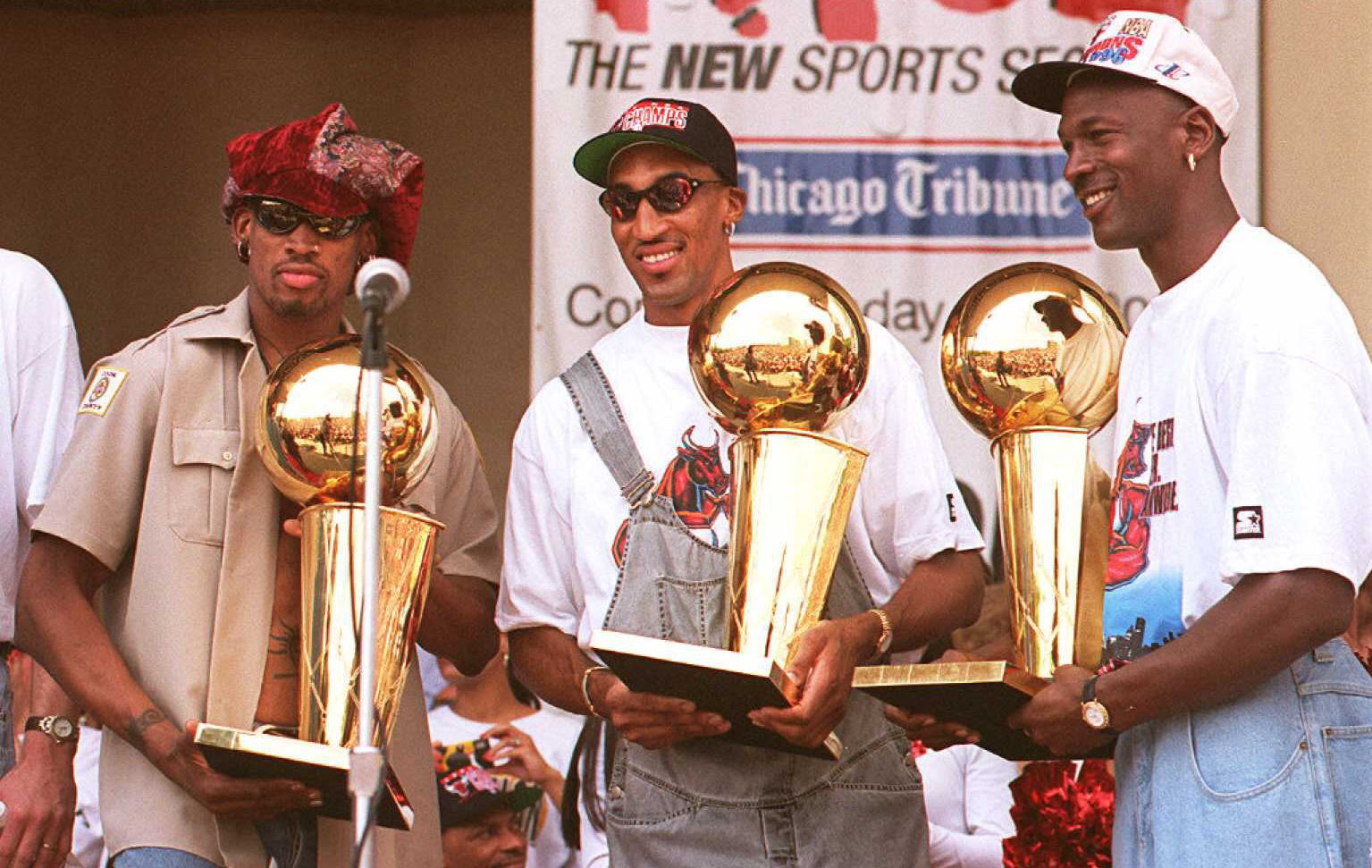 When MJ returned and played a full season of basketball (he came back in 1994-95 but only played a partial season), it was like he never left. He averaged 30.4 points per game on 49.5% shooting, won the MVP award we just mentioned, and guided the Bulls to their fourth title with a series win over the Seattle Super Sonics.
Title team No. 4 might have been the most colorful group, and not just because of Dennis Rodman's rainbow hair. Longtime foil Scottie Pippen, European sensation Toni Kukoc, Australian big man Luc Longley, and future title-winning coach of the year Steve Kerr were some of Jordan's supporting castmates. That was also the team that posted a 70-12 record that was the NBA's best ever until the (Golden State Warriors went 73-9 in 2015-16.)
Next: A glimpse of the future.
15. White House visit portends Washington future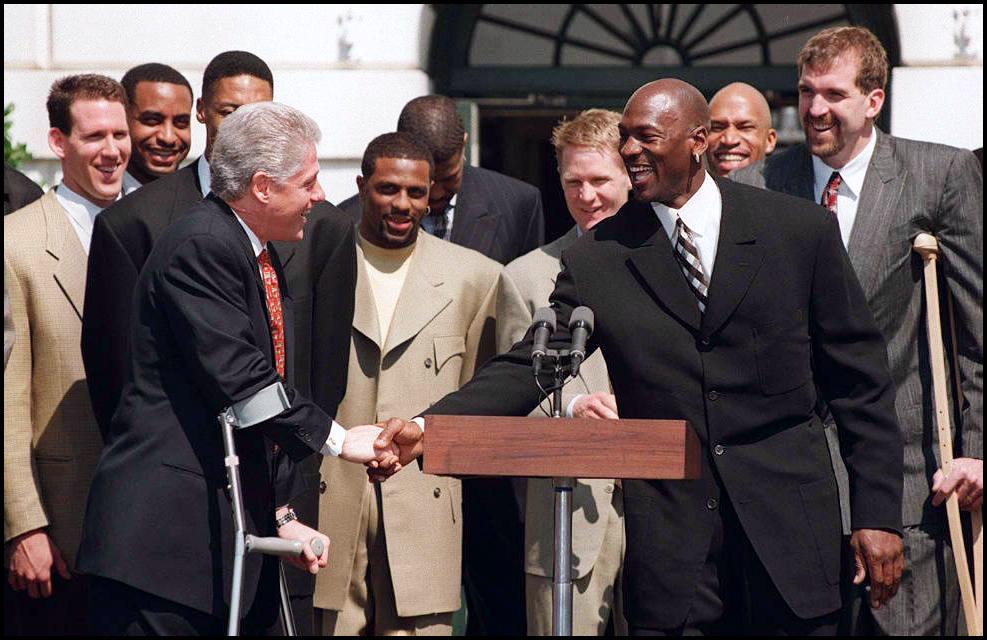 By 1997, when Jordan and the Bulls visited President Bill Clinton in the White House to celebrate their 1996 title, they probably knew their way around. After all, they'd already paid three visits and they'd make another two. What no one knew at the time was that Jordan would one day wind up playing in Washington, though he never achieved the same level of success. We'll discuss that in a minute, but first, we have to talk about two of his finest moments in Chicago.
Next: He got it done at both ends of the floor.
16. Jordan was a defensive ace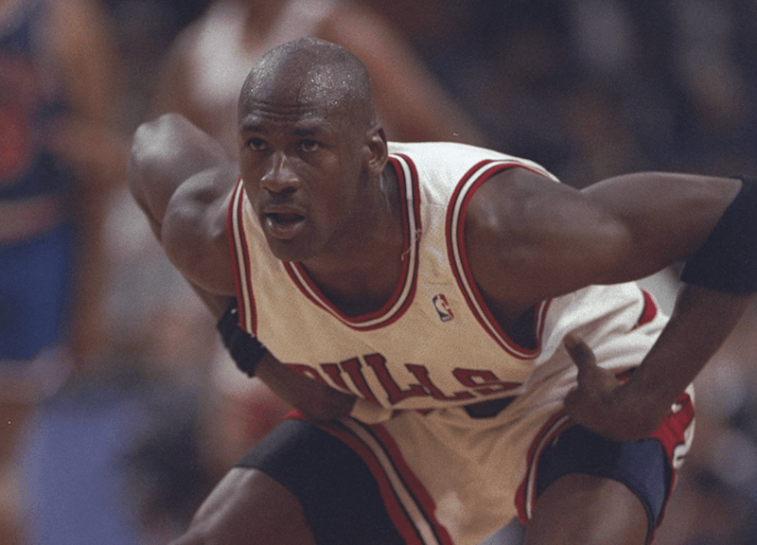 We all know Michael Jordan was a standout on offense. After all, he's in the top-10 of several major stat categories, including points per game (first, 30.12), total points (fourth, 32,292), field goals made (fourth, 12,192), and free throws (fifth, 7,327).
However, he got it done at the other end of the floor, too. He's still No. 3 all-time in steals with 2,514, and his overall plus-minus score of 8.09 is No. 2 all time.
Next: Michael Jordan is superhuman.
17. A Finals performance is one of his greatest game s
The flu game is one of the most memorable games of Jordan's career. | Jeff Hayne/AFP/Getty ImagesWe don't know about you, but we're ready to hit the disabled list when we get a paper cut and crawl under the covers when we have a cold. Meanwhile, superhuman Michael Jordan had one of his best NBA Finals performances while he suffered flu-like symptoms.
Some say he had the flu and conspiracy theorists believe he was hungover when he hung 38 points, seven rebounds, five assists, and three steals on the Utah Jazz during win in game 5 of the 1997 championship series. Jordan likely had food poisoning, but not matter the cause of his symptoms, it's one of the best performances he ever had.
Next: Photo finish
18. Hitting a high note, and a series-winner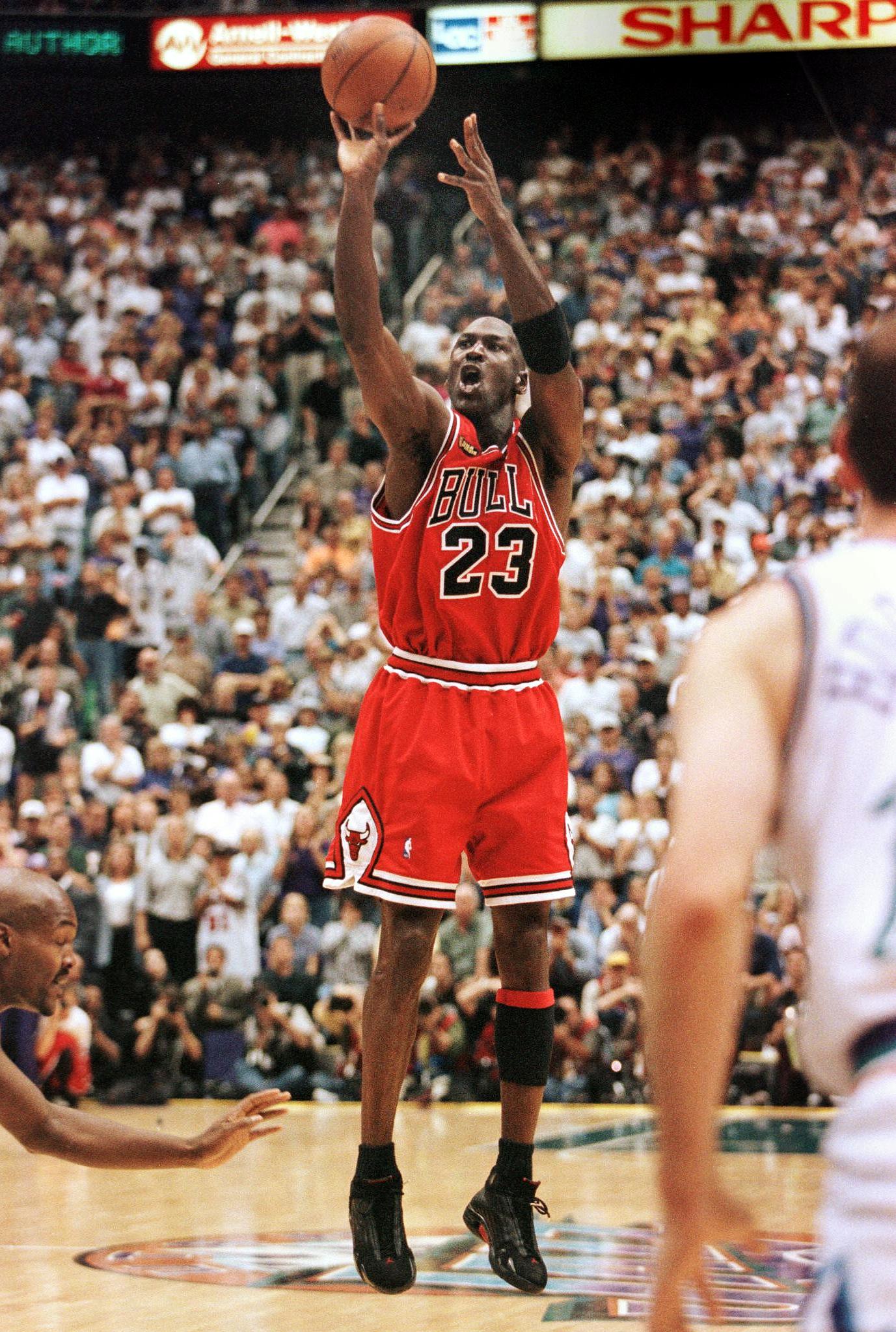 Michael Jordan has dozens of memorable games and hundreds of highlight plays, but Game 6 of the 1998 Finals is probably the greatest game of his career. He scored a game-high 45 points, including the final two baskets of the game for the Bulls. Jordan photogenically held the follow-through on his final shot over Utah defender Bryon Russell, which clinched the title for Chicago. As it turns out, that was the last time we saw Michael Jordan in the playoffs.
Next: More hardware for the collection.
19. More accolades for Michael Jordan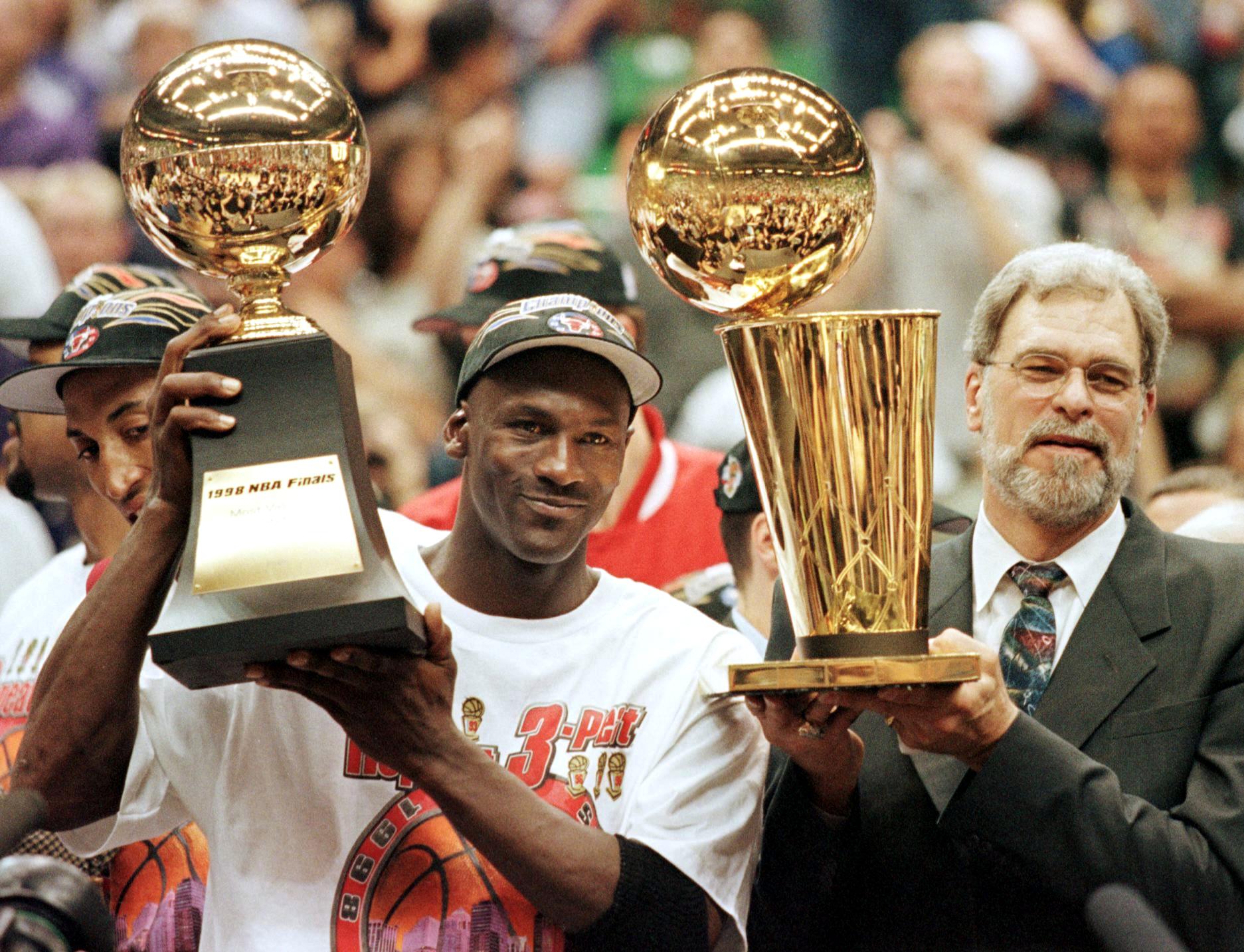 Remember how we mentioned Jordan barely shows up in the University of North Carolina record books? Well, that's not the case with his NBA career. Just check out some of these accolades:
He was a 14-time All-Star, once for every full season he played.
Ten-time scoring champ
Nine-time NBA all-defensive team, proving he was a force at both ends of the floor.
Six-time NBA Finals MVP
Five-time league MVP: In 1987-88, 1990-91, 1991-92, 1995-96, and 1997-98.
Defensive Player of the Year in 1987-88.
Next: Where have we seen this before?
20. Goodbye again
When Michael Jordan retired in 1993, it was a complete shock. When he did the same thing again in early 1999, it was a bit less surprising. After all, he was older (almost 34 years old), and coming off winning a sixth title.  His retirement was understandable, and, as we'd found out, not permanent.
Next: Let's spin the record again.
21. Hello again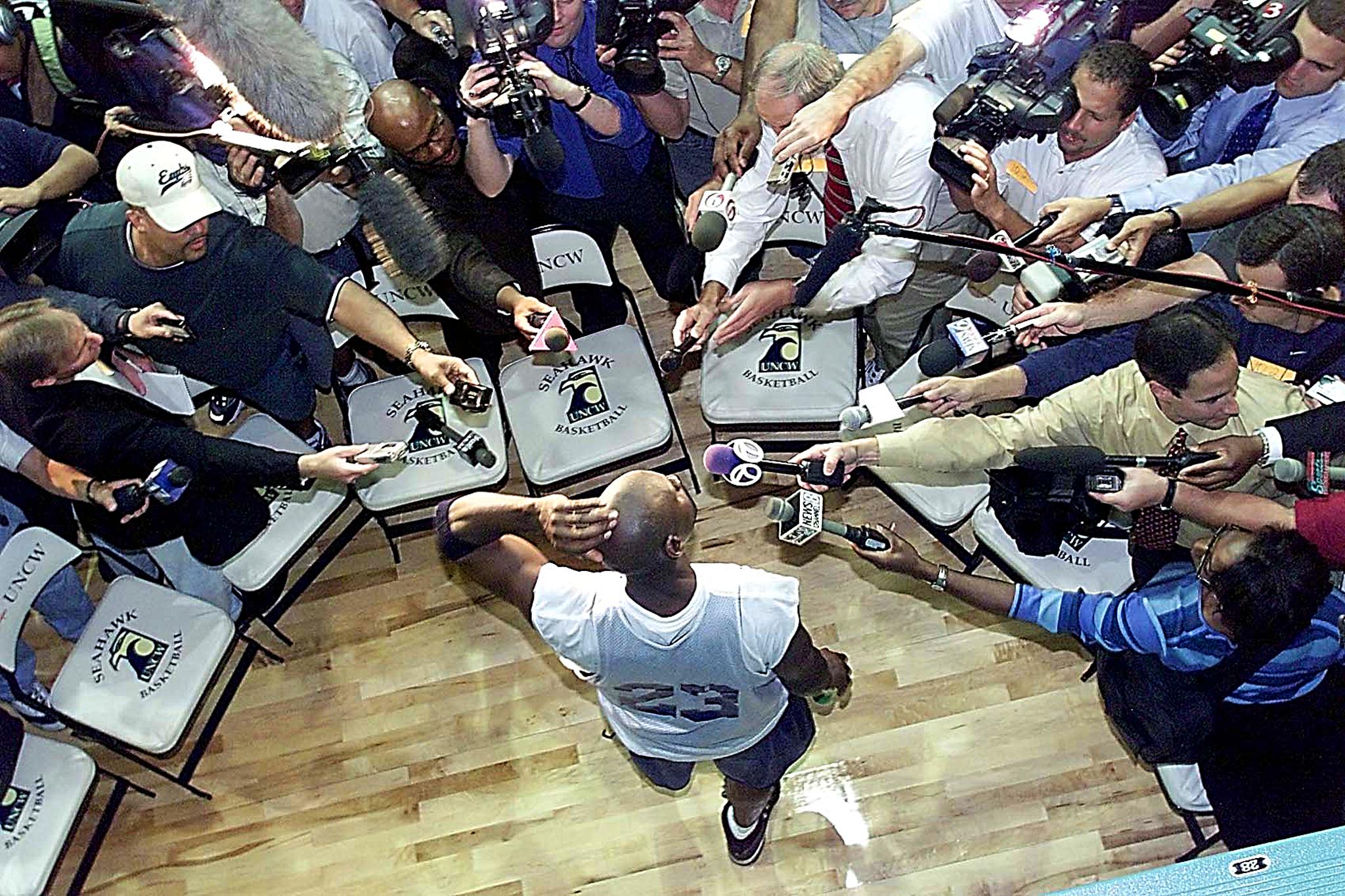 Michael Jordan's second retirement lasted longer, but the pull of the NBA proved to be too much. He sat out three full seasons, but joined the Washington Wizards in 2001-02 for his age 38 season. He wasn't nearly as productive, but he still average close to 23 points, five rebounds, and better than one assist per game in 60 games that season. As we are about to find out, he had enough in the tank for at least one more monumental performance.
Next: One more for the ages.
22. Age is just a number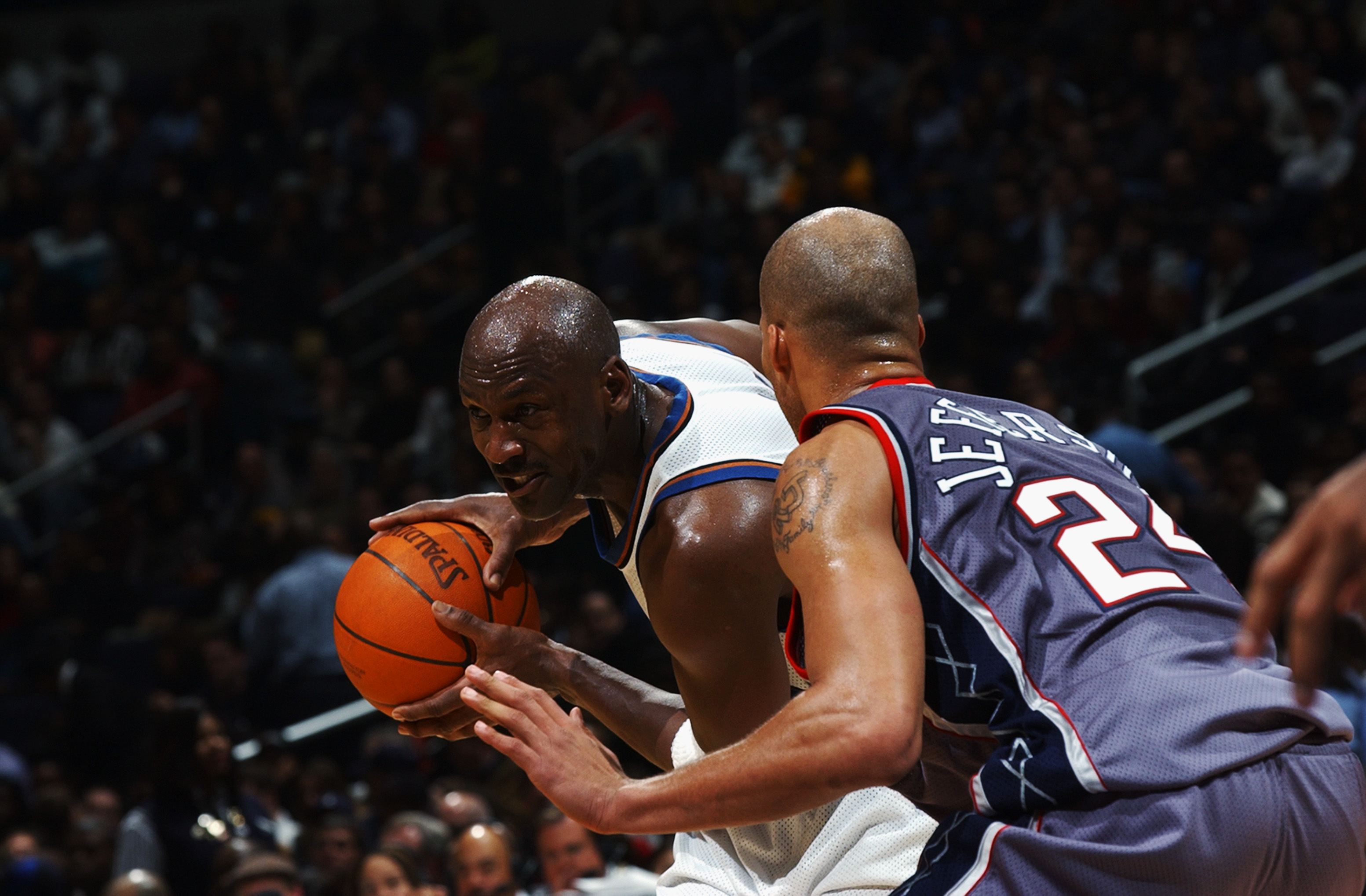 What were you doing (or what do you plan to do) a couple days after your 40th birthday? If you're anything like Michael Jordan, you'll put up 40 points in an NBA game. He scored 43 points in an 89-86 Washington win Feb. 21, 2003, just A few days after turning 40 years old. He was the first player in NBA history to score 40 or more in a game and average 20 or more points per game at that age.
Next: An international symbol of fame and achievement.
23. Parlez-vous Jordan?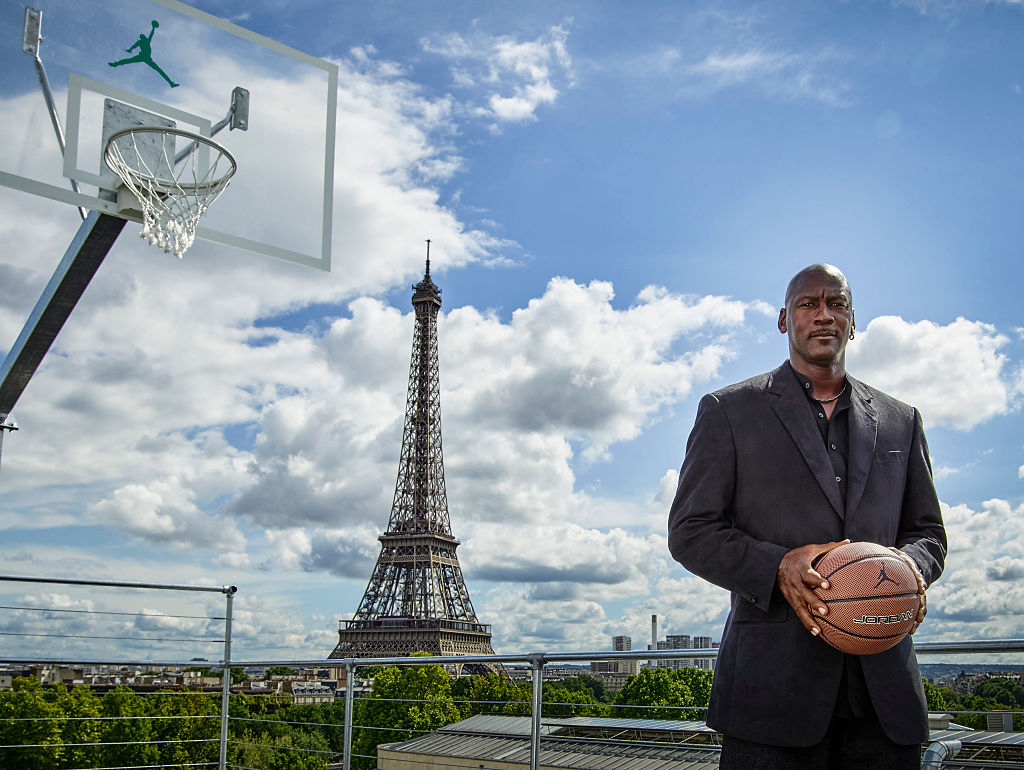 In addition to his basketball skills, Michael Jordan is one of the most famous athletes of all time for another reason — he has his own clothing label. It's common for athletes in the 21st century to have clothes, shoes, and other apparel named after them, but when the Air Jordan shoes debuted in 1984, it was revolutionary. The Air Jordans grew into an entire Jordan brand from Nike.
Next: Full retirement leaves time for hobbies.
24. Stogie man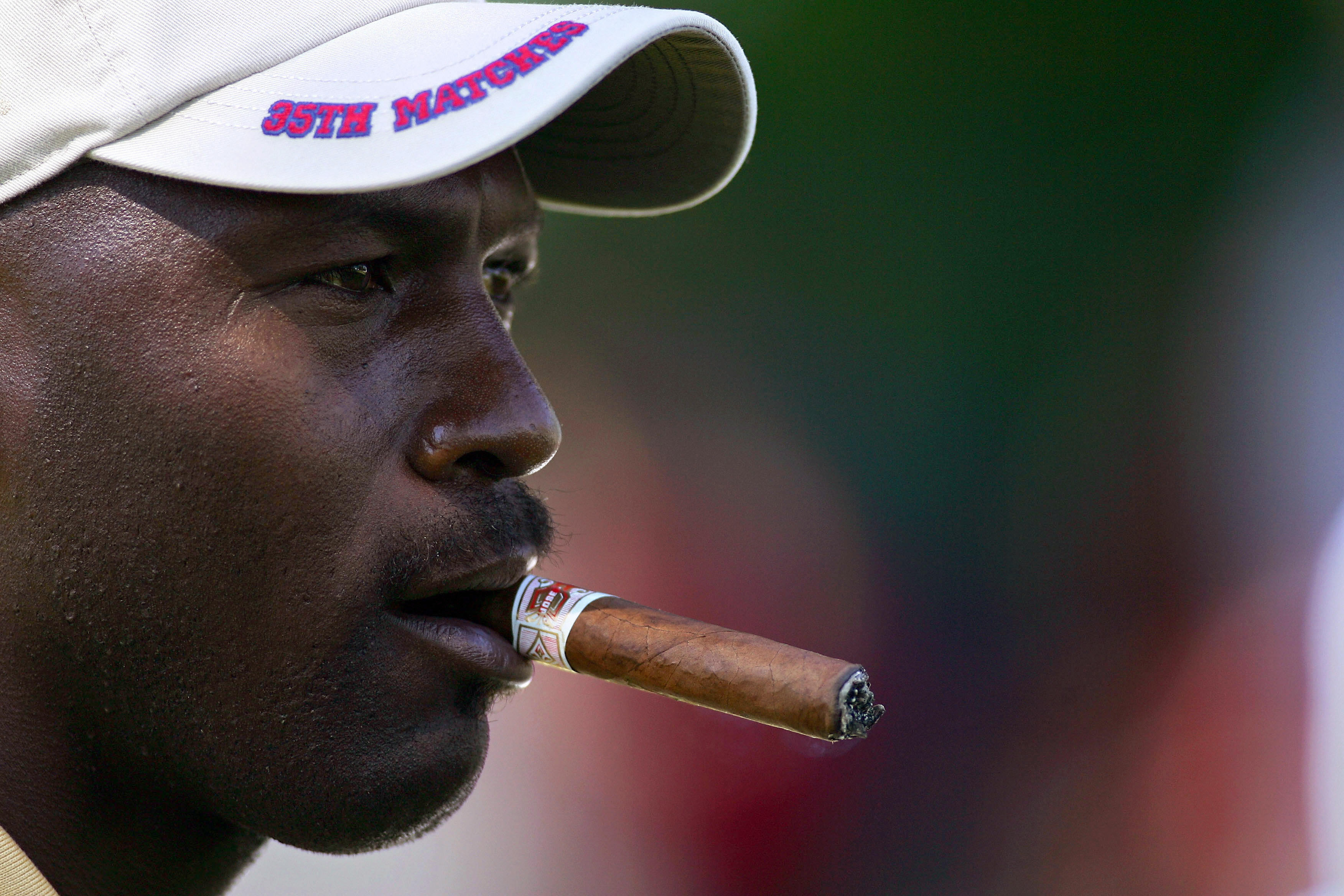 Michael Jordan started smoking cigars in 1991 as a stress-reliever, according to The Fact File. What started as a hobby turned into a full-blown obsession. He smokes six a day, according to Sports Illustrated, and he sits down for intimate interviews with Cigar Aficionado.
Next: One way he can do all three of his favorite hobbies at once.
25. Cigars, golf, and gambling
Cigar smoking, gambling, and golfing are probably Jordan's three major hobbies. He can do all three at the same time when he on the links. He's a pretty good golfer (for an NBA player), and he apparently has some crazy golf gambling habits, including betting six figures per hold, according to the New York Post.
Next: College days, revisited.
26. Michael Jordan is a college graduate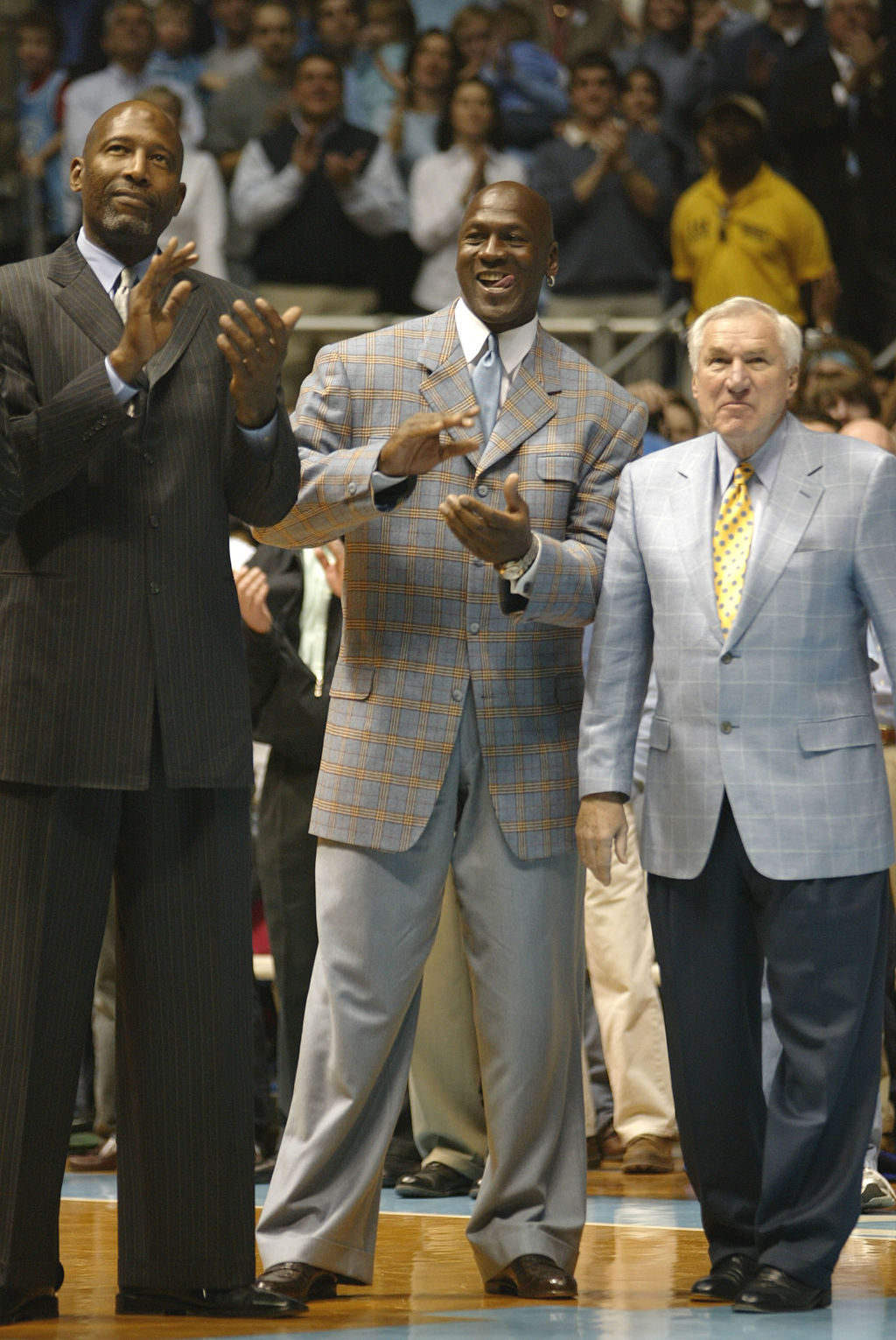 Jordan left the University of North Carolina after his junior year in 1984 after winning the Naismith Award as the college player of the year. He hit the winning shot in the 1982 NCAA championship game. Though he left college early to enter the NBA Draft (where he was picked third), he went back to school and finished his degree in 1986. He earned a degree in geography, which he majored in in case he had to go to his career back-up plan of being a weatherman.
Next: One of his most famous accomplishments since retiring.
27. The night that started an internet sensation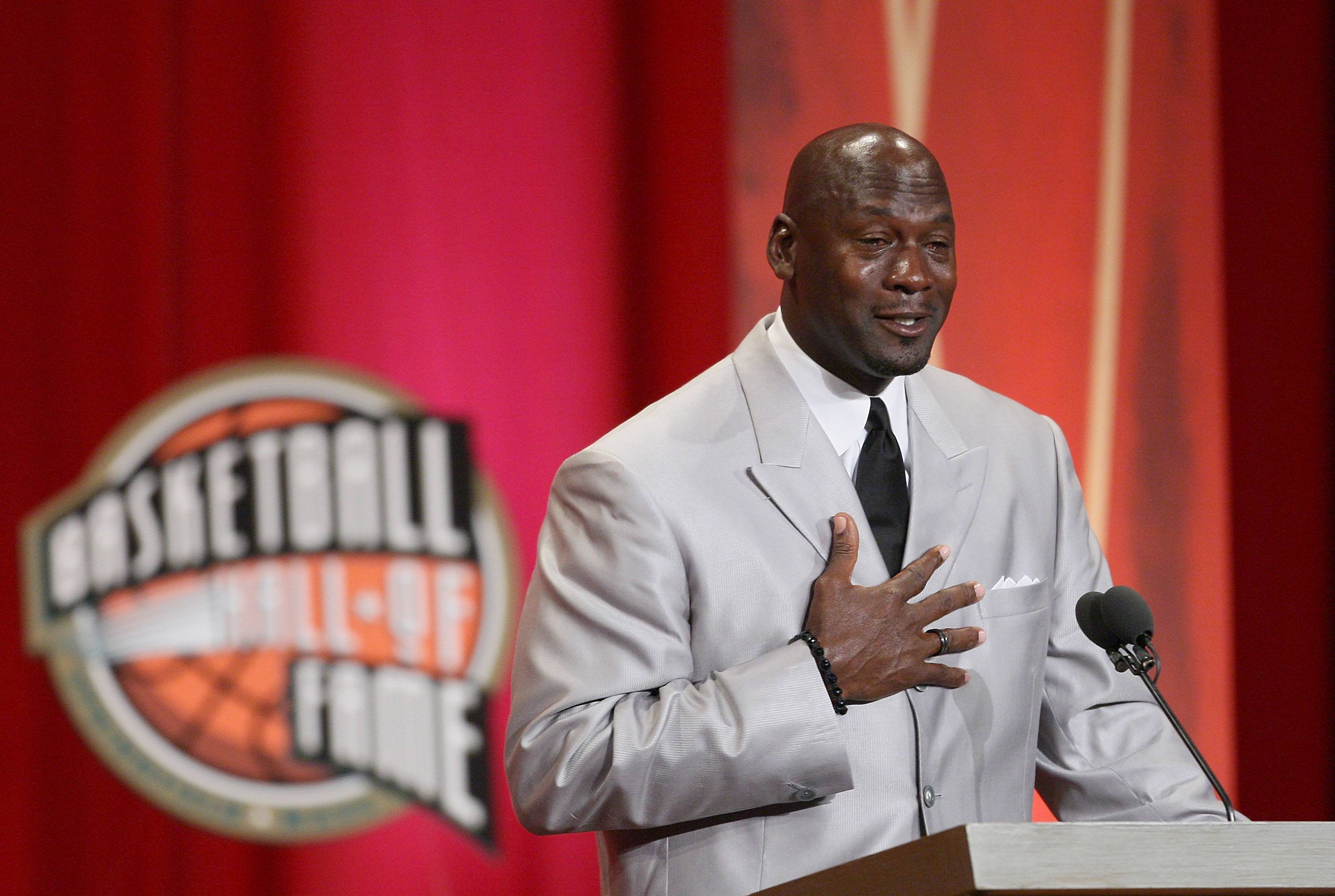 One of the greatest nights of Michael Jordan's amazing life was when he entered the Basketball Hall of Fame in 2009. He got a little emotional and cried during his speech, which is understandable. His tear-drenched face turned into the crying Jordan meme, which remains one of the most popular and viral memes on the internet with its own Twitter page.
Next: Tying the knot a second time.
28. Lucky in love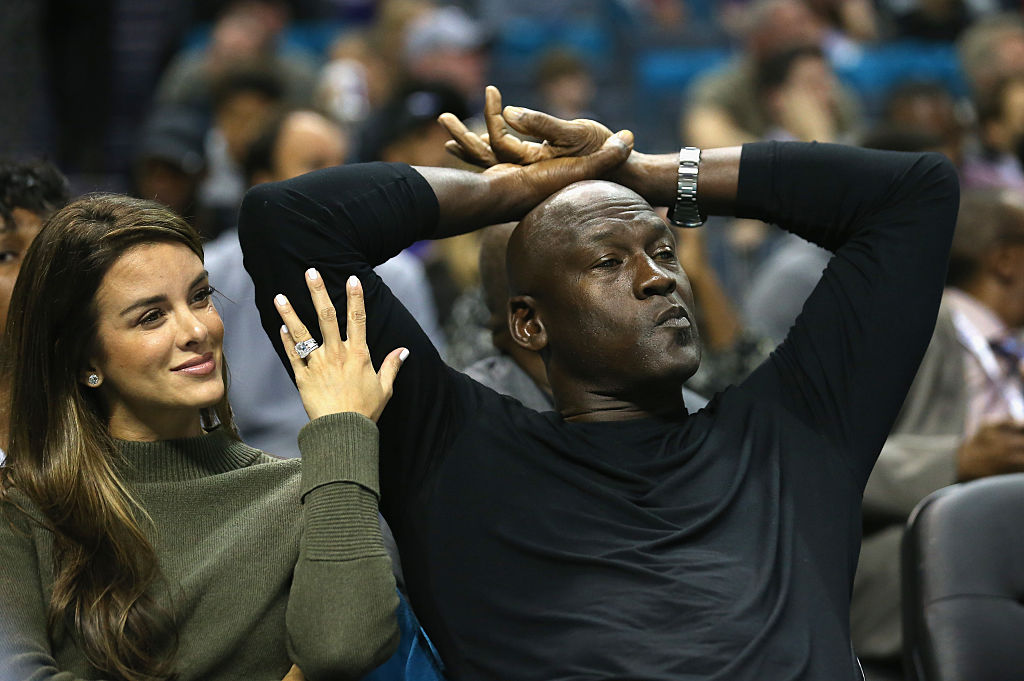 Can you be lucky in love even if you've been divorced? Well, we believe Michael Jordan is. He married Juanita Vanoy in 1989 and they divorced in 2006, but they split amicably after having three children. Jordan married Cuban-American model Yvette Prieto in 2013, and they welcomed twins in 2014, according to Biography.
Next: Back to the White House for an immense honor.
29. An award that shows Jordan is one of the greatest Americans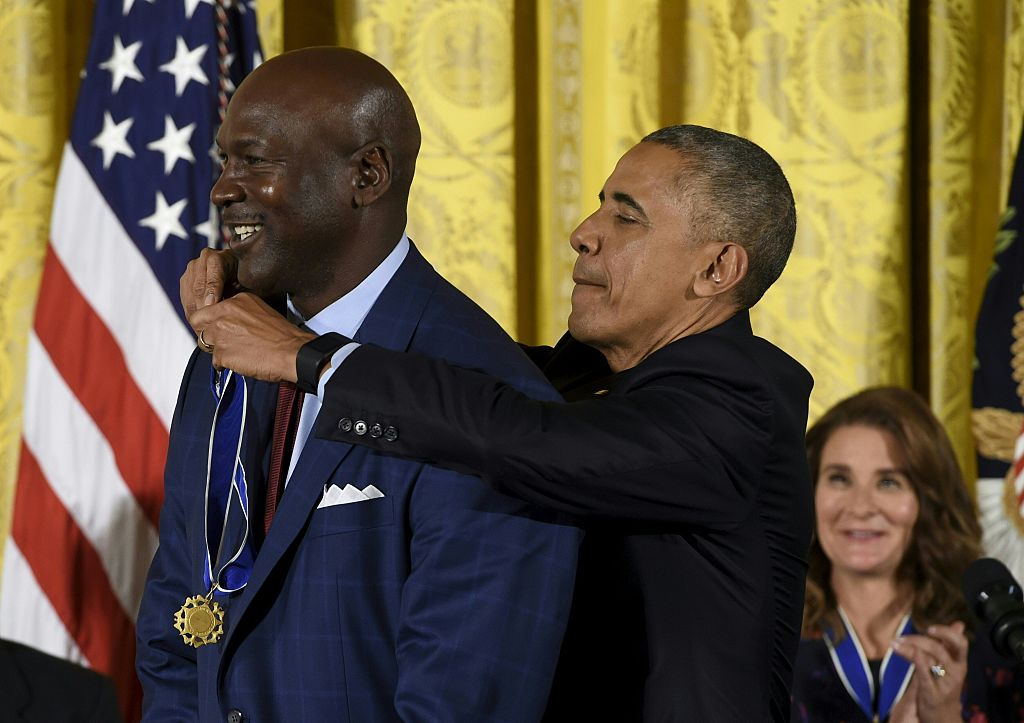 We've covered the ways Michael Jordan conquered the basketball and business worlds, and he earned a massive honor because of it. In 2016, he joined a select group of U.S. citizens as a Presidential Medal of Freedom winner. Kareem Abdul-Jabbar, Ellen DeGeneres, Robert De Niro, Bill and Melinda Gates, architect Frank Gehry, Tom Hanks, Robert Redford, and Bruce Springsteen were among the other award winners the same year.
Next: He's not leaving the spotlight any time soon.
30. At his point, he's a basketball lifer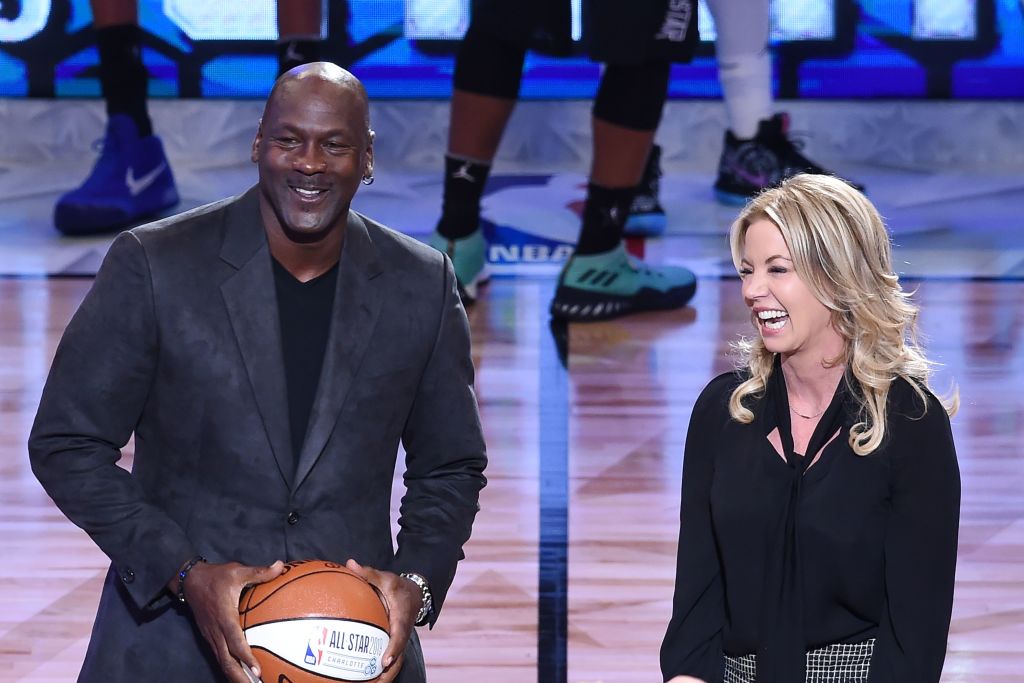 The man who redefined what it means to be a basketball star and business mogul is still setting the pace for what NBA players do one they retire. He's the first former player to become a majority owner of a team (the Charlotte Hornets), and he remains the only African-American owner in the NBA.
We've discussed Michael Jordan's amazing life and what made him so great on and off the floor, but we can't say goodbye without sharing our favorite bit of MJ trivia: He was never part of a three-game losing streak between 1990 and the time he retired from the Bulls (the second time) after the 1997-98 season.
All stats courtesy of Basketball Reference.
Read more: The Luckiest States in America May Surprise You