The Pittsburgh Steelers Made a Desperate Move by Signing a Disappointing Former 1st Round Draft Bust
The Pittsburgh Steelers got a scare after T.J. Watt suffered a groin injury in the team's Week 2 loss to the Las Vegas Raiders. With the three-time Pro Bowl selection's status up in the air, the Steelers made a move to add depth to their defensive line. With options minimal, Pittsburgh signed Taco Charlton to its practice squad.
The former first-round draft pick has not lived up to expectations on the field but is getting another fresh start with the Steelers.
The Cowboys selected Taco Charlton in the 1st round of the 2017 NFL Draft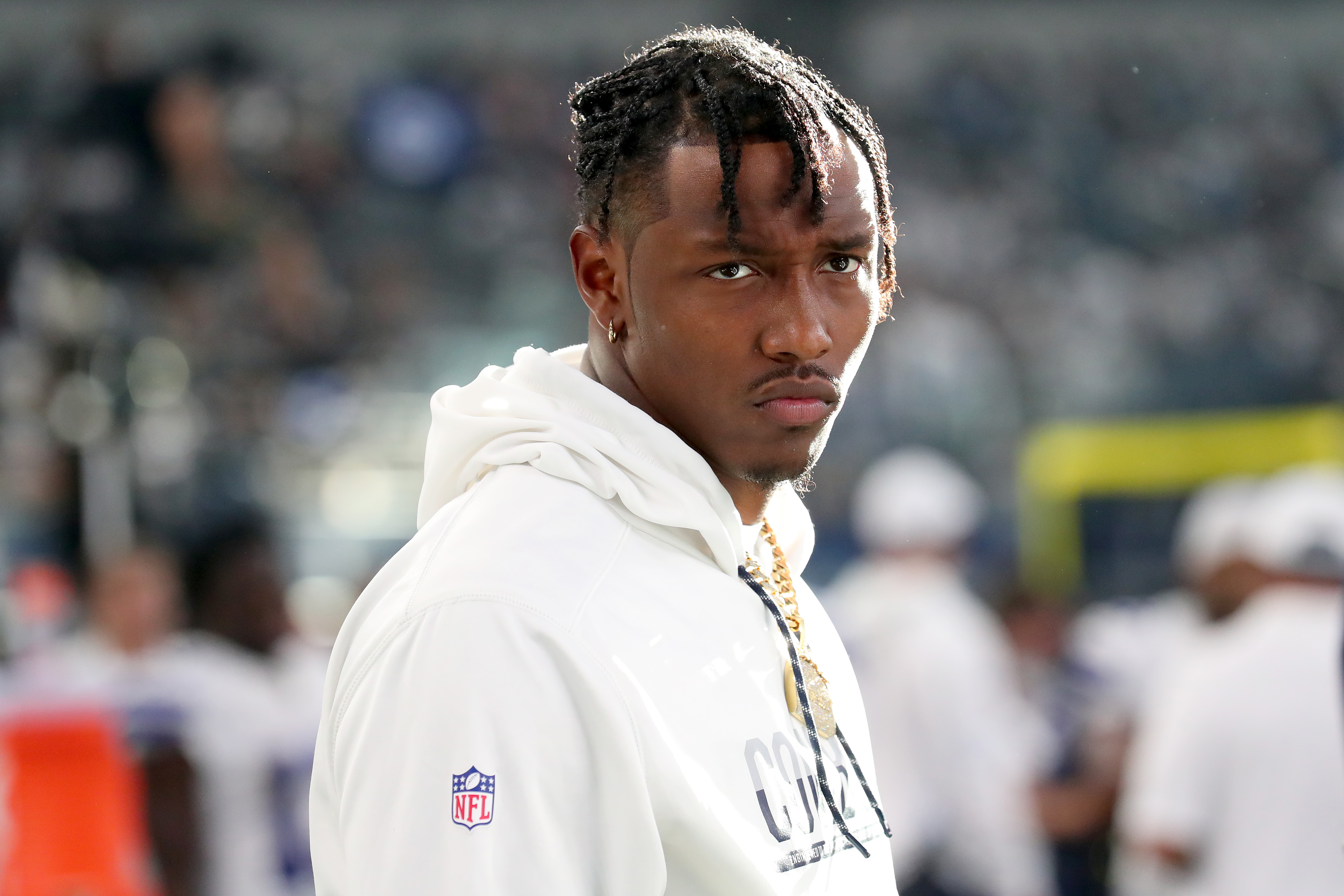 The Dallas Cowboys were in desperate need of pass-rushing help heading into the 2017 NFL Draft. They ended up drafting Taco Charlton with the No. 28 overall pick in the first round.
Charlton, whose birth name is Vidauntae, climbed up NFL draft board following an impressive senior season at Michigan. He recorded 40 tackles, 13.5 of which were for a loss. The Wolverines defensive end also registered 10 sacks in 2016. As a result, he garnered first-team All-Big Ten honors.
Charlton projected as a first-round draft pick, mainly because of his rare combination of size, length, and athleticism. As a raw pass-rusher, there's not much more you can ask for. According to Pro Football Focus, he ranked third in pass-rush productivity among all draft-eligible defenders with at least 100 pass-rush attempts.
The Pickerington, Ohio native struggled to produce in two seasons with the Cowboys. He made just seven starts, recording 46 tackles and four sacks during that span.
Charlton's most productive season came in 2019 with the Miami Dolphins. Under Brian Flores, he registered five sacks and two forced fumbles in 10 games. He played for the Kansas City Chiefs in 2020 but only appeared in seven games.
Sometimes things come full circle in the NFL. Taco Charlton was taken two picks ahead of T.J. Watt and could now be potentially filling in for him.
The Steelers needed to add depth to their defensive line
The Steelers are taking a flier on Charlton by signing him to their practice squad. He's not been very productive, but adding some veteran depth can't hurt.
T.J. Watt's groin injury is a bit concerning, especially since he's their best defensive player. However, the All-Pro edge-rusher does have a chance to play in Week 3 against the Cincinnati Bengals, per Ian Rapoport on Twitter.
Even if Watt is good to go, Pittsburgh does still have some issues on the defensive line. Stephon Tuitt is currently on the injured reserve with a knee injury. The Steelers also lost defensive lineman Tyson Alualu for the rest of the season. He went down in Week 2 with a fractured ankle.
Four-time Pro Bowler Cameron Heyward understands the impact that Watt and Alualu had on the field. "Having guys like Tyson and T.J. out there is like having a blanket," he told The Athletic.
The Steelers sacked Derek Carr twice, but the Raiders signal-caller lit the defense up for 382 yards and two touchdowns en route to a stunning victory.
Although Alualu and Tuitt are interior defensive linemen, Charlton can still provide depth on the defensive front. The biggest question is whether or not he can produce.
The Steelers have proven track record of developing pass-rushing talent
If there's any team that can pull the most of Taco Charlton's talent, it's probably the Pittsburgh Steelers.
Throughout the franchise's history, the team has prided itself on playing smash-mouth football on defense. Over the past 20 years, the Steelers have developed their fair share of pass-rushers.
After being drafted in the third round of the 1999 NFL Draft out of Colorado State, Joey Porter was an emotional leader for the Steelers for eight seasons. He recorded 468 tackles, 60 sacks, and 17 forced fumbles during that span.
Pittsburgh signed James Harrison as an undrafted free agent in 2002. The outside linebacker played his college ball at Kent State and flew under the radar with NFL scouts. However, the Steelers took a chance on him, and he made them look like geniuses.
Harrison spent 14 seasons with the Steelers, racking up 772 tackles, 80.5 sacks, and 33 forced fumbles. He was a nightmare for opposing offensive linemen to block. His intimidating presence instilled fear into the heart's quarterbacks around the league.
The Steelers drafted LaMarr Woodley in 2007, and he also had a productive tenure with the team. He registered at least eight sacks in four out of seven seasons.
Cam Heyward, T.J. Watt, and Lawrence Timmons are the most recent Steelers star pass-rushers. Could the Steelers reveal Taco Charlton's untapped potential?
Stats courtesy of Pro Football Reference
RELATED: Ben Roethlisberger's Play Doesn't Appear to Be Impressing a Hall of Famer Who Believes the Steelers Have No Chance at Winning a Championship With Him: 'They're Going Nowhere'