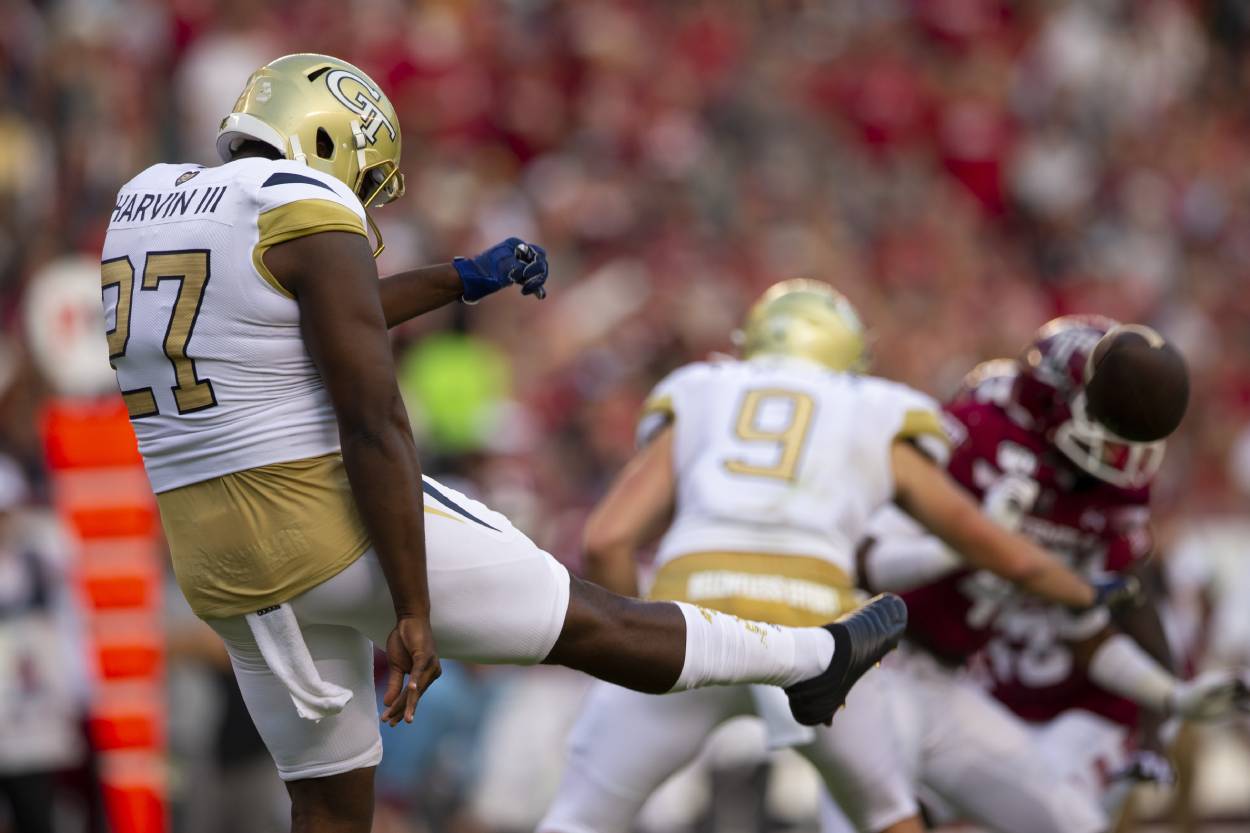 Is Former Minnesota Vikings Star Percy Harvin Related to Pittsburgh Steelers Punter Pressley Harvin III?
Pittsburgh Steelers punter Pressley Harvin III was among the 2021 NFL draft's top specalist prospects. Is he related to former Vikings star Percy Harvin?
Pittsburgh Steelers punter Pressley Harvin III has the opportunity to make some NFL fans very happy regardless of how far he kicks the ball.
Harvin, who had a standout college career at Georgia Tech, is Black. Outside of Marquette King, who spent several years with the then-Oakland Raiders, there haven't been many punters or kickers of color in recent league history.
Pressley Harvin III was an elite punter at Georgia
A top punting prospect from Sumter, South Carolina, Pressley Harvin III quickly became one of the country's top specialists while at Georgia Tech.
Harvin averaged 44.7 yards per punt in four seasons with the Yellow Jackets. During the 2019 season, he even threw a 41-yard touchdown pass on a fake punt.
Harvin won the Ray Guy Award, given to college football's best punter, after he averaged an even 48 yards per kick last season. Harvin, who stands 5 feet 11 inches and weighs 263 pounds, also earned unanimous All-American honors following the 2020 campaign.
Percy Harvin starred for the Minnesota Vikings
Pressley Harvin is an elite punting prospect, but even he likely would have had problems with Percy Harvin.
A former star on the Florida Gators, Harvin totaled 353 receptions for 4,026 yards and 22 touchdowns in eight NFL seasons. The 22nd overall pick in 2009, Harvin also ran for 927 yards and five touchdowns on 6.3 yards per attempt in the NFL.
Harvin did most of that damage in his first four seasons, hauling in 280 catches for 3,302 yards and 20 scores in that time. The Minnesota Vikings traded Harvin to Seattle following the 2012 season, and injuries quickly got in his way. Harvin was never the same and he played his final NFL game at age 28.
A dangerous returner, Harvin had five kickoff returns for touchdowns in the regular season. The 2009 Pro Bowl selection added a sixth such score in Super Bowl 48 when he and the Seattle Seahawks cruised to a 43-8 victory over Peyton Manning and the Denver Broncos.
Are Pressley Harvin III and Percy Harvin related?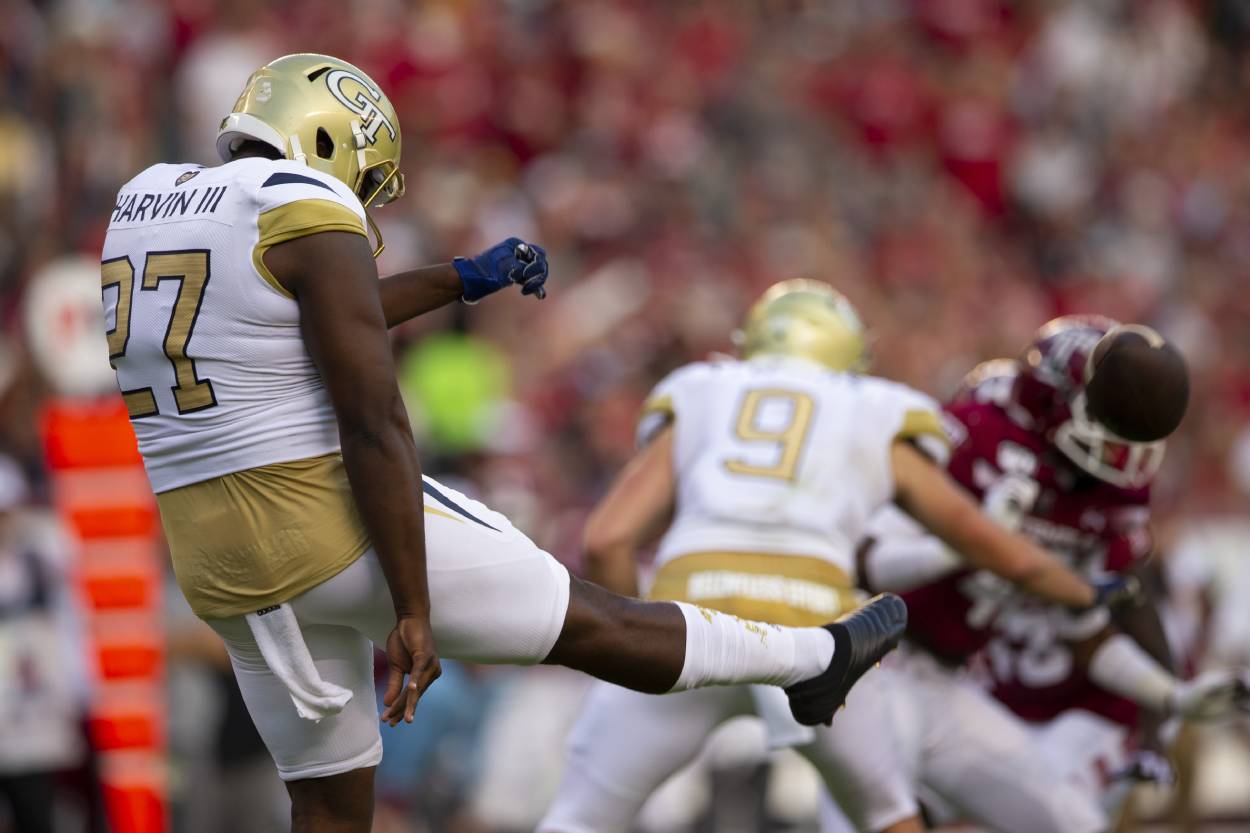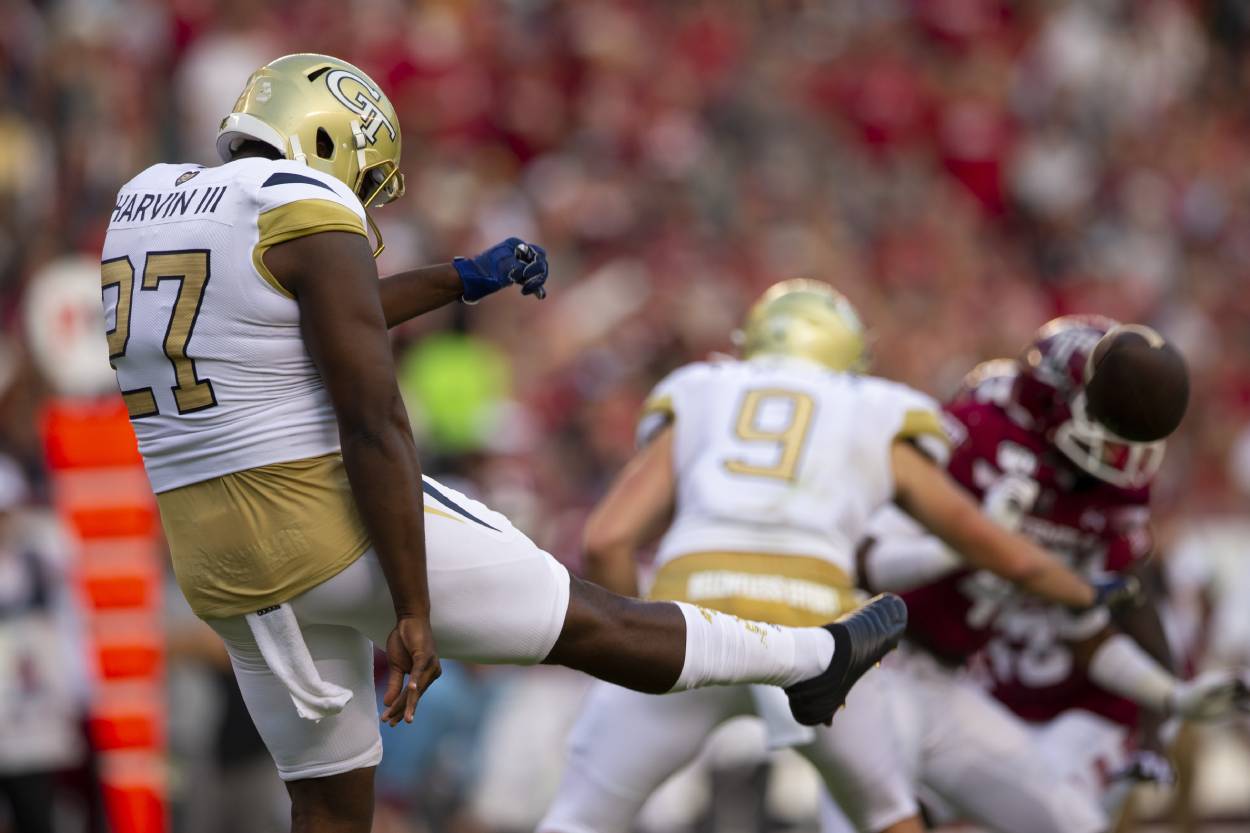 Pressley Harvin III and Percy Harvin have similar names, but they are not related.
The Pittsburgh Steelers drafted Pressley in the seventh round of the 2021 NFL draft. If Harvin punts in an NFL game, he will be a welcome sight for some fans.
The NFL has only had a handful of Black specialists in league history. Marquette King, who last suited up for the Denver Broncos in 2018, is the most recent person of color to punt or kick in an NFL game.
In an April 2021 interview with NBC Sports, Harvin acknowledged that his potential success in the NFL could have a major impact on how teams and schools view Black specialists.
"I am striving to be the best punter I can be. But when I'm on an NFL team, hopefully, I want to give back to other African-American specialists who might not otherwise have the opportunity, maybe with [a] scholarship to get to camps. One day, maybe one of them will take my job, which would be great. My success will only be as big as the people who come behind me."

Pressley Harvin III
Harvin signed a four-year contract worth $3.5 million with the Steelers.
Like Sportscasting on Facebook. Follow us on Twitter @sportscasting19.