The Pittsburgh Steelers Should Replace Ben Roethlisberger Not With Aaron Rodgers, but With Jordan Love
Pittsburgh Steelers quarterback Ben Roethlisberger has likely played his last game at Heinz Field. There's still one game left in the season for the Steelers, and they can technically still make the playoffs, but is it ever too early to talk about Big Ben's replacement?
There's been a lot of buzz about Green Bay Packers quarterback Aaron Rodgers ultimately joining his good buddy Mike Tomlin with the Steelers. Rodgers would undoubtedly be a quarterback worthy of replacing the future Hall of Famer. Still, if the Packers front office has a say, he won't be a realistic trade target.
Could the Steelers swing for a lower limb of the tree and still get an apple worth picking, though? If not Rodgers, Jordan Love could be a refreshing change of pace in the Steel City.
Aaron Rodgers will be tough to pry away from the Green Bay Packers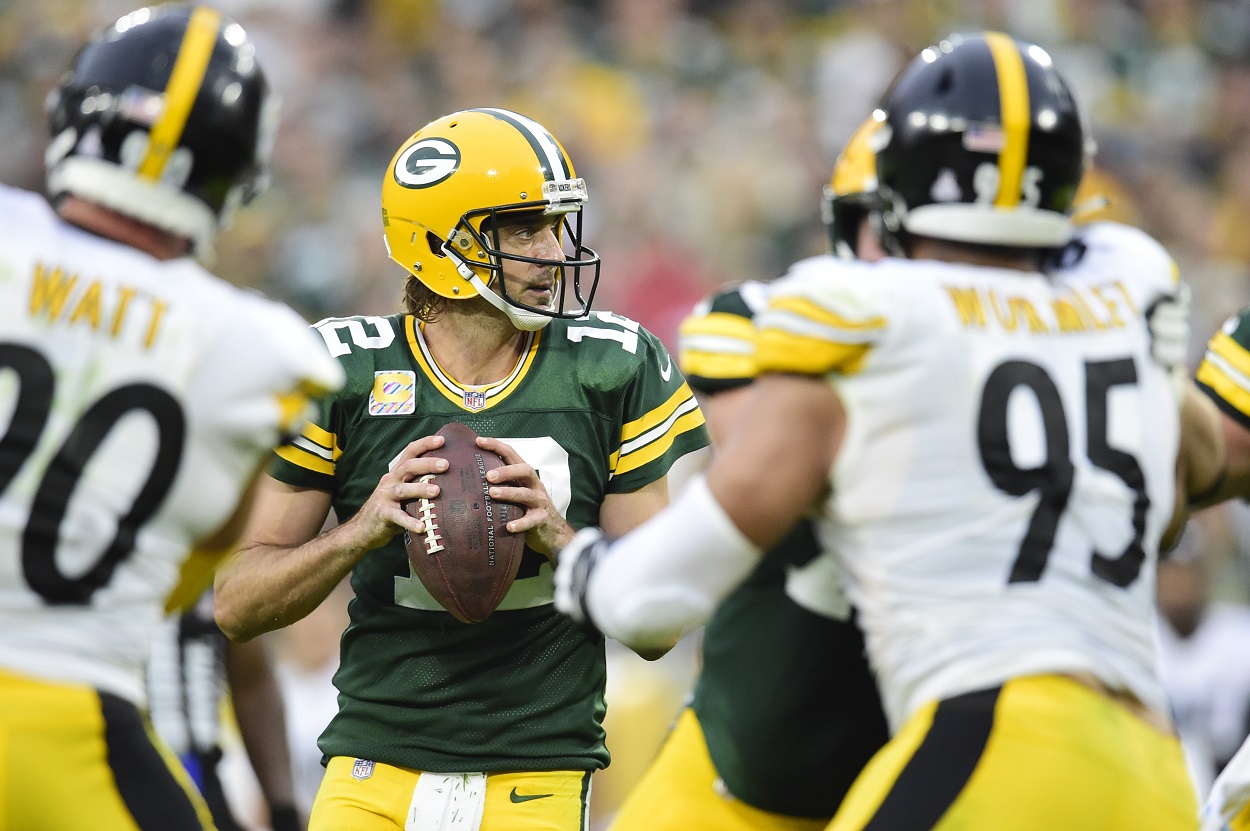 The Packers have Rodgers locked up at least through the 2022 season because 2023 is a void year, so he's not going to come to Pittsburgh via free agency. No matter how many smiles he and Tomlin have shared, that's just not going to happen.
No, if the Steelers want Rodgers to trade in his green and yellow for black and yellow, they'll have to make the Packers an offer they can't refuse. Outside of trading T.J. Watt, there's probably not a player on Pittsburgh's roster who would make it worthwhile for the Packers, and that's even if Rodgers demands a trade out of Green Bay this offseason.
Draft picks would be another way to Green Bay's heart, but likely nothing short of a top-three pick will do, and Pittsburgh won't have that in 2022. The Steelers also couldn't project that pick in the future if Rodgers was on the team.
In reality, unless Najee Harris and Watt are going to play home games at Lambeau in the future, other teams can offer the Packers more if Rodgers does indeed demand a trade.
Jordan Love is a more than realistic trade option for the Steelers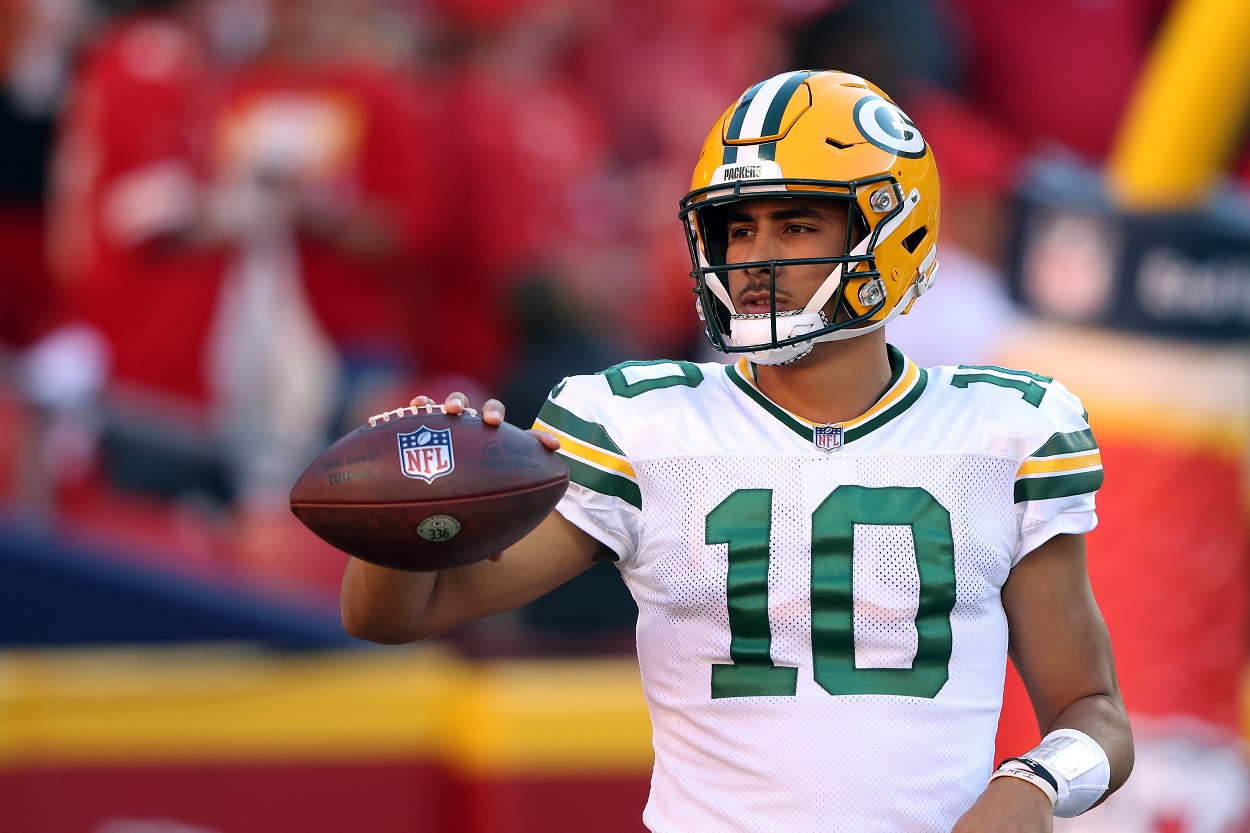 The Packers traded up to select Love with the 26th pick of the 2020 NFL Draft. Love was the fourth quarterback taken in the first round behind Joe Burrow, Tua Tagovailoa, and Justin Herbert.
Though he was considered a late-first- or early-second-round prospect, it was controversial that the Packers selected him when they did. Rodgers had not yet won his third MVP at that point, but the 2019 season had seen him play great football in the first year under Matt LaFleur and with a new offense.
Green Bay clearly saw Love as an ideal successor to Rodgers, but the unspoken reality is that the Packers front office likely thought Rodgers was on the decline. He had suffered a handful of injuries to that point in his career and had gotten somewhat stale in Mike McCarthy's offense. McCarthy was fired, and LaFleur was brought it, but apparently, general manager Brian Gutekunst and the front office were ready to find "their guy" and start enacting the succession plan.
Unless you've been living under a rock, you know how that plan has gone for Green Bay.
Rodgers almost spitefully won the NFL's MVP award in 2020, and he's in the running to win his second straight, and fourth overall, this season.
Love was inactive all of 2020 and has had only one game on meaningful experience since. With Rodgers out due to COVID-19, Love started against the Kansas City Chiefs at Arrowhead Stadium and completed just 19 of 34 passes for 190 yards, a touchdown, and an interception.
Don't you think the Packers would trade their heir apparent right now for a second-round or even a third-round pick? If they had a guarantee that Rodgers wanted to keep playing in Green Bay in 2022 and beyond, you bet they would.
Love could thrive with the Pittsburgh Steelers
Love is being judged rather harshly for his performance in the one game against the Chiefs, but that's unfair.
It was his first and only start. It was the first meaningful snaps of his NFL career. It was one game and one loss in arguably the toughest stadium in the NFL for an away quarterback. Sure, he didn't look good, but were we wrong in the first place for expecting a virtuoso performance that would shut up all the doubters? That plays in a Hollywood script, but it's not necessarily realistic in the NFL.
The fact still remains that Love has a ton of potential as an NFL quarterback. Had he gone anywhere else but Green Bay, he'd probably be flashing that potential by this point in his career.
Here's what we know: He's got a live arm and can chuck it down the field. That skill set doesn't grow on trees. Love is also highly athletic and can throw the football at a high level while on the run. He has been compared to Patrick Mahomes before, which is entirely unfair. With that said, at least in a basic sense, he is built to play football as Mahomes does.
Again, that's worth something.
Gutekunst took a ton of heat for drafting Love when he did, but let's not forget what he's done this season with Green Bay. The Packers are the No. 1 seed in the NFC despite suffering some of the worst injury luck in recent NFL history. A ton of Gutekunst's draft picks and free-agency signings have stepped up this season.
Maybe he missed on Love. That's always a possibility in the NFL draft. With that said, the evidence points to Gutekunst knowing what he's doing as a high-level NFL general manager.
Sure, there are risks involved with Love, but would those risks be negated by the fact that Pittsburgh could snag a recent first-round quarterback with little tread on the tires for a second- or third-round pick? That's hypothetical, but it's also not an unrealistic move for a Packers team that should go all-in with Rodgers if he chooses to go all-in with them.
All the Steelers would have to do is ask Love to hand the ball off to Harris 20-30 times a game and then make the occasional play-action pass. He'd be more than capable of doing that, and if he couldn't, the Steelers could move on without having had to mortgage the farm for an aging star quarterback like Rodgers.
It's a low-risk, high-reward proposition. It's the perfect move for a franchise looking to move on from a quarterback who has been there since 2014.
After all, that was Green Bay's plan for Love anyhow, wasn't it?
If the Steelers do trade for a Green Bay quarterback, Rodgers is obviously the marquee attraction. With that said, there's a world in which Love actually makes the most sense for Pittsburgh.
Stats courtesy of ESPN and Pro Football Reference.