Pittsburgh's Pat Narduzzi Needs to Explain Why Former Pittsburgh Players Accused Him of Racist Behavior
Pittsburgh Panthers football coach Pat Narduzzi is the latest college football figure entangled in controversy.
After the likes of Clemson's Dabo Swinney and Oregon State's Rocco Carley addressed recent racial situations, Narduzzi is next in line. Several former Pittsburgh players accused Narduzzi, the Panthers' head coach since 2015, of racist behavior.
What did Pat Narduzzi say, and where will the Panthers go from here? Let's take a look.
Pat Narduzzi has been successful at Pittsburgh
A longtime defensive coordinator, Pat Narduzzi finally earned a head coaching job after the 2014 season. Narduzzi has definitely made the most of it.
Narduzzi is 36-29 through five seasons at Pitt. The Panthers have made bowl games in four of those five years and won the ACC Coastal Division in 2018.
Pittsburgh finally won a bowl game under Narduzzi last year, a 34-30 thriller over Eastern Michigan in the Quick Lane Bowl.
Narduzzi is accused of extreme racist behavior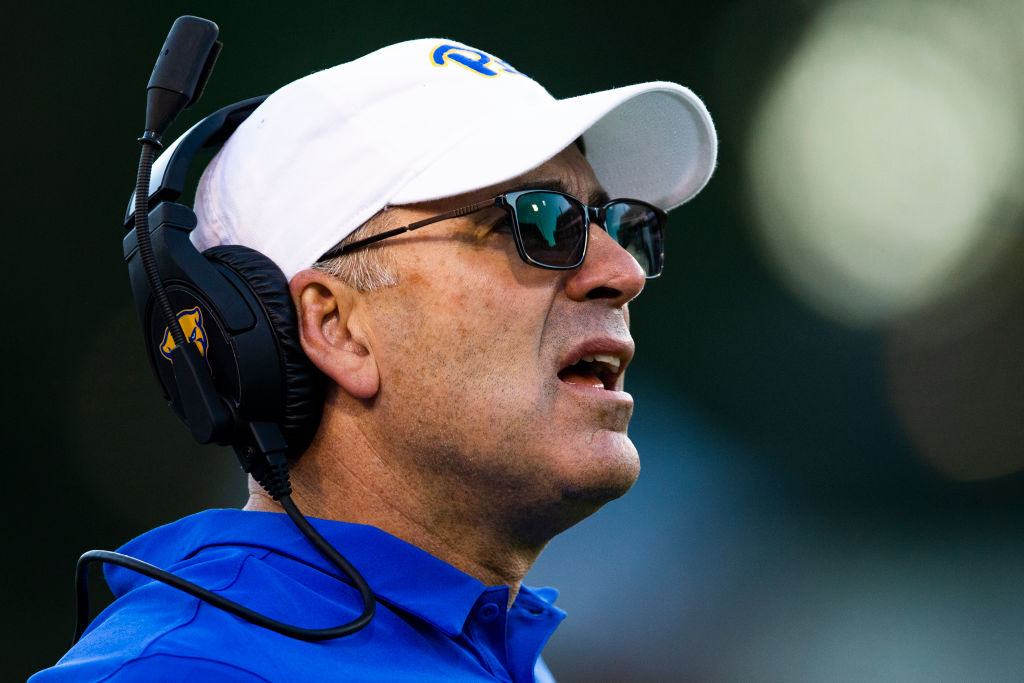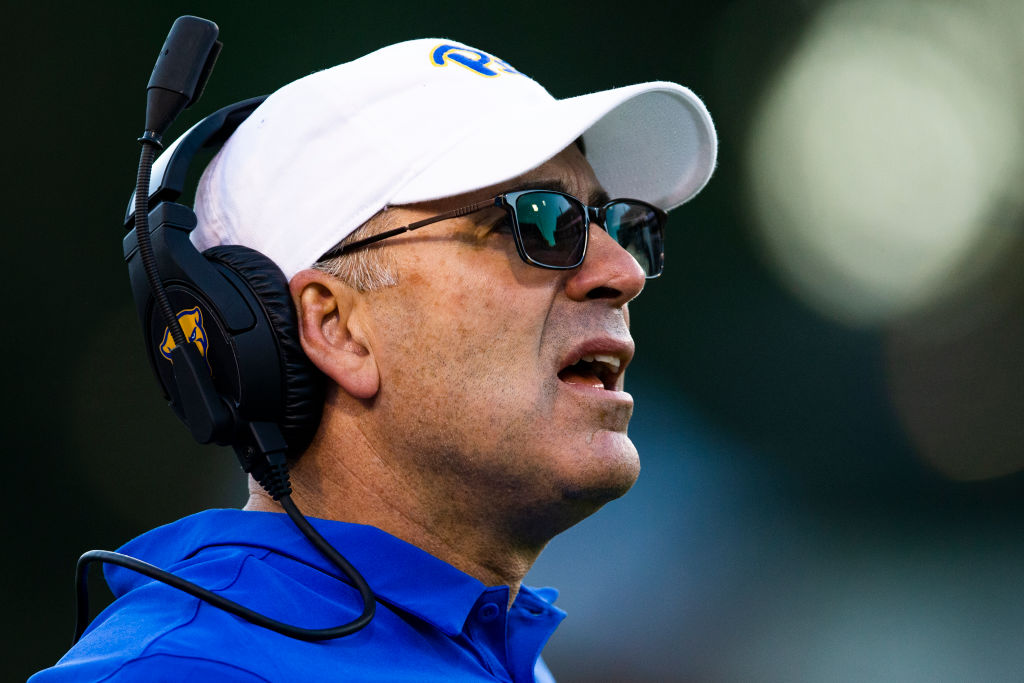 Pat Narduzzi has far more pressing issues than recruiting and game prep on his plate right now.
Numerous former Pittsburgh players, including linebacker Elias Reynolds, publicly accused Narduzzi of racist behavior. Reynolds said Narduzzi referred to his players and opponents as "thugs," a term with a racial connotation.
Reynolds tweeted Narduzzi used the term when players wore hoods or their hat backwards.
"Although they aren't direct racial slurs, it isn't not racism just (because) you use alternate terms to define us. There is systematic oppression and racism within college athletics and it needs to be addressed as well. If you are a college coach or a sports coach in general and have spoken out with genuine care and legit facts, I salute you!"
Former Panthers offensive lineman Justin Morgan said Narduzzi not only instructed Morgan to cut his dreadlocks, but called it "pitiful" when Morgan didn't cut his hair.
Ex-Panthers receiver Darian Street called Narduzzi a "phony" after Pittsburgh's coach tweeted a Martin Luther King Jr. quote. Street transferred from Pittsburgh after the 2018 season.
Pat Narduzzi has not addressed those comments as of June 5, 2020.
Will the Pittsburgh Panthers discipline Pat Narduzzi?
It is important, as always, to note Narduzzi has only been alleged of making these comments. Neither he nor the school have addressed them yet.
Still, there is precedent for coaches losing their jobs over using the term "thug." Weeks after he called his own players "thugs," Cavaliers coach John Beilein resigned earlier this year.
If Pittsburgh finds enough evidence that Narduzzi used those words, the Panthers need to potentially consider parting ways with him. Retaining Narduzzi could have a long-term impact on Pittsburgh's culture and brand.
Pat Narduzzi, just like his players, represents the university. It would send an awful message to prospective students of any background to employ a coach who had been found guilty of racist behavior.
If Pittsburgh needed to find a new coach, they already have two experienced candidates on staff. Defensive line coach and assistant Charlie Partridge went 9-27 at Florida Atlantic from 2014-16.
Although Partridge didn't post a great record, he is an excellent recruiter. Pittsburgh could also potentially promote offensive coordinator Mark Whipple, a longtime head coach at multiple levels.
Whipple recently had five losing seasons in as many years at UMass from 2014-18. UMass was far more successful in his first tenure from 1998-2003.
Whipple also coached at New Haven, a Division II school, and Brown. He only had one losing season in nine years between those two schools.
Pat Narduzzi has a lot to explain in the coming weeks. If the proof can't save him, Pittsburgh needs to move on as soon as they can.