P.J. Tucker Expounds on an Eye-Opening, Career-Saving Video the Toronto Raptors Blindsided Him With His Rookie Season: 'To This Day, It Makes Me Sick to My Stomach'
When the Milwaukee Bucks captured their first title in 50 years, it represented validation for P.J. Tucker. The 36-year-old veteran had previously played for three NBA teams and spent five years overseas before becoming a champion. Now, as a member of the Miami Heat, Tucker opened up about the start of his NBA career and how one painful, embarrassing moment of realization helped shape him into the highly-respected player he is today.
P.J. Tucker was an immature rookie
15 years ago, the 27-55 Toronto Raptors selected Italian big man Andrea Bargnani with the first overall pick of the draft. Their next pick in the second round was Tucker, a 6-foot-5 forward from the University of Texas. Although he lasted until the 35th pick, the North Carolina native was no slouch for the Longhorns. Tucker averaged 16.1 points, 9.5 rebounds, and 1.8 steals per game his junior season, winning Big 12 Player of the Year and being named a Consensus All-American.
However, as Bargnani failed to deliver on the expectations of a first overall pick, Tucker failed to look like an NBA player period. Toronto used their forward sparingly, giving him action in just 17 games for an average of 4.9 minutes. He was less than productive in those five minutes too, averaging 1.8 points and 1.4 rebounds for a team that ended up winning the division.
"I didn't play," Tucker explained in an exclusive interview on JJ Redick's The Old Man and the Three podcast. "And that was tough for me, not getting a chance to really play. [You come] from college, you're All-American, you're all these things. You go to the NBA thinking, 'Alright, now I'm about to do it here,' and you don't. I did not react to that well."
The Raptors noticed Tucker's displeasure with going from a college star to a little-used benchwarmer. But rather than consoling the rookie or giving him more playing time, the leaders of the team turned the tables in a way Tucker will never forget.
The Toronto Raptors alerted Tucker to his poor behavior
Tucker was clearly unhappy, and he was making no bones about it. Looking back, the veteran leader admitted he could've handled things much better.
"I was terrible, I was really bad," Tucker told Redick. "I would show up right before practice, just doing whatever I wanted, [and] I was like, 'I ain't playing, I don't care.' Not knowing that they'll cut you, they'll let you go."
The Raptors did in fact let P.J. go after just one season. But not before the team's brass forced the disgruntled rookie to realize how visible his negativity actually was.
"I got to the end of the year and I got called in for a meeting. … And I walk up, and everybody's sitting in there. GM, the president [Bryan] Colangelo, they're all sitting in there and I was like, 'What's up?' … They got the TV, right? They show before the game, during the game, and after the game, just showing me on the bench. Pregame, they taped it all. It was terrible. To this day, it makes me sick to my stomach."

P.J. Tucker
Redick asked Tucker if the sickening feeling had anything to do with the Raptors blindsiding him with the video. But the veteran shot that down, taking all of the accountability and thanking the team for doing what they did.
"That [was] the best thing to ever happen to me in my life," Tucker said. "Because it was like, 'I couldn't tell my mom that.' … I'm an adult. Nobody can judge me harder than I judge myself. And that was the first time I had seen myself in that light."
Tucker has become a leader for the Miami Heat and others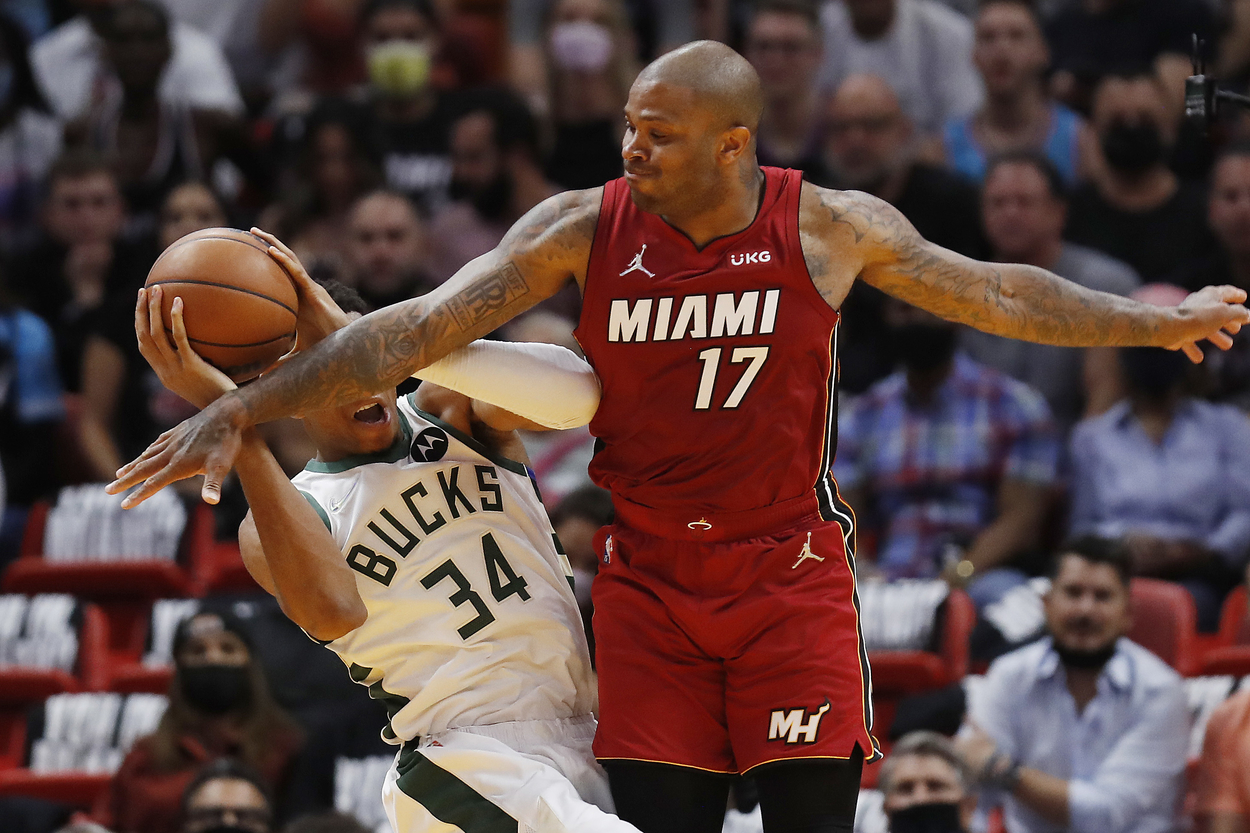 After the Raptors sent Tucker packing, the young forward had no job but plenty of perspective. Between 2007 and 2012, P.J. played in Israel, Ukraine, Greece, Italy, and Germany. In 2012, he earned his way back into the NBA with the Phoenix Suns' Summer League team. Soon after, he signed a two-year deal in the desert.
Years after the eye-opening video, Tucker has spent far more time on the court than on the bench. In the welcome back tour that was the 2012-13 season, the suffocating defender played in a whopping 79 games. He became a consistent starter for the next three seasons and soon would start all 82 games for the 2018-19 Houston Rockets. He even found his way back to Toronto after they acquired him from the Suns in 2017.
With a need for veteran leadership and toughness, the Bucks traded for Tucker last season. He would go on to start each of Milwaukee's last three playoff series, including all six games of the NBA Finals against his former Suns club. And last offseason, even with humble career averages of 5.8 points and 5.3 rebounds, the Heat inked the veteran to a two-year deal worth $14.3 million.
"It's funny now because I try to help so many young guys nowadays," Tucker explained to Redick. "When I see them acting like me or doing stuff, I'll be all over them. Nah, not letting them go down that path."
Tucker could have easily dismissed the video and allowed his ego to get the best of him. But by discovering the error of his ways, the former college hotshot is now a serviceable, well-respected veteran in the league he fought to return to.
All statistics courtesy of Basketball Reference and contract figures courtesy of Spotrac.
RELATED: P.J. Tucker's Insane Shoe Collection Will Blow Your Mind