P.J. Walker Is the Hidden Gem the Carolina Panthers Didn't Know They Needed
P.J. Walker is a name that most NFL fans likely aren't all that familiar with. A former XFL quarterback who spent a majority of 2020 riding the bench for the Carolina Panthers, Walker is far from an established talent in today's NFL.
Before the Panthers' first preseason game against the Indianapolis Colts, many analysts and beat writers had Walker penciled in as someone who could be on the chopping block before Week 1 of the 2021 season.
It's still early in the preseason, but so far, Walker has done the opposite of what those experts and writers predicted. He's playing himself into a permanent job with the Panthers.
P.J. Walker is a former XFL superstar
Walker signed a two-year contract with the Panthers last offseason, but before that, he was making waves in the short-lived XFL. An independent football league constructed by WWE owner Vince McMahon, the XFL served as an opportunity for fringe NFL talent and undrafted free agents to showcase their value to pro scouts. Diehard fans of the league hoped it would stick around and rival the NFL, but that dream quickly died after the one season.
Walker, a former Temple graduate, took advantage of the organized football games. He shined as the Houston Roughnecks' starting quarterback, recording 1,338 passing yards and 16 total touchdowns.
Walker garnered some national attention for his performances, especially his final one on March 7, 2020, against the Seattle Dragons. Walker threw for 351 yards and three touchdowns while recording a passer rating of 104.2.
Finding a home with the Carolina Panthers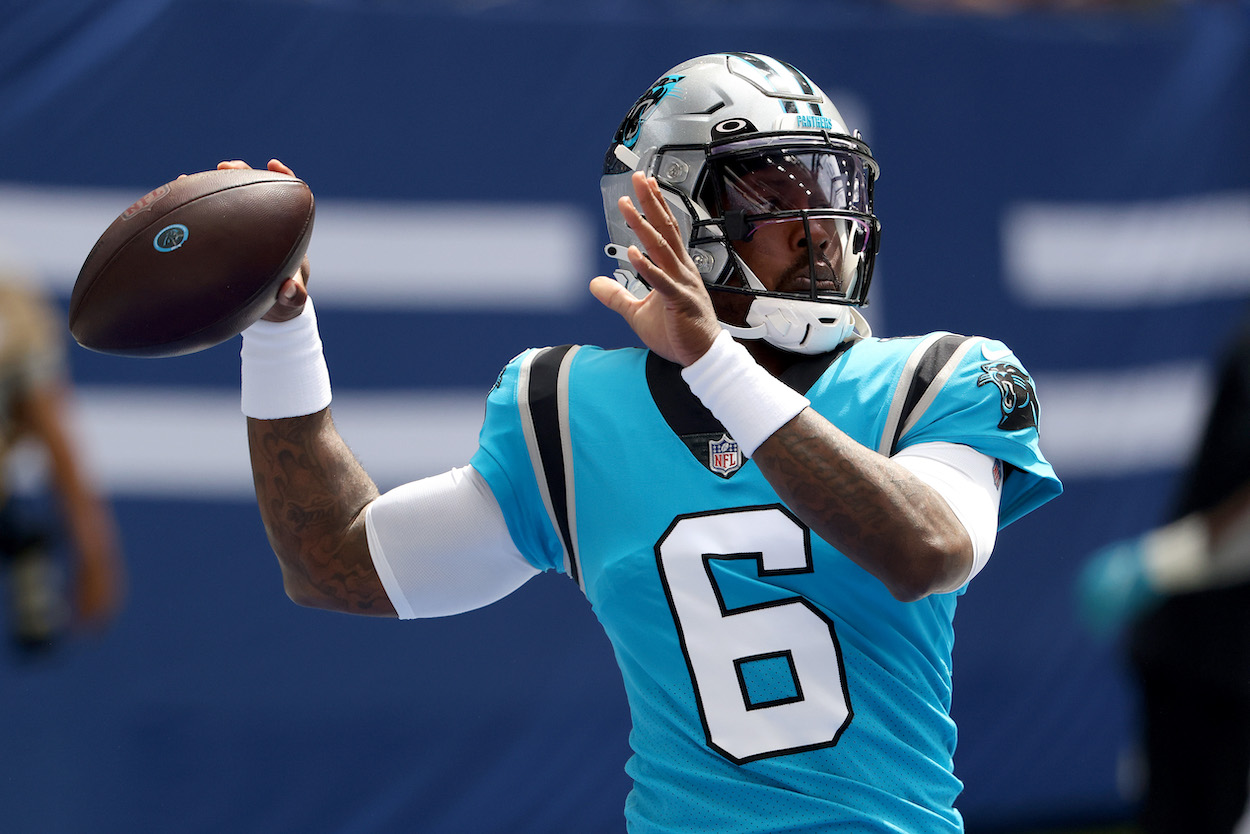 The Panthers weren't Walkers' first NFL team. He signed with the Colts immediately after college as an undrafted free agent in 2017. He ended up primarily residing on the team's practice squad, eventually being outright released in August of 2019.
Walker fared much better with the Panthers, primarily due to the existing relationship with head coach Matt Rhule. Hired by Carolina in 2020, Rhule was Walker's head coach at Temple. This established connection played a large role in Walker receiving a legitimate contract with the Panthers, in conjunction with the on-field talent that he displayed during the XFL's brief regular season.
Walker attempted 56 total passes during his first season with the Panthers and didn't fare particularly well. He threw four interceptions compared to just one touchdown and recorded a completion percentage of 57.1%. As bad of a year as it was for Walker, he was in the building learning an NFL system, which always bodes well for a player's long-term future.
Walker flashed potential during his first preseason game
Walker got most of the reps with Sam Darnold sitting out during the Panthers' first preseason game. While it wasn't the greatest of performances by any stretch of the imagination, Walker still found a way to consistently move the ball downfield against a typically above-average Colts defense.
Walker finished the game with 161 passing yards and one touchdown, including a handful of impressive "Houdini" impressions in the pocket. Walker looked comfortable weaving away from defenders, keeping his eyes downfield for open receivers.
It's a small stepping stone for Walker in his NFL career, but it's possible the Panthers actually have a player worth investing into here. Not to be a starter (obviously), but as a potential long-term backup behind Darnold or whoever the next starting QB ends up being in Carolina. Walker is still just 26 years old and would likely benefit from another few years of development under the guidance of Rhule and the Panthers' coaching staff.
His next two preseason appearances should give us a clearer picture of what to expect from Walker moving forward, if he's the type of player who can blossom into a reliable QB2 for Carolina.
All stats courtesy of Pro Football Reference and stats.XFL.