Plaxico Burress Swindled Jeff Feagles In a Deal for the New York Giants' Number 17 Jersey
NFL jersey numbers have unexpectedly made it into the headlines more than once. J.J. Watt has run into a slight roadblock wearing his old no. 99 in Arizona. Carson Wentz may have to find a new number in Indianapolis because wide receiver Michael Pittman won't give up his no. 11. Perhaps those three can go the route of former New York Giants punter Jeff Feagles, who gave away his old number twice in exchange for certain favors.
Eli Manning comes to town
After a spat with the San Diego Chargers, the team that chose him in the 2004 NFL Draft, Ole Miss quarterback Eli Manning became a New York Giant.
This presented a slight numerical problem. When he came to the Giants, Manning insisted on keeping his college jersey number, 10. This number already belonged to punter Jeff Feagles, who had been on the team since 2003.
Thankfully, Feagles was willing to deal. Eventually, Manning wound up with his prized number 10, which he would wear throughout his entire 16-year career with the Giants. In return, Manning paid for a Feagles family vacation to Florida.
Jeff Feagles makes another deal
It took only one season before someone intruded on the punter's turf yet again.
For 2005, the Giants brought in free agent wide receiver Plaxico Burress, formerly of the Pittsburgh Steelers. The number that Burress wore with Pittsburgh, no. 80, was taken by tight end Jeremy Shockey and was off-limits. Fortunately, by 2004, the NFL allowed wide receivers to wear jersey numbers in the 10-19 range, and Burress took full advantage.
Of course, he chose number 17 — Feagles' number. Again, Feagles made the most of it and convinced the incoming Burress to fund renovations for his family's summer home in Arizona.
The Feagles/Burress number conflict was a total coincidence. According to the Giants website, after his deal with Manning, Feagles chose number 17 because 2004 would be his 17th season in the NFL. Burress wanted 17 because he signed his contract on March 17th, 2005.
Plaxico Burress reneges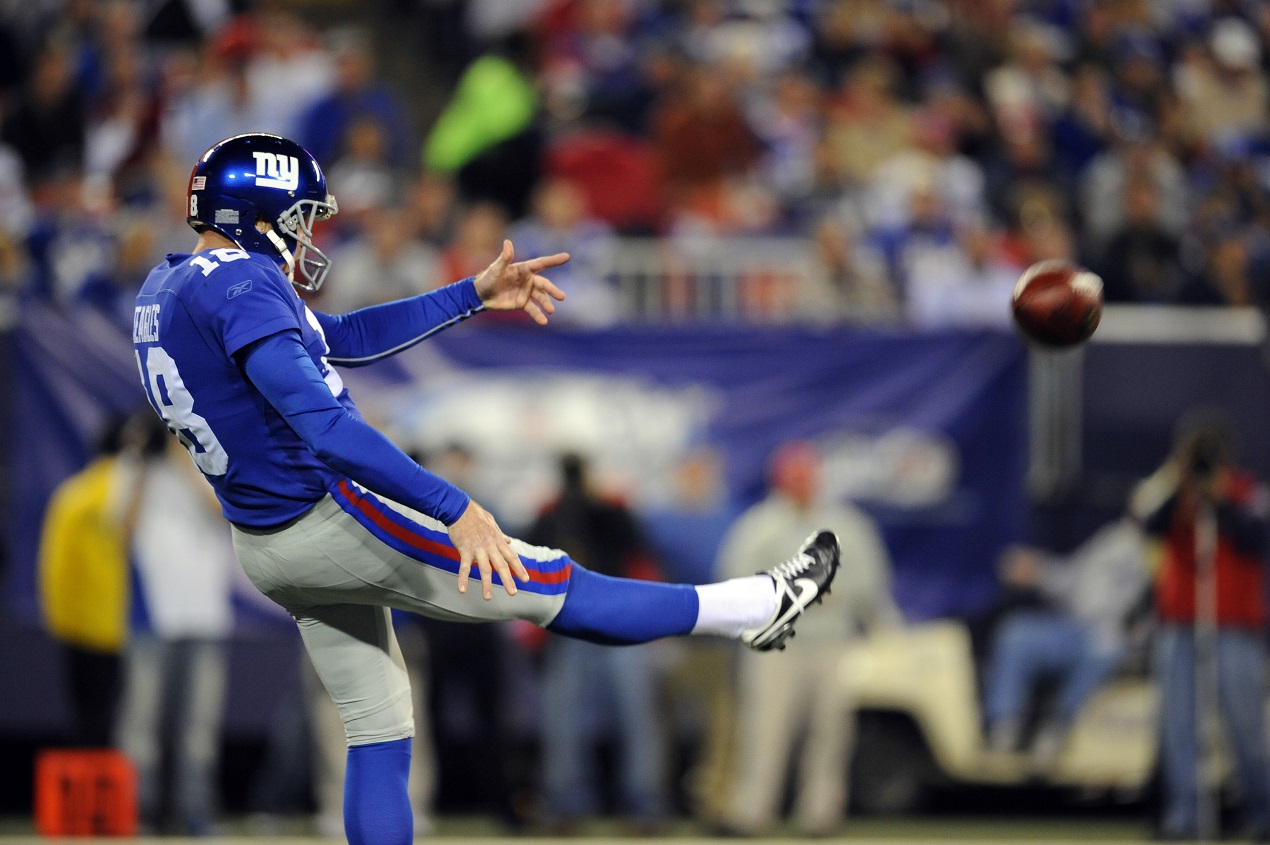 Unfortunately, it turns out that the last person you want to make a deal of this kind with is Plaxico Burress.
"I never got paid for it," Feagles told Sports Illustrated in 2010. "I asked [Burress] for it. Every time I went to Drew [Rosenhaus, Burress's agent] he said, 'That's between you and Plax.' Bottom line, I never got paid. He basically stole my number."
On the bright side, Burress did eventually give Feagles something — the game-winning touchdown of Super Bowl XLII in February 2008. This gave the punter what turned out to be the only Super Bowl ring of his long career.
Feagles hung up his boots after the 2009 season. He spent 22 seasons in the NFL with five different teams, never missing a single game during that entire time. He still holds NFL records for most punts (1,713), most punt yards (71,211), and most consecutive games played (352).