DeMarcus Cousins and 3 Other Players who Overcame Injury and Illness in the NBA Finals
Playing in the NBA Finals is hard enough without the added strain of an injury or illness, but occasionally players have to take the floor while not feeling at 100%. For many players, the extent of the injury or illness does not matter. They choose to take the largest stage basketball has to offer at any cost. In a game as fast-paced as the NBA, doing so can have consequences. Despite that, these four players did all they could to get back in the game, and regardless of the outcome, they proved their toughness by even showing up.

Willis Reed
It is one of the most famous moments in NBA history. Game 7 of the 1970 NBA Finals. Madison Square Garden. Everyone questioned whether or not Knicks big man Willis Reed would be able to go after suffering a thigh injury in Game 5.

That was a time without social media. News regarding injuries didn't come out with the quickness it does now, so a whole crowd of Knicks fans waited impatiently.

Then, Reed emerged. The moment exceeds the ensuing performance in which Reed only amassed four rebounds and three points, but many credit his presence on defense against Wilt Chamberlain and the buzz that his moment caused at MSG with propelling the Knicks to the championship performance.

Michael Jordan
On June 11, 1997, Michael Jordan woke up with the flu. The problem was he had a basketball game that night. The bigger problem was that it was an NBA Finals game, and the team needed him with the series against the Utah Jazz tied at two games apiece. Many questioned whether Jordan could even be effective, as his fever went over 100 degrees, and running around would not be an easy task.

The result, like Reed's entrance, would go down in history as one of Jordan's defining moments, and the image of him slouching into Scottie Pippen's arms after scoring 38 points, grabbing seven rebounds, and throwing out five assists, lives on in NBA folklore. Some say it was a hangover, others say that it was just a ploy, but whatever happened, Jordan put on an all-time great performance.

Dirk Nowitzki
During the 2011 NBA Finals, Dirk Nowitzki had a flu game of his own, playing with a fever as high as 102 degrees. In a setup that was eerily similar to that of Michael Jordan's, the Mavericks found themselves tied at 2-2 after dropping two of the first three games of the series to a Miami Heat team with LeBron James, Dwyane Wade, and Chris Bosh.
Although not nearly as legendary as the Jordan flu game, Dirk had himself a night, scoring 21 points, 10 of them in the final quarter, to go along with 11 rebounds, as the Mavericks grabbed victory out of the hands of the team who were expected to hoist the trophy. It was the penultimate game in Dirk's first and only championship run, one which he capped with an NBA Finals MVP award.

DeMarcus Cousins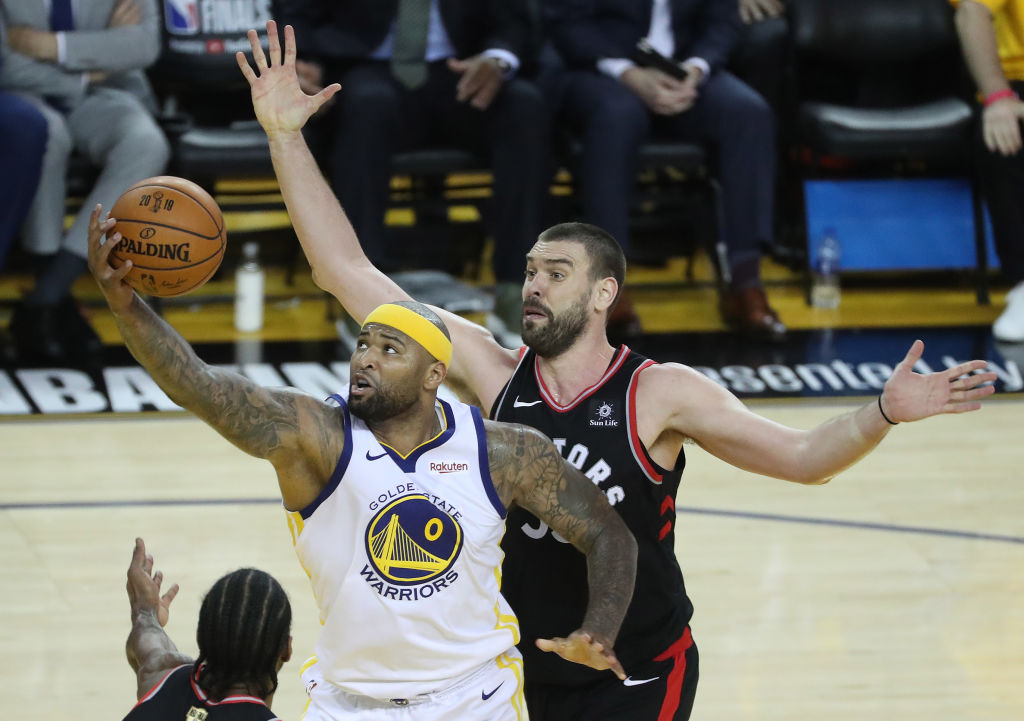 DeMarcus Cousins shocked many during the 2019 NBA Finals when he returned a little over a month after tearing his quad.

Cousins' entire season was a strange one, as the typically dominant big man found himself a role player on a historically deep team while he came back from a torn Achilles the year earlier. Add that to the fact that Cousins was only in his second career playoff game for the quad injury, and the narratives started stacking up.
While Cousins was effective in limited minutes in Game 1, his Game 2 performance, in which he dropped 11 points, grabbed 10 rebounds, dished six assists, and manage two blocks on the other end, proved to be vital to the hobbled Warriors. Stephen Curry credited him with the special performance, which was his first start in the NBA Finals, and only his fourth playoff game overall.