6 Players Who Have Scored 40 Points in Back-to-Back NBA Finals Games
The list of NBA Finals records keeps growing longer, so it's rare to witness a truly historic moment. One place where we still see unprecedented talent involves the NBA Finals. With the competition reduced to the best of the best, fans can watch superstars battle to the basket. In the 2021 Finals, this included Giannis Antetokounmpo scoring 40 points in back-to-back NBA Finals games. Will it happen again this year?
1. Jerry West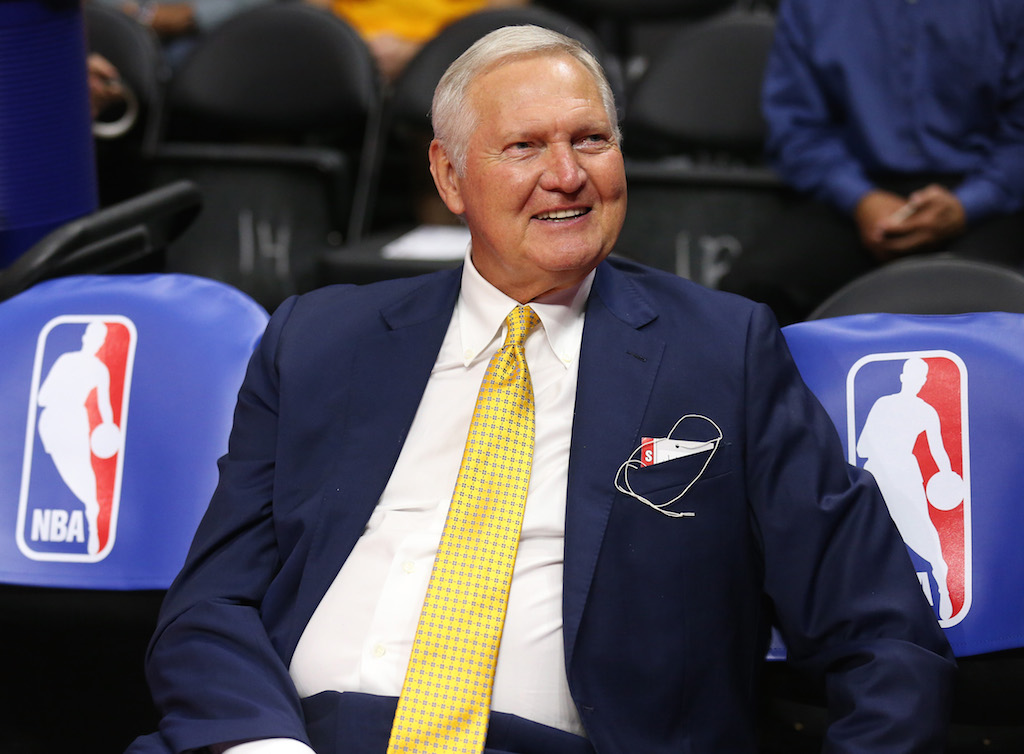 Unlike the other players on this list, Jerry West actually dropped 40 points in consecutive games in two separate NBA finals, because, well, he's Jerry West.
During the 1965 NBA Finals, a series where West averaged 33.8 points per game, the Lakers watched as Mr. Clutch erupted for 40-point performances in both Game 2 (45 points on 17 field goals) and Game 3 (43 points on 13 field goals). Unfortunately for the Los Angeles faithful, these superhuman displays of individual excellence weren't enough to prevent the Lakers from falling to the Boston Celtics in five games.
The 1969 NBA Finals followed a similar storyline. The Celtics defeated the Lakers  — this time in seven games. West put up ridiculous numbers (37.9 PPG). This time, however, the point guard scored 53 points in a Game 1 victory and followed it up with 41 points in a losing effort in Game 2.
Although LA and West fell short of their championship aspirations, he earned the Finals MVP honors. Not a bad consolation prize if you ask us.
2. Rick Barry
Although the San Francisco Warriors fell to the Philadelphia 76ers in six games in the 1967 finals, San Fran's Rick Barry still put together one of the greatest performances of all time. In a matchup that saw him average 40.8 points, 8.8 rebounds, and 3.3 assists per game, his explosive scoring efforts in Games 3 and 4 stood out among the rest.
In Game 3, a 130-124 Warriors victory, Barry made 22 field goals, went 11 for 19 from the line, and finished with 55 points, as San Francisco won its first game of the series. While Game 4 saw Philadelphia extend its series lead to 3-1, Barry continued his unstoppable play, putting up 43 points on 17 field goals and nine free throws.
When it was all said and done, however, the 76ers were simply too much for the Warriors to handle — words you won't hear echoed these days.
3. Michael Jordan
Despite a valiant effort from the Western Conference champion Phoenix Suns, Michael Jordan and the Chicago Bulls came out on top in the 1993 NBA Finals, winning the franchise's second consecutive title in six games.
While we'd hate to take anything away from the team, we'd be remiss if we failed to acknowledge the individual dominance on display, courtesy of the greatest player who's ever lived.
In a series in which His Airness averaged 41 points, 8.5 rebounds, and 6.3 assists per game, Jordan scored 40-plus points in four consecutive games, dropping 42 in Game 2, 44 in Game 3, 55 in Game 4, and 41 in Game 5. With numbers like these, it's no wonder he became the 1993 Finals MVP.
4. Shaquille O'Neal: 2000 NBA Finals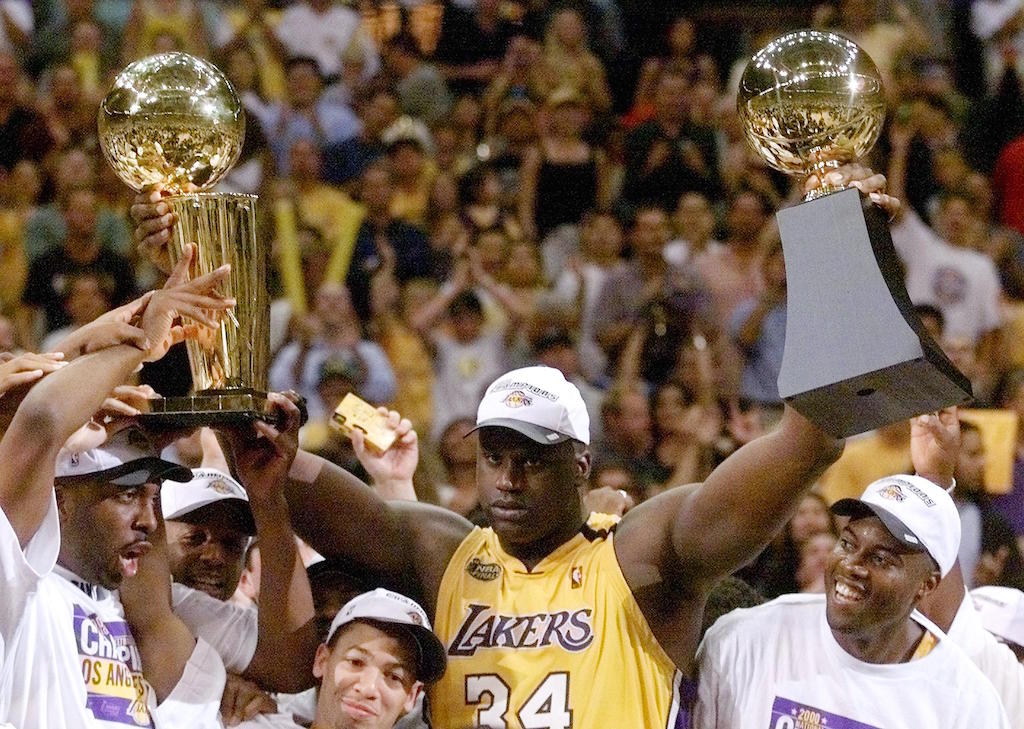 In the 2000 NBA Finals, fans watched the Los Angeles Lakers defeat the Indiana Pacers in six games, with Shaquille O'Neal reaffirming his status as the most dominant player in the game. While The Diesel finished the series with an average of 38 points and 16.7 rebounds per contest, we choose to turn our attention to the way he started the series in an unstoppable fashion.
In LA's Game 1 win, Shaq went 21 for 31 from the field, pulled down 19 boards, and finished with a game-high 43 points. Just to prove that the first game of the series wasn't a fluke, The Big Aristotle entered Game 2 and made 11 of 18 shots, knocked down 18 free throws, and grabbed 24 rebounds for 40 points total.
If a picture is worth a thousand words, then the above shot tells you all you need to know about O'Neal and the 2000 NBA Finals.
5. LeBron James: 2016 NBA Finals
Cavs fans were about ready to give up on Cleveland after they fell behind 2-0 in the 2016 NBA Finals. The Eastern Conference champs were getting absolutely embarrassed by their Western Conference counterpart. It seemed like a second straight title for the Warriors was all but a foregone conclusion. Then LeBron James, who's experienced ups and downs on this stage, decided to take over. 
With his team facing another "win or go home" scenario, James unleashed the sort of Game 6 performance folks will talk about for years to come. He hit on 16-27 shots, knocked down 50% of his triples, and dished out 11 assists. He also pulled down eight rebounds, finishing with a game-high 41 points, in a 115-101 Cavaliers victory.
With this, James became just the fifth player in Finals history to have back-to-back 40-point games in the same series. In Game 7, the Cavaliers pulled up the unthinkable — coming back from 3-1 down to win the 2016 NBA Finals.
6. Giannis Antetokounmpo: 2021 NBA Finals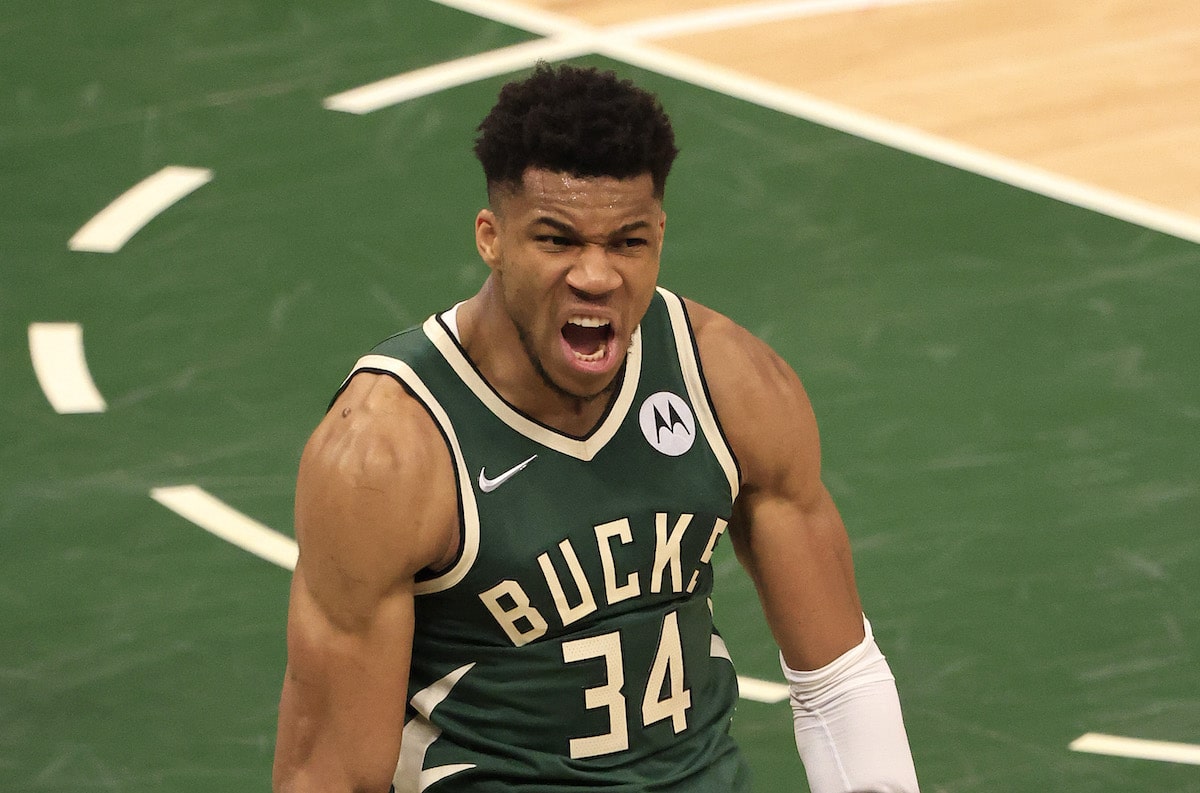 Five years after James' incredible NBA Finals performance, Giannis Antetokounmpo scored 40 points in back-to-back finals games.
After losing Game 1 to the Phoenix Suns, the Greek Freak bounced back to score 20 points in the third period alone. Although the Bucks lost Game 2, Antetokounmpo became just the fourth person to score at least 20 in a quarter. (He joined the likes of Michael Jordan, Isiah Thomas, and Joe Dumars.) In total, he scored 42 points and had 12 rebounds.
Game 3, however, allowed the Bucks to get revenge. They couldn't have won 120-100 without Antetokounmpo's 41 points and 13 rebounds. He joined O'Neal to become the only players in Finals history to record back-to-back 40-point, 10-rebound games. Of course, we all know how the 2021 NBA Finals turned out.
Statistics courtesy of Basketball-Reference.com, ESPN.com, and ESPN Stats & Info.