NBA
7 Players Sporting the Best Tattoos in the NBA
Back in the day, it seemed the only people who had tattoos were sailors and bikers, but today they're much more commonplace. Recent statistics show more than one-third of today's Americans aged 18 to 30 have a permanent piece of artwork displayed on their body. Of those, 70% have more than one, and 20% of them have at least five tattoos in total. For those players in the NBA who are sporting ink, there's plenty of body art out there that's worthy of a second look. Although basketball is a fast-paced sport with players seen almost constantly in motion, we'll slow it down to check out these seven players with some of the best tattoos in the NBA.

7. J.R. Smith — Total coverage
In terms of pure volume, J.R. Smith has no shortage of artwork covering most of his body, giving his arms a patterned appearance that is goal-worthy and difficult to ignore. However, Smith loses some points for neck coverage as this is often perceived as being creepy for those in the non-tattoo accepting community.

6. Mike Muscala — Super ink
Several NBA players embrace classic animation in their tattoo designs, and Mike Muscala joined former Miami and Memphis point guard Mario Chalmers with a namesake Super Mario Brothers tattoo. The instantly recognizable video game pop-culture icon flies across Muscala's left shoulder, perhaps meant to represent Muscala soaring style on the courts. You might debate the merit of a video game character tattoo, but it has to be one of the best tattoos in the NBA.

5. DeMar DeRozan — Dedication on display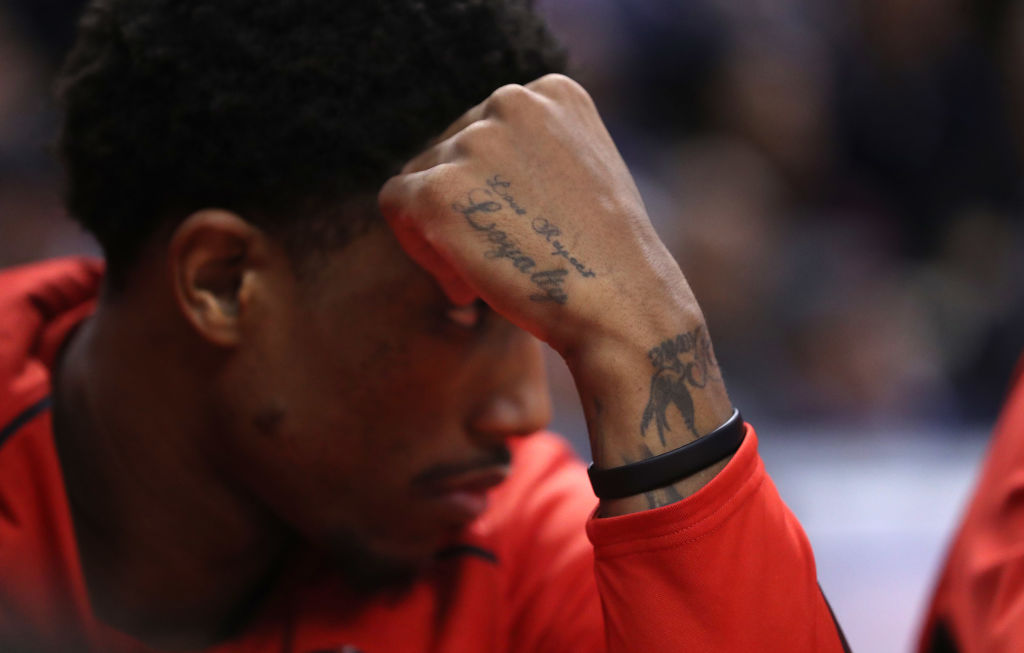 Although not as colorful as Muscala's cartoon character, Spurs' guard DeMar DeRozan's tattoo showcases his commitment to the sport with the image of two street signs named "Struggle" and "Dedication" coming together on his left forearm. Just below that are the words "Love, Respect, Loyalty" on his hand. With head coach Gregg Popovich returning to the driver's seat for San Antonio, the road to next year's offseason is looking good for the Spurs.

4. Jeremy Lamb — Humility
Another text-inspired tat, Jeremy Lamb's statement reminding him to "Be Humble" is displayed down his lower leg. With superior artwork compared to the straight-forward street signs as described previously, Lamb's message is more clear, creative, and artistic, and some might say that's the trifecta of tattoos.

3. J.J. Redick — Angelic artwork
When Redick appeared on the courts in 2006 with a brand new, full-sleeve of ink, he opened up to the press about the angelic and artistic addition to his left arm. Speaking of being humble, the veteran guard, who played for the 76ers last season, shared the meaning of this tattoo when he stated:

"I didn't get tattoos so other people would say, 'Oh, J.J.'s got tattoos. He's got a basketball on his arm that says King of the Court,' or something like that, I got a tattoo for me. It's a constant reminder, every day, of what God has done and what he will do in my life."

2. LeBron James — Gladiator fandom
Current Los Angeles Lakers' star LeBron James is well-known for his extensive body art, and many fans aren't aware James is a huge fan of The Gladiator film directed by Ridley Scott. LeBron was so enamored by the movie he gave one of his children the middle name Maximus after the main character, and the movie's memorable quote, "What you do in life echoes in eternity," appears across his left and right biceps.

Also, James has a loving tribute to his mother with her name emblazoned on his right shoulder. It's far from the stereotypical "Mom" tattoo we were used to seeing in the past.

1. Austin Rivers — Face of an icon
Closing with another stat about tats, of those who went underneath the needle, nearly 20% of people regret their ink decision, especially when it's associated with someone's name they no longer want on permanent display. But when it comes to heroes and historical figures, Austin Rivers' headshot of civil rights champion Dr. Martin Luther King, Jr. is a real stunner.

Underneath the image of MLK's face, woven and pictured on his jacket and lapel are some of the iconic words Dr. King spoke during his many inspirational speeches. The image is incredibly life-like, which is one reason we believe Rivers has some of the best tattoos in the NBA. It's safe to say displaying this legendary character won't be seen as a regretful choice for Rivers or his fans either today or in the future.