Which Players Could Steal MVP From Stephen Curry This Season?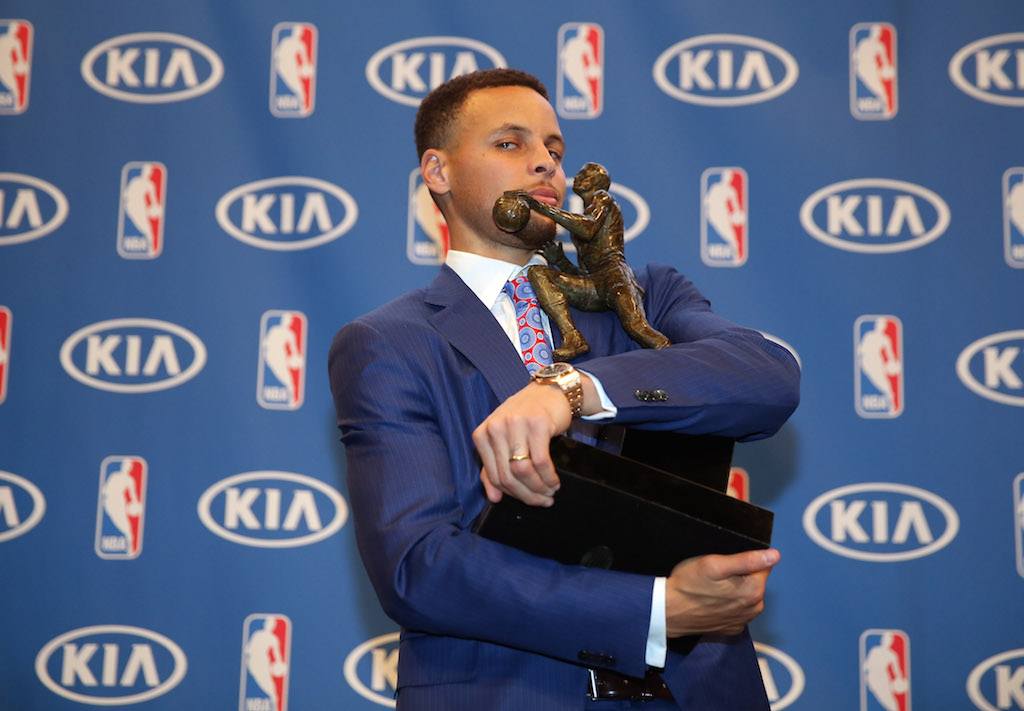 Making it to the NBA comes with its advantages. Not only do you get to play basketball for a living, but if you're lucky enough to become one of the game's most recognizable talents, the support you receive from your adoring public is the sort of motivation that propels a player to the next level. Once a player hits that point in their career, the rewards start getting bigger and better. As far as individual play is concerned, there is no greater reward than being named the Most Valuable Player.
Over the past two seasons, the MVP award has remained in the sole possession of Golden State's Stephen Curry. Considering how many incredible players there are in the NBA, that's a pretty phenomenal accomplishment. Of course, as difficult as it is to win the award, it's that much harder to keep it; something Curry knows all too well.
With the way Chef Curry's played over the last few seasons, we wouldn't be shocked to see him win the award for the third straight year. Although, if you ask the folks in Las Vegas, given the stiff competition, the chances of that actually happening aren't exactly in his favor. Take a look and see for yourself.
7. James Harden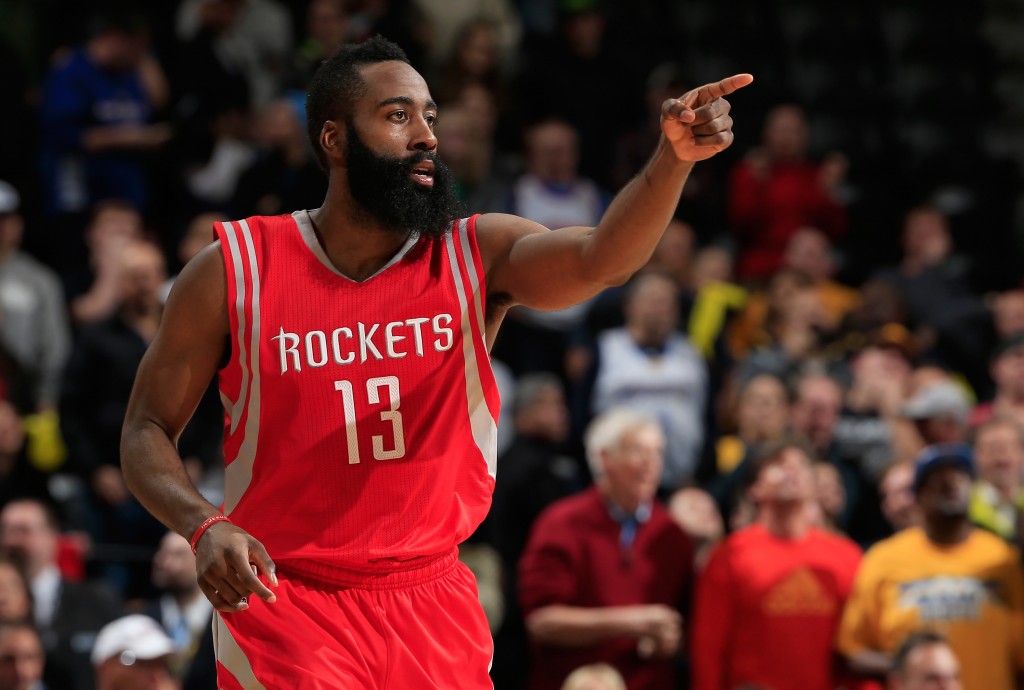 Odds: 20-1
Although the Houston Rockets finished eighth in the Western Conference with a 41-41 record during the 2015–16 season, shooting guard James Harden continued to stake his claim as one of the best individual players in the game. In a league-leading 38.1 minutes per contest, The Beard shot 43.9% from the field, averaged 29 points, 6.1 rebounds, and 7.5 assists per game, and earned his fourth consecutive trip to the All-Star Game.
In spite of these ridiculous numbers, Harden failed to make an All-NBA team and finished only ninth in the MVP voting. How crazy is that? Fortunately for him, now that Mike D'Antoni is the new head coach in Houston, we have a feeling Harden's offensive numbers will continue to soar, making it easy to include him in the MVP discussion in 2016–17. If only someone could get him to play a little defense. That would be something.
6. Anthony Davis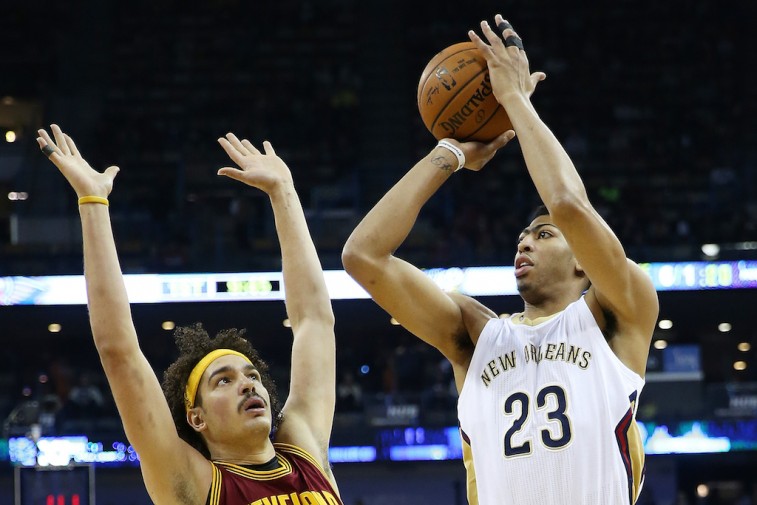 Odds: 15-1
Although he spent the bulk of the 2015–16 season hampered by injuries, thus limiting him to just 61 games, Anthony Davis still managed to put together a more-than-respectable year. The Brow knocked down 49.3% of his shots, averaged 24.3 points and 10.3 rebounds a night, and remained a force on the defensive end of the floor, averaging two blocks per contest. If the Pelicans center can regain his form and stay healthy throughout the upcoming season, the rest of the league will be in serious trouble. Davis is a special talent who hasn't even scratched the surface of his potential. How scary is that?
5. Kawhi Leonard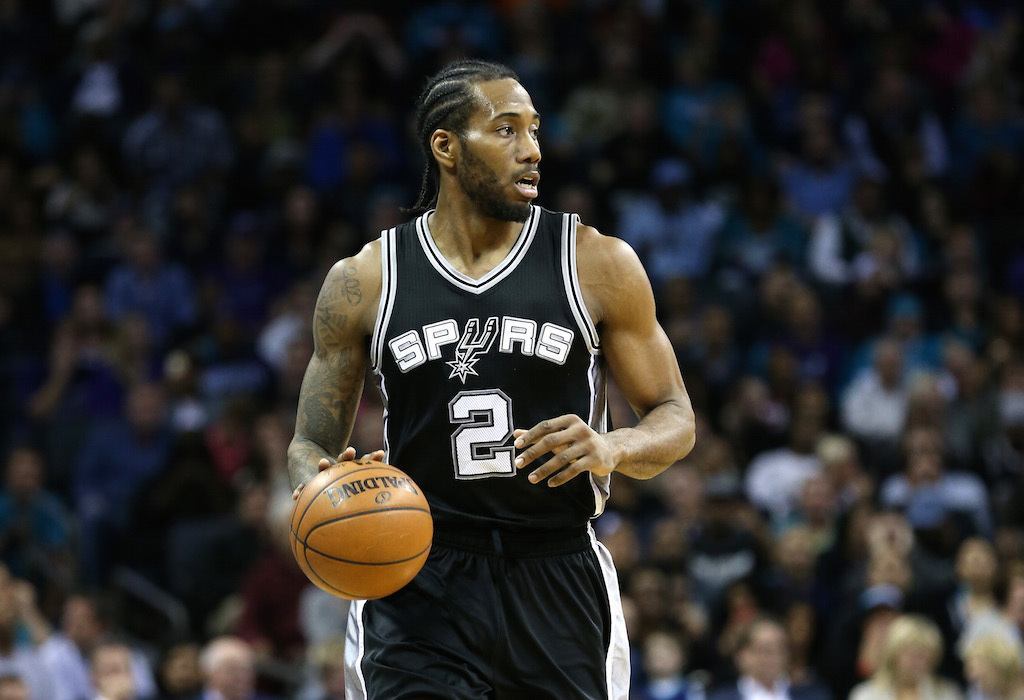 Odds: 12-1
Last year, his fifth season in the NBA, Kawhi Leonard officially reached superstar status. The San Antonio Spurs small forward averaged 21.2 points and 6.8 rebounds per game, won his second consecutive Defensive Player of the Year award, and earned his first All-Star Game selection. On top of that, Leonard was named First-Team All-NBA and finished second in the MVP voting. Considering how much he improves on a yearly basis, there's no reason why The Claw can't take the next step in 2017.
4. Kevin Durant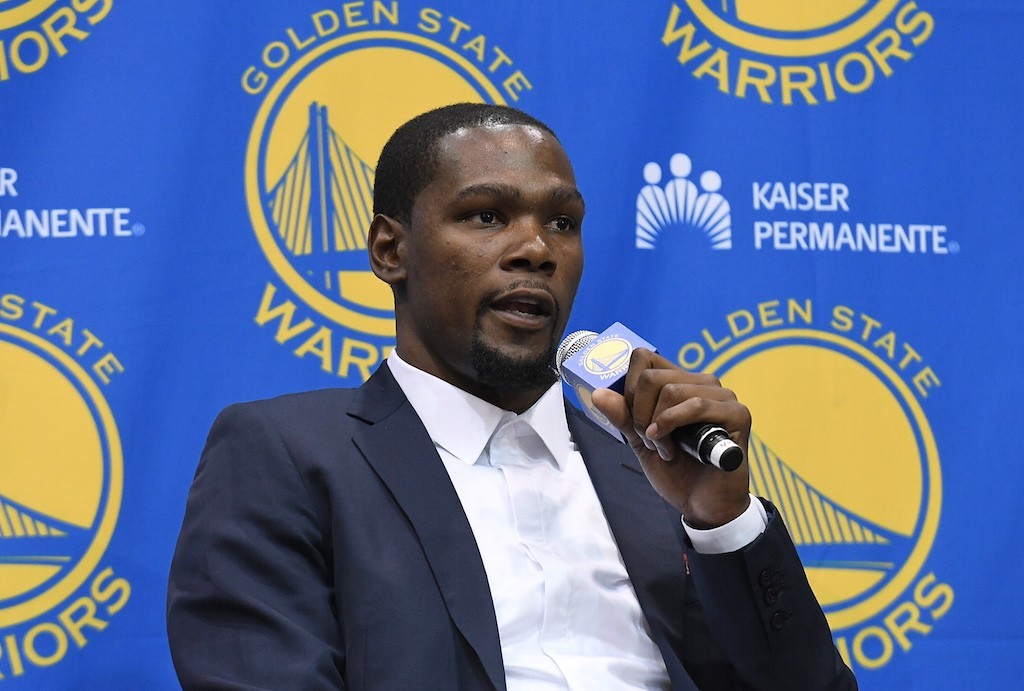 Odds: 8-1
Every basketball fan is waiting to see how Kevin Durant adjusts to being a member of the Golden State Warriors. While there's no denying he's a top-five NBA player, he's never played on a team with this many superstars. As a result, there's no telling how many shots he will have to sacrifice to make it work. Regardless, KD put up 28.2 points per game and grabbed 8.2 rebounds a night during the 2015–16 season. Whatever obstacles he may face as he adjusts to his new surroundings, we have a feeling he'll work it out. The great ones always do.
3. Stephen Curry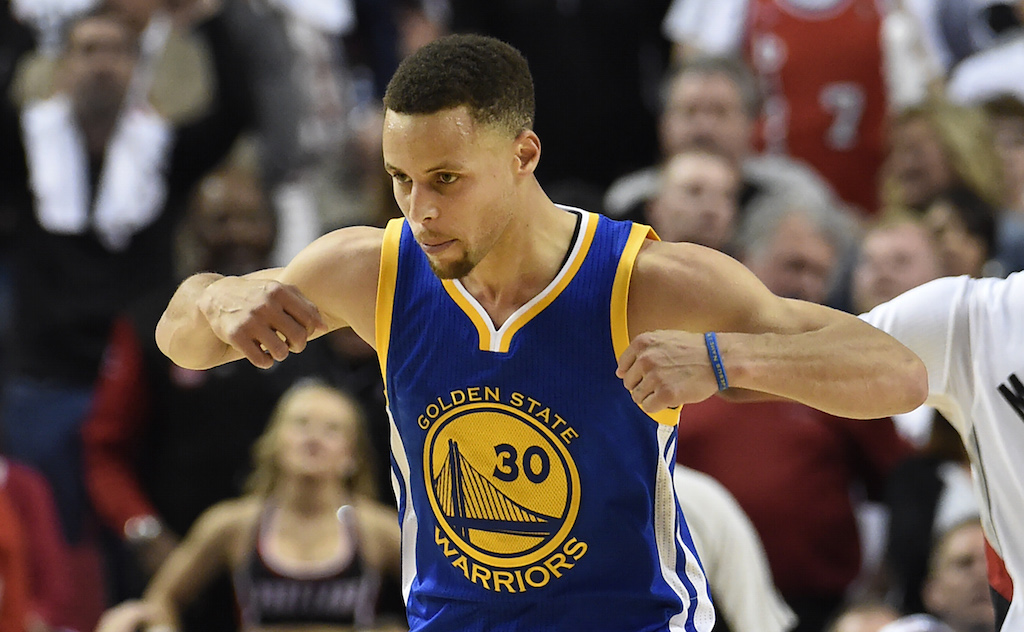 Odds: 4-1
Stephen Curry may have faltered in the 2016 NBA Finals, but there's a reason he became the first-ever unanimous MVP in league history — his regular-season performance was just that good. Not only did he shoot 50.4% from the field and 45.4% from beyond the arc, the Baby-Faced Assassin led the NBA in scoring (30.1 PPG) and steals (2.1 SPG) while making his third straight All-Star Game and his second consecutive First-Team All-NBA honor.
Make not mistake about it, it will be difficult for Curry to win the MVP award three years in a row. In fact, Vegas is currently betting against it. But if there's one thing we've learned since the day teams passed over him multiple times during the 2009 draft, it's never a good idea to go against the Chef.
2. Russell Westbrook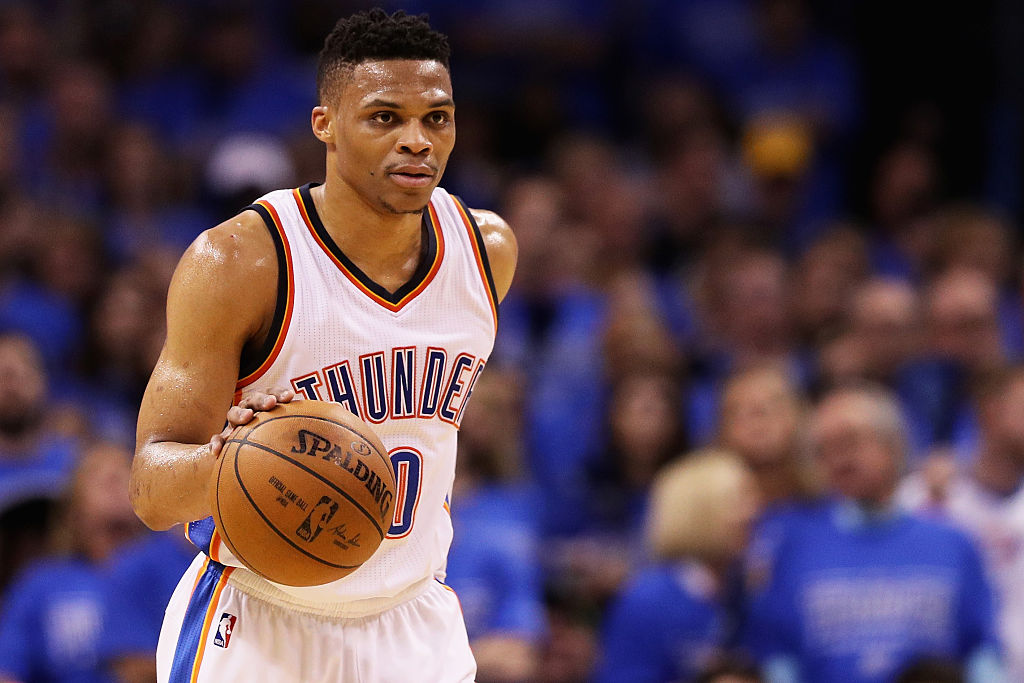 Odds: 7-2
Now that the Oklahoma City Thunder are officially his team, we can't wait to see what Russell Westbrook does in 2016–17. For some perspective, even with KD on the roster last season, the All-Star point guard put up 23.5 points per game, pulled down 7.8 rebounds a night, and dished out 10.4 assists every time he stepped out onto the floor. In 2015–16, Russ was named First-Team All-NBA for the first time in his career. Who knows, perhaps this upcoming season he'll experience another first — winning the Most Valuable Player award.
1. LeBron James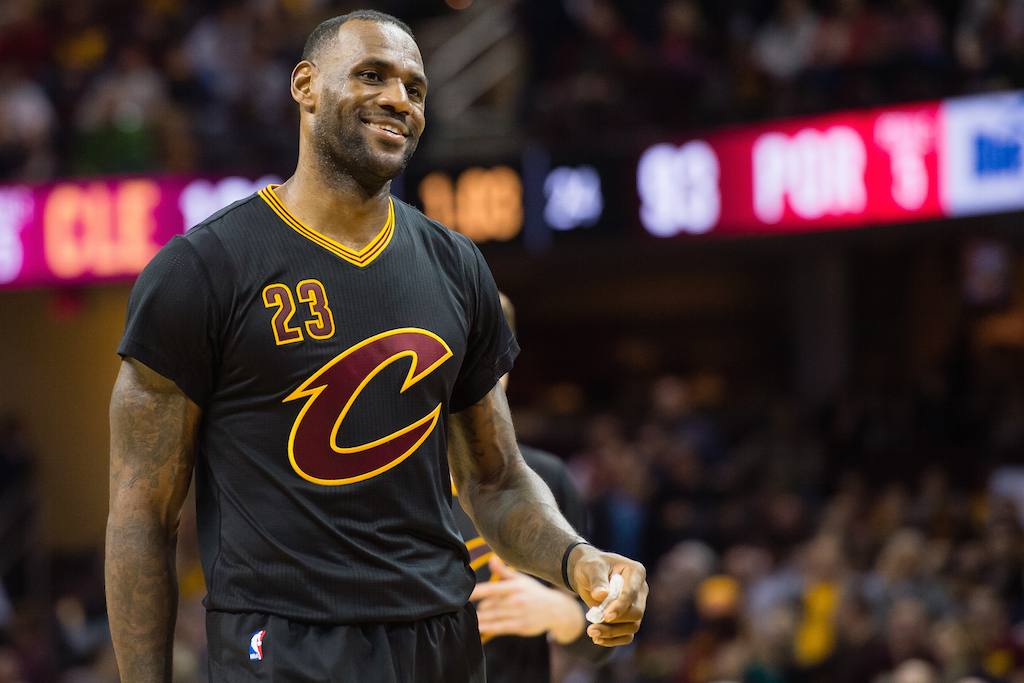 Odds: 3-1
LeBron James hasn't won the MVP award since the 2012–13 season, but after watching him lead the Cleveland Cavaliers to a thrilling comeback in the 2016 NBA Finals, the momentum will definitely be on his side entering the upcoming season. As disappointed as we were that James didn't suit up for Team USA in Rio this past summer, the time off from competition should do wonders for both his mind and body in 2016–17. Is the King poised to be crowned the NBA's Most Valuable Player for the fifth time in his career? Vegas sure seems to think so.
Odds courtesy of sportsbook.ag.
Statistics courtesy of Basketball-Reference.