5 Players Tim Tebow Is Trying to Compare Himself To
Tim Tebow is making all kinds of news again, but not because of his religious beliefs, football abilities, or Skip Bayless's obsession with him. Tebow, who hasn't played organized baseball since he was in high school, hopes to work his way toward a new career — in Major League Baseball. And he recently hit his first home run with the New York Mets.
All signs point to this dream being a long shot for Tebow. But you can't blame him for wanting to give it try. Tebow is a competitor at heart — and he wouldn't be the first player to do it. The 31-year-old might need to learn a little more about these five athletes who played in two professional sports leagues.
1. Mark Hendrickson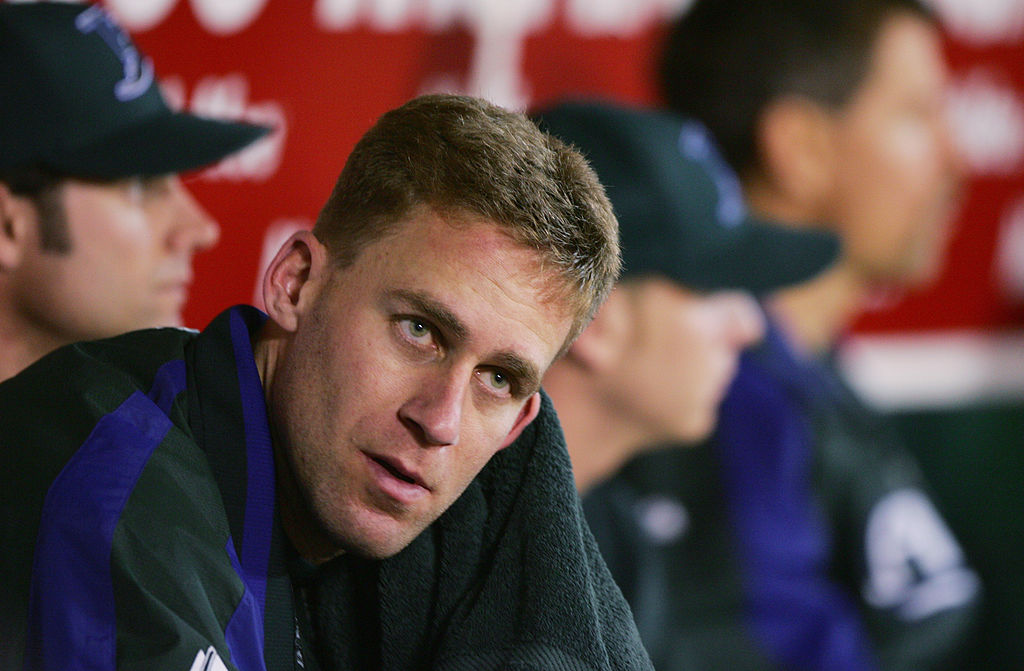 Mark Hendrickson was chosen in the MLB amateur draft every year for six consecutive seasons from 1992–97, only finally signing with a team in '97. The 6-foot-10 left-handed starting pitcher was hesitant to sign on to play baseball because of his extremely promising basketball career, which required no work in a minor league system before breaking into the NBA. However, his decision to finally take a shot at making a baseball career work came right as his first professional season in the NBA concluded, which may have had something to do with the fact that he was a second-round draft pick who averaged just 2.9 points and 3.2 rebounds in his first year.
Hendrickson competed for three more seasons in the NBA — with the Philadelphia 76ers, Sacramento Kings, New Jersey Nets, and Cleveland Cavaliers — playing in 114 career games. Then, at 28 years old, he made his Major League Baseball debut in 2002 with the Toronto Blue Jays. Hendrickson pitched two seasons with Toronto before being traded to the Tampa Bay Devil Rays, and then later moving on to the Los Angeles Dodgers, Florida Marlins, and Baltimore Orioles. He last participated in the major leagues in 2011, playing 10 seasons in the big leagues with a 5.03 ERA in 1,169 total innings.
2. Danny Ainge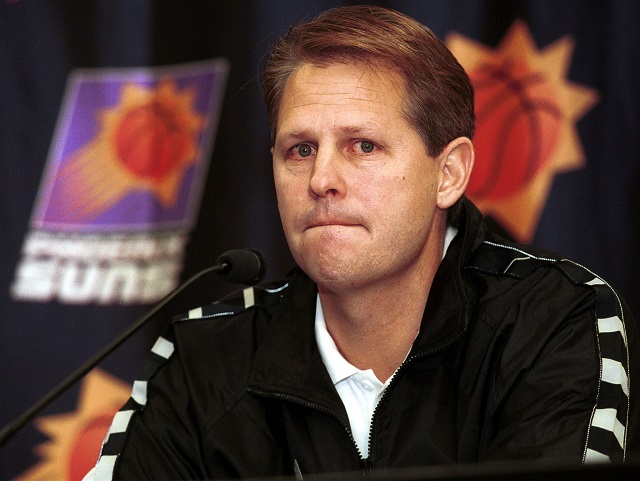 Everyone remembers Danny Ainge as a sharpshooter and standout NBA player, but he was actually quite the baseball player prior to his time with the Boston Celtics and Phoenix Suns. It was somewhat of a unique situation, as he was drafted in the 15th round by the Toronto Blue Jays back in 1977 and went straight to Triple-A as a 19-year-old.
Ainge performed poorly, hitting just .229/.263/.290 in his first year, but that didn't stop the Jays from calling up the 20-year-old to the big leagues the following season. He played portions of three seasons in Major League Baseball with Toronto before giving up his baseball career for the NBA. He hit .220/.264/.269 with two home runs in 211 games in the big leagues.
Then, the Celtics took Ainge in the second round of the 1981 NBA Draft, and that's where his sports career really took off. Ainge spent parts of eight seasons with the Celtics, winning two NBA championships before Boston traded him to the Sacramento Kings. He appeared in the 1992 NBA Finals with the Portland Trail Blazers, and then again in 1993 after moving to the Phoenix Suns. Ainge played until 1995, retiring after averaging 11.5 points per game in his NBA career and moving on to a new career in coaching and front office work.
3. Brian Jordan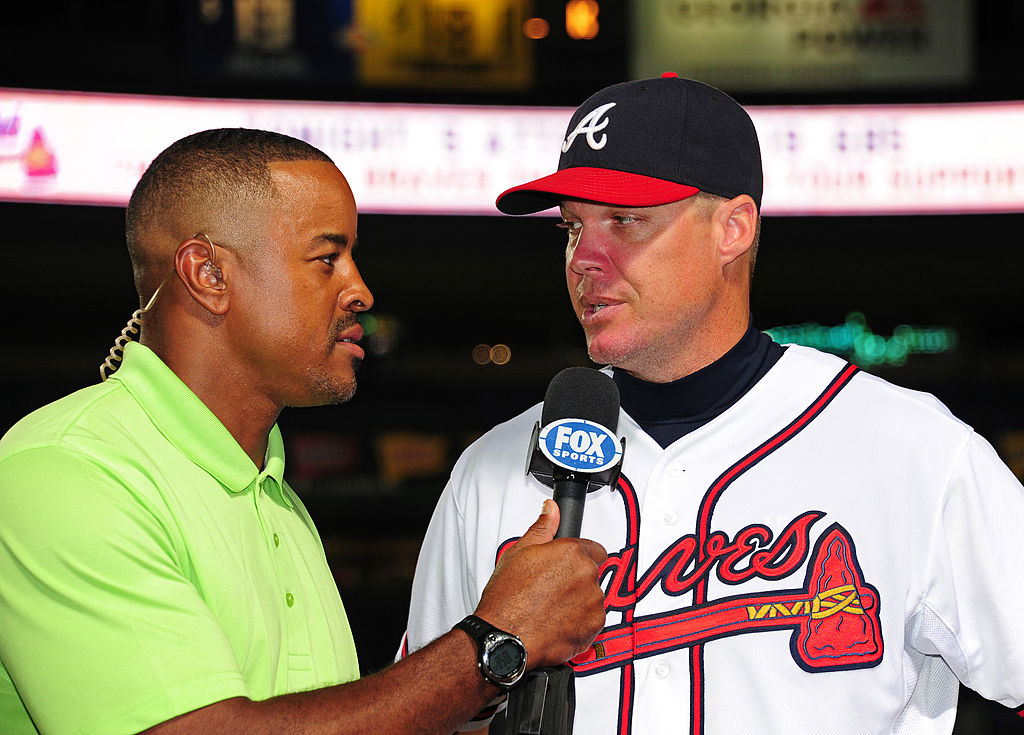 The St. Louis Cardinals drafted Brian Jordan, one of the top outfield prospects, in the first round of the 1988 MLB Draft. While he toiled in the minor leagues, he spent his free time playing starting safety for the Atlanta Falcons. Jordan participated in three NFL seasons, starting 30 games between 1990 and 1991 and even making the Pro Bowl in '91.
But going into the 1992 season, the Cardinals offered Jordan an airtight contract worth $2.4 million to focus on baseball and baseball alone. Jordan took the deal and never turned back, arriving with St. Louis in 1992 and playing Major League Baseball until 2006. Jordan moved on to play with the Atlanta Braves, Los Angeles Dodges, and Texas Rangers, hitting 184 career home runs and boasting a slash line of .282/.333/.455. He's one of just two players in modern history to be an All-Star in two major professional sports.
4. Deion Sanders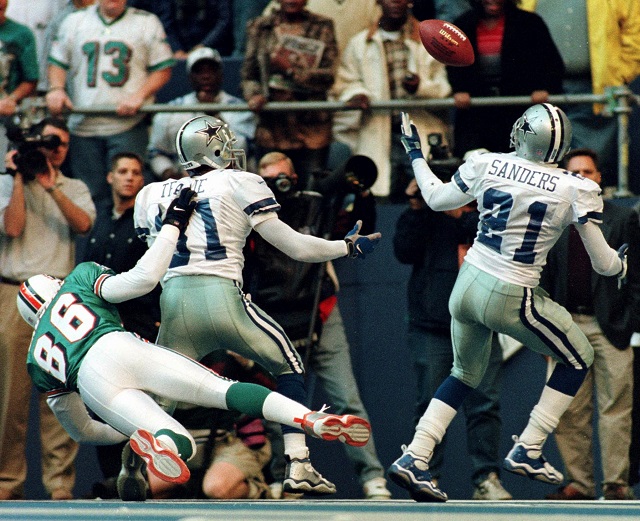 Deion Sanders, nicknamed "Showtime" on the football field, is well-known for his flashy style, ability on defense, and kick-returning prowess. Atlanta Falcons drafted Sanders, who was well on his way to becoming a football star. But he also couldn't shake his love of baseball, so he continued with the New York Yankees, playing in just 71 total games in 1989 and 1990 with New York. Then, the Yanks did Sanders a major favor, releasing him after the 1990 season. The 6-foot-1 athlete signed with the Atlanta Braves, making the pursuit of both sports much easier while also playing for the Falcons.
Sanders broke out in 1992, hitting .304/.346/.495 in just 97 games for the Braves and leading the National League in triples with 14. He was a major contributor on that team, helping them make the World Series that year (where he hit 8-for-15 with two doubles and five stolen bases in their loss to the Toronto Blue Jays). Sanders continued playing baseball somewhat intermittently, taking off a few years and playing with the San Francisco Giants and Cincinnati Reds. He finished his baseball career with a .263/.319/.392 slash with 186 stolen bases, and wrapped up his NFL career with two Super Bowl trophies, several Pro Bowl selections, and an entrance to the Hall of Fame.
5. Bo Jackson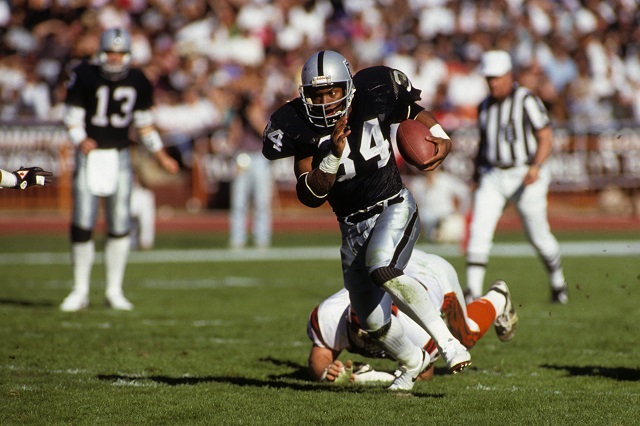 One of the most famous two-sport players in modern history, Bo Jackson was the other player who is an All-Star in two separate major sports. He played as a running back with the Los Angeles Raiders back in the late '80s, averaging 5.4 yards per carry and accumulating 2,782 yards and 16 touchdowns in 23 career starts in the NFL. But Jackson simultaneously pursued a career in Major League Baseball as a slugging outfielder with the Kansas City Royals.
From 1987–90, Jackson hit an average of 27 home runs in 122 games per season with the Royals, all while playing professional football with the Raiders. But a nasty hip injury forced him to walk away from the football field after the 1990 season.
Jackson played in just 23 games with the Chicago White Sox in 1991 and had to sit out the entire 1992 season before being able to return to the field in 1993. He had one final great year with the California Angels at the age of 31 in 1994, hitting .279/.344/.501 with 13 home runs in 75 games played. He may have had an abbreviated career, but Jackson is one of the best examples of players competing in two different professional sports leagues at an elite level.
Follow Ryan on Twitter @RyanDavisBP
Statistics courtesy of Basketball-Reference, Baseball-Reference, and Pro-Football-Reference.