10 Players With the Top-Selling MLB Jerseys of 2019
The jersey sales of professional athletes can be a fascinating look at the state of a sports fandom. While we all cheer for our favorite athletes, it takes a certain kind of love for an athlete to make fans across the world clamor for jerseys to go with their other memorabilia. It is no mistake that the top-sellers are among the biggest names in a sport. Baseball keeps a tally of the best selling MLB jerseys, and these were their top 10 sellers.

10. Ronald Acuna Jr.
In just his second year in baseball, Ronald Acuna Jr. is looking well on his way to be the next Atlanta Braves superstar. Through 125 games in 2019, he hit 35 home runs and accumulated 85 RBIs. The young All-Star has also stolen bases 29 bases. His command of the outfield hasn't been too shabby, either.

9. Anthony Rizzo
Despite no longer being the perennial All-Star that he once was, Rizzo has proven to be a constant performer for the Cubs, hitting 23 home runs through 120 games to go with his 77 RBIs. Defensively, Rizzo has proven to be a consistent positive presence for the cubs, with a .997 fielding percentage. Being a lovable player in one of the biggest cities is one reason Rizzo has one of the best selling MLB jerseys in 2019.

8. Christian Yelich
Yelich is one of the premier hitters in professional baseball, and his leap over the last two seasons has not gone unnoticed by fans. After hitting a career-best 36 home runs last year, he has already reached 41 through 111 games in 2019. His .334 batting average is a career base, as is his .426 on-base percentage. His solid play in right field has also not gone unnoticed.

7. Javier Baez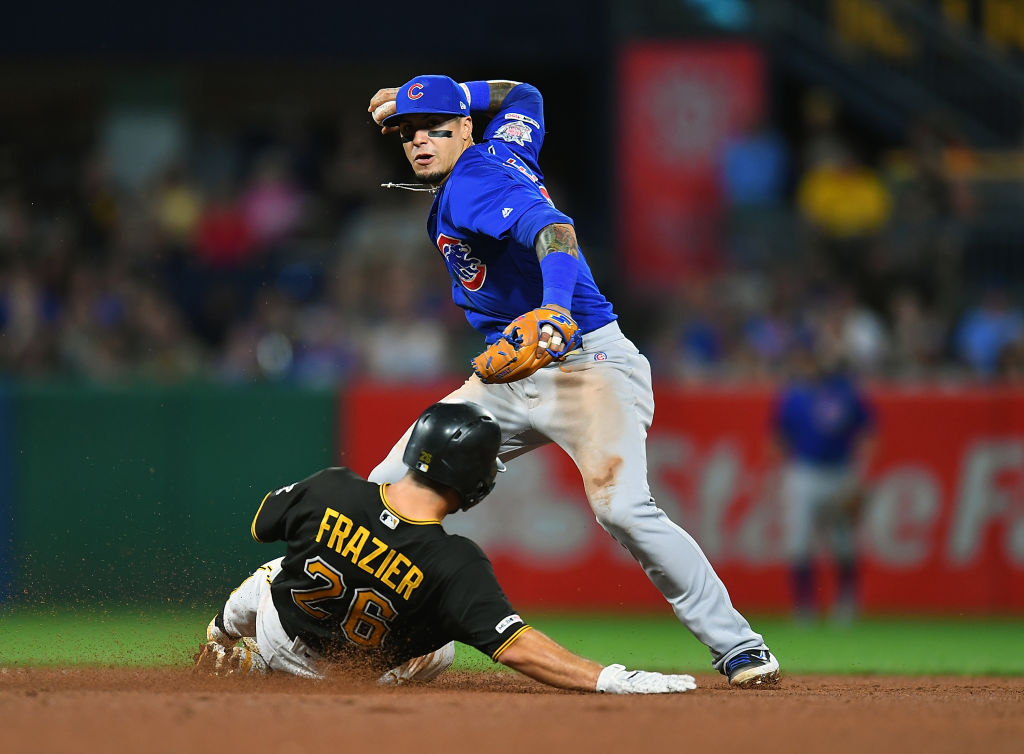 Javier Baez broke out last season thanks to his balanced approach to the game. According to a recent poll by NBC Sports, Baez is also the most popular player among Little League players, many of whom probably own his jersey. The fact that he was on the Chicago Cubs' first World Series team in a century doesn't, either. He's sitting at 28 home runs and 81 RBIs through 121 games, and his work in the infield deserves just as much praise.

6. Clayton Kershaw
Perhaps the only thing that is missing from Clayton Kershaw's resume is a World Series ring. He's a perennial All-Star, consistently wins his starts, and this year has been no exception. His career ERA through 12 years is still just 2.41, and this year, through 21 starts, he is sitting with a 12-2 with a staggering seven no-decisions.

5. Yadier Molina
Still going strong after 16 years, Yadier Molina remains one of the most beloved players in Major League Baseball and a player who ranks highly on the list of top MLB jerseys. Although his 2019 season has been marred with injury, fans will always love his night in, night out effort at the catcher position and his leadership in the clubhouse.

4. Mike Trout
The Mike Trout domination tour began in 2011 when he entered the league, and it hasn't let up since then. Now the highest-paid player in professional baseball, he's a consistent burden on defenses year after year. His 41 home runs through 119 games already ties his career-high, and his 96 RBIs trails his career-best by only 15. Given his stature and success so far, we expect Trout's to be among the best selling MLB jerseys for years to come.

3. Mookie Betts
The reigning AL MVP and defending World Series champion may not be performing quite as well as he did last year, but it doesn't mean that he is having a bad season. At just 26 years old, Betts has proven that he is a force to be reckoned with, and his coverage in right field remains perhaps his greatest strength on the baseball field.

2. Aaron Judge
Judge may have missed the bulk of the 2019 season, but he is the young face of a Yankees team that continues to dominate the league. Judge's 2017 campaign was his best year by a large margin, but his return to the field has still been productive, even if his rehab and his missed time make 2019 pale to his previous two All-Star seasons. He is sitting at 12 home runs and 33 RBIs through 69 starts. Those aren't world-beating numbers, but he's near the top of the heap in terms of hot MLB jerseys. 

1. Bryce Harper
Harper's stint with the Phillies has begun with an up-and-down affair. At his best, he is hitting walk-off home runs against the Cubs, but at his worst, his defense and offense have both been inconsistent, and he is yet to make the Phillies feel comfortable with their commitment. With him switching teams, however, it makes sense that people are buying the jersey. His 26 home runs and 90 RBIs could be good for another player, but Harper has higher expectations than most.