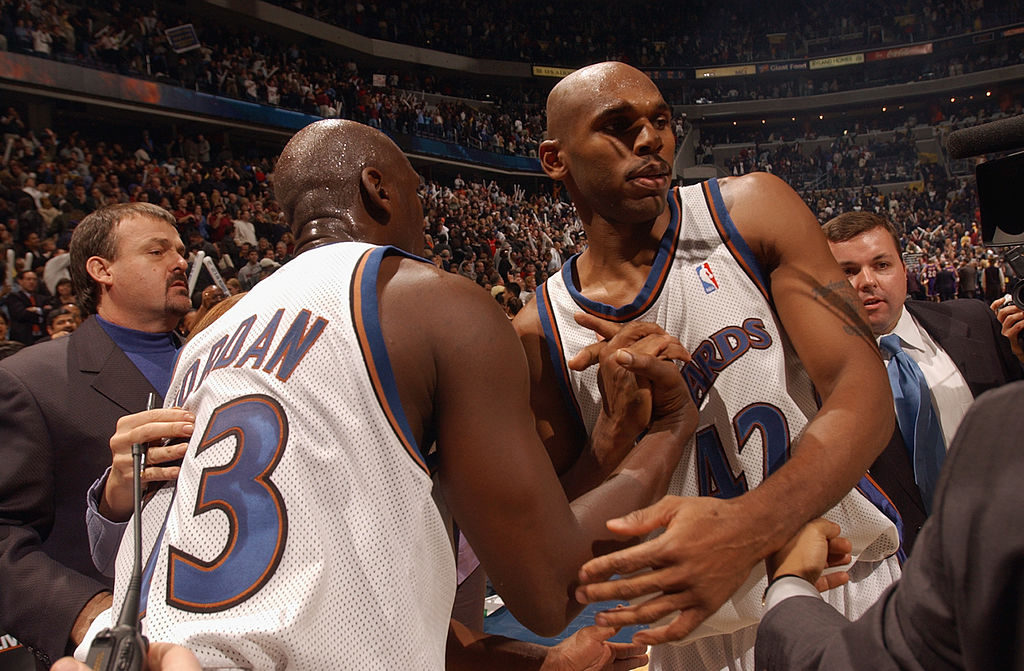 Playing With Michael Jordan was a Career Low Point for Jerry Stackhouse
Jerry Stackhouse was excited to play with NBA legend Michael Jordan in Washington. Stackhouse just revealed how bad the experience was.
Jerry Stackhouse doesn't look back fondly on his time with NBA legend Michael Jordan and the Washington Wizards. The former No. 3 overall pick and North Carolina alumnus sounded off on his two seasons with Jordans in a recent podcast interview. If Stackhouse had his way, he never would have been traded to the Wizards and played alongside Jordan.
What were Jerry Stackhouse's issues with Michael Jordan, and why does he still feel that way? Let's take a look.
Jerry Stackhouse didn't like how Michael Jordan ran the Wizards
Jerry Stackhouse was a two-time All-Star guard with the Detroit Pistons by the time he was 27. Stackhouse averaged 22.1 points in his five seasons with the Pistons and turned Detroit into a 50-win team in his final year there. Rather than continue building with Stackhouse, the Pistons traded him to the Wizards for young shooting guard Richard "Rip" Hamilton.
Although he was frustrated by the trade, Jerry Stackhouse was excited to play with his idol, Michael Jordan. Those feelings didn't last long. Stackhouse told ESPN's Adrian Wojnarowski he wishes he never played in Washington.
"We got off to a pretty good start, and then I think he didn't like the way the offense was running, because it was running a little bit more through me. He wanted to get a little more isolations on the post, of course, so we had more isolations for him on the post. And it just kind of spiraled in a way that where I didn't enjoy that season at all. Kind of the picture that I had in my mind of Michael Jordan and the reverence I had for him, I lost a little bit of it during the course of that year."
Stackhouse was still successful when he played with Jordan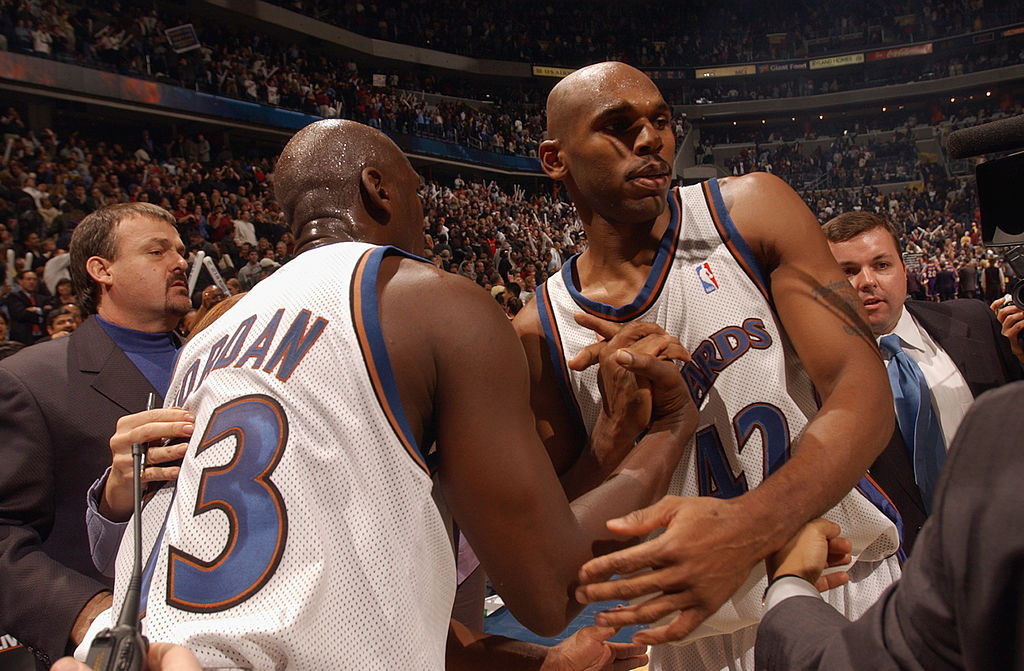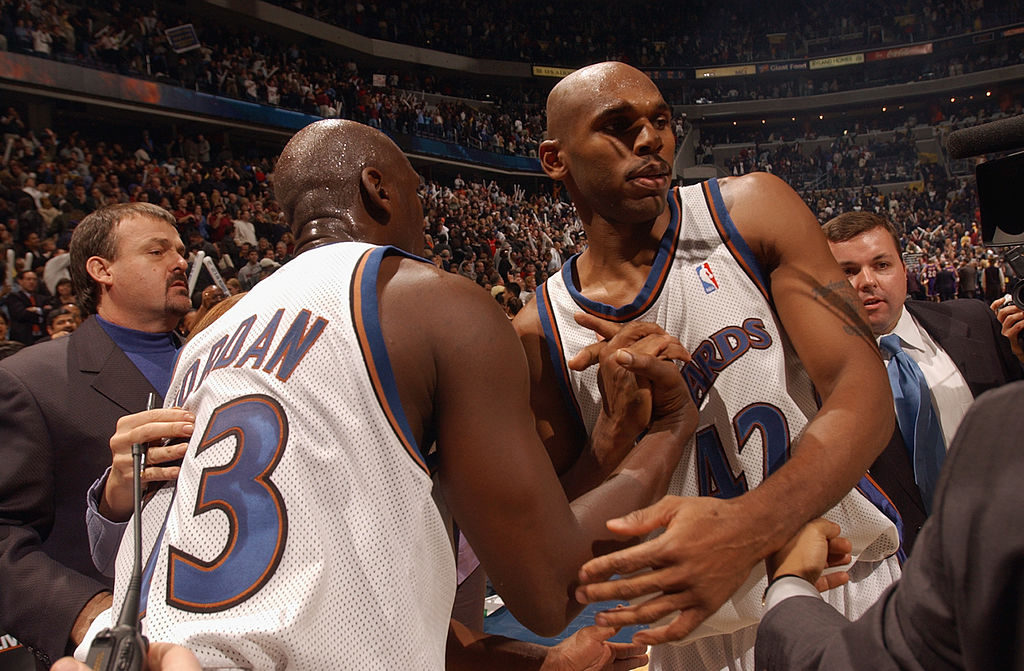 Jerry Stackhouse felt he was a better player at that point in time than Michael Jordan was. Stackhouse showed why in his first year with the Wizards, averaging 21.5 points and 4.5 assists per night in 70 games. Stackhouse was the only teammate of Michael Jordan's who averaged more points than him for an entire season. Jordan finished that year, his last in the NBA, with only 20 points a night.
Unfortunately for Stackhouse, he missed most of the 2003-04 season because of knee surgery. In hindsight, the time missed paid off as the Wizards traded Stackhouse to the Dallas Mavericks the next year. Although he battled injuries during his time with the Mavericks, Stackhouse emerged as a crucial sixth man for one of the Western Conference's top teams.
Where are Jerry Stackhouse and Michael Jordan now?
Jerry Stackhouse played for several teams in the last years of his career. A lifelong fan of Jackie Robinson, Stackhouse became the first professional athlete in Brooklyn to wear Robinson's No. 42 since Robinson retired in 1956. Stackhouse transitioned to broadcasting in retirement before he joined the coaching ranks.
Jerry Stackhouse was named NBA D-League Coach of the Year in 2017 when he coached for the Raptors 905. After serving as an assistant coach for the Memphis Grizzlies two years ago, the Vanderbilt Commodores hired Stackhouse as its next coach. Stackhouse went 11-21 (3-15 in the SEC) last season.
Michael Jordan has been the Charlotte Hornets' majority owner since 2010. Charlotte has made two playoff appearances in that span and watched point guard Kemba Walker blossom into an All-Star. Walker signed with the Boston Celtics last summer.