Poisoned Pizza Plot Pooh-Poohed: Utah Jazz Analyst Offers New Theory for Iconic Michael Jordan 'Flu Game'
For more than a decade, folklore accuracy demanded we refer to Game 5 of the 1997 NBA Finals as the "Michael Jordan Flu Game" (though shortening it to just "the Flu Game" on second and subsequent references to his performance against the Utah Jazz was deemed acceptable). In 2013, Jordan's former trainer said it was food poisoning. But The Last Dance documentary series released in 2020 shed allegedly new light on it. Jordan and the trainer, Tim Grover, claimed poisoned pizza was to blame.
As the story goes, Jordan got sick, then made the Utah Jazz throw up with a 38-point performance that included a dagger 3-pointer with 25 seconds remaining in the Chicago Bulls' 90–88 win. ESPN reporter Holly Rowe will be doing a side hustle as an analyst for the Jazz this season. She was a runner for NBC Sports during the 1997 NBA Finals, and she recently offered up a slightly more plausible explanation for Jordan's food poisoning. That is, in part, because anything is more credible than poisoned delivery pizza delivered to the visiting team's hotel during the NBA Finals.
The theory of poisoned pizza delivered to Michael Jordan never seemed to have any sauce with it
Tim Grover served as trainer for Michael Jordan trainer for years. In 2013, he claimed the "Flu Game" was a case of food poisoning. Fast forward another seven years, and suddenly a Salt Lake City-area Pizza Hut is on the hook for delivering tainted toppings, suspect sauce, misguided mozzarella, or a combination therein.
Grover referenced in the documentary there were multiple delivery people. For one pizza? Was it hauled to the room the way the ancient Egyptians carried their pharaoh? A man who was claiming to be the restaurant's manager at the time disputed Jordan's claim. Of course, the man's evidence came in the comments section of an Internet article. But it was oddly specific with details.
Salt Lake City is the largest municipality in Utah, but that's not to say it's New York or LA. The odds are pretty good; most everyone in town knew what hotel housed the Bulls. It was the first time the Utah Jazz appeared in the NBA Finals. It was kind of a big deal around the Salt Flats, one can assume.
Rowe's theory of the bad table at the home of the Utah Jazz during Game 4
During a recent appearance on the Utah Jazz's Roundball Roundup podcast, Rowe recalled her experiences with the 1997 NBA Finals in Salt Lake City. The University of Utah alumna was working with the NBC Sports crew at what was then known as the Delta Center. In a behind-the-scenes role, an interaction with Michael Jordan became a vital piece of intelligence for the Chicago Bulls.
She experienced an illness of her own. That led to an interrogation of sorts from Bulls' team personnel after a conversation with Bulls radio analyst Quinn Buckner.
"He was the radio analyst for the Chicago Bulls at that time, and he was a buddy of mine; he was chatting with me, 'Hey, where were you yesterday? I didn't see you yesterday,'" Rowe said. "And I was, 'Oh, I was very sick. Oh, my gosh, my stomach has been really sick. I had a stomach flu.'"
That turned into an interrogation from the Bulls' trainer:
"[He] asks me all these questions — about my illness, about my bowel movements recently. This is too much information, but this is a real story. And I'm mortified, and I'm looking at Quinn like, 'Why did you get this guy to ask me all these personal questions?' They were trying to figure out where Michael Jordan got sick from and why he was sick."
Rowe remembered a detail that didn't make it into The Last Dance. Rowe had grabbed some food off the TV craft services table while leaving the arena after Game 4. Someone else had done the same: Michael Jordan.
In any event, Michael Jordan made the Utah Jazz pay dearly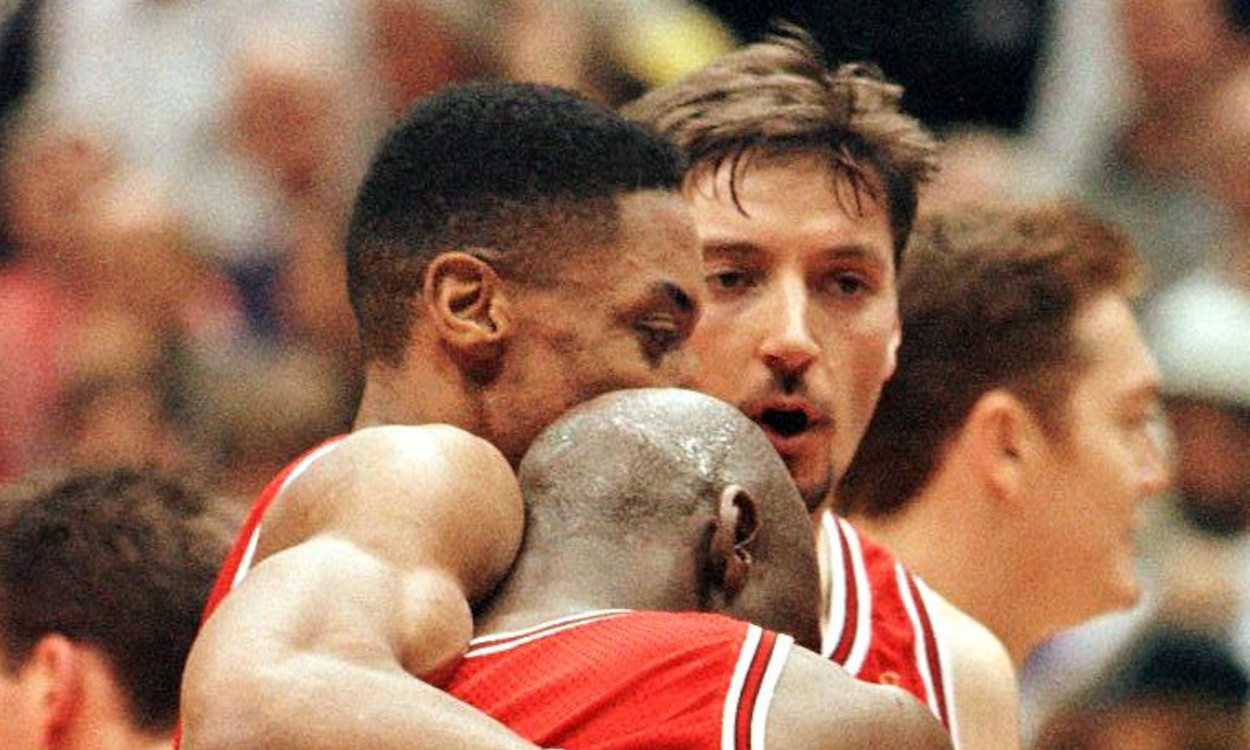 The Utah Jazz and the Bulls entering the iconic Michael Jordan (insert your favorite reason he was sick) game tied at two games apiece in the 1997 NBA Finals. Chicago had won the first two games at the United Center before Utah bounced back to win Games 3 and 4 at home.
Game 5 was pivotal for the Jazz. A win meant they would return to Chicago with a 3–2 lead needing to win one game on the road. Instead, the loss set the Bulls up with two home games needing a single victory (which they got in Game 6, 90–86).
There's one immutable reason why it couldn't have been tainted delivery pizza, however. As an NBA veteran of hundreds of road games, Michael Jordan knew the two most essential instructions regarding ordering pizza for delivery when traveling: Hold the anchovies and botulism. That's just basic business travel 101, folks.
Statistics courtesy of Basketball Reference.
RELATED: Michael Jordan Had No Interest in Playing for the Bulls and Being Part of a Rebuild: 'As Soon as They Wanna Start Rebuilding, Then It's Time for Me to Go in Other Directions'