The Portland Trail Blazers' Interim GM Just Hinted That a Damian Lillard Trade May Be off the Table: 'We Are Not Convinced That This Is That Time Yet'
For a team that's been as consistently successful as the Portland Trail Blazers have been since Damian Lillard arrived as the team's franchise player in 2012, it's been a disappointing start to the 2021-22 campaign.
On the court, Portland is 11-15, and if the playoffs started today, they wouldn't even make the play-in tournament. Lillard has struggled mightily and is statistically having his worst season since his second year in the league.
The Blazers also fired longtime general manager Neil Olshey on Dec. 3.
Trade rumors have continued to swirl around Dame and his backcourt partner CJ McCollum. But now, the team's interim general manager Joe Cronin has stepped in and is pushing the pause button on any "blow it up" trades.
Which, reading between the lines, means that perhaps a Lillard exit is not as imminent as some believe.
Damian Lillard and the Blazers are mired in their worst season in almost a decade
Dame's Portland teams have made the playoffs each of the last eight years. The Weber State product only missed the postseason his rookie year. He has become accustomed to winning.
The biggest issue that's plagued the team since Lillard's arrival is the level of success it's had once it gets to the postseason. Dame Dolla brought his team to the Western Conference Finals in 2018-19, where they got swept by Stephen Curry and the Golden State Warriors.
Portland also made the conference semifinals twice under Lillard's stead — once in 2013-14 and again in 2015-16 (where they were eliminated by the Warriors).
This season, the Blazers are on the road to missing the playoffs altogether for the first time since the team's franchise point guard was 22 years old. The biggest reason for that? Big Game Dame hasn't had very many big games.
Lillard is scoring 21.5 points per night (his lowest since 2013-14); is shooting 30.2% from three (a career-low); 39.7% from the field (a career-low), and is only getting to the line 4.5 times per game (lowest since his rookie year).
As Cronin said in a piece on The Athletic, other teams "smell blood in the water."
So what happens next?
Cronin has stepped in for Olshey and is pumping the breaks on a total rebuild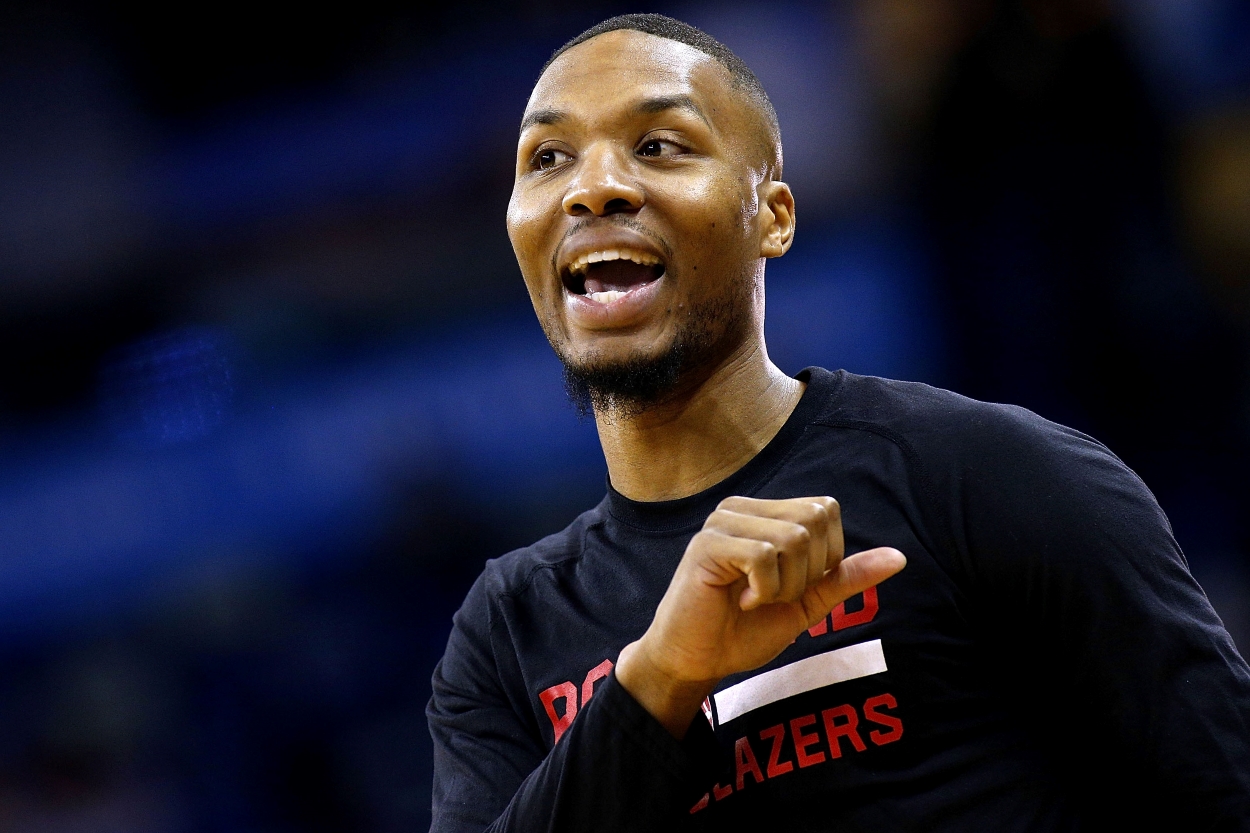 Olshey was Portland's GM for more than a decade; he's the only franchise decision-maker Lillard has known.
Now he's gone, and at least for the time being, Cronin is stepping in.
Immediately the speculation started: are the Blazers finally going to trade Dame? Is McCollum going to be sent packing? Is Portland going to deal all their assets for picks and start tanking?
Not so fast, Cronin claimed via The Athletic story. He said he wants to "enhance" the roster, not tear it down.
The organization wants to win. There are times when you have to take a step back in order to make a step forward, and we are not convinced that this is that time yet.

Our approach today is not a re-tool or a rebuild. It's an enhance. We haven't discussed one time about taking a step back.

Portland interim GM Joe Cronin on the next steps for the franchise
Is there some semantics in there? Perhaps. But Cronin repeated the word "enhance," which makes it sound like Dame is staying, and the Blazers are going to make some moves around him to try and get their season back on track.
Maybe that's the right call. Logistically, they have some pieces to make that happen.
Dealing around the edges has inherent risks, but could be the right move in the end
It wouldn't be a bad call to trade Lillard, McCollum, Jusuf Nurkic, Robert Covington, and a host of others to just clean house. But if that's not what Portland wants to do, the organization has some options.
Covington and Nurkic are both on expiring contracts, which makes them assets. Anfernee Simons and Nassir Little are still young with potential, which makes them assets as well.
The big trade chip would be McCollum. But a package of Dame's running mate, an expiring contract, and a young player would be attractive if Cronin wants to grab a piece that fits better with the Blazers' roster.
Maybe more important than anything, though, is that Lillard has still — no matter the reports — refused to make a public trade demand. He loves Portland, and Portland loves him. He runs the franchise. He doesn't seem ready to give that up, at least not yet.
In the meantime, Cronin is preaching patience and enhancement. That's all well and good and could end up working.
But if Dame says he's finally had enough, those sharks that smell the blood in the water are coming.
All statistics courtesy of NBA.com.