The Portland Trail Blazers Claimed They Needed a Center, so They Took Sam Bowie Over Michael Jordan Despite Legendary Indiana Coach Bobby Knight's Warnings: 'S*** Take Jordan and Play Him at Center'
Thirty-seven years later, the story of how the Portland Trail Blazers chose Sam Bowie over Michael Jordan is still incredible. Bowie was a 7-foot-1 center who went on to play 10 above-average seasons in the league, but he wasn't ever in the same galaxy as Jordan.
Legendary Indiana Hoosiers head coach Bobby Knight, who coached His Airness in the 1984 Olympics, knew what Jordan could be and had some blunt advice surrounding Portland's No. 2 pick that year.
And he delivered it in a total Bobby Knight way.
Knight was Michael Jordan's head coach with the 1984 USA men's basketball team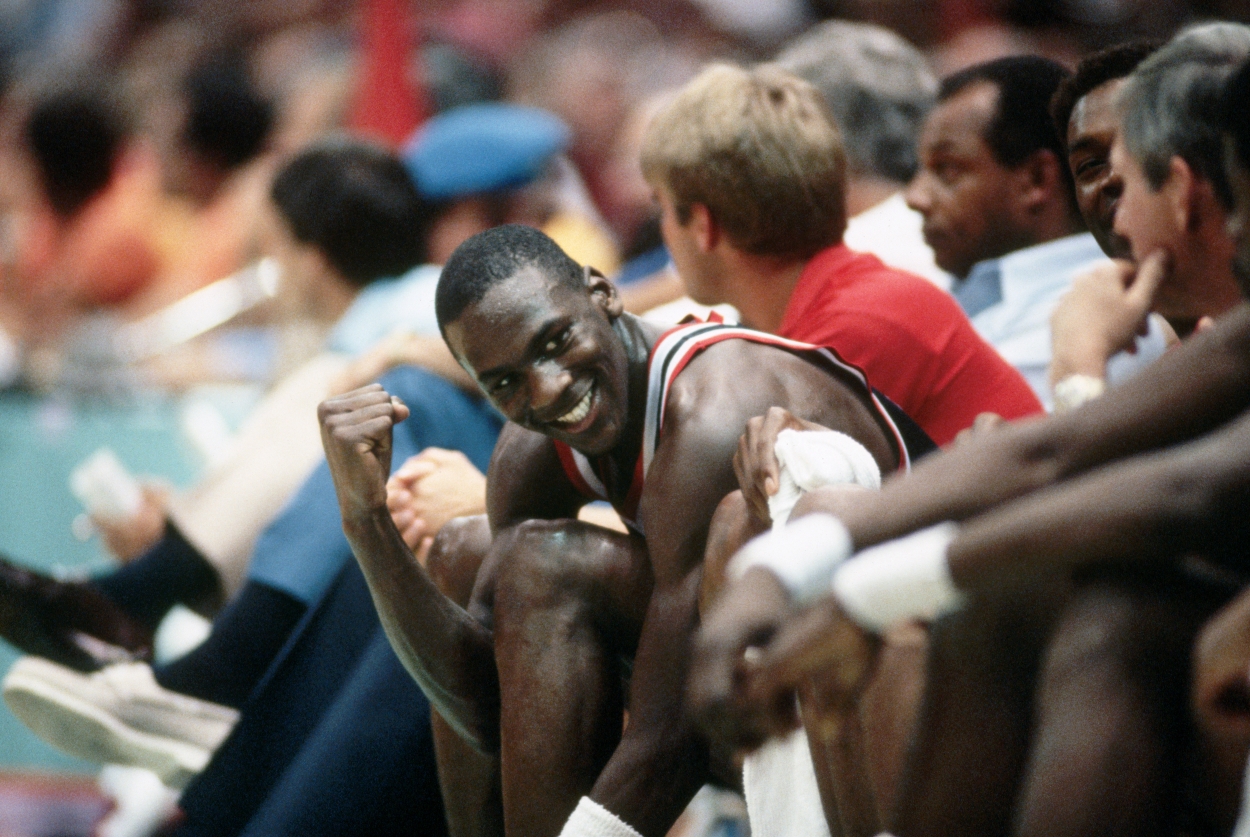 Knight brought together dozens of the best amateur players in the country for tryouts for the '84 team. Those auditions were so loaded that Karl Malone, Charles Barkley, John Stockton, and Joe Dumars were all cut, according to L. Jon Wertheim's book Glory Days: The Summer of 1984 and 90 Days That Changed Sports via SI.com.
Not known for his cuddliness, the Indiana coach developed something of a soft spot for a young MJ. Eventually, he built his Olympic offense around a 21-year-old Jordan.
That team — which also included Patrick Ewing, Chris Mullin, and Sam Perkins — won the gold medal after going 8-0 and beating the competition by an average of more than 32 points per game.
Jordan was the squad's leading scorer at 17.1 points per game, 5.5 points ahead of Mullin, and 6.1 ahead of fellow future Hall of Famer Ewing.
The North Carolina guard had a game-high 20 points in the USA's 31-point gold medal game win over Spain. After seeing him up close, Knight had at least some inkling that Michael Jordan could become Michael Jordan.
Knight knew what MJ could be in the NBA and he made his feelings clear
According to Wertheim, the fiery coach and star got along well that summer. Maybe it was the maniacal competitiveness the two shared that brought them together. Regardless, Knight knew what he saw.
"Jordan's game is made for the NBA," he said.
As the story goes, Portland had the second pick in that year's draft. After Akeem Olajuwon went No. 1 to the Houston Rockets, the Trail Blazers were on the clock. Leading up to the draft, Knight was in contact with the team's general manager, Stu Inman, and he pleaded with Inman to take MJ.
But Inman told the Hoosiers legend, "We need a center." To which Knight quipped, "S***, take Jordan and play him at center."
Portland obviously took Bowie, MJ landed with the Chicago Bulls, and the rest is history.
The General proved to be clairvoyant when it came to Jordan
There were plenty of signs around the future GOAT that pointed toward superstardom, but nobody knew the skinny teenager drafted third overall was going to become the greatest player in basketball history.
It didn't take Mike long to prove it, though. He surpassed Magic Johnson, Larry Bird, Isiah Thomas, and the rest of that era's royalty not long into his pro career.
And Knight saw it. The curmudgeonly coach wasn't one to heap praise or approval on many, but he knew it was warranted when it came to Jordan.
All statistics courtesy of Basketball Reference.
RELATED: Michael Jordan Hasn't Played a Game in 18 Years, but He Still Rules the Basketball Kingdom as Evidenced by a $1.47 Million Pair of Shoes