Portland's Failure to Sign Kelly Oubre Is the Latest Reason Damian Lillard Should Demand a Trade
Heading into this year's offseason, Damian Lillard expected major change within the Portland Trail Blazers organization. The star point guard is frustrated with the team's lack of success over the past few seasons, having exited the 2021 Playoffs in the first round at the hands of the Denver Nuggets.
Lillard hasn't been shy in his desire for change this summer either.
During a media session in July, Lillard told reporters that he doesn't believe the Blazers are currently a "championship team" and that they're likely not a "new coach away" from contending. Lillard cited the team's early exit to a Denver team that was missing their second-best player, Jamal Murray, as another reason as to why they need to undergo serious change moving forward (Sports Illustrated).
Damian Lillard attempted to recruit free agent Kelly Oubre before he signed with the Charlotte Hornets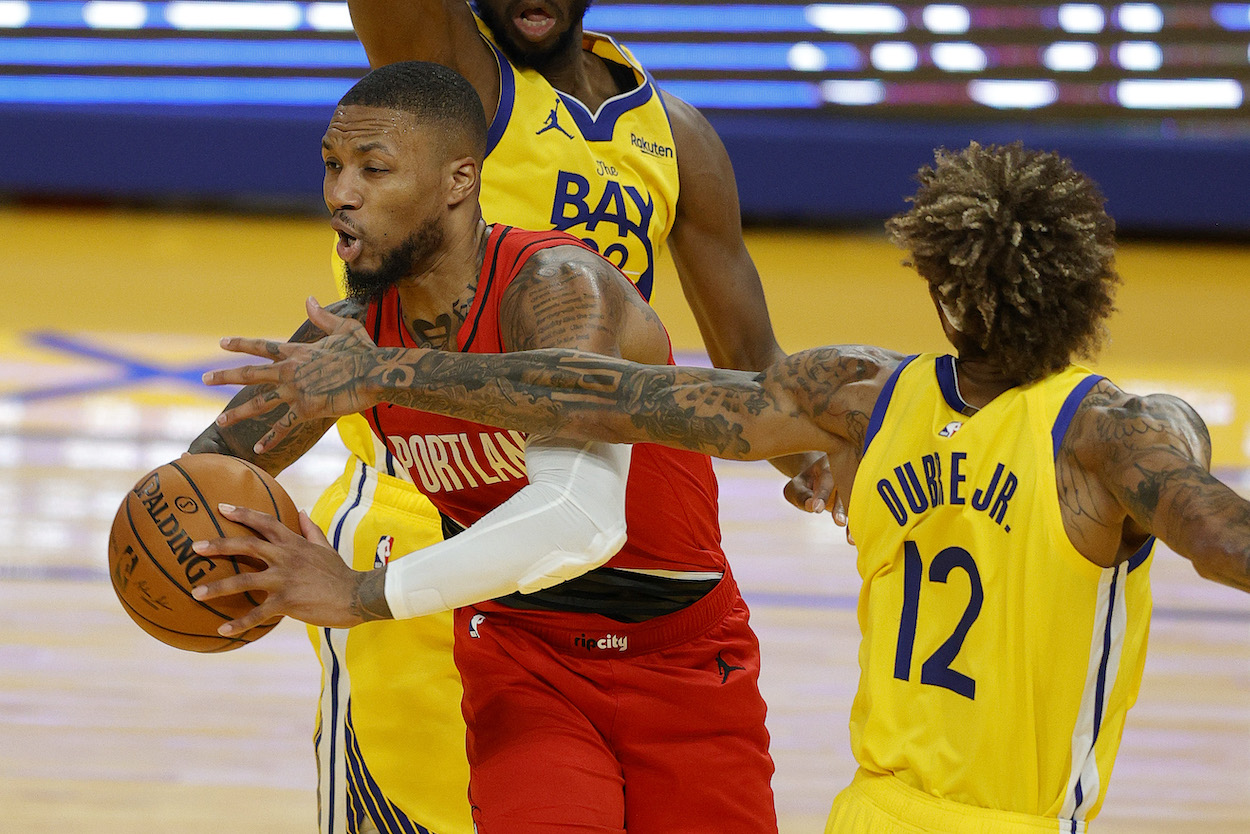 With Lillard yet to request a formal trade out of Portland, his focus has been on two things this offseason: the Olympics (which he won a gold medal at) and recruiting talent to join him on the Blazers. According to The Athletic's Jason Quick, Lillard made a pitch to Kelly Oubre.
Portland is strapped for cash, so the best they could offer Oubre was part of their taxpayer's mid-level exception. Oubre declined said offer and instead signed with the Charlotte Hornets for $26 million over two years.
Quick also mentioned that Lillard had spoken with veteran forward Nicholas Batum about joining him in Portland, another player that the Blazers front office could not land during free agency.
Lillard's patience with the Blazers' front office should be wearing thin
Oubre and Batum are by no means stars or even significant roleplayers for that matter, but the Blazers are running out of wiggle room when it comes to Lillard and his level of patience. They already frustrated him by hiring Chauncey Billups to be the new head coach; now, they are failing to meet his free agency requests.
It's not like Lillard asked the team to sign Kawhi Leonard, trade for Kevin Durant, or some other unreasonable feat. All he wanted was a few extra depth signings around him to help fill out the roster.
An understandable stance for Lillard to take, considering he's been in Portland for nine seasons and has yet to appear in an NBA Finals.
A formal trade request should be on the horizon
Trade rumors have been circulating Lillard's name since the moment the Blazers were eliminated from the playoffs. However, nothing has come to traction yet. Some of that can be attributed to Lillard being at the Olympics the past weeks, while some of it is due to Lillard hoping that Portland will aggressively improve the roster this offseason.
With most of the big free agents having already signed elsewhere, a last-ditch effort by Portland could see CJ McCollum traded. McCollum is a solid two-guard who is an effective scorer, but the fit alongside Lillard has come under question. Both players like to handle the basketball, and neither are outstanding defenders.
If the Blazers cannot swap McCollum out for someone better, one can only assume Lillard would demand a trade. The Philadelphia 76ers have been hovering around the situation for weeks now and would offer Ben Simmons to Portland in a heartbeat. Would Portland accept? Maybe. They would definitely consider it if Lillard were to announce his desire to play elsewhere publicly.