NFL: Week One's 5 Most Likely Upsets
The 2016 National Football League season will officially kick off on Thursday night when the Denver Broncos host the Carolina Panthers in a rematch of Super Bowl 50. That game, of course, will be followed up by 15 additional matchups throughout the day on Sunday and through Monday night. Thanks to the parity of the NFL, there is not a single game on the Week 1 schedule that projects to be a lopsided blowout. In fact, if history has proven anything, it's that we can all expect to see multiple upsets during every weekend of NFL action. That said, here are five potential upsets during the first week of the 2016 NFL season.
Note: All upset picks are against the spread (ATS).
1. New York Jets over Cincinnati Bengals
Point spread: Bengals favored by 2.5
Over/under: 41.5
Location: MetLife Stadium in East Rutherford, N.J.
This should ultimately end up being one of the best matchups of the week. The Bengals are out to avenge yet another first-round postseason exit, and should again be one of the best teams in the AFC. The Jets, on the other hand, had a playoff-caliber team in 2015, but missed the postseason altogether after suffering a disappointing loss to the Buffalo Bills on the final weekend of the regular season. This is one of the rare NFL situations where a competent home team will enter a game as an underdog. When we look at these two teams on paper, it's hard to understand why the Bengals are favored. Expect to see the Jets come away with an outright home win in this one.
2. Buffalo Bills over Baltimore Ravens
Point spread: Ravens favored by 3 points
Over/under: 44.5
Location: M&T Bank Stadium in Baltimore, Md.
The Ravens have the distinct advantage of playing this game at the friendly confines of M&T Bank Stadium, but when it comes down to it, the Bills are just a more talented team. We predict Pro Bowl-caliber seasons for quarterback Tyrod Taylor, running back LeSean McCoy, and wide receiver Sammy Watkins. With Rex Ryan running the show, you can count on the Bills having a solid defense. Expect to see the Ravens come out firing, but we still expect to see the Bills win this game outright.
3. Denver Broncos over Carolina Panthers
Point spread: Panthers favored by 3 points
Over/under: 42
Location: Sports Authority Field at Mile High in Denver
This Thursday night matchup is a rematch of Super Bowl 50 and will serve as the official kickoff to the 2016 NFL season. The Broncos will enter the game as home underdogs, which is something that has been extremely rare over the last five years, and it's safe to assume that Cam Newton, Luke Kuechly, and the rest of the Panthers' returning players will be out for revenge. Nonetheless, we just can't overlook the fact that Carolina did very little to improve the offensive line that Denver's pass rush humiliated during Super Bowl 50. Expect this game to be a hard-fought, low-scoring affair that is decided by no more than a field goal in either direction.
4. Tampa Bay Buccaneers over Atlanta Falcons
Point spread: Falcons favored by 3 points
Over/under: 47.5
Location: Georgia Dome in Atlanta
Anything can happen during rivalry games, which leads us to believe that this NFC South tilt will be one of the best matchups of Week 1. At the end of the day, this game will likely come down to who wins the matchup between the Buccaneers' offense and the Falcons' defense. Based on what we've seen out of quarterback Jameis Winston during his second year of preseason action, we believe that it will be Tampa Bay that prevails. Don't be surprised if this is a high-scoring affair that comes down to the game's final possession.
5. San Diego Chargers over Kansas City Chiefs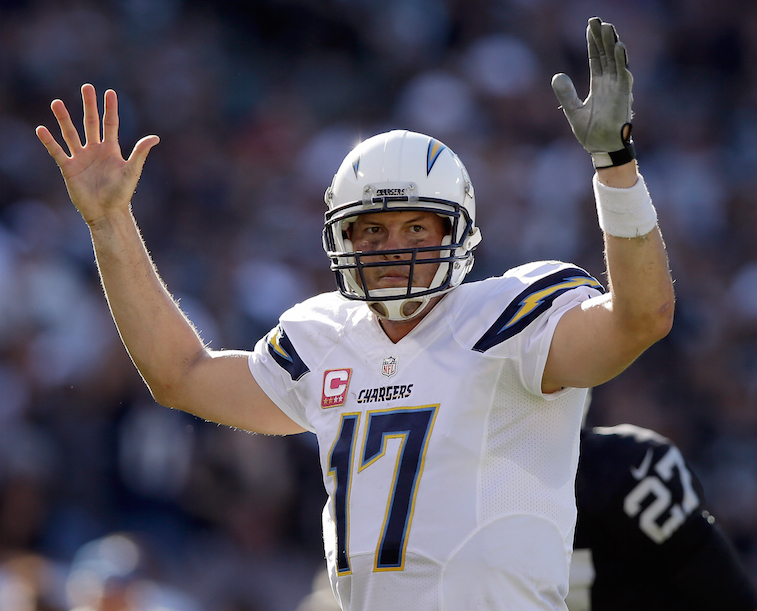 Point spread: Chiefs favored by 7 points
Over/under: 44.5
Location: Arrowhead Stadium in Kansas City
It's painfully clear that the oddsmakers in Las Vegas don't think much about the Chargers' heading into the 2016 season. The Chiefs will lack arguably their two best veteran players in outside linebacker Justin Houston and running back Jamaal Charles, and they are still favored by a touchdown in this AFC West matchup. Needless to say, we think this point spread is too high. The Chargers have talent on offense to sneak up on teams, and their defense is just good enough to give them a fighting chance most weeks. Expect this game to be an offensive shootout that is decided by less than a touchdown.
Statistics courtesy of Pro-Football-Reference. Point spreads courtesy of Sportsbook.ag.