Power Couple Caroline Wozniacki and David Lee Have a Combined $70 Million Net Worth
Caroline Wozniacki and David Lee definitely qualify as a power couple. The tennis star and famous NBA player won over fans with their skills and then by sharing their love story. Let's look at Wozniacki and Lee's athletic careers and find out how they ended up married with such an impressive net worth. 
Caroline Wozniacki's tennis career
In 1990, Wozniacki was born in Odense, Denmark. Both of Wozniacki's parents were pro athletes. She quickly decided to follow in their footsteps. Wozniacki was just 15 years old when she went pro. Just three years later, she won her first Women's Tennis Association (WTA) title. In 2010, Wozniacki landed the No. 1 spot and held the title for 67 consecutive weeks. 
In a Vogue interview, Wozniacki revealed how she felt conflicted over having such a high ranking but not winning a Grand Slam. However, in 2018, that all changed when she claimed the win at the Australian Open. Around the same time, reports Health, the tennis star received a diagnosis of rheumatoid arthritis. Though she played and won since then, in January 2020, Wozniacki officially retired from the sport.
David Lee's journey as an NBA star
Born in 1983, Lee grew up in the St. Louis area. He played basketball at the University of Florida. While representing the Gators, Coach Billy Donovan called Lee "the best rebounder he's ever coached along with current Phoenix Suns forward Donnell Harvey." Lee even made history as the seventh player to reach 1,000 points while playing for Florida. In 2005, Lee was drafted to the New York Knicks.
Lee joined his first NBA All-Star Game in 2010 — the same year he left New York for the Golden State Warriors. In 2015, the power forward helped the Warriors win the 2015 NBA championship. Lee once again found himself selected for an NBA All-Star Game. Unfortunately, things took a turn for Lee and his basketball career.
Lee served as a designated starter the next season, but he never got to play. After suffering from a hamstring injury in the preseason, Draymond Green indirectly earned his spot on the roster. Lee moved to the Boston Celtics before landing in Texas with the San Antonio Spurs for the 2016-17 season. Shortly after, reports NBC Sports, Lee made the decision to retire.
In an interview, the basketball star explained, "When the offers didn't come in the way that I wanted them to — although I could go be someone's fourth big man on a team that's gonna win 30 games — I decided to roll the dice and to try something new and I'm really excited about my decision." That wasn't the only meaningful and life-changing decisions the professional athlete was making at the time. Take a closer look at how Lee ended up in a power relationship with his equally talented counterpart, Wozniacki.   
Caroline Wozniacki and David Lee's relationship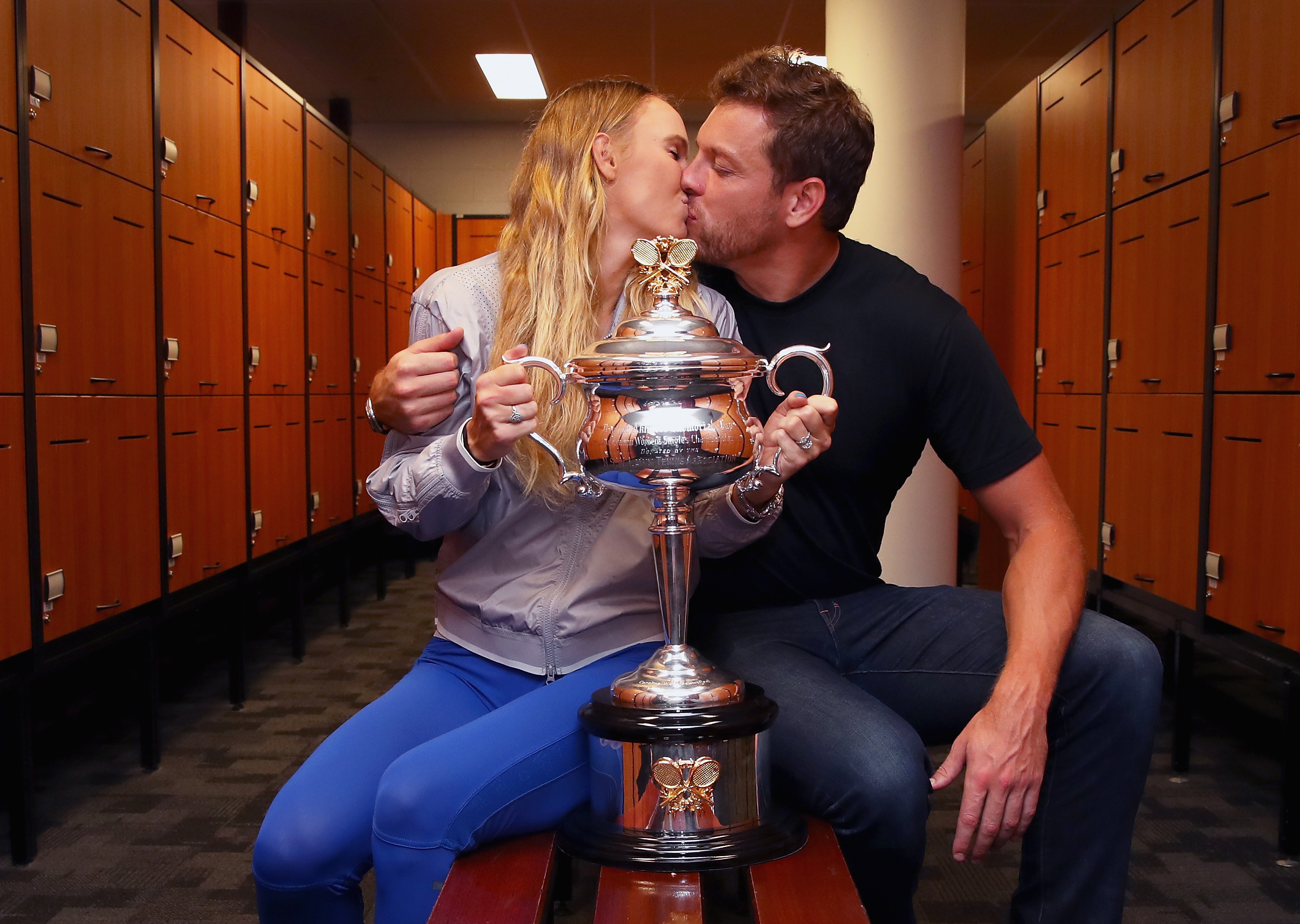 Wozniacki and Lee first met in 2015 when a friend introduced them at a dinner party, according to Heavy. The pair kept in touch, and shortly after, the athletic couple made their relationship Instagram official. Lee and Wozniacki bonded over their drive and love for sports, but that isn't all they love.
The duo is passionate about traveling. After all, they got engaged in Bora Bora while dining on a private cruise across the Pacific Ocean. In 2019, the couple officially got married. Wozniacki and Lee can afford to travel nearly anywhere they desire.
Lee's net worth is valued at $40 million. As for his wife, Wozniacki isn't far behind him. The former tennis pro's net worth is estimated to be about $30 million. That makes the power couple's combined net worth a total of $70 million. It is no wonder why Wozniacki and Lee are such a successful power couple.